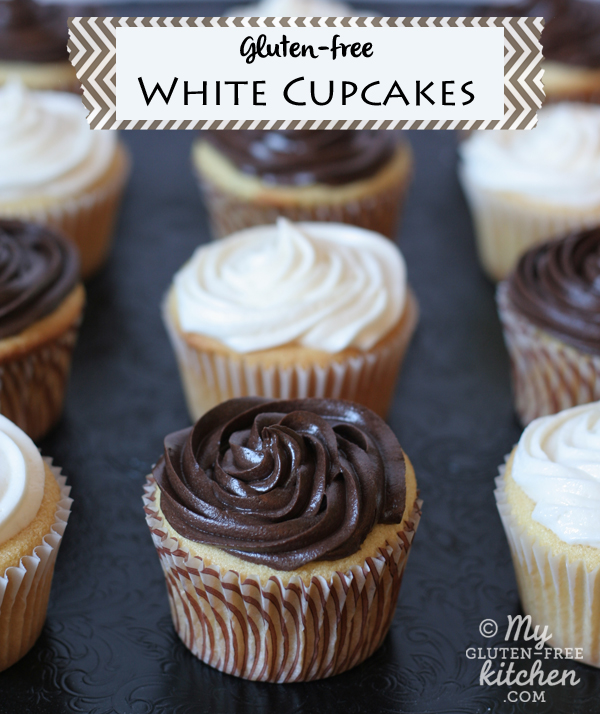 My friend Jeanine is the talented gluten-free blogger behind The Baking Beauties blog. Her blog is full of delicious desserts, yummy baked goods and family meals. Jeanine had her first book published earlier this year, The Everything Guide to Living Gluten-Free
.  I received a preview copy of this book to review and just loved it. At the end of this post, you can enter to win your own copy of this great book!
The beginning of the book includes several chapters that cover everything you need to know about gluten, celiac disease, and getting started on a gluten-free diet. So many facts and tips are mixed in these chapters as well.
Tips on what to clean and what to replace in your kitchen once you go gluten-free. I wish I'd had this list when I first started!
Are your children gluten-free too?  This book has a lot of tips for schools and parties that I thought were really helpful.
Over 100 recipes for breakfast, kid-friendly lunches & snacks, main dishes, sides & salads, breads, slow cookers, desserts, and arts & crafts recipes.
Now on to the cupcakes…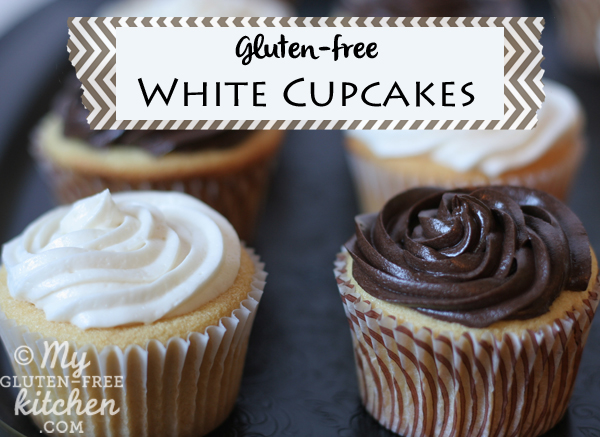 Everyone needs a good standby recipe for white cupcakes. As of yet, I didn't have a go-to recipe for these. When I was flipping through this book, the recipe for White Cake caught my eye and I decided to follow the recipe and then make as cupcakes instead of a sheet cake.
They were delicious! The recipe made 24 cupcakes. I frosted 12 with my favorite fudge frosting and half with my favorite white icing (will post soon!)  Both frostings went well with these white cupcakes. I served them to two families that joined us for birthday dessert over the weekend, and everyone thought they were really good.
Make sure you enter to win your own copy, or go order a copy of The Everything Guide to Living Gluten-Free
for yourself! You'll find so many yummy recipes like this one!
Enter here: a Rafflecopter giveaway

And here's the recipe for these delicious cupcakes!
White Cupcakes & Review of The Everything Guide to Living Gluten-free
Recipe from:
Michelle @ MyGluten-freeKitchen.com, from The Everything Guide to Living Gluten-Free by Jeanine Friesen.
Recipe type:
Cakes & Cupcakes
Ingredients
1½ cups white rice flour
½ cup millet flour
¼ cup tapioca starch
1 tsp. xanthan gum
1½ cups sugar
2 tsp. baking powder
1 tsp. baking soda
½ tsp. salt
½ cup unsalted butter, softened
¾ cup milk
2 tsp. vanilla
4 egg whites
Instructions
Preheat oven to 350°. Spray a 9″ x 13″ pan with nonstick cooking spray and set aside. For cupcakes, line 2 muffin pans with paper liners (24 cupcakes total).
In a large bowl, combine with rice flour, millet flour, tapioca starch, xanthan gum, sugar, baking powder, baking soda, and salt and mix well with a wire whisk.
In a stand mixer fitted with a paddle attachment, beat the butter until fluffy. Add the flour mixture, along with the milk and vanilla. Beat until blended, and then beat on medium speed for 2 minutes.
Add the unbeaten egg whites, all at once, and beat 2 minutes longer. Pour batter into prepared pan for sheet cake. For cupcakes, use a large cookie scoop or ice cream scoop or measuring cup to fill cupcake liners ¾ full, making 24 cupcakes.
Bake at 350° for 35-40 minutes, or until cake is beginning to pull away from edges and is light golden brown. For cupcakes, bake for 15-16 minutes or until the cupcakes are a light golden brown.
Allow sheet cake to cool completely on wire rack. Allow cupcakes to cool in pan about 5 minutes, then gently remove to a wire rack to cool.
Notes
Recipe from The Everything Guide to Living Gluten-Free by Jeanine Friesen. Copyright ©2013 by F+W Media, Inc. Used with permission.
Note: Some links in this post are my referral links. Read my disclosure policy here.  A partial copy of the book was given to me for review but opinions expressed are totally mine.

Related posts: