A little bit cake… a little bit brownie… a whole lotta chocolate! That's how I would describe these delicious gluten-free zucchini cake brownies!
You can't taste the zucchini in baked goods like this – it just lends the moisture needed to make these have a great texture and also be a little healthier. These gluten-free dairy-free egg-free brownies are a hit wherever I bring them every summer!
We currently are harvesting several HUGE zucchini every week so I'm often in the kitchen making new gluten-free zucchini recipes to help use it up. My family would be happy if I made my gluten-free zucchini bread every week, but I like to change it up a bit!
In developing this recipe, I searched online and found that pretty much everyone uses the exact same zucchini brownie recipe, some with frosting, some without. I started with the obviously tried and true zucchini brownie recipe that I found all over the internet, making substitutions to make it be gluten-free, healthier and tastier! The result is a super moist, very chocolatey, cake-like gluten-free zucchini brownie! I've now made this more than a dozen times.
The first time I made these, I used an 11″ x7″ glass pan. This made for a gluten-free chocolate zucchini cake with tall and delicious pieces, but very hard to cut nicely and make for a nice presentation. If I cut carefully, I could get some pieces that looked like this: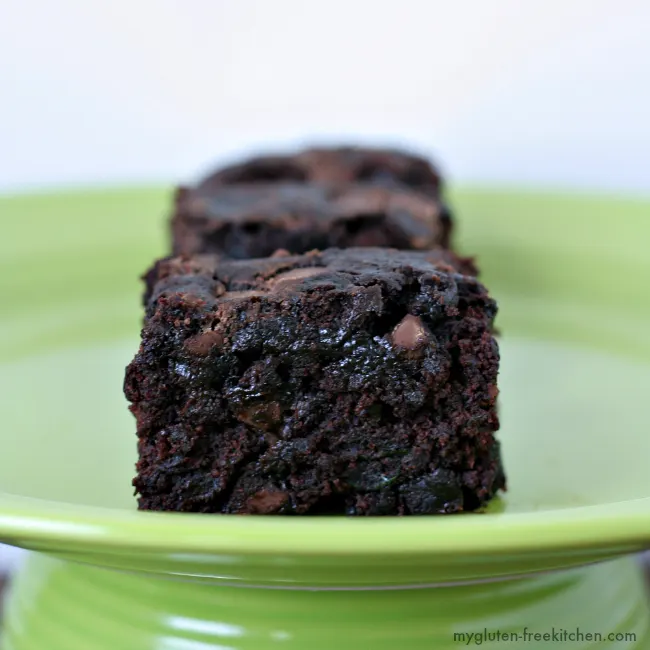 So if you want yours more like a cake and don't mind if they're messy when cut, then feel free to use an 11×7″ pan or similar. If you use a 9×13″ pan then they will be much thinner and will bake quicker.
The second time I made these, I decided to use my new brownie bar pan from Pampered Chef. My hope was that the brownies would turn out just as tasty, but would be in perfect servings that would be easy to get out of the pan. It worked beautifully! Now I always use the brownie pan for making these chocolate zucchini brownies.
This Wilton Brownie Bar pan is very similar and a much cheaper alternative to the Pampered Chef pan. And this champagne gold brownie cake pan is so pretty and would definitely work well for this too!
Here's a look at them before baking: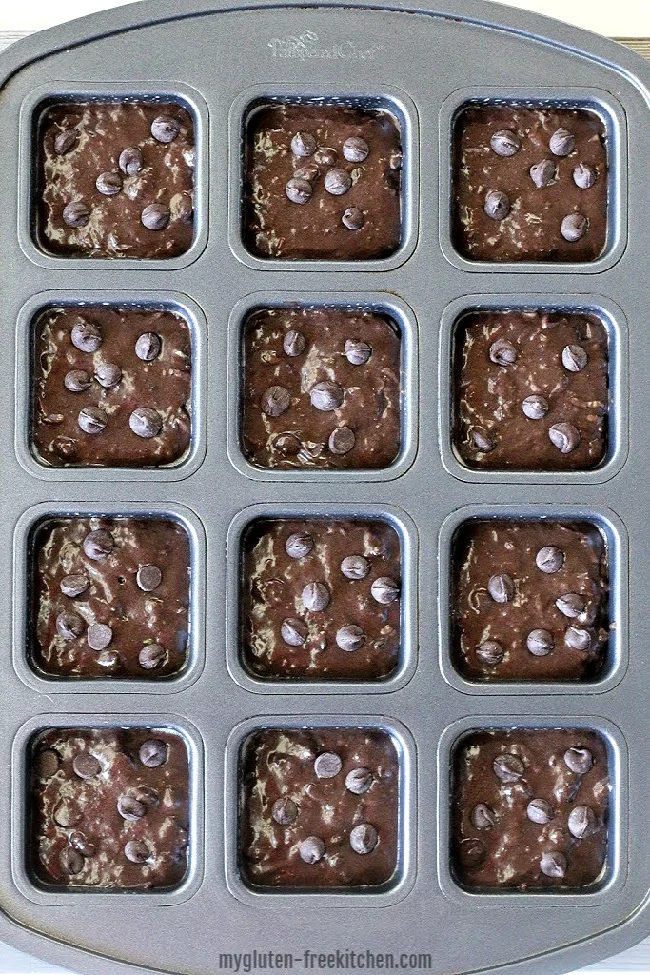 And here's a look after they bake for 15-18 minutes at 350 degrees: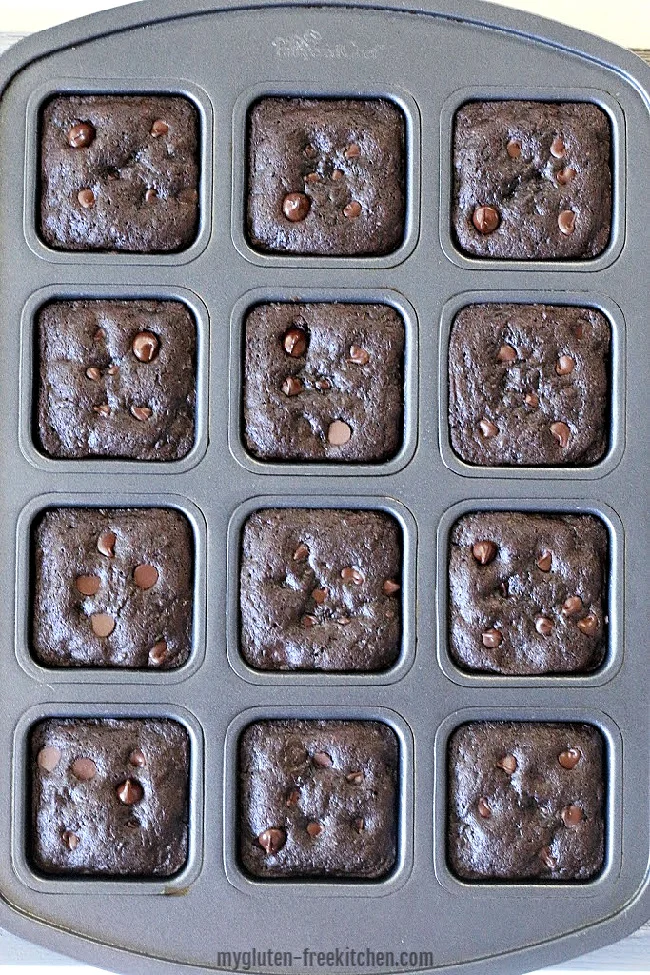 I use my brownie pan for making these gluten-free baked oatmeal squares also. My friend Kim just used that same pan to make my gluten-free carrot cake in and it worked very well too for individual cakes. I'm sure many more of my recipes can be adapted for pampered chef brownie pan recipes too.
Tips for shredded zucchini:
If you want to make sure no one can detect the zucchini by sight, you'll want to peel the green part off the zucchini before shredding. I wasn't trying to hide all evidence of it, so I didn't care that you could see just a few specks of green here and there in them. Again, you can't taste it either way, but if you are trying to hide it from a picky eater, I thought I'd let you know how to do that!
If you are using large zucchini, cut it into wedges and discard the seedy center before shredding.
For ease, I usually shred several zucchini at one time, or just a huge one at once. I use my food processor with the shredding attachment to do it quickly and easily. I then measure out what I need for this recipe and save the rest for other recipes. You can keep the shredded zucchini in fridge for up to a week or you can freeze the rest in portioned bags.
If your shredded zucchini is dripping wet, then dab with paper towels. Some have said theirs was very wet. I have never had that happen for me, so it must be a variance in varieties of zucchini.
If using frozen shredded zucchini, let thaw and discard the excess liquid but don't squeeze it all totally dry.
Here's a look at what you'll need for this recipe: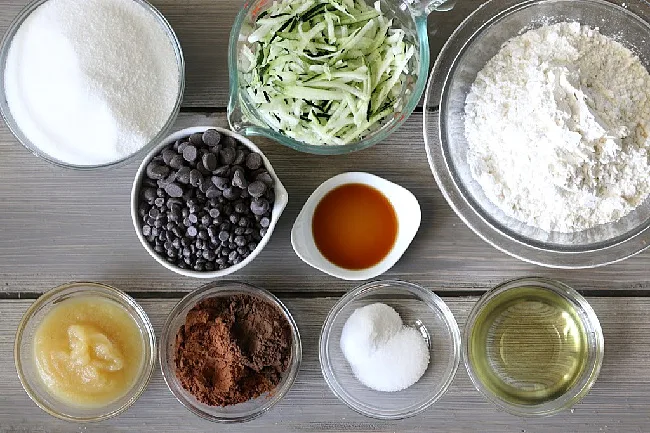 Notes on ingredients and substitutions for these gluten-free zucchini brownies:
Gluten-free flour blend: Any good quality gluten-free flour blend should work in this recipe. I've tested with both gfJules all-purpose gluten-free flour blend (buy direct here) or from Amazon here, King Arthur Measure for Measure flour and Gluten Free Mama's All-Purpose Almond Flour Blend with great success. I do not recommend Namaste Flour, Pillsbury GF Flour, or using any blend with coconut flour or bean flour or using all almond flour.
Xanthan gum: Remember that if your flour blend already contains xanthan or guar gum, you'll skip adding the xanthan gum called for in this recipe. If your flour blend does not contain those, then you'll add just 1/2 teaspoon of xanthan gum to help bind these together.
Applesauce: I have replaced some of the oil with some applesauce. Use plain, unsweetened applesauce. If you don't have applesauce, you can use an equal amount of oil in place of the applesauce. You can also use melted butter.
Cocoa Powder: I like to use Saco cocoa powder, Hershey's cocoa, or Guittard Cocoa Rouge. I often will use half of one of those regular cocoas that I listed and half of Hershey's dark cocoa. That's how to get a deeper brown color.
Chocolate Chips: I like Guittard semi-sweet morsels or Ambrosia semi-sweet chocolate (yes I buy the 10 lb bags of it!) If you need this to be dairy-free, make sure to use dairy-free chocolate chips like Trader Joe's semi-sweet chocolate chips or Enjoy Life Semi-Sweet Chocolate Mini Chips.
While these do have a decent amount of sugar and chocolate in them to make them sweet and yummy, the zucchini and applesauce is enough I think to justify calling them healthy zucchini brownies. If you'd like to play around with sugar substitutes to replace the white sugar, feel free to experiment and come back and tell me of any successful substitutions you made.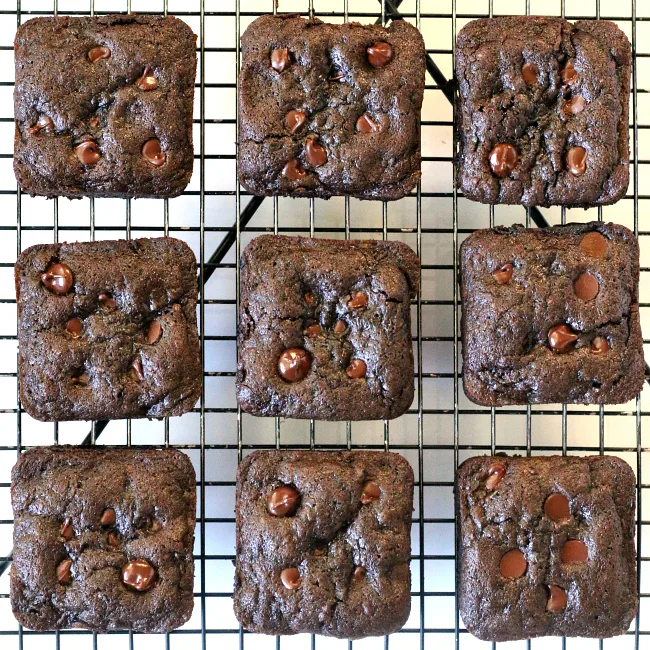 I hope you can make this soon and enjoy! Happy gardening, harvesting and baking!
If you make these and love them, please come back and give this recipe a 5 star rating in the recipe card! Feel free to comment with tips or to share any successful substitutions you made.
Gluten-free Zucchini Cake Brownies Recipe:
Yield: 18-24 brownies
Gluten-free Zucchini Cake Brownies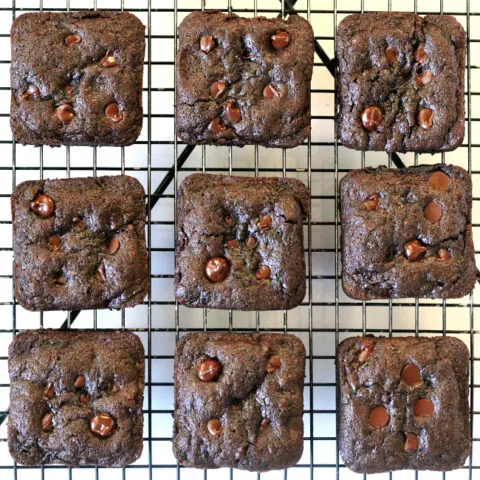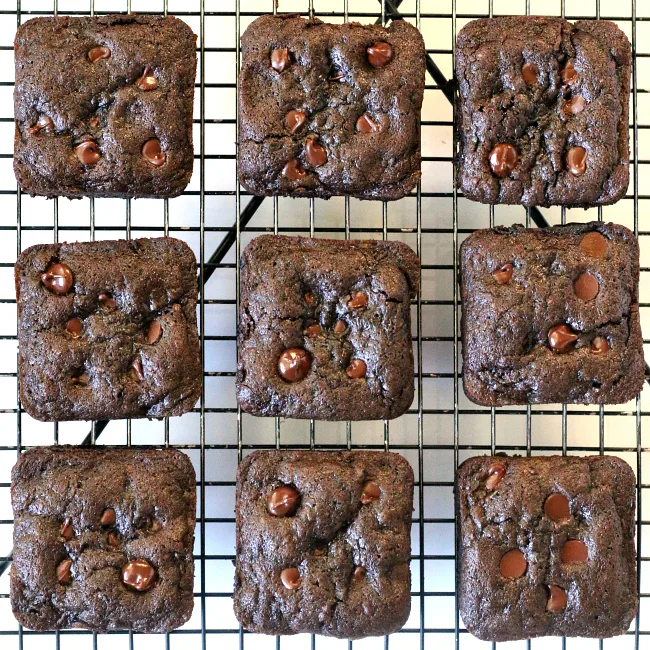 A little bit like cake... a little bit like brownies... a whole lotta chocolate in these gluten-free zucchini brownies! Shredding the zucchini is the hardest part of making these - and that's made easier with a food processor that has the shredding attachment.
Additional Time
5 minutes
Ingredients
2 cups good all-purpose gluten-free flour*
1/2 tsp. xanthan gum (*see note)
1 1/2 tsp. baking soda
1 tsp. salt
1 1/2 cups sugar
1/4 cup unsweetened applesauce
1/4 cup melted unsalted butter or margarine, or canola oil
2 tsp. pure vanilla extract
1/4 cup cocoa powder
2 cups shredded zucchini (unpeeled, or peel to avoid green flecks. If large zucchini, discard seeds)
1 cup semi-sweet chocolate chips (dairy-free use Enjoy Life semi-sweet chips)
Additional 1/3 cup to 1/2 cup semi-sweet chocolate chips for topping
Instructions
Before you begin - shred the zucchini and set aside. See blog post for tips! Peeling is optional, but I do recommend removing the seedy center of the zucchini.
In a medium bowl, whisk together the gluten-free flour, xanthan gum (if needed), baking soda, and salt. Set aside.
In the bowl of your electric mixer, beat sugar, applesauce, butter/margarine/oil, and vanilla extract for 30 seconds.
Add flour mixture and continue beating for about 1 minute, until mixture resembles wet sand.
Add the shredded zucchini, then the cocoa powder, and mix on low until combined.
Stir in the 1 cup of semi-sweet chocolate chips.
Pour brownie batter into greased 7x11 pan or use a large cookie scoop/ice cream scoop to scoop into each cavity of a brownie pan.
Sprinkle extra 1/3-1/2 cup semi-sweet chocolate chips over the top of brownie batter.
For best results, use a brownie pan that has been sprayed with cooking spray. If using brownie pan, bake brownies at 350° for 15-18 minutes or until brownies are set. Let them cool in pan about 4-5 minutes, then gently use a spatula to remove.
If using a greased 7"x11" pan to make it more like cake, then bake at 350° for 25-32 minutes, or until brownies are set. (Due to chocolate chips in batter, it is hard to get a toothpick to come out entirely clean).
Cool on wire rack. Serve at room temp or warm for about 10 seconds for a truly melty, gooey dessert!
Notes
*I've tested this with King Arthur Measure for Measure Flour, gfJules Flour, and Gluten Free Mama's Almond Flour Blend and all worked well.
*If using a flour blend that already includes xanthan or guar gum, then omit the xanthan called for in the recipe.
*If you want yours to be dark like mine, use a mixture of part Hershey's Dark Chocolate, and part regular cocoa powder.
If you need these gluten-free zucchini brownies to be dairy-free, make sure to use dairy-free chocolate chips like Enjoy Life Semi-Sweet Chocolate Mini Chips , or omit the chocolate chips.
Please see blog post for ingredient suggestions and substitutions.
Recommended Products
As an Amazon Associate and member of other affiliate programs, I earn from qualifying purchases.
For more gluten-free recipes, be sure to follow my
Gluten-free Goodies board on Pinterest
!
Pin these to your gluten-free treats board on Pinterest: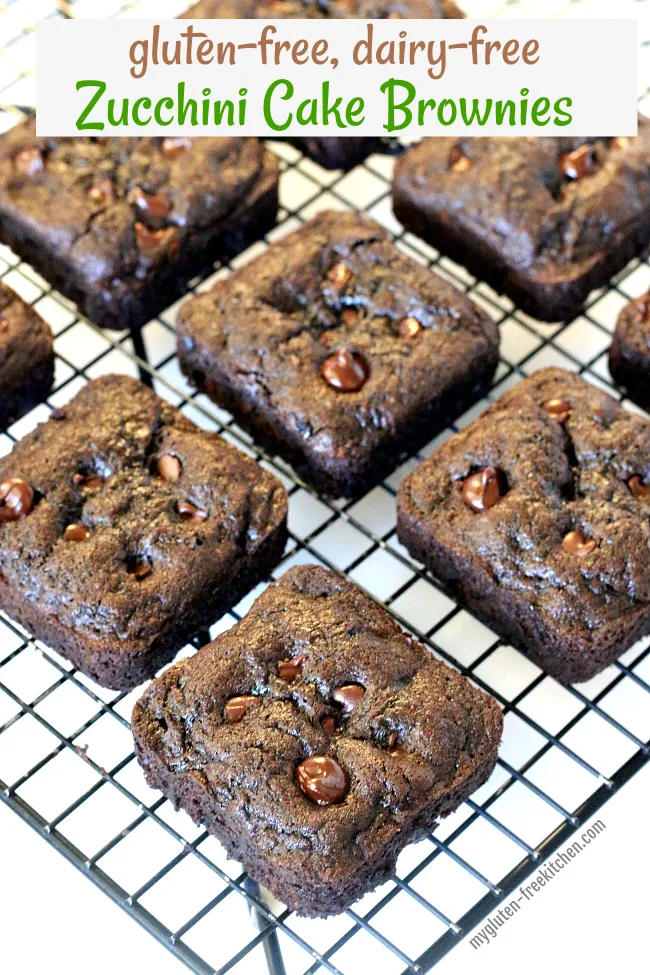 old pin from August 2013! Yes, this recipe was from my first year of blogging!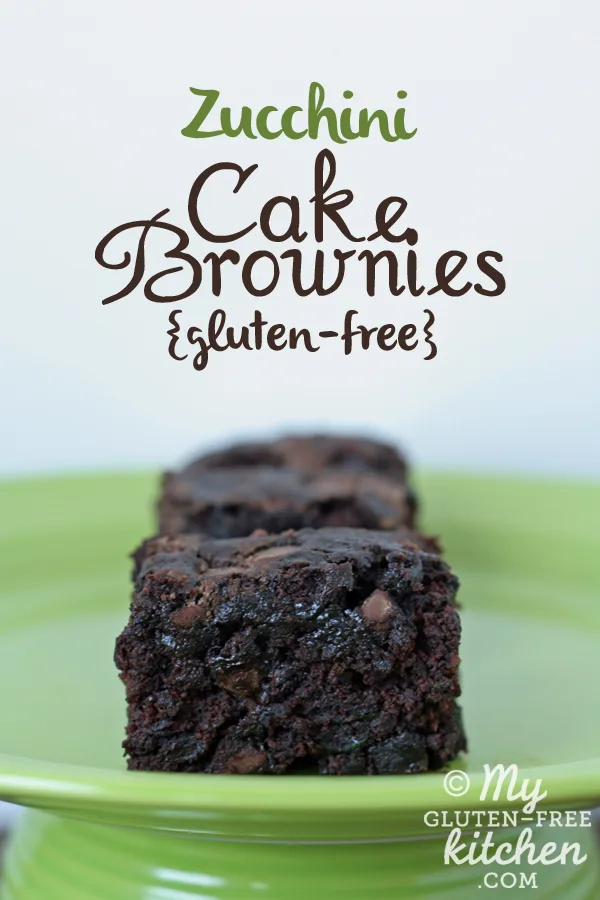 Enjoy these gf zucchini brownies!