Requested at almost every family birthday party, these gluten-free chocolate cupcakes are topped with an amazing fudge frosting! This might just become your go-to gluten-free birthday cupcake recipe too!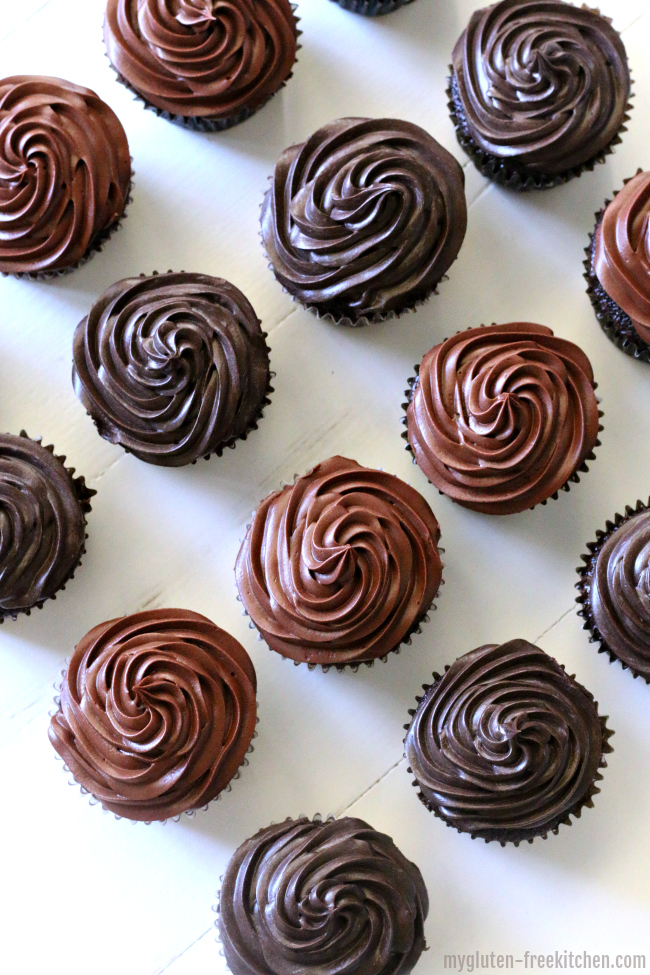 After my diagnosis with celiac disease several years ago, one of the first desserts that I knew I was going to have to make gluten-free was chocolate cupcakes. I adore cookies and brownies, but if I HAD to pick my favorite dessert, it would be these gluten-free chocolate cupcakes with fudgy frosting. They're my favorite gluten-free cupcakes!
This is the only thing I bake that I have zero self-control around. I will usually eat 3 of these gluten-free chocolate cupcakes per day until they are gone, which is definitely not good for the waistline! It's definitely best if I make them when I have somewhere to bring them!
I've been sharing these super chocolaty, moist cupcakes with their fudgy frosting with people for years. They always receive rave reviews from everyone that tries them, whether they eat gluten-free usually or not. No one can tell that they are gluten-free!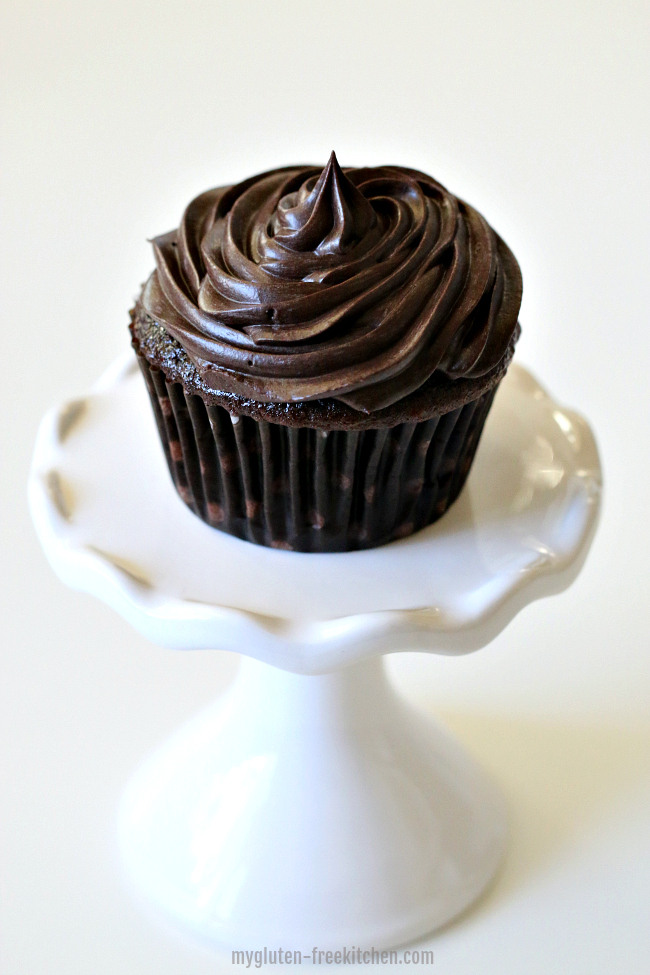 These gluten-free cupcakes have the best texture on the day AFTER baking them, which I think is a big plus! I can whip these up the day before a birthday party, holiday get-together, or BBQ and save myself the work on the day of the event. Sometimes I'll frost these the first day, sometimes I'll wait to frost them until a few hours before I need them. You can store these at room temperature if your house isn't overly warm, or keep chilled until an hour before serving.
This versatile recipe comes from my favorite recipe for gluten-free Texas Sheet Cake. If you're looking for a potluck friendly dessert, go check that one out!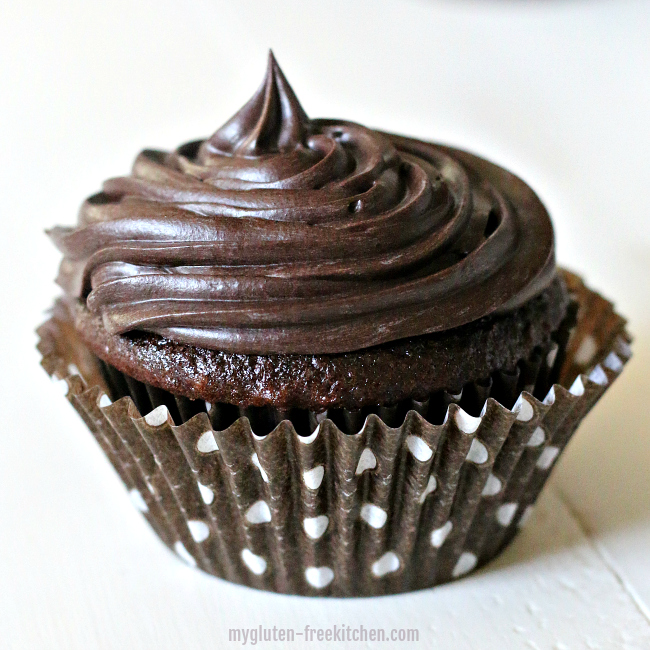 Notes on ingredients for gluten-free chocolate cupcakes:
Here's a look at how full to fill the cupcake liners before baking and what the cupcakes look like after baking. You'll notice the cupcakes are mostly flat, making them perfect for frosting!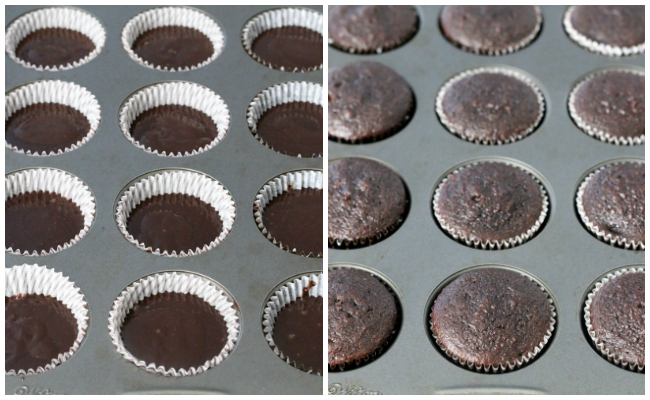 This frosting – you MUST make this fudge frosting! You will totally want to just eat the frosting with a spoon. My hubby and I will fight over who gets to lick the beaters when I make it. Thanks to my friend Steph for sharing this frosting recipe with me back in my college days!
No matter what new cake recipe I try out, I always use this frosting as it is simply the best chocolate fudge frosting there is!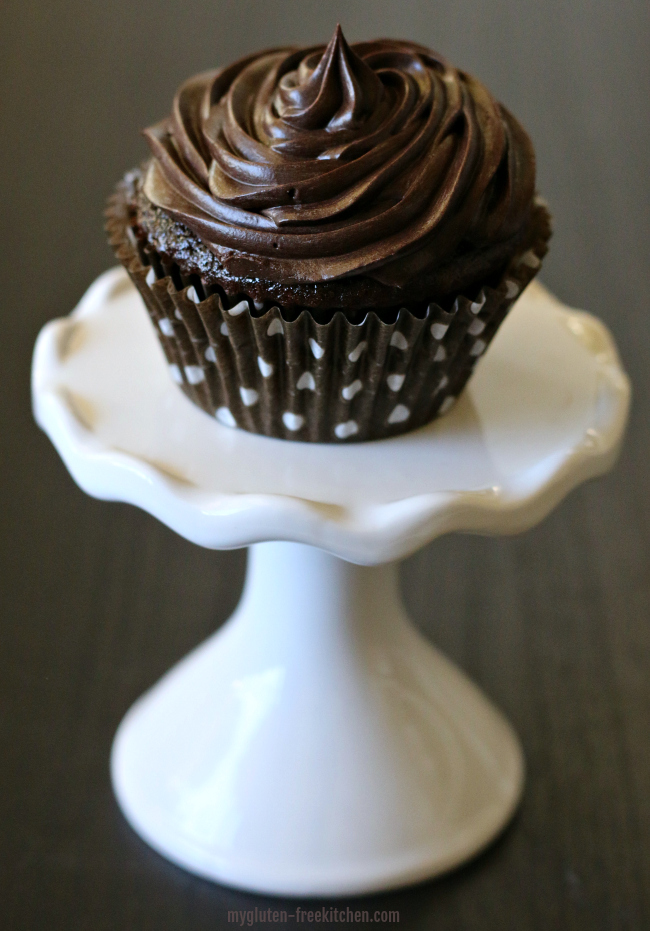 Now I often do the frosting like I do the cake – with half regular cocoa and half dark cocoa. This pic shows you what the frosting looks like made with all regular cocoa (the lighter colored frosting) or with the blend with dark cocoa and regular together (the darker colored frosting). It's completely delicious either way, or to make it fun, make a batch of each like I did here if you want the pretty assortment to offer.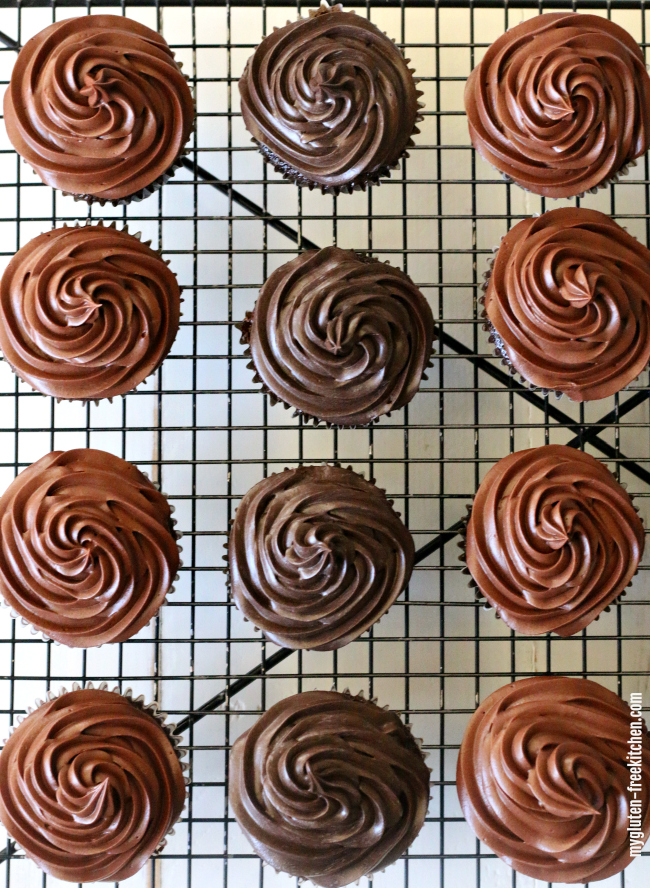 If you use this frosting while still warm, it is easily spreadable and has a glossy finish when dried like you see in the photo of my gluten-free Chocolate Love Cakes but can slide off of whatever you are frosting. If you let the frosting cool completely before using, then it firms up and can be placed into a pastry bag for piping for decorating cupcakes like I did in these photos.
The chocolate fudge frosting can also be refrigerated to use later; just microwave 10 seconds at a time, and stir, until you get to the right consistency for piping or spreading. If you like a lot of frosting on each cupcake (or if you eat too much of it with a spoon!), then you might need to make another batch of the frosting to have enough. If you have any frosting left over, I put it in a freezer bag and put in the freezer to pull out the next time I need some extra frosting (or need a pure chocolate fudge fix!) For piping the icing on these to make a fun swirl, I used a tip from this Ateco Decorating Set on Amazon.
You can also switch up your cupcake liners and add sprinkles to make these work for whatever holiday or party you're bringing them to. Here I used red/white/blue liners and sprinkles to make gluten-free patriotic cupcakes for a Fourth of July potluck: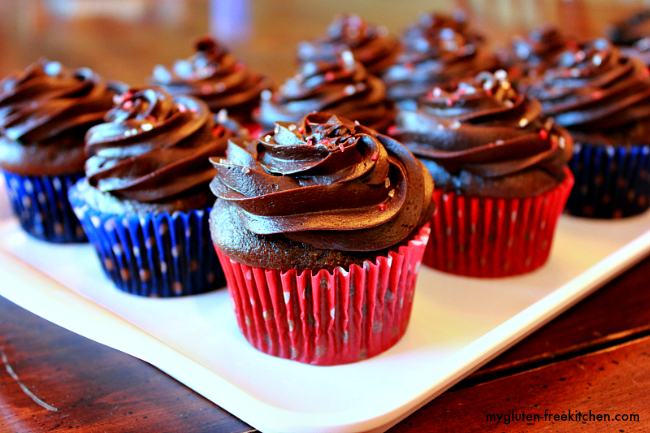 For gluten-free Halloween treats, I simply found some Halloween cupcake toppers and used them, along with some Halloween cupcake liners. I usually find these Halloween cupcake toppers at Hobby Lobby – but other stores like Michael's and cake/party decor places should have them too. I took these easy Halloween cupcakes to a Harvest Party our church was having. The gluten-free kids in attendance were so excited to have gluten-free Halloween cupcakes to win in the cake walk game.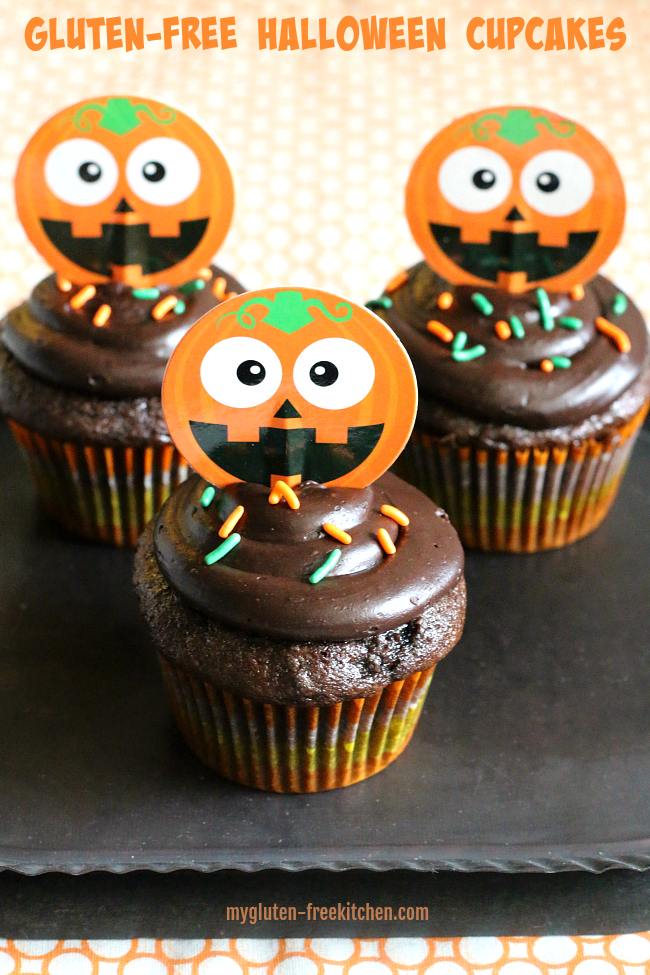 My personal favorite way to enjoy the best gluten-free chocolate cupcakes is to pull them out of the refrigerator and put in the microwave for 12 seconds. With a glass of cold milk as a chaser, I am in heaven as I enjoy chocolate overload! I hope you can make this soon and enjoy chocolate overload with me!
Looking for some other yummy chocolate recipes? Try my flourless chocolate cookie recipe for a real chocolate fix. Next try this skinny flourless dark chocolate cake recipe – it looks so decadent!
Recipe for Gluten-free Chocolate Cupcakes with Chocolate Fudge Frosting:
Yield: 24 cupcakes
Gluten-free Chocolate Cupcakes with Fudge Frosting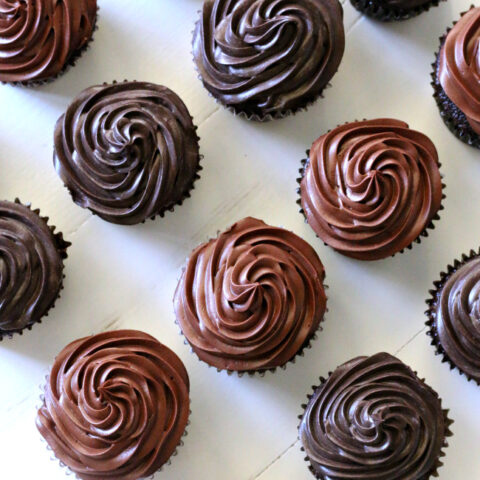 These super chocolaty gluten-free cupcakes are even better made the day before eating, making them a great choice for birthdays.

Prep Time 20 minutes

Cook Time 17 minutes

Total Time 37 minutes
Ingredients
Cupcakes:
2 cups good quality gluten-free flour blend
1 tsp. xanthan gum *see note
2 cups sugar
1 tsp. baking soda
¼ tsp. salt
1 cup salted butter (2 sticks, 16 Tbsp.)
⅓ cup cocoa powder *see note
1 cup water
½ c. buttermilk
2 eggs
1 tsp. pure vanilla extract
Fudge Frosting:
½ cup salted butter (1 stick)
½ cup cocoa powder *see note
3 ⅔ cup powdered sugar
6-7 Tbsp. milk
1 tsp. pure vanilla extract
Instructions
Cupcakes
Line a muffin pan with paper liners and set aside.
In your mixing bowl, combine gluten-free flour, xanthan gum, sugar, baking soda, and salt and set aside.
In a medium saucepan, combine butter, cocoa, and 1 cup water. Bring just to boiling, whisking constantly. Remove from heat and add to dry ingredients, beat until combined.
Add buttermilk, eggs, and vanilla and beat for one minute on low-medium speed.
Pour batter into cupcake liners. I use a large scoop that measures about 1/3 cup batter into each opening.
Bake at 350° for 17 minutes or until a toothpick comes out clean or with a few crumbs (no wet batter).
Let cool in pan for 4 minutes, then remove cupcakes. Wait to frost until completely cool.
Fudge Frosting:
Using a medium glass bowl, melt the stick of butter in microwave. Whisk in cocoa powder, then heat for 1 minute. Add powdered sugar and milk alternately, beating with a hand mixer until creamy. Add vanilla last, beating in until mixed well.
If you use this frosting while still warm, it is easily spreadable and has the glossy finish when dried like you see in the photo but can slide off of whatever you are frosting. If you let it cool completely, then it firms up and can be placed into a pastry bag for piping for decorating cakes or cupcakes. The icing can be refrigerated to use later; just microwave 10 seconds at a time, and stir, until you get to the right consistency for piping or spreading.
Notes
*If your flour blend already contains xanthan gum or guar gum, omit the xanthan gum called for in this recipe.

As always, be sure to double-check your ingredients for gluten.
For the cocoa powder, I like to use about 1/2 of dutch-processed or Saco blend cocoa and 1/2 Hershey's special dark cocoa. That is how I achieve a nice dark brown to my cupcakes and icing.

*You can also bake this as a cake in a 9x13" pan for ~35 minutes or in two 8" cake pans for 22 minutes. Make sure to spray the pans well with non-stick cooking spray.
Recommended Products
As an Amazon Associate and member of other affiliate programs, I earn from qualifying purchases.

Here they are decorated for a patriotic party: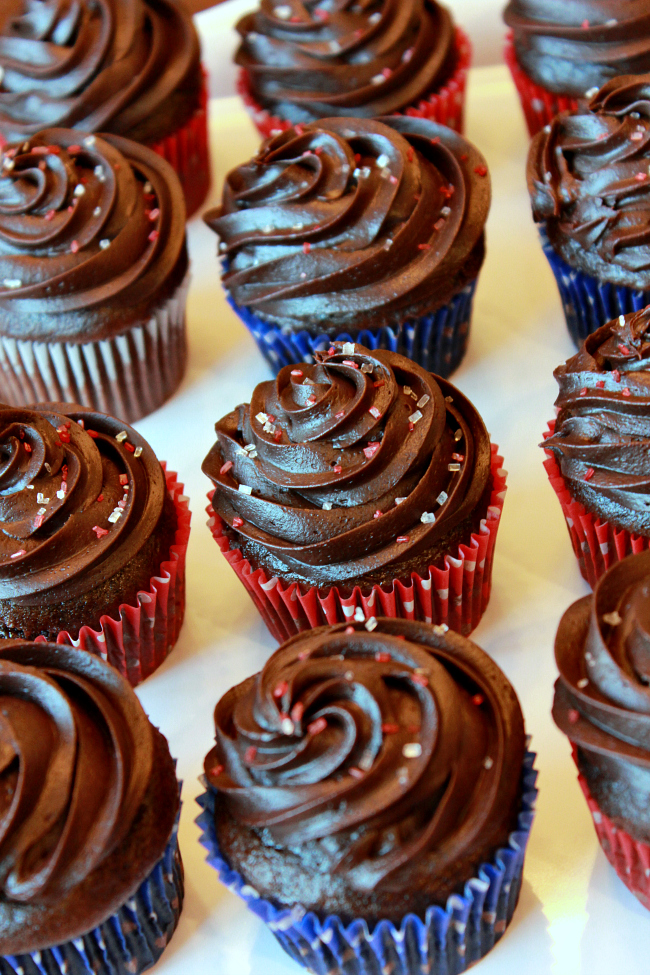 Pin these to your gluten-free desserts board here!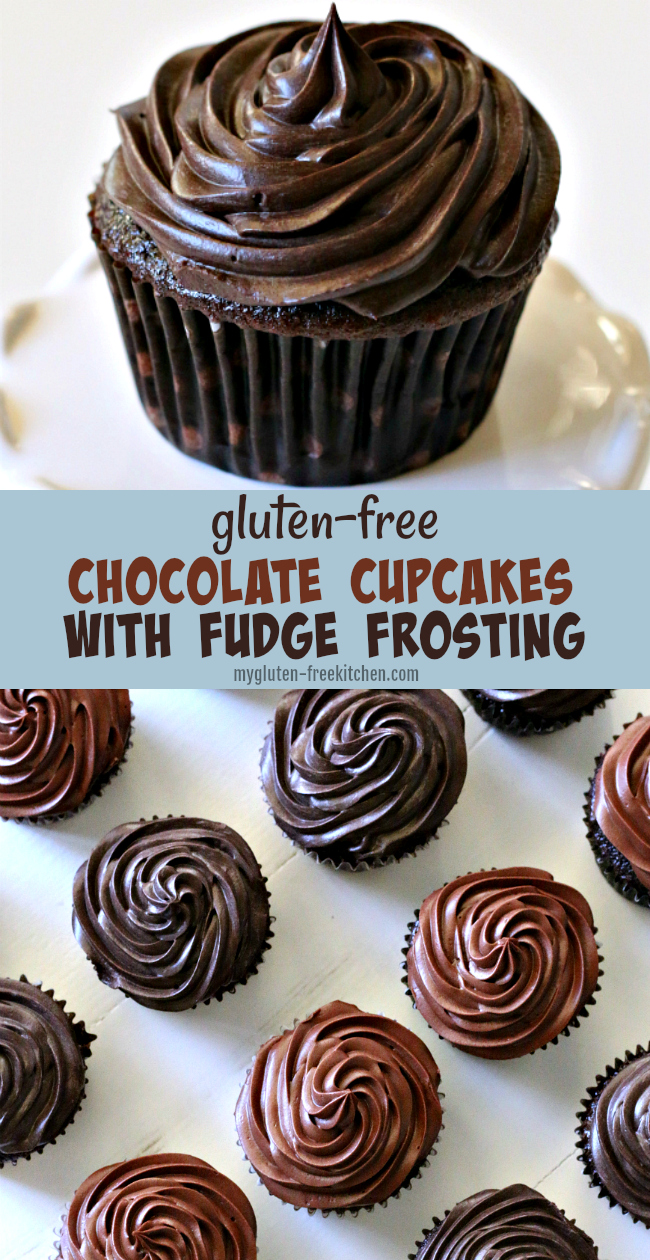 I hope you and your family enjoy these and think they're the best gluten-free cupcakes like my family does!