Earlier this summer, I was able to attend the Celiac Disease Foundation's National Conference and Expo. This was my second time attending, and I once again enjoyed it and learned so much!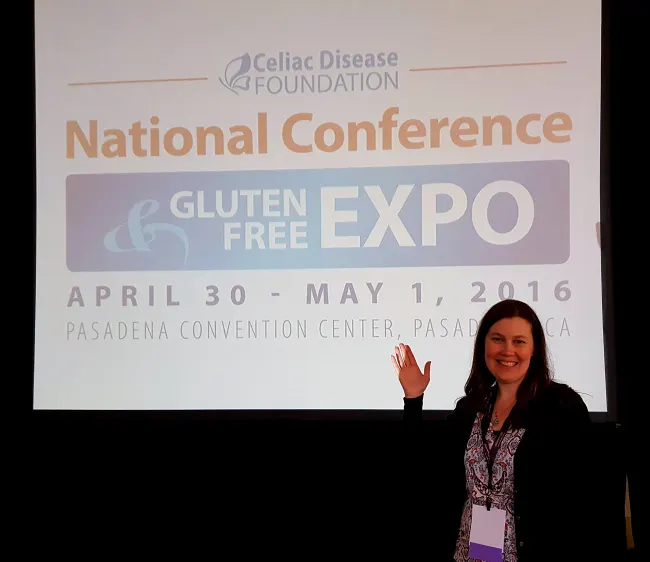 CDF's national conference brings together leading experts in celiac disease, researchers that are working on cures and treatments for celiac, and nutritionists to share advice on living on a gluten-free diet. I'm excited to share with you some of what I learned at the CDF National Conference.
Here are 5 things I learned at the CDF 2016 National Conference and Expo:
1. There is no greater joy than that of seeing a dedicated gluten-free buffet line! Okay okay, getting married and having babies rank up there pretty high for joy inducing events, but I swear I heard angels singing as I gazed upon the breakfast buffet for conference attendees. Gluten-free pancakes from Pamela's, Jone's Dairy Farm bacon and sausage links, scrambled eggs, red potatoes and Kinnikinnick donuts. There was a separate vegan, gluten-free buffet with bagels and a tofu scramble as well. Everything I tried was yummy, and best of all, safe!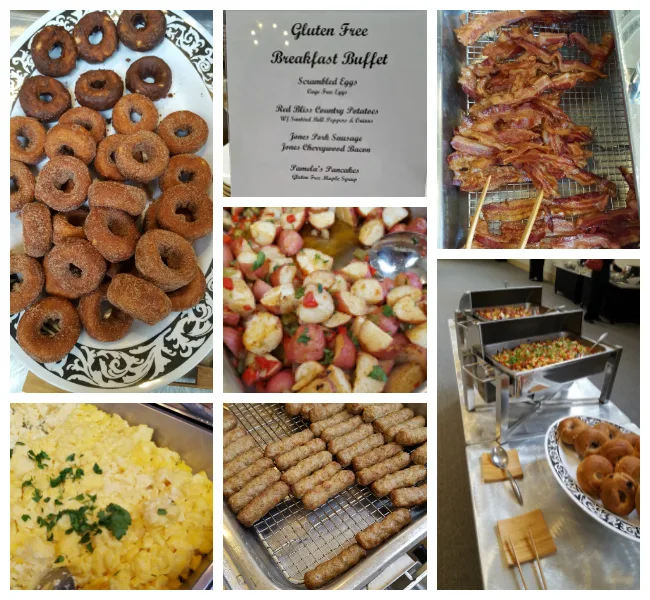 2. A test is being developed that can test stool samples for detecting if gluten is still being consumed. This would be useful when someone is still having symptoms on a gluten-free diet, as it can be verified whether they are still getting some gluten, either intentionally or inadvertently. (info from Annette Taylor, phD from LabCorp)
3. High levels of gluten have been found in naturally gluten-free grains! In this (not great quality) photo I snapped of one of the PowerPoint slides, you can see that several of the flours, including millet flour, buckwheat flour, soy flour, and sorghum flour tested for way higher amounts of gluten than is recommended for us celiacs to consume (20 ppm or less). This is why if you are celiac, you shouldn't buy from the bulk bins or from sources that don't test their products for gluten! Stick with brands that identify that they test their grains to be under 20ppm. How do you know? Look for a certified gluten-free symbol or contact the brand to inquire about what third party testing they use.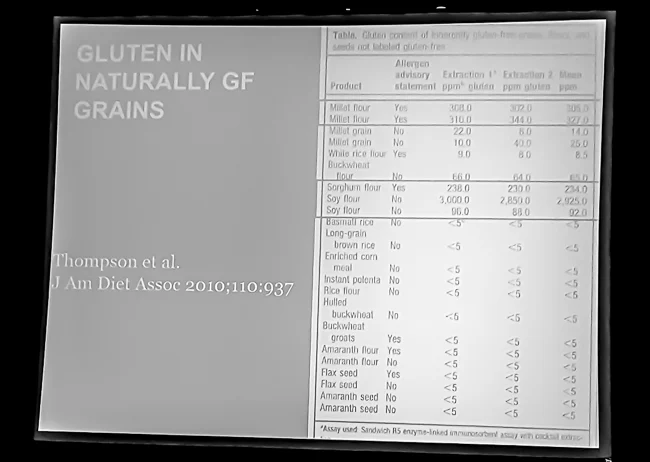 4. Progress is being made on medical treatments for celiac disease. Studies have shown that many people with celiac are interested in an alternative treatment for celiac besides a 100% gluten-free diet. I thought this slide listing some of the factors identified by patients interested in a medication was interesting: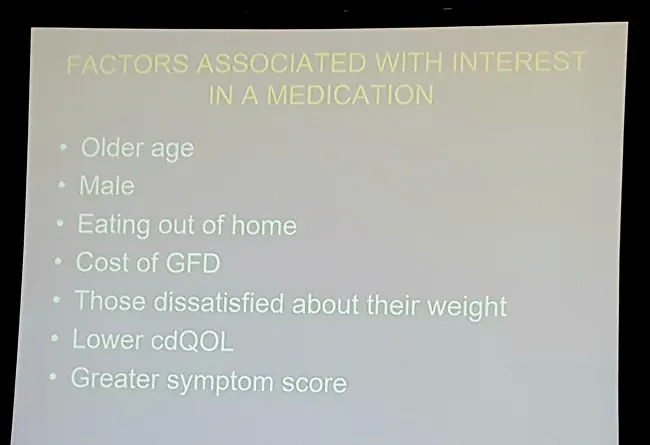 On that topic, it was very interesting to listen to updates on some of the current treatments/medications currently in research trials right now! I was super excited about this topic.
5. Celiac Disease Foundation has launched a patient registry for those of us with celiac disease to help with research. iCureCeliac is a patient powered research network dedicated to accelerating research efforts to better understand and ultimately cure celiac. Please take a few minutes and submit your info to help! Already, the info that fellow celiacs have submitted has been compiled into helpful data! I'm including a photo below that shows the info gathered from the first 1200 that submitted.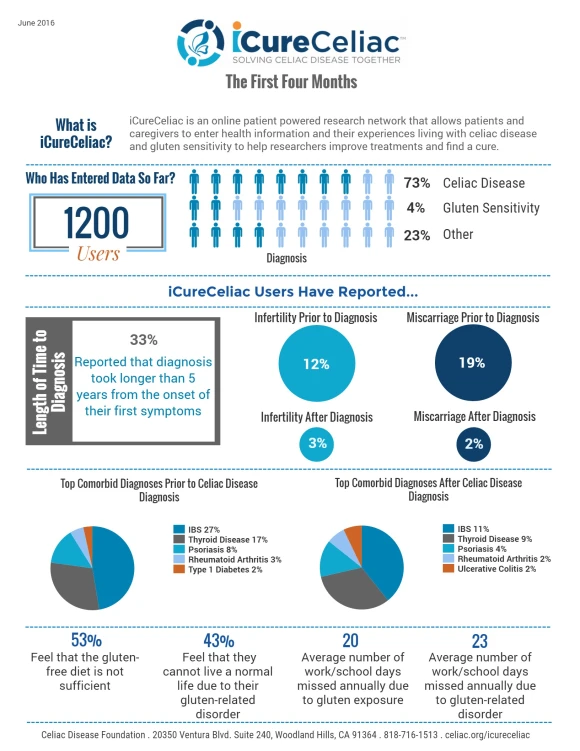 I attended this event with a free press ticket. All opinions are my own.