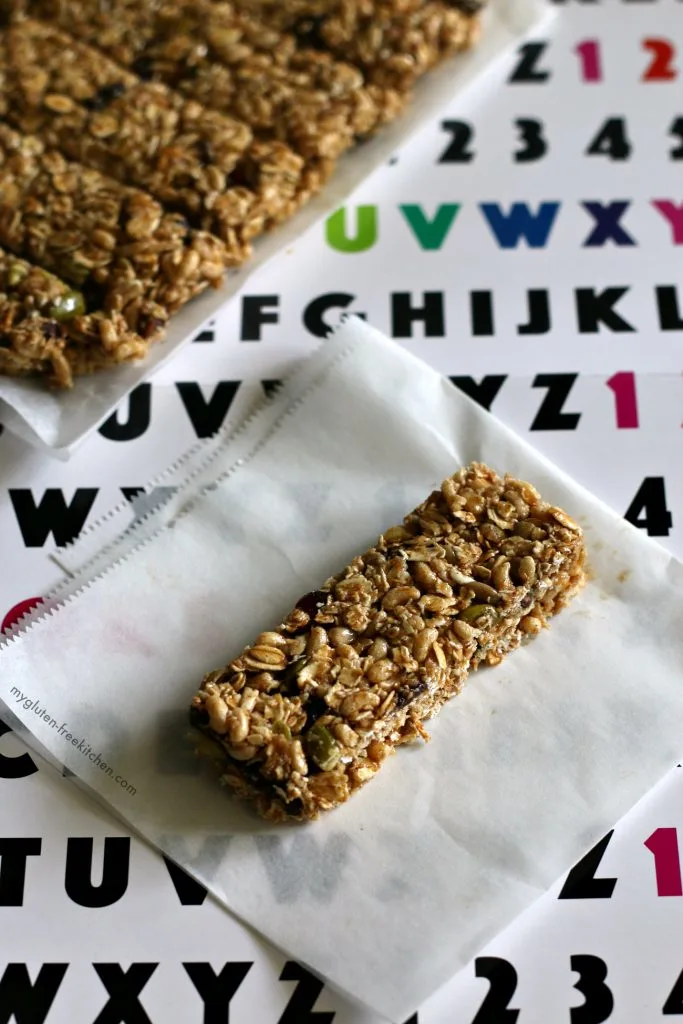 I wanted to come up with an easy, homemade granola bar that would be safe for kids that are not only gluten-free, but also avoiding any of the top allergens. My kids have always loved Quaker chewy granola bars, so I wanted to make a chewy gluten-free granola bar, versus a crunchy one. (I'll do a crunchy one another time!)
Through my ongoing partnership with Enjoy Life Foods, I asked them to send me some packages of their Mountain Mambo Seed & Fruit Mix to use in these granola bars, because I just knew they'd be a perfect mix-in! I was right!
The Mountain Mambo Seed & Fruit Mix is a favorite snack of mine. It has sunflower kernels, pumpkin seeds, raisins, dried cranberries, dried apples and mini chocolate chips. It's certified gluten-free, nut-free, and free of the top 8 most common allergens, which is hard to find in a snack mix! My family loved how these added some flavor and crunch to the granola bars.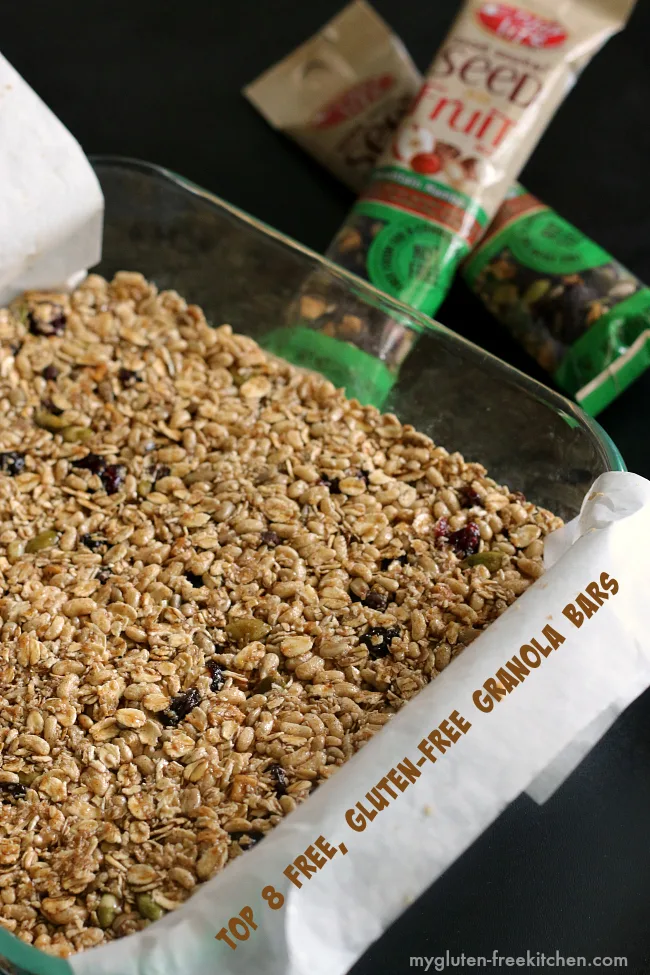 I tweaked two recipes I found online, these best dang granola bars from my friend Heather (which are easily gluten-free with her specifications), and these granola rounds.
I wanted this recipe to not only be gluten-free, but also top 8 allergen free and even free of regular white/brown sugar. I opted to use pure maple syrup and raw honey for the sweeteners in these bars, and they worked perfectly.
To add a little crunch, and remind me of the store-bought granola bars my kids have always loved, I included some crispy rice cereal in these. There are a number of gluten-free versions of rice cereal out there, as well as varieties that avoid other allergens as well. The crisp rice cereal I always use is this one.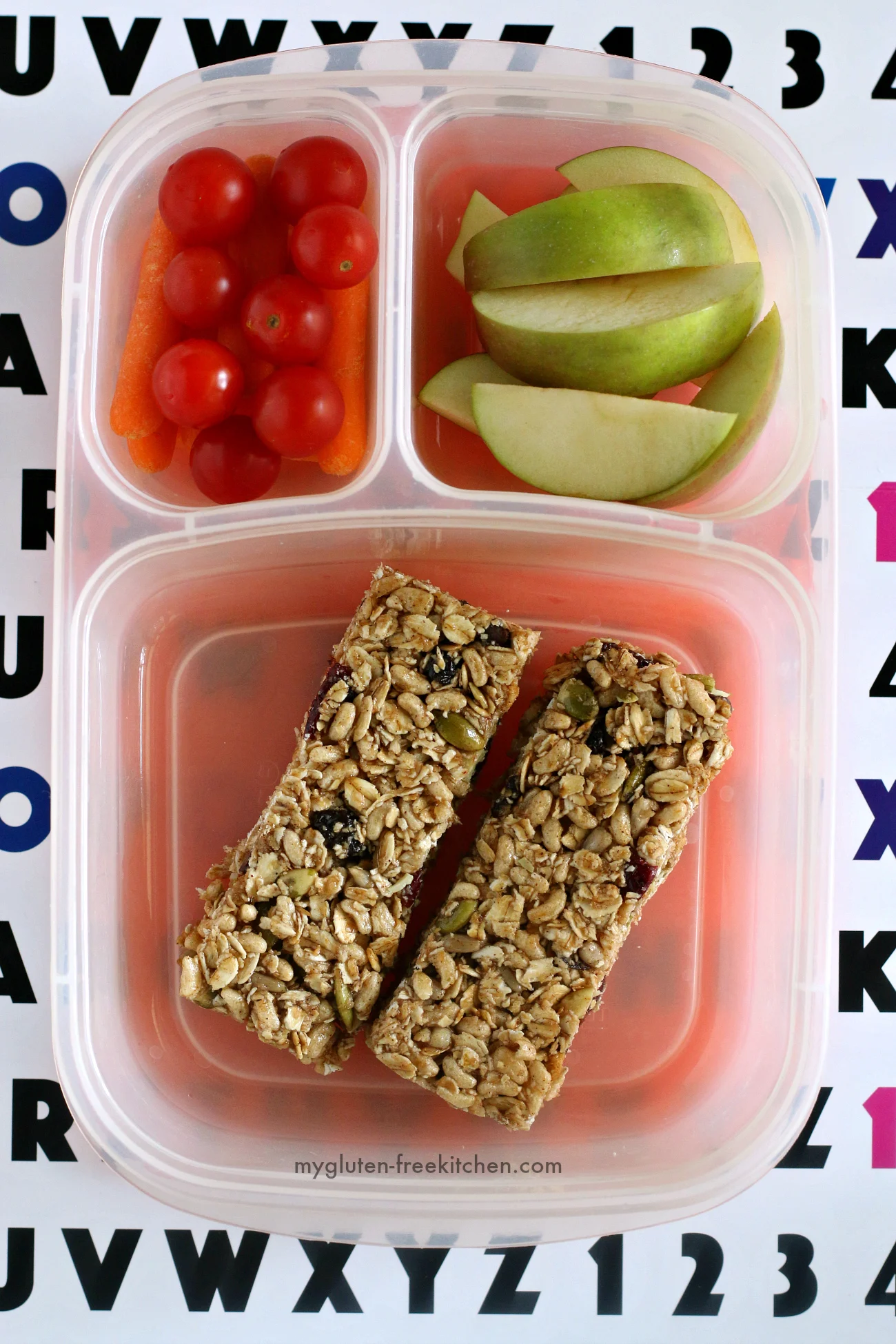 I incorporated these chewy gluten-free granola bars into an allergy-friendly lunchbox. There are lots of options of foods you could include, but I opted for carrots, fresh cherry tomatoes from our garden, and slices of McIntosh apples that we just picked up from the apple orchard. So yummy! My oldest enjoyed this for lunch today and I'm going to make this for my lunch tomorrow!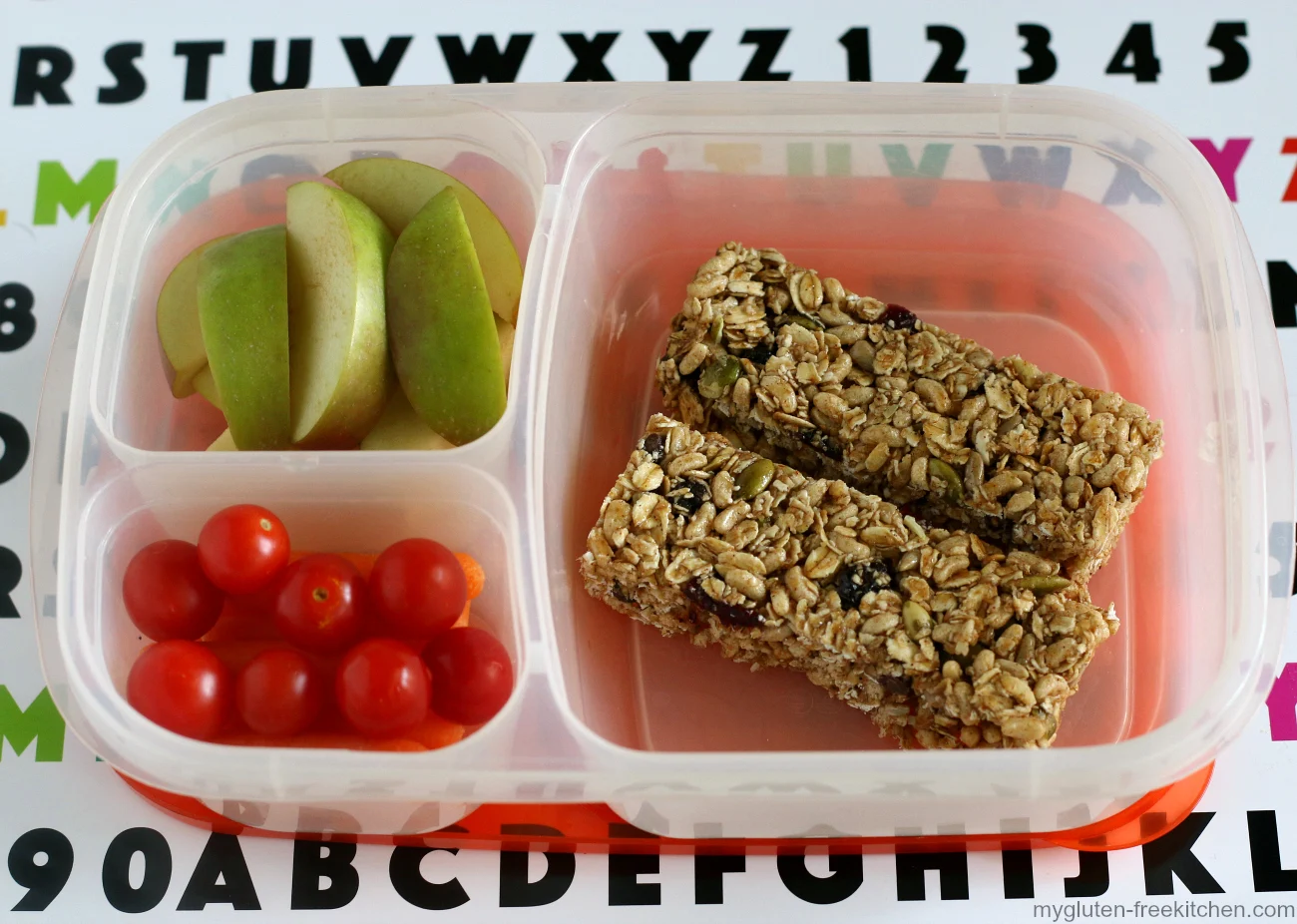 Notes on ingredients for these allergy-friendly granola bars:
If you're looking for more recipes that are top 8 allergen free, I've got several to recommend. If you're wanting something savory, check out my gluten-free pizza waffles that are free of the top 8 allergens too! On the sweet side, these easy top 8 allergen free cinnamon rolls look soooooo good and I love that they're so easy! For a sweet snack, you can't go wrong with these gluten-free apple nachos!
Gluten-free Granola Bars Recipe:
Yield: 12 bars
Gluten-free Top 8 Allergen-free Granola Bars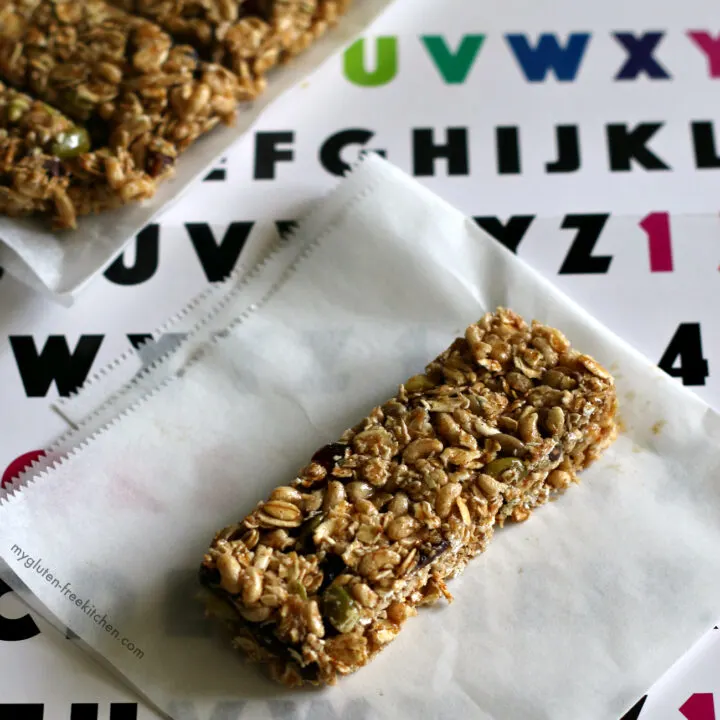 These gluten-free granola bars are free of the top 8 allergens - making them a great healthy snack for most kids and adults!
Ingredients
2 cups certified gluten-free old-fashioned rolled oats
1 Tbsp. ground flax seed
1 cup gluten-free crispy rice cereal
1/4 cup raw honey
3 Tbsp. pure maple syrup
2 Tbsp oil (canola, corn, grapeseed, etc.)
1 1/2 tsp. pure vanilla extract
1 tsp. ground cinnamon
1/4 tsp. salt
2 packages (1.63 oz. each) Mountain Mambo Seed & Fruit Mix
Instructions
Preheat the oven to 350°. Line a jelly roll pan or baking sheet with parchment paper.
Gently stir the gluten-free rolled oats and ground flaxseed together. Spread out in a layer on the baking pan/sheet. Bake at 350° for 15 minutes.
Pour the oats/flaxseed mixture into a large mixing bowl. Gently stir in the gluten-free crispy rice cereal. Set aside.
Line an 8"x8" baking pan with parchment paper or foil. Set aside.
In a medium bowl, whisk together honey, maple syrup, oil, vanilla extract, cinnamon and salt.
Pour the syrup mixture over the oat mixture and stir to coat evenly. Stir in the Mountain Mambo seed and fruit mix and stir to coat evenly.
Use a spatula to scoop and spread the mixture into the lined 8"x8" pan.
Cover mixture with either another piece of parchment, aluminum foil, or plastic wrap and press down on the granola bars to fill the corners and flatten. Keep pressing as hard as you can to compress the bars and even them out. This is what will help them stay together later instead of falling apart!
Place pan in refrigerator for at least an hour before cutting.
Cut into squares or strips. I cut in half one direction, then into six rows, for a total of 12 bars. You can store these at room temperature in a sealed container, or keep in the refrigerator. You can also wrap the bars individually with plastic wrap or parchment squares.
Notes
You don't bake the bars once assembled. The only baking here is of the oats and flaxseed to bake them before assembling into the bars.
Recommended Products
As an Amazon Associate and member of other affiliate programs, I earn from qualifying purchases.


This sponsored post was created through my partnership with Enjoy Life Foods. As always, all opinions are my own. Collaborating with brands I love allows me to keep bringing you new and varied recipes! Thanks for your support!