Gluten-free Cheddar Hush Puppies are fried cornbread treats that are a delicious gluten-free appetizer!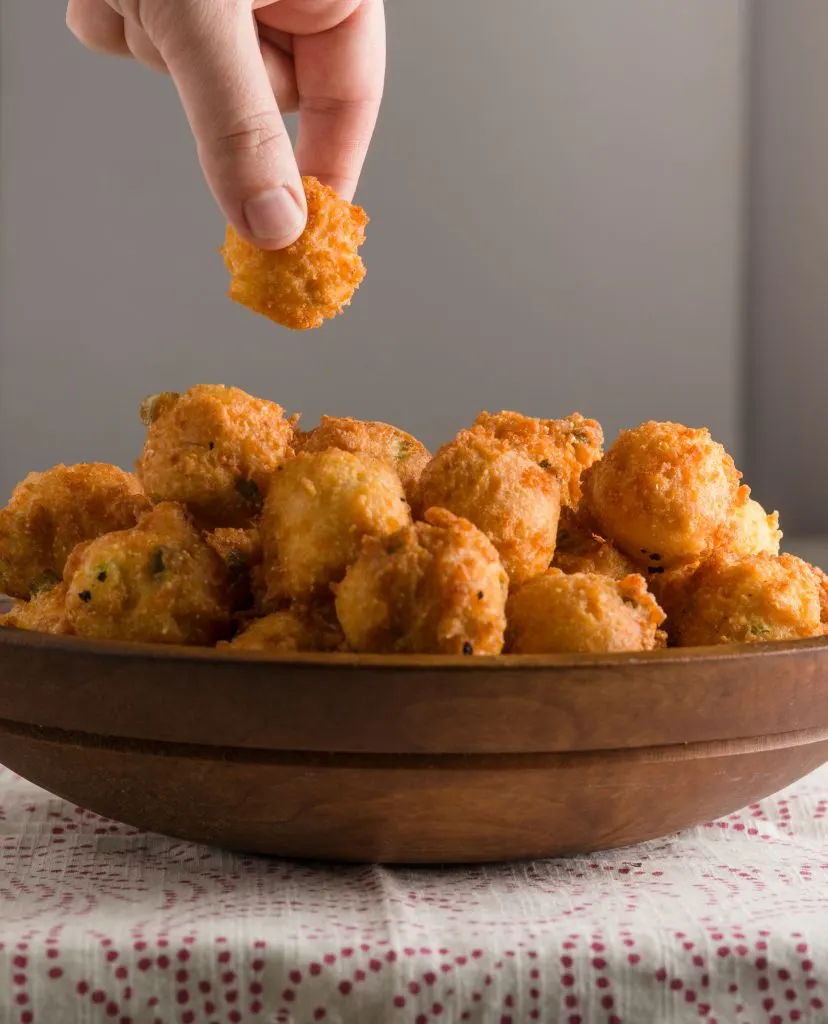 These gluten-free cheddar hush puppies come right from the beautiful pages of the new Gluten-free Small Bites cookbook. These delicious fried cornbread treats make a great appetizer or side dish with your favorite meal. Frying makes these golden brown on the outside, soft and tender on the inside. I love the cheddar added to them too, since that's my favorite cheese and I like to add it to everything!
I'm so excited to share this new recipe and new cookbook with you! If you've followed me for long, you've seen me mention what a cookbook junkie I am. In every bookstore or library, you'll find me in the cookbook section. My husband wonders why I *need* so many cookbooks. Silly husband.
You know how some cookbooks are the type that you enjoy flipping through, admiring the photos, and then you put it back on the shelf because you'll never use them? Yes, I've done that many times! Then there are other cookbooks that you right away use sticky tabs or slips of paper to bookmark all the recipes you want to try. This new cookbook is the second type, which is why I wanted to share it with you!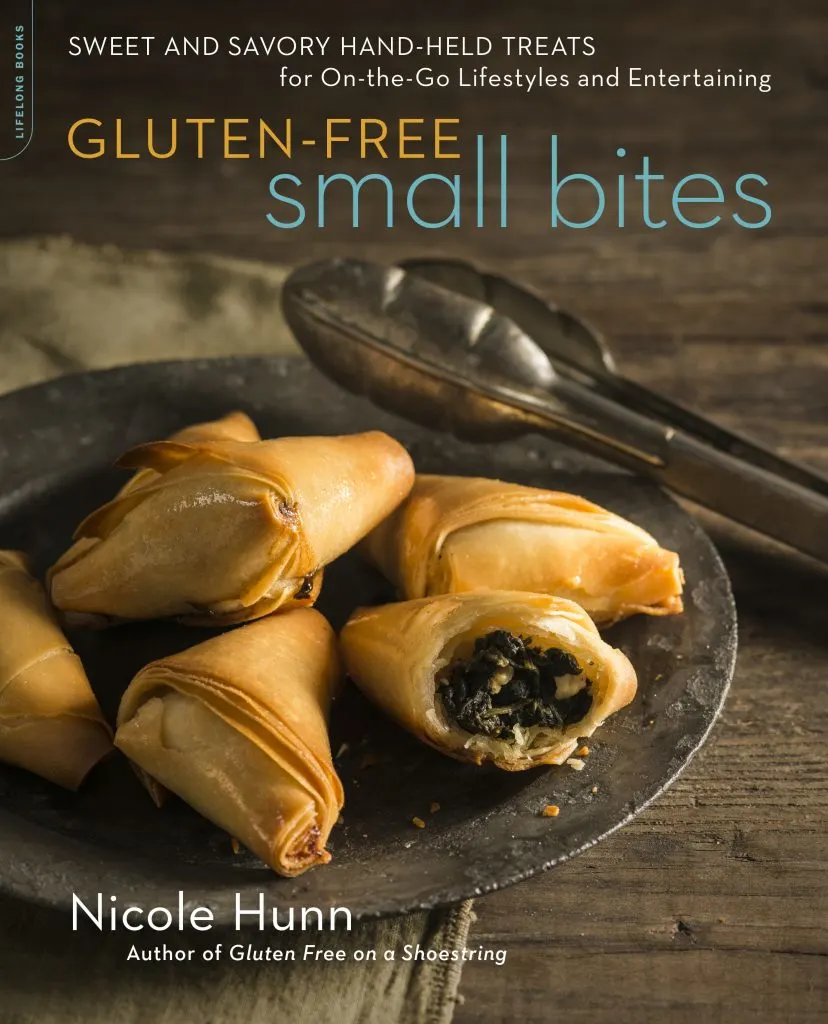 My friend Nicole is the recipe genius behind this new cookbook, Gluten-free Small Bites. She's been sharing her creative recipes and appealing food photos on her blog, Gluten Free on a Shoestring for years. She also has several other cookbooks that she's released in the past few years -all of which I have personally purchased. This time, Nicole was sweet enough to send me my own complimentary copy, though you can bet I would have bought it anyways! You can see all of her books available on Amazon here.
I have to say that as much as I love all of her previous cookbooks, this is the one I'm going to be using the most. I need to buy a new post-it pad so I can mark all the rest of the recipes I want to try! With full color photos of almost all of the recipes, I was practically drooling as I paged through it! I wanted to give you a glimpse of some of the small bite recipes that caught my eye. I decided to pick the 6 I think I'll make first, which was a very hard task!! I picked 3 savory gluten-free appetizers and 3 gluten-free sweets to try next.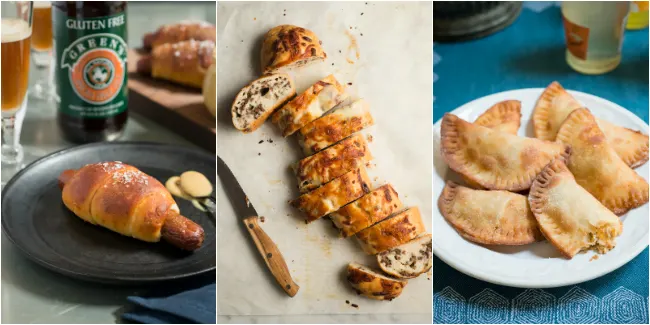 Gluten-free Pretzel Dogs, Beef Stromboli, and Chicken Empanadas are the savory recipes I can't wait to try! I have actually never had a pretzel dog before and always am jealous when I see others enjoying them. I'm so glad to be able to make my own! That pretzel dough looks perfectly chewy. I think beef stromboli will be a huge hit with my household of boys for game night. The gluten-free chicken empanadas looked like something I'd really enjoy for my lunches here at home, so I'm going to try making them and freezing them so I can pull out just a few to have for lunch with a salad.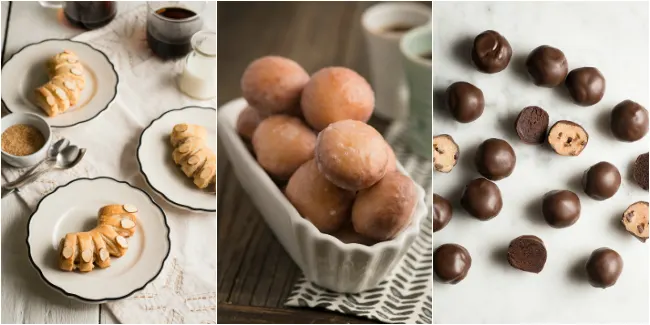 You all know what a sweet tooth I have, so it was really hard to pick the first three sweets I'll make. But let me tell you, when I turned the page and saw the gluten-free bear claws, my jaw dropped. Seriously, don't they look amazing? I will be making those asap! Next up will be the glazed donut holes, because I haven't had a good gluten-free glazed donut hole like ever! I want to make the chocolate truffles in December as they look perfect for gift giving!
If you are ready to try a recipe from the book, here's Nicole's recipe for gluten-free Cheddar Hush Puppies. Be sure to let me know when you try them!
Want to try some of my other favorite appetizers? My go-to is these chips and guacamole bites. I also like to make this gluten-free bean and cheese dip often. On my must-make-soon list are these bacon wrapped raspberry stuffed dates!
Yield: 12 large hush puppies
Gluten-free Cheddar Hush Puppies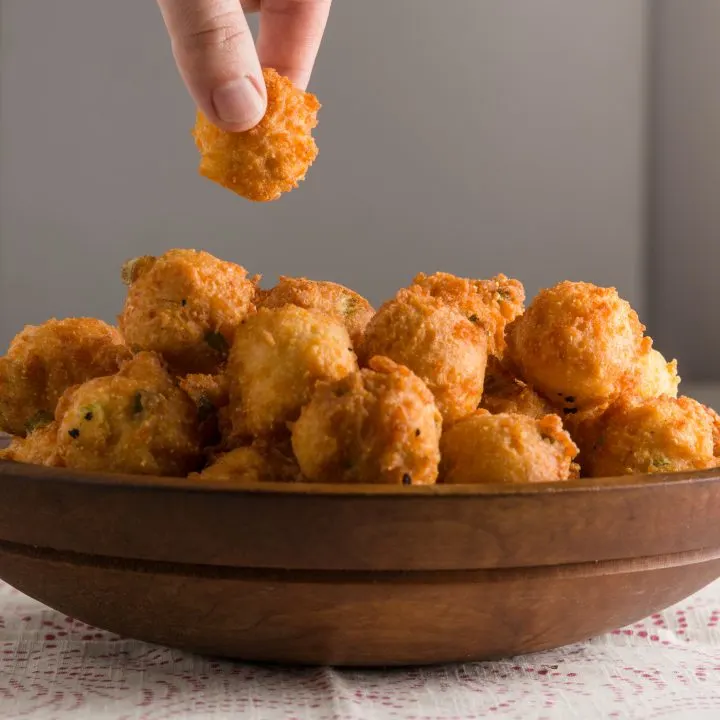 Nicole's favorite way to serve these hush puppies is on a bed of greens dressed with a simple vinaigrette and a dollop of sour cream. Once fully prepared, they are best eaten right away.
Ingredients
1 cup (140 g) all-purpose gluten-free flour (see below)
1 cup (132 g) coarsely ground yellow cornmeal
1 teaspoon baking powder
½ teaspoon baking soda
¾ teaspoon kosher salt
3 ounces sharp yellow Cheddar cheese, grated
¼ cup chopped scallions (about 2 large scallions)
2 tablespoons minced celery (from 1 small stalk)
1 cup (8 fluid ounces) buttermilk, at room temperature
2 eggs (100 g, weighed out of shell), at room temperature, beaten
Neutral oil, for deep-frying
Instructions
In a large bowl, place the flour, cornmeal, baking powder, baking soda, and salt, and whisk to combine well. Add the grated cheese, scallions, and celery, and mix to coat them in the dry ingredients. Create a well in the center and add the buttermilk and eggs. Mix until just combined, without overmixing. The batter should be thick but soft.
Place paper towels on a plate, and set it aside. Bring 2 inches of oil to 325°F in a large, heavy-bottomed pot or deep fryer. Using a spring-loaded ice cream scoop or two large spoons, drop about 2 tablespoons' worth of batter in the hot oil. Repeat with as much batter as can fit comfortably, taking care not to crowd the oil. Allow to cook for about 3 minutes or until golden brown on one side before gently turning over and cooking until golden brown all over and cooked through, about another 2 minutes. Remove from the oil with a strainer and place on the paper-towel-lined plate to drain. Bring the oil back to temperature between batches. Repeat with the remaining batter. Serve immediately.
Bigger Bite Option: Drop the cornmeal batter in the frying oil in larger portions, about ¼-cup each, and fry for 4 to 5 minutes more.
No-Fry Option: The only way to achieve a round shape for your hush puppies is to fry them, but that alone isn't reason enough not to bake them if that's what you'd prefer. Prepare and portion the batter in the same manner as directed in the recipe, but preheat your oven to 350°F and place the batter portions spaced about 1½ inches apart from one another on a lined rimmed baking sheet. Bake the hush puppies for about 15 minutes, or until lightly golden brown all over. Serve immediately.
Recipe and all photos are from the book Gluten-Free Small Bites: Sweet and Savory Handheld Treats for On-the-Go Lifestyles and Entertaining, by Nicole Hunn. Excerpted by arrangement with Da Capo Press, an imprint of Perseus Books, LLC, a subsidiary of Hachette Book Group, Inc. Copyright © 2016.
I was provided a free copy of this cookbook but would have blogged about it anyway since I want to share this cookbook with all of you, my readers!