A quick and easy weeknight dinner, this Bacon Cheeseburger Salad is a delicious gluten-free recipe to switch up from the usual hamburger night!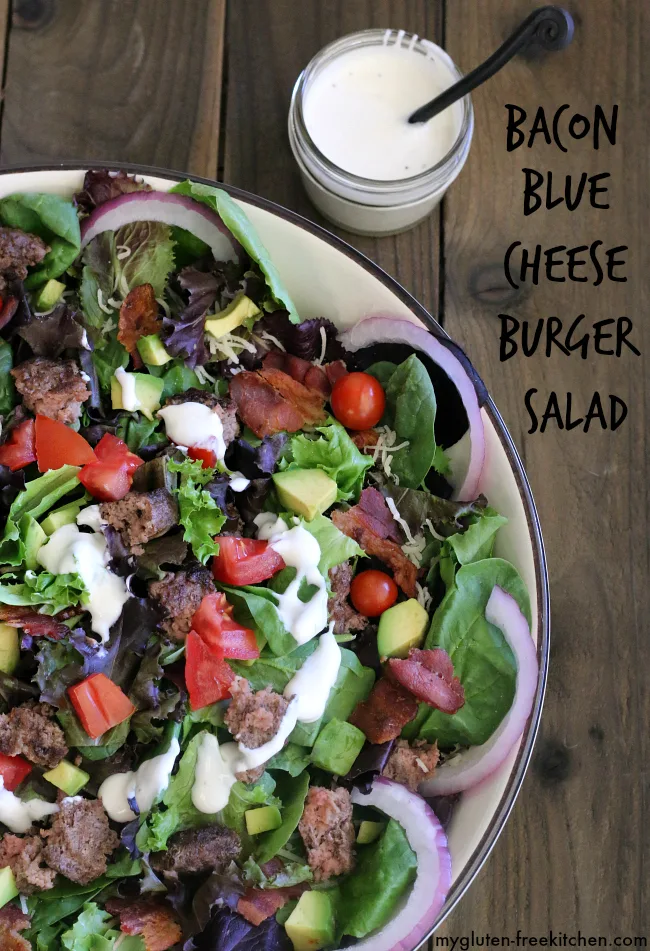 Like most food bloggers, I have a list of recipe ideas that I'm always adding to. I started with a cute little notebook, but realized most of my ideas come when I'm out and about, so I've switched to a notes app on my phone. I love being able to revisit the list before I head to the store, so I can pick one of my new ideas to try.
Fred Meyer asked me to develop a recipe that involves grilling, so before I headed to my local Fred Meyer, I checked out my recipe ideas list to see what grilling ideas I'd jotted down previously. I was most excited about the idea I had a while back of doing a bacon cheeseburger in a bowl. Basically turning a bacon cheeseburger into a salad!
My main goals for this dish were for it to be a 30-minute, weeknight meal that doesn't heat up the kitchen that is a nice alternative to just having hamburgers. Plus, you don't have to have any gluten-free buns on hand like you do for having hamburgers!
When I'm shopping at Fred Meyer, I always look for their Simple Truth Organic line. One thing many people love about this line of products is that the ingredients statements are always clear and easy-to-read. I've also never been let down at the taste or freshness of products from the Simple Truth Organic line. For this recipe, I used a number of Simple Truth products that I already was familiar with and loved, and also tried out some new ones that I discovered while I poked around. Here's the line-up of ingredients for this recipe (missing only the blue cheese dressing):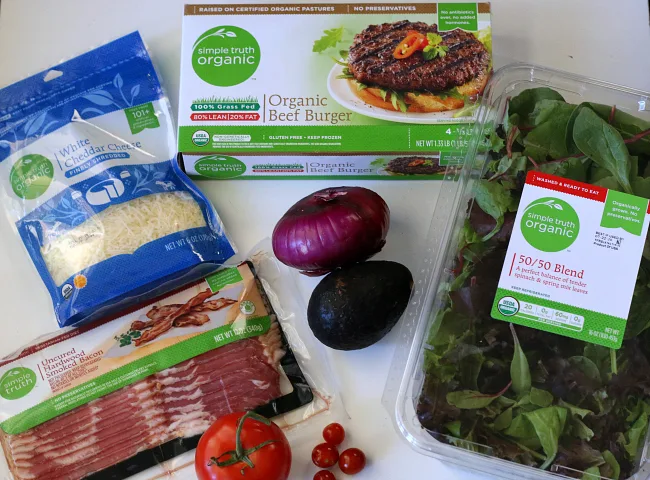 We always buy frozen hamburger patties. I know many of you probably like to form your own hamburger patties, but I never have liked to. Mainly because when we're having hamburgers, I'm wanting a quick and easy meal with little clean-up. Frozen hamburger patties make this so easy! Only problem is, there's always that night that I was planning we'd have hamburgers and then we realize there are only 2 frozen patties left for our family of four. That's where this recipe comes in handy. I can use all the same ingredients we usually put on our burgers, and instead make a big salad we can all enjoy that uses just the 2 frozen patties! This was my first time buying these Simple Truth Organic grass-fed beef patties, but we gave them 2 thumbs up as the 80/20 mix made for good, juicy burgers.
To make a hearty bacon blue cheeseburger salad for our family of four to enjoy, we grilled two beef patties and four slices of bacon. We really liked the ratio of meat this added to our salad, but you can sure feel free to grill more hamburgers or more bacon if you'd like!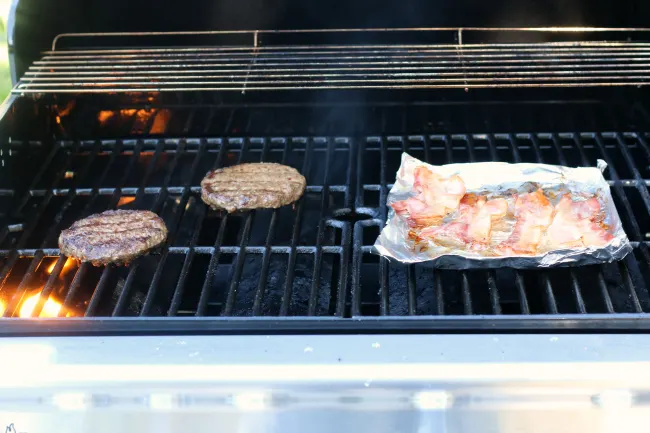 We cooked our burgers medium well and cooked the bacon until crispy. Crispier bacon is definitely easier to break up to add to the salad, but feel free to grill it to your liking. We grilled the bacon on a piece of aluminum foil with the edges up to trap the bacon grease so we wouldn't be fighting the flames from dripping bacon fat the whole time!
While my husband grilled the hamburgers and bacon, I assembled the rest of the salad. I used the Simple Organic 50/50 lettuce blend because I really like a mixture of lettuces and spinach for my salads. This is my go-to salad blend that I buy on my weekly shopping trip.
I always add avocado to my hamburgers and my salads, so of course I had to include some in this salad! I sprinkled the lettuce with about 1 cup of shredded white cheddar cheese. Chopped purple onion and fresh tomatoes finished it off. Our backyard tomatoes were just beginning to ripe, so I had just four little freshly picked cherry tomatoes to add too! As soon as I have more ripe cherry tomatoes from our yard, I'll make these roasted cherry tomatoes and add them to salads like this.
Since I was going for a quick and easy weeknight meal, I opted for already prepared blue cheese dressing, making sure to choose ones labeled gluten-free of course. I found several different varieties at Fred Meyer so you shouldn't have trouble finding any either. If you'd like to make your own, I found this blue cheese dressing recipe that looks great! Either way, this salad is delicious!
If you aren't a fan of blue cheese dressing, feel free to use ranch!
I hope you enjoy it as much as our family did! I see this salad, and many variations of it, appearing on our menu plan for the rest of the summer!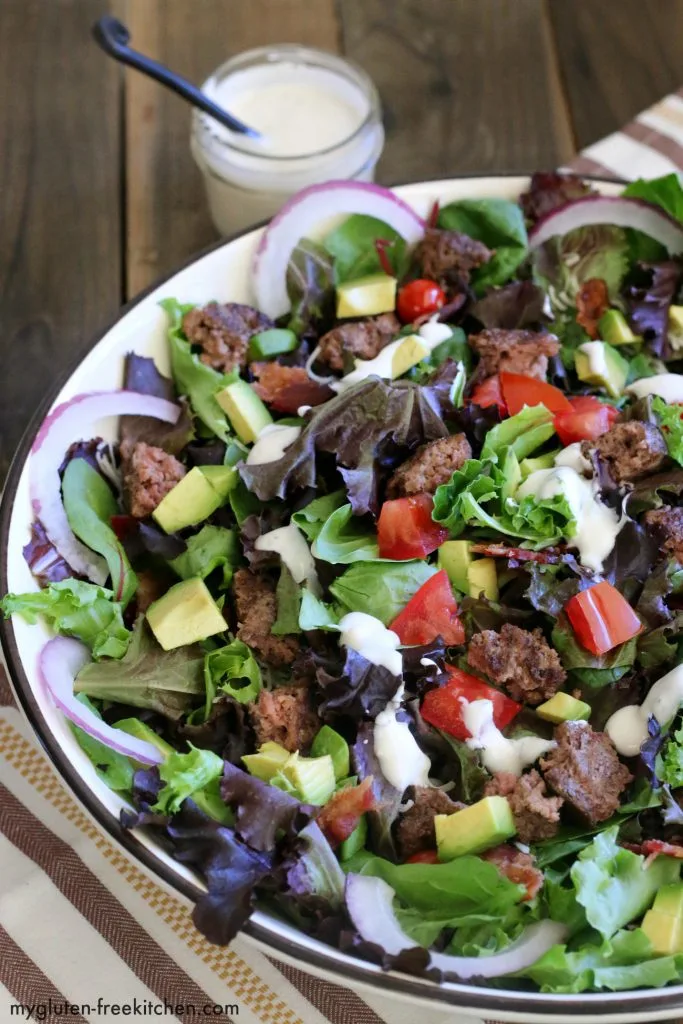 Other favorite gluten-free salad recipes:
Blackened Salmon Salad with Huckleberry Vinaigrette Recipe
Easy Broccoli Salad with Bacon
Patriotic Quinoa Salad
Asian Chicken Salad
Bacon Cheeseburger Salad Recipe:
Yield: 4 servings
Bacon Cheeseburger Salad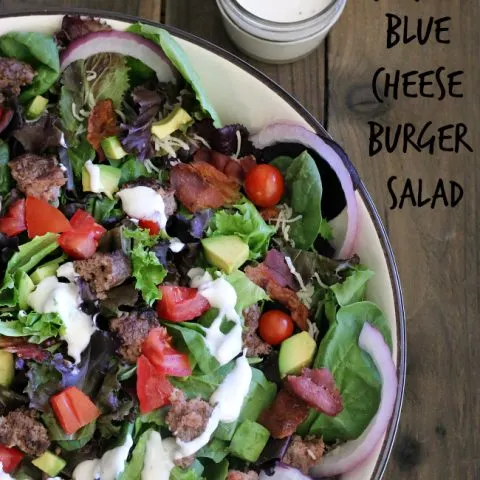 A quick and easy weeknight dinner, this Bacon Cheeseburger Salad is a delicious gluten-free recipe to switch up from the usual hamburger night!

Prep Time 15 minutes

Cook Time 10 minutes

Total Time 25 minutes
Ingredients
2 frozen hamburger patties
4 slices bacon
8 oz. organic 50/50 Spring Mix lettuce/spinach blend or other favorite lettuce
1/2 to 3/4 cup shredded cheese (I chose white cheddar)
1 ripe tomato or multiple cherry tomatoes
1 small avocado or 1/2 large avocado
1/3 to 1/2 red onion
Blue cheese salad dressing (store bought or homemade, verify gluten-free)
Instructions
Place frozen hamburger patties on lightly oiled grill.
Place bacon strips on a piece of thick aluminum foil (or fold over to make thicker) with the edges slightly bent up to collect bacon drippings.
Grill hamburger patties and bacon over medium heat (around 300°) for about 6 minutes per side or until cooked to your liking. The bacon may take another couple minutes longer than the hamburgers take, just to get crispy enough!
While hamburgers and bacon are cooking, assemble salad.
In a large bowl, place lettuce/spinach blend.
Sprinkle with shredded cheese.
Cut ripe tomato into chunks and add to salad (or use whole cherry tomatoes.)
Cut ripe avocado into slices or chunks and add to salad.
Slice red onion and either cut into half rings or dice into chunks and add to salad.
Remove hamburgers from grill when they test done and place on plate or cutting board for cutting into chunks.
Remove crispy bacon from grill to a plate lined with paper towels to collect the bacon grease.
After cutting hamburgers into bite sized pieces and crumbling bacon, add to salad.
If serving immediately, add salad dressing on salad and serve additional on side. If not serving immediately, wait to add dressing until ready to serve.
Enjoy!
Notes
Amounts are approximate. As with most salad recipes, feel free to add or subtract ingredients or amounts to your liking!

Pin this to your salads board on Pinterest: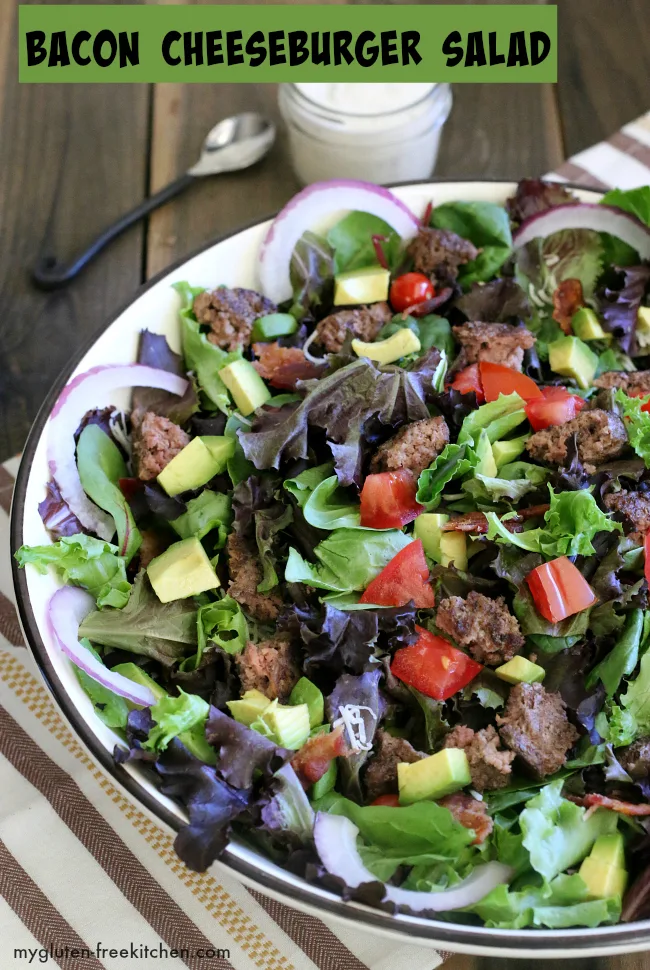 This sponsored post was created through my partnership with Fred Meyer, which has a location only a half mile away from my house so I shop there all the time! As always, all opinions are my own. Collaborating with brands I love allows me to keep bringing you new and varied recipes! Thanks for your support!