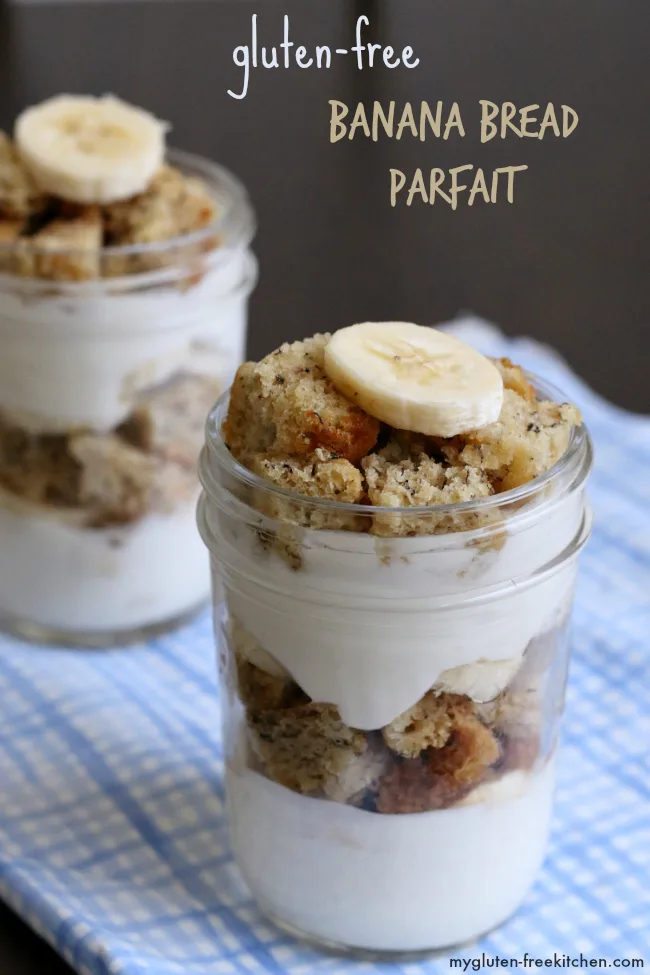 Instead of the usual parfait made with granola, this parfait combines creamy French Vanilla yogurt with delicious gluten-free banana bread and slices of perfectly ripe banana for a delicious breakfast at home or on the go! The idea of this recipe came to me while tossing and turning the other night. I made a trial version of it right away the next day for my son to try, and he LOVED it and told me this was definitely a thumbs up idea! I did some searching on Pinterest and couldn't find anything like this. Yay for creating something new!
Breakfast parfaits are really a once-in-a-while type of thing around our house. These gluten-free Banana Bread Parfaits are definitely kid-friendly. My oldest son was already talking to me about how much he hoped I would make these again since they were so easy. Both of my boys and my husband liked these, so that's a win in my book!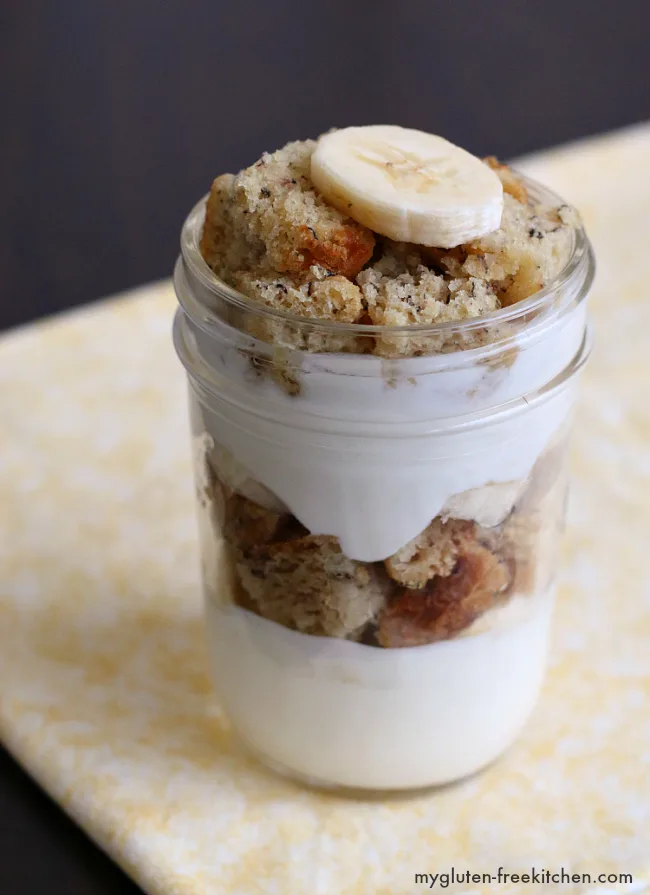 I put these together in half-pint sized Ball canning jars, also called jelly jars. The size was perfect for one filling serving for a breakfast or snack on the go. One thing that I especially liked about doing them in the jar is that I could just put on the lid and screw shut to take this to go. On the day I photographed these, I was heading out to pick up my oldest from school and drop him off at a friend's house for a few hours. I figured he'd be hungry, so I put the lid on and grabbed a spoon on my way out the door. He was LOVING having it in the car on the way to his friend's house.
Since I'm a member of the Stonyfield Clean Plate Club Bloggers, I get to try many varieties of Stonyfield yogurt. I really love their Smooth & Creamy French Vanilla yogurt, and it worked really well in this recipe. It is the same one I used in my gluten-free Best Peach Cake and that I use in our Raspberry Peach Smoothies that we have often.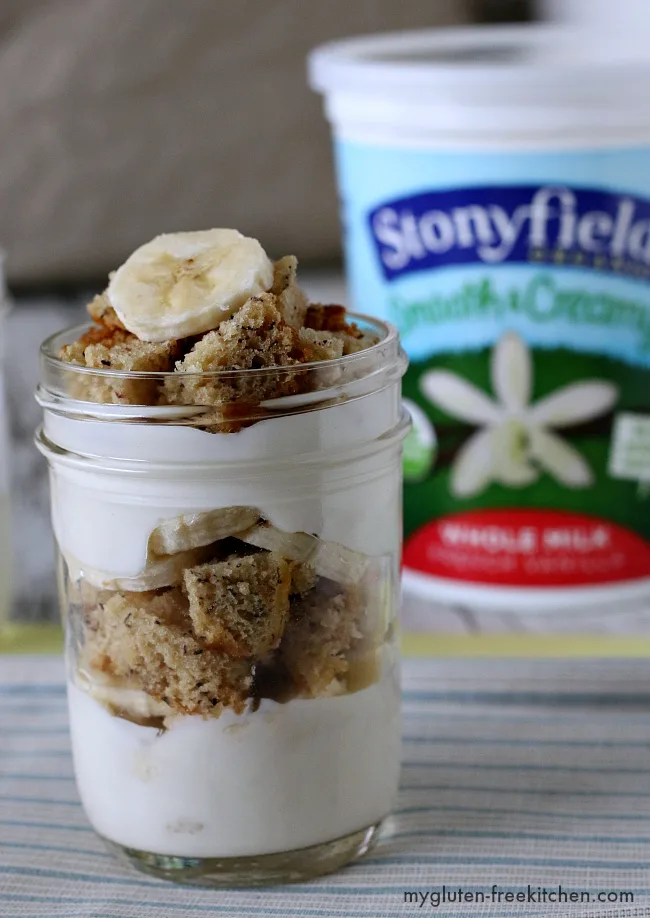 For the banana bread, just use a thick slice of your favorite gluten-free banana bread or grab a gluten-free banana muffin. As I've mentioned before, I make 1-2 batches at a time and freeze the majority of the muffins. I just had to pull a few muffins out of the freezer and I was ready to make parfaits for my whole family in just minutes.
I hope you'll make this breakfast on the go soon!
Yield: 1 serving
Gluten-free Banana Muffin Parfait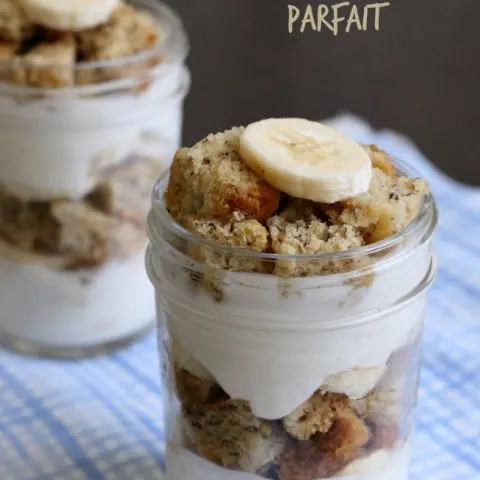 You can make as many of these gluten-free banana parfaits as you'd like. Since this recipe is scaled for one parfait, just multiply the amounts below by how many parfaits you would like to make.

Prep Time 5 minutes

Total Time 5 minutes
Ingredients
1/2 cup Vanilla Yogurt
1 thick slice of gluten-free banana bread or a banana muffin, cut into small cubes
1/2 ripe banana
Instructions
Scoop 1/4 cup of vanilla yogurt into bottom of a half-pint size Ball jar or Ball jelly jar.
Top with about 5 slices of bananas, scattered to form a layer. This helps keep the yogurt and bread a little more separate.
Top with half of the banana bread/muffin cubes.
Next layer about 5 slices of bananas again, scattered to form a layer.
Repeat the layers in the same order.
You can garnish with an additional slice or two of bananas for presentation, if desired.
Notes
If you aren't eating this right away, press down a bit and put a lid on it and place in refrigerator until ready to eat.


This sponsored post was created through my participation as a Stonyfield Clean Plate Blogger. As always, all opinions are my own. Collaborating with brands I love allows me to keep bringing you new and varied recipes! Thanks for your support!