Cinnamon and sugar-coated fresh peach slices are layered with a perfectly moist cake in this yummy Gluten-free Peach Cake! This delicious gluten-free peach dessert is now on my list of favorite desserts ever!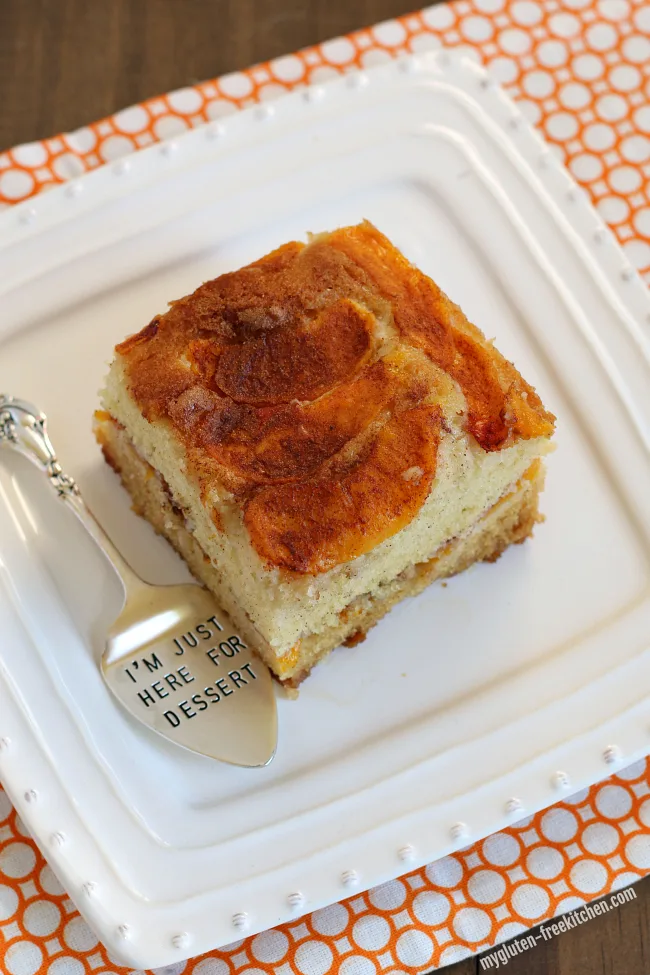 Confession: I've been keeping this recipe from you for a year! I'm so sorry! I'll be completely honest here and say that it is because every time I made it, I ate it before I could get photos! I just had no self-control around this gluten-free peach cake!
I'm not usually a fan of fruit desserts. While my hubby loves fruit pies and crisps, I'm definitely more of a cookie/brownie/cake gal. I guess it makes sense then that I love cakes with fruit in them like my gluten-free blueberry coffee cake.
While browsing for new recipes to make with all of our peaches, I came across the idea of a fresh peach cake. Now, my husband will still pick his favorite gluten-free oatmeal cookie peach crisp as his favorite gluten-free peach dessert, but my son Jake and I pick this gluten-free peach cake as ours!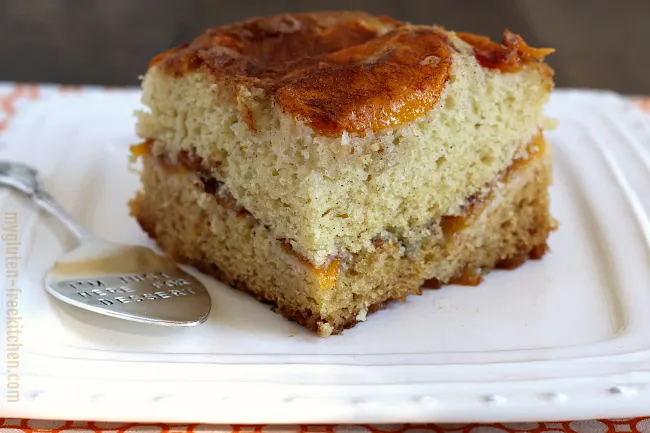 For best results, I definitely recommend using fresh peaches, whether store-bought, from the farmer's market, or from your backyard if you are lucky enough to have some peach trees! We are down to just one peach tree producing this year as we had to remove some and plant new ones. But that one tree produced more than we could possibly use up this year!
Here are some pics from during our peach harvest: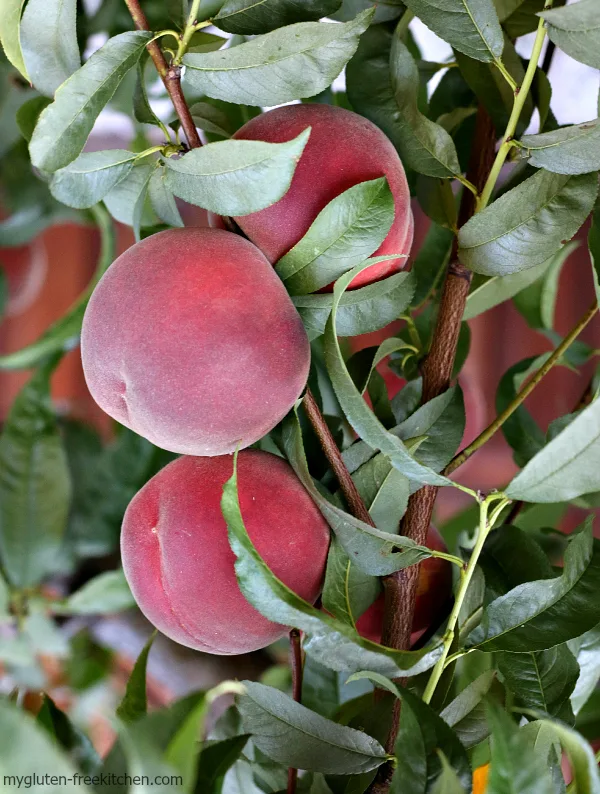 Here's a bucket full of ripe peaches ready to be eaten fresh or used in this cake or other recipes! I bought my husband this harvesting bucket at Amazon a few years ago and he loves using it for our peach harvest.
We also bring it along when we go apple or cherry picking at the local orchards!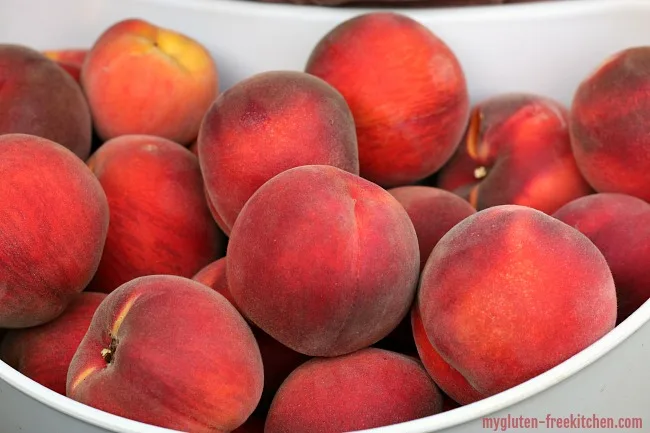 You just can't beat the taste of these fresh picked peaches. Since we had so many, we gave quite a few boxes worth away to friends and neighbors. We also flash-froze many sliced peaches for smoothies, for this gluten-free peach cake and for peach crisp.
Notes on ingredients for this gluten-free peach cake:
Gluten-free Flour: As always, I only recommend baking with a good quality all-purpose gluten-free flour blend. All flour blends are not created equal! I recommend avoiding flour blends that contain any bean flours or that are primarily rice flour, as you'll get a more gritty result. This recipe, like pretty much all of my recipes, has been tested with successful results with gfJules gluten-free flour and King Arthur Measure for Measure and Authentic Foods Multi-Blend and Gluten Free Mama's Almond Flour Blend and I recommend any of those. Other flour blends that I've been testing some (but not this recipe yet) with good results are Cup4Cup and Pamela's.
I'm love the big tubs of Stonyfield Organic Smooth and Creamy yogurt, which I use in smoothies and in baking. In this recipe, I used their French Vanilla flavor, in the whole milk version. There are also fat-free and low-fat versions in French Vanilla, so feel free to use those to cut the fat. I wanted the extra richness of the whole milk yogurt. If you can't find a vanilla flavored yogurt, go ahead and add some vanilla extract in with your wet ingredients.
I highly recommend you use fresh peaches. If you don't have fresh peaches and really want to make this anyway, use frozen. Just let thaw and don't use the excess juice after thawing (throw that juice in a smoothie instead of letting it go to waste though).
You'll need to peel and slice your peaches. You want them thinly sliced as opposed to big thick wedges. I sliced them about 1/4″ thick using my absolute favorite knife for slicing fruit!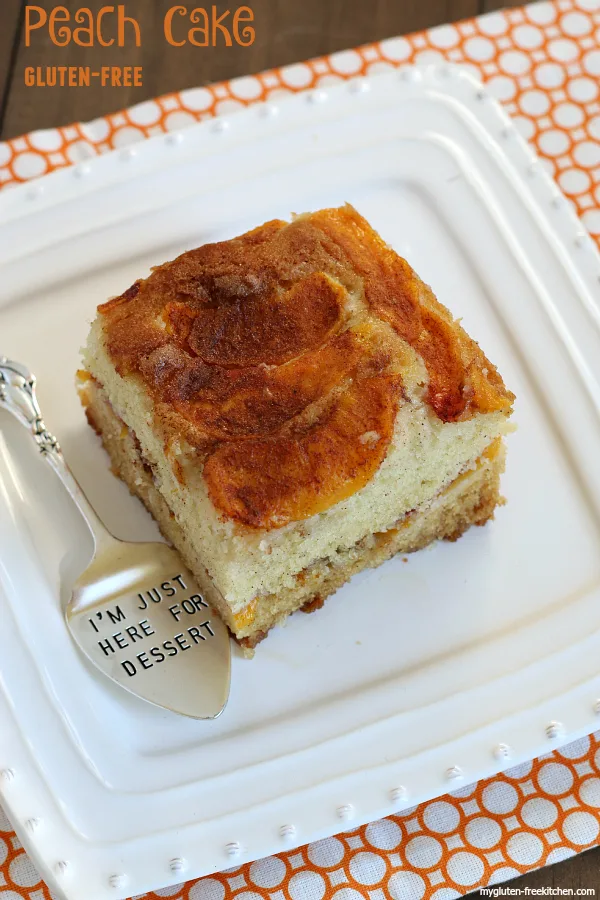 Looking for more gluten-free peach recipes? I use fresh peaches in my favorite smoothie: a raspberry peach smoothie.
I've never grilled peaches before but after seeing these honey grilled peaches, now I want to make them! And while we've had a cooked peach salsa before, I've never made a fresh peach salsa and want to now! What a great way to use up our garden bounty!
Okay, back to this gluten-free peach cake. Check out how fluffy this cake is: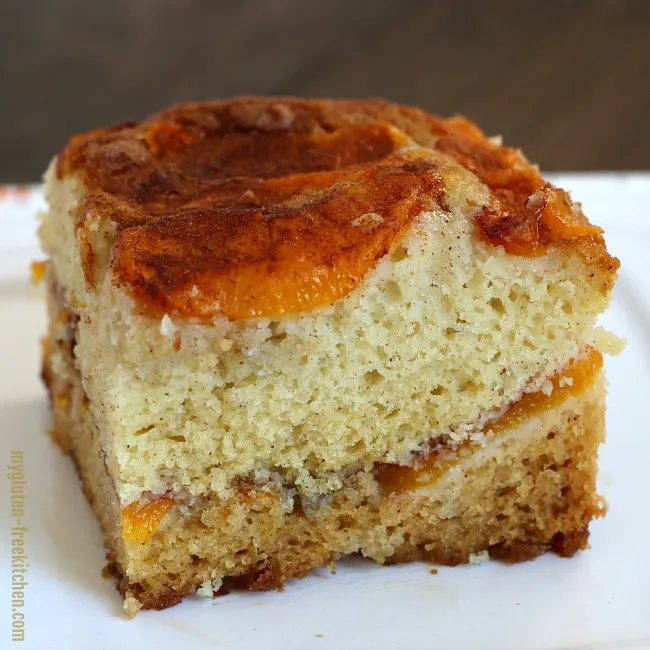 While I enjoy slices of this peach cake plain like a gluten-free peach coffee cake, others enjoy it as a dessert with a scoop of vanilla bean ice cream or a dollop of freshly whipped cream. I hope you enjoy it too!
If you make these and love them, please come back and give this recipe a 5 star rating in the recipe card! Feel free to comment with tips or to share any successful substitutions you made.
Gluten-free Peach Cake Recipe:
Yield: 9 servings
The Best Gluten-free Peach Cake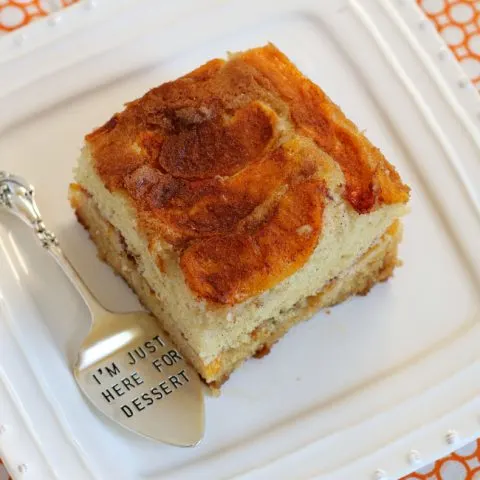 My favorite gluten-free peach dessert is this gluten-free peach cake. It's delicious plain, eaten like a coffee cake, or served with a dollop of whipped cream or ice cream for dessert!
Total Time
1 hour
15 minutes
Ingredients
2 cups gluten-free all-purpose flour blend
1 tsp. xanthan gum (*see note)
1 tsp. baking soda
1 tsp. baking powder
1/2 tsp. salt
1/4 tsp. cinnamon
1/2 cup unsalted butter, room temperature
1 cup sugar
2 large eggs
1 cup low-fat or whole milk French Vanilla Yogurt
1/4 tsp. almond extract
2 1/2 cups thinly sliced peaches (from about 3 large peaches)
For layering:
1/2 cup sugar
1 tsp. cinnamon
Instructions
Preheat oven to 350°. Spray a 8" square baking pan with non-stick cooking spray. I used an 8" glass Pyrex pan each time I made this.
In a medium bowl, whisk together the flour, xanthan gum, baking soda, baking powder, salt and 1/4 teaspoon cinnamon. Set aside.
Beat the butter and 1 cup of sugar in the bowl of your electric mixer for 3-5 minutes on medium speed, until light and fluffy. With the mixer on low, add the eggs, one at a time, mixing in well before continuing. Add the yogurt and almond extract and mix on medium-low until the batter is smooth. Slowly add the dry ingredients to the wet ingredients with the mixer on low, and mix just until combined. You don't want to overmix.
In a separate small bowl, whisk together 1/2 cup of sugar and 1 teaspoon cinnamon.
Spread half of the batter evenly in the greased baking pan. Arrange half of the thinly sliced peaches over top of batter. Sprinkle with about two-thirds of the cinnamon-sugar mixture.
Repeat the layers one more time: batter, then peaches, then remaining cinnamon-sugar mixture.
Bake at 350° for 50-55 minutes, or until a toothpick inserted near the center comes out with moist crumbs, not wet batter.
You can enjoy this warm or at room temperature; plain or with a dollop of freshly whipped cream or ice cream. Delicious no matter how you slice and serve it!
Notes
If the gluten-free flour blend you use already has xanthan gum or guar gum in it, then omit the xanthan gum called for in this recipe.
See blog post for suggestions for substitutions for ingredients and recommended gluten-free flour blends.
(I used Stonyfield Smooth & Creamy French Vanilla)
Recommended Products
As an Amazon Associate and member of other affiliate programs, I earn from qualifying purchases.
Recipe adapted from
Barefoot Contessa
.
Pin this to your gluten-free desserts board on Pinterest: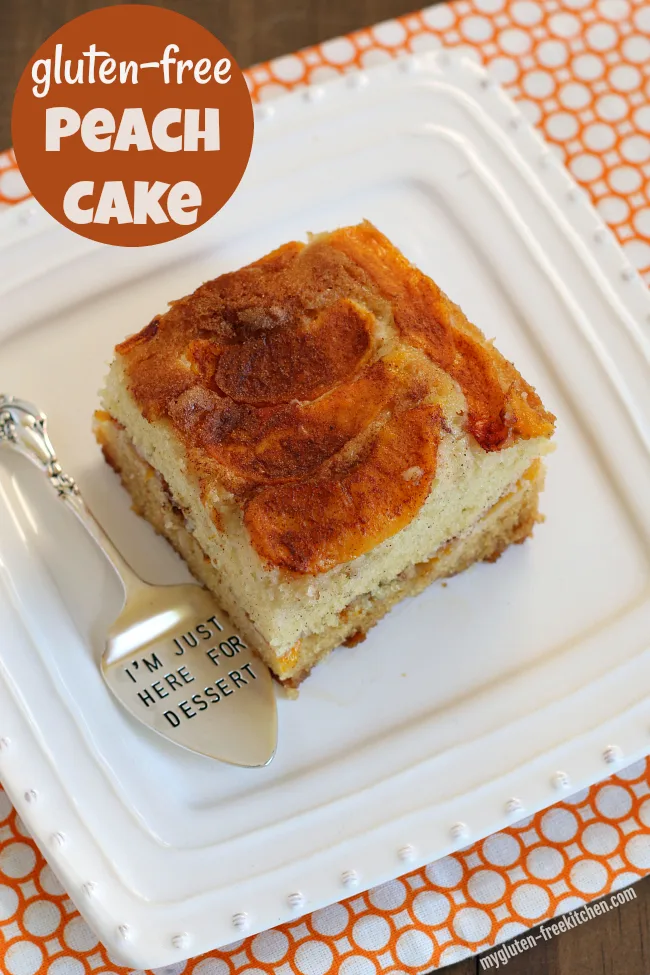 If you are looking for another great peach recipe, make sure you check out this gluten-free Peach Oatmeal Cookie Crisp which my husband highly recommends: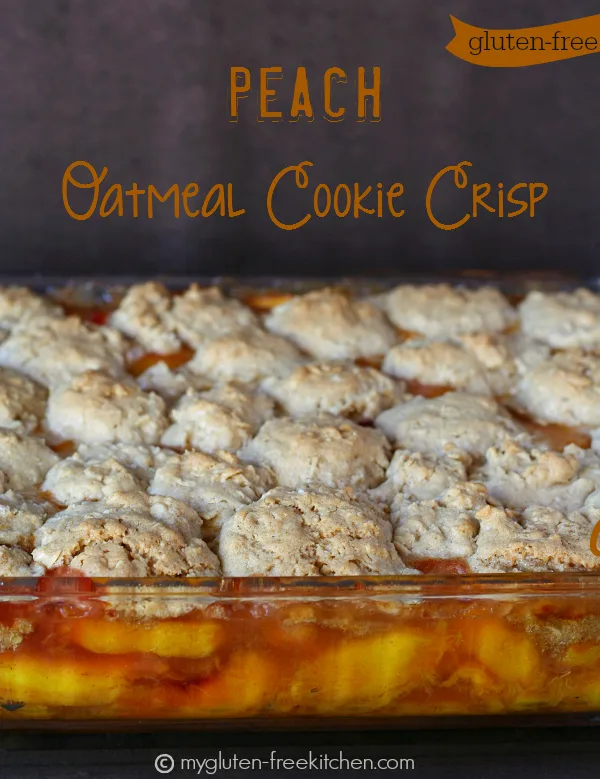 Happy Baking!