If you love gluten-free banana bread, you'll love gluten-free banana muffins! They're easy and make a great portable gluten-free breakfast or snack!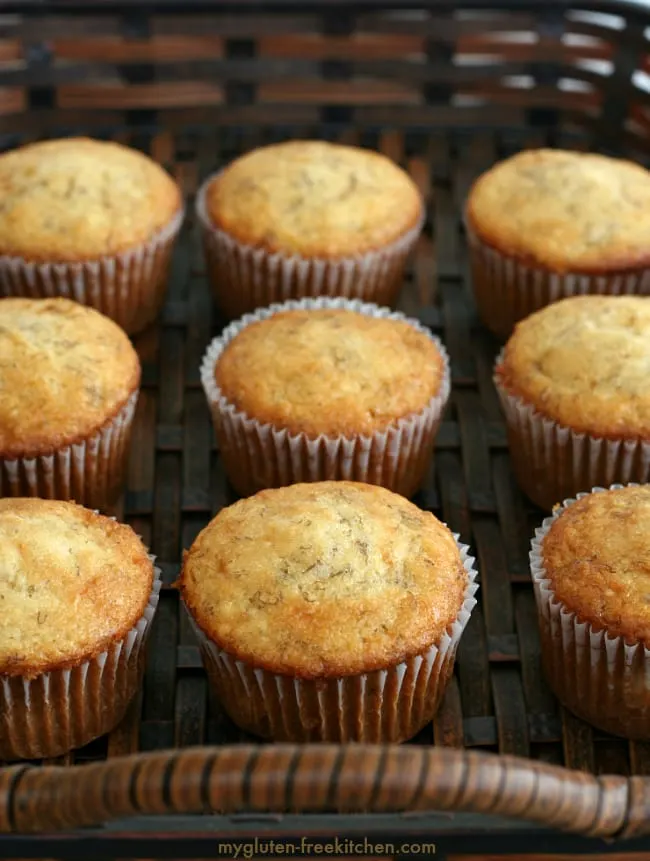 If you love banana bread, you'll love these gluten-free banana bread muffins! When I have overripe bananas on the counter, I always make these gluten-free banana muffins or my gluten-free peanut butter banana chocolate chip muffins. If I have a ton of bananas to use up, I'll make both!
I don't mind having a huge amount of muffins as my favorite thing is to freeze them for later. I'll stack them in rows in gallon freezer bags to freeze. On busy mornings, I'll just pull out two for each kid, microwave for about 15-20 seconds to thaw a bit, and place in their lunches along with yogurt and fruit. The kids love them and they're such a nice change from sandwiches. Frozen gluten-free muffins have bailed me out more than once on mornings where we're low on groceries!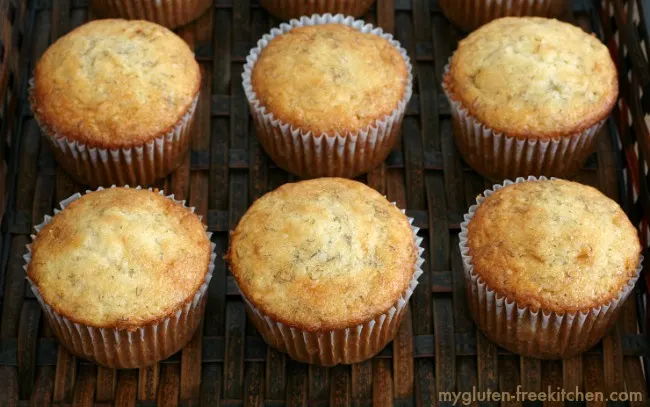 My boys and I really love gluten-free muffins. Whether made with apples, blueberries, or peanut butter – doesn't matter the flavor, we love them! When I travel, I will usually make up a bunch of muffins to bring with me, along with a bag of gluten-free almond granola. Those two things provide me with safe, yummy breakfasts while we are traveling.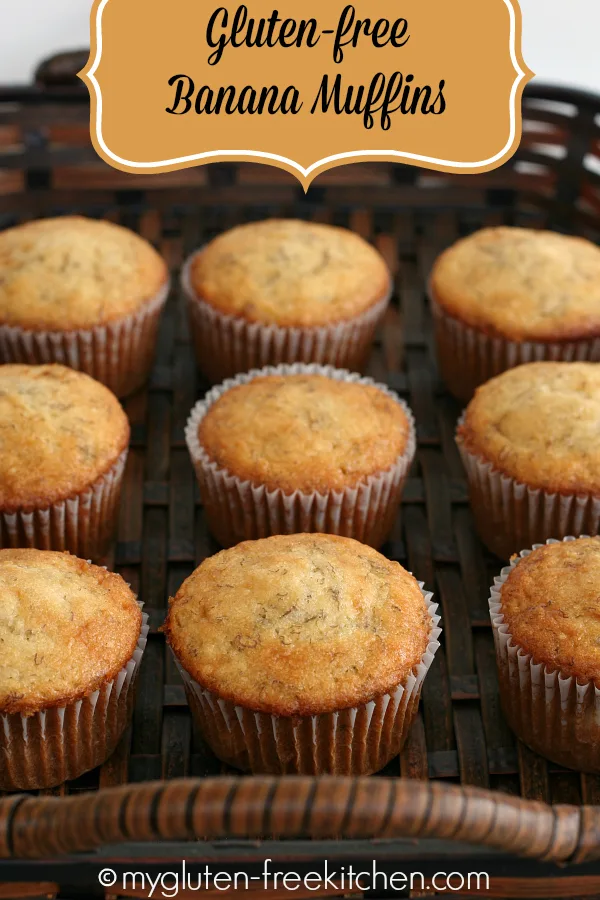 This recipe easily doubles. In fact, I almost always make a double batch of these easy gluten-free banana muffins. You can use your extras in these gluten-free banana parfaits!
Next time you have overripe bananas, give this recipe for the best gluten-free banana muffins a chance!
Oh, and if you still have more overripe bananas to use up, you could make these banana pancakes, or this gluten-free raspberry banana bread!
Gluten-free Banana Muffin Recipe:
Yield: 18
Gluten-free Banana Muffins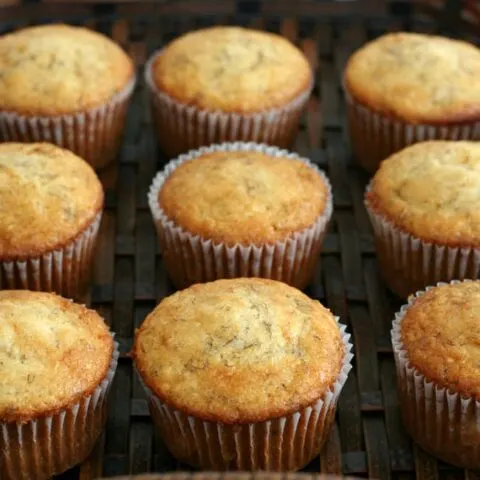 Feel free to double this gluten-free banana muffin recipe. I usually do! Single recipe makes about 18 muffins, so a double batch will net you 3 dozen!
Ingredients
2 cups good all-purpose gluten-free flour blend
1/2 tsp. xanthan gum *see note
1 1/2 tsp. baking soda
1 tsp. salt
1/2 cup butter (1 stick or 8 Tbsp.), room temp, or non-dairy substitute
1 1/4 cups sugar
2 eggs
1 tsp. pure vanilla extract
2 large overripe bananas, mashed (=about 1 cup)
1/2 cup buttermilk or non-dairy substitute
Instructions
Preheat oven to 325°. Line muffin pan cavities with paper liners and set aside.
In a medium bowl, whisk together gluten-free flour, xanthan gum, baking soda, and salt. Set aside.
In the bowl of your stand mixer, cream the butter and sugar for 1 minute.
With mixer running on low speed, add the eggs one at a time.
Add vanilla extract, mashed bananas, and buttermilk and beat on high for 1 minute.
Add half of the flour mixture into the banana mixture and mix on low speed until mixed in. Repeat with remaining flour mixture. Mix for another 30 seconds, or until dry ingredients are mixed in.
Use a large cookie or ice cream scoop to fill muffin cavities 3/4 full. Using my scoop, I usually get around 17-18 muffins.
Bake at 325° for about 20-22 minutes, until muffins check done with a toothpick. Depending on the size you make them and how hot your oven runs, the baking temperature will vary. Use the toothpick test to check for doneness. A toothpick inserted in the center of a fully cooked muffin will come out with moist crumbs attached. Do not rely on the color of the muffins - with some flour blends, the finished muffins won't be brown. Rely on the toothpick test.
Cool in muffin pan for 5 minutes, then remove muffins to cool on a cooling rack. When muffins are room temperature, you can store in an airtight container or place in freezer in a gallon freezer bag.
Notes
I have tested this with King Arthur's Measure for Measure Gluten-free Flour Blend, Gluten Free Mama's Almond Flour Blend and Coconut Flour Blend All-purpose flours and recommend them. Other good quality flour blends should work just fine as well.
*Omit the xanthan gum if your flour blend includes xanthan or guar gum already.
Recommended Products
As an Amazon Associate and member of other affiliate programs, I earn from qualifying purchases.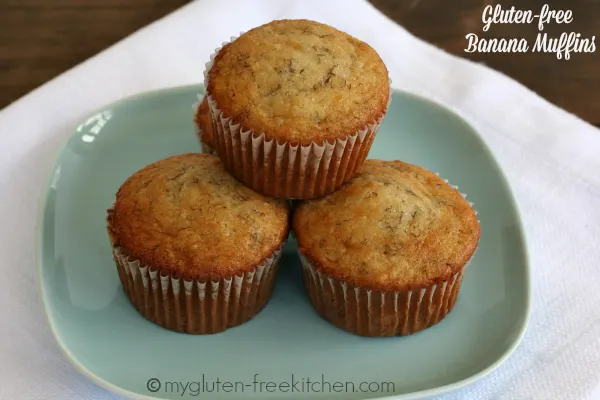 I hope you and your family enjoy these gf banana muffins!