This moist & tender chicken is reminiscent of gluten-free fried chicken, but without the frying! You'll save a ton of calories in this baked version of gluten-free breaded chicken. It's one of our favorite gluten-free chicken recipes.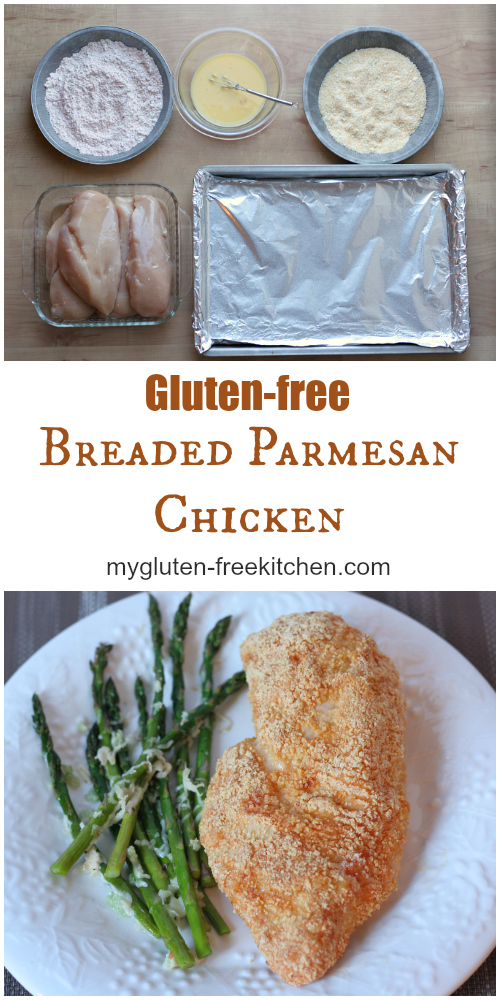 I've been making this gluten-free breaded chicken recipe for our family for years and it always gets rave reviews (except when I forget to keep an eye on it and overcook it, so it is dry!) Just make sure to check it for doneness (internal temp of 165°) so it doesn't end up dry. You can also use chicken thighs, if you prefer. Just make sure you remove the skin from whatever cut of chicken you prefer.
To make this gluten-free, you just have to make sure to use gluten-free bread crumbs. You can buy ready-made gluten-free bread crumbs at the store, or you can make your own. Making your own is a great way to use up all the old heels/ends of the gluten-free loaves of bread that you buy or make. You can just throw them in the freezer until you want to make your own breadcrumbs. This recipe for gluten-free Italian breadcrumbs would be perfect to use for this.
For store-bought crumbs, I like to use these gluten-free corn flake crumbs. Corn flakes are usually a no-no on the gluten-free diet because they have malt in them. These do not have malt or any other gluten and are safe for our gluten-free diet. What I really like about using the corn flake crumbs is that they don't get soggy like bread crumbs do.
I believe that in the photo above I used a mix of bread crumbs and some corn flake crumbs, since I just had a little of each on hand. I've made it with all gluten-free bread crumbs or all gluten-free corn flake crumbs as well.
Why did I include Parmesan in the title? Well, because there is Parmesan cheese in the breading! It gives it amazing flavor!
How to make this gluten-free breaded chicken:
To get started, I make a little assembly line like in the photo below: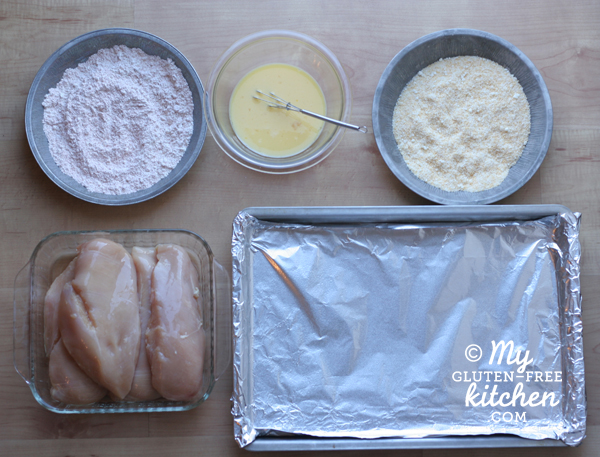 Working from the pan of chicken in bottom left, I go clockwise: coat the chicken in the flour mixture, then in the egg mixture, and finally coat it well with the gluten-free bread crumb/Parmesan mixture and place in the foil-lined, greased baking pan.
Tip: The foil makes for super easy clean-up!
This time I used some super jumbo chicken breasts, but I usually use ones that are a little more normal sized. If you have huge ones, you might like to cut them in half so that you get a little more breading and it looks a little nicer to serve a smaller one, than a cooked large one that you cut in half. 🙂 I learned that the hard way this time!
While this chicken bakes in the oven for about 45-55 minutes, you have plenty of time to prepare your sides.
I served this with our favorite Parmesan asparagus and some gluten-free cornbread. I'll post that asparagus recipe soon as well!
You could also serve this with gluten-free pasta and homemade fresh tomato sauce.
Enjoy adding this gluten-free chicken dinner to your meal rotation. I think you'll love it!
Gluten-free Breaded Chicken Recipe:
Yield: 5-6
Gluten-free Breaded Parmesan Chicken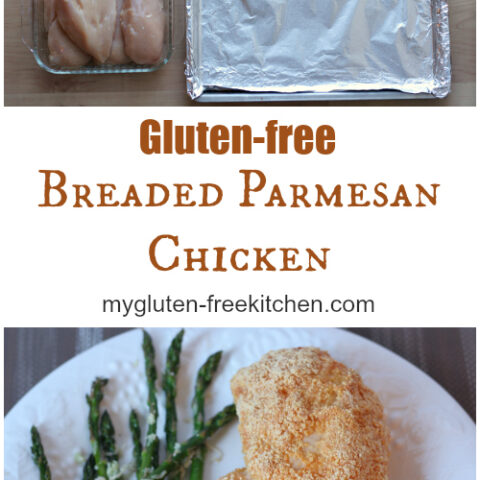 This moist & tender chicken is reminiscent of gluten-free fried chicken, but without the frying! You'll save a ton of calories in this baked version of gluten-free breaded chicken.
Prep Time 20 minutes
Cook Time 45 minutes
Total Time 1 hour 5 minutes
Ingredients
1 cup gluten-free all-purpose flour
2 tsp. salt
2 tsp. paprika
1/4 tsp. pepper
2 eggs
3 Tbsp. milk
2/3 cup grated Parmesan cheese
1/3 cup gluten-free corn flake crumbs or bread crumbs
3-4 lbs. skinless chicken breasts or thighs
Instructions
In a pie plate or shallow bowl, combine the flour, salt, paprika, and pepper.
In another bowl, beat the eggs and milk.
In another pie plate or shallow bowl or pan, combine the Parmesan cheese and the corn flake crumbs or bread crumbs.
Coast the chicken pieces with the flour mixture, then dip in the egg mixture, then roll in the cheese/crumb mixture.
Place in a well-greased, foil lined baking pan. I usually use a jelly roll pan (about 15"x10"x1").
Bake at 400° for 45-55 minutes or until chicken tests done with a thermometer (165°). Check earlier if you are using thin, or skinny pieces of chicken. I do not flip these partway through cooking - I don't mind the bottom side to be a bit wet, I like the top and sides to stay crispier.
Notes
Please check for doneness starting at 30 minutes, especially if you are using chicken tenders, thin cut chicken, etc. Check with a thermometer and remove chicken from oven when it reaches 165°.
Tuesday 29th of October 2019
did this recipe in my Ninja foodi 8qt air fryer/pressure cooker using the "air crisp" mode. came out a little dark but delicious and im sure playing with temp and time will get better. this is someone who has never had a good fried chicken im the past.
Thursday 11th of October 2018
Delicious. Modified for low salt diet. No added salt and the grated Parmesan was enough sodium for us. Also did not have GF flour on hand and skipped that step. Shook pepper and smoked paprika over chicken pieces. Followed the rest of directions. Beautiful crust, moist and tasty. Thank you for the recipe.
Wednesday 24th of May 2017
Can you sub almond flour in place of the gluten-free all-purpose flour?
Monday 12th of February 2018
great question Katherine.. What's the point of using GF bread crumbs if you're using AP flour?
Saturday 25th of April 2015
Delish!! Thank you!! -Sharon