This past week, Franz Bakehouse sent me 3 new gluten free bread products to try out: hamburger buns and 2 loaves of bread. Franz Bakehouse Gluten free products are all certified gluten-free. Franz gluten free breads and buns are available here in the Northwest (Oregon, Washington, Idaho, Western Montana- Billing and west, and California- North of Chico). I've seen them at my local Fred Meyer, Rosauers, and Wal-Mart stores.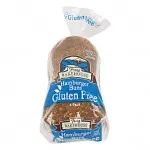 Friday night we tried out the hamburger buns with our favorite hamburgers cooked on the grill. We like our buns a little toasted, so my hubby threw them on the grill for a few minutes. The grill gave a little crunch to the outside, but inside they were soft and chewy. The best part: they didn't fall apart! Everyone that has tried gluten free hamburger buns before can attest to how they so often fall apart, making it difficult to enjoy the whole thing. These stayed together completely and were given 2 thumbs up from all of us.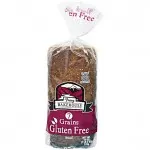 This weekend, we enjoyed both of the loaves of bread. We used the bread for grilled cheese sandwiches, breakfast toast, and for turkey sandwiches for lunch. The bread holds together nicely and was liked by everyone. Really, the 7-Grain bread reminds me of a good whole-grain (wheat) bread served at a deli. I really think you could serve the 7-Grain bread to someone and they would not guess it was gluten-free. Score!!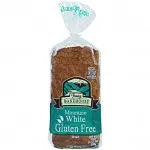 The Mountain White is a great basic bread that I think would make some yummy French Toast as well. Like the 7-Grain, you don't have to toast it for it to be good, like so many other store-bought gluten free breads.
Since we all know that trying new gluten-free products can get expensive, I'm happy to share with you a coupon that Franz is offering for you to print and use so you can try their products for yourself. Click over to FranzBakery.com to sign up for this $0.50 off any one Franz Gluten Free product coupon. Once signed up, you will receive a Franz SmartPrint Coupon link so that you can print one coupon. (A little tip: I recommend using Google Chrome or IE for your browser when you want to print coupons.) A limited number of coupons are available, so hurry and print yours. Note that the coupon is not valid at the Franz Retail Bakery Outlet Stores.
If you try these, I'd love if you would come back and leave a comment to let me know what you thought of them! These products will be making an appearance around our table in the future, for sure!
Disclaimer: This is a sponsored post from Franz Bakehouse. I received free products from Franz for review. All opinions expressed here are my own.