Cream cheese, butter, and lots of eggs lend a richness and denseness to this gluten-free pound cake that has a hint of almond flavor. It's the best gluten-free pound cake I've ever had and is a hit everywhere that I take it! Topped with my berry sauce and homemade whipped cream, this gluten-free pound cake is in my husband's top 3 favorite desserts! Originally shared May 2013, updated in 2019 as it's still a favorite that I make often!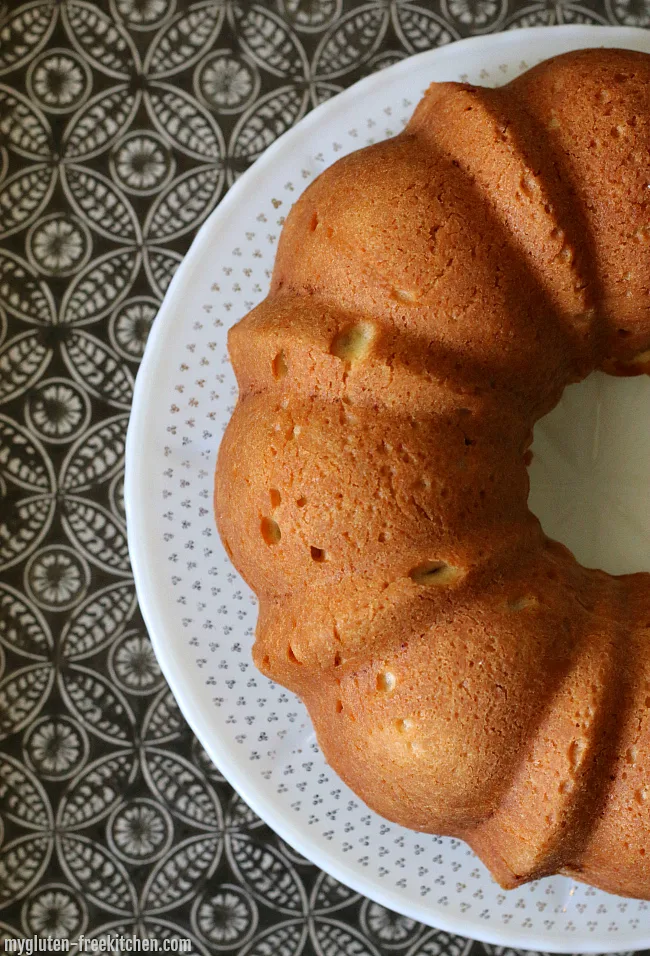 This cream cheese almond pound cake was a favorite around here during the years before I had to go gluten-free. I hadn't yet tried making it gluten-free because I was intimidated about converting it since the recipe was reliant on cake flour for the perfect texture.
Thanks to Joy the Baker's post on how to make your own cake flour, I was able to use that info and translate that over to my gluten-free adaptation. I also did a little tweaking so that the recipe wouldn't have super odd measurements and it all worked well. I think you're going to love this gluten-free pound cake!
When we were invited to a friend's house recently for a game night, I decided I should make this gluten-free pound cake. Halfway through our game night, we paused our game of Settlers of Catan so we could all enjoy some of this delicious pound cake with some fresh whipping cream, strawberries and my homemade double-berry sauce. It was incredible! The gluten-free pound cake is dense like a pound cake should be, yet very moist, not dry at all.
Since achieving success with making this gluten-free pound cake, I've made it countless times since – several times every summer of every year, so we can enjoy it with fresh berries!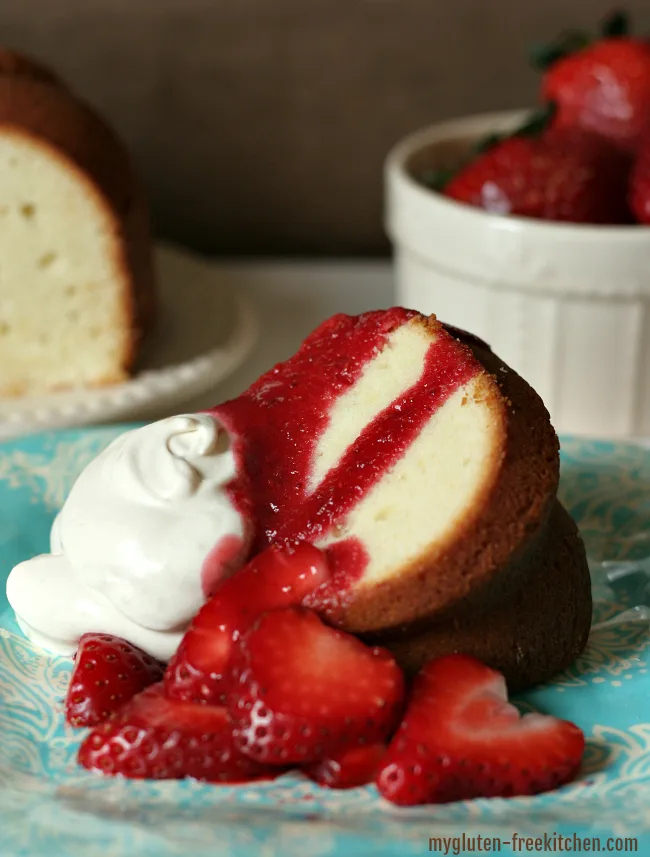 Cream cheese, butter, and lots of eggs lend a richness & denseness to this cake that you just can't get otherwise. Sorry to those of you that have to avoid dairy and eggs – this won't be a good recipe for you. Those ingredients are a huge part of why this recipe turns out so great!
Notes on ingredients and substitutions for this Gluten-free Pound Cake:
Butter: I used salted butter since that seems to be the type of butter most have on hand. If you only have unsalted butter, then I would recommend adding 1/2 tsp. salt in with the dry ingredients.
Cream Cheese: I've made this with regular cream cheese and I've also made this with Neufchâtel (lighter cream cheese) and both work equally well. Feel free to use either
Almond extract: I use Nielsen-Massey pure almond extract. If you do have a nut allergy to work around, you could definitely omit the almond extract and substitute with either pure lemon extract or more of the pure vanilla extract. All of the extracts from Nielsen-Massey are certified gluten-free, so I recommend them.
Eggs. Egg size matters, especially in a recipe like this where you'll be using 6 eggs. Use large eggs, not medium, not extra large. Just the regular ones labeled large from the grocery store.
Gluten-free flour blend: I've tested this successfully multiple times with Gluten-free Mama's Almond Flour Blend and recently with King Arthur Flour Gluten-free Measure for Measure free flour blend. With the King Arthur flour blend, it contains xanthan gum already, so no additional xanthan is needed. Either of these flour blends will yield successful results. I'm sure other flour blends will as well, I just haven't tested with all of them! Give your favorite blend a try! Update: 3/2020, I tried with Cup4Cup and do not recommend it in this recipe.
Corn Starch – Corn starch is essential here as you're using it to lighten up the total flour amount and achieve the perfect crumb. I recommend buying Argo Corn Starch which is clearly labeled gluten-free or Hodgson Mill corn starch that is certified gluten free, and produced in a dedicated gluten free environment that is also free of the top 8 most common food allergens.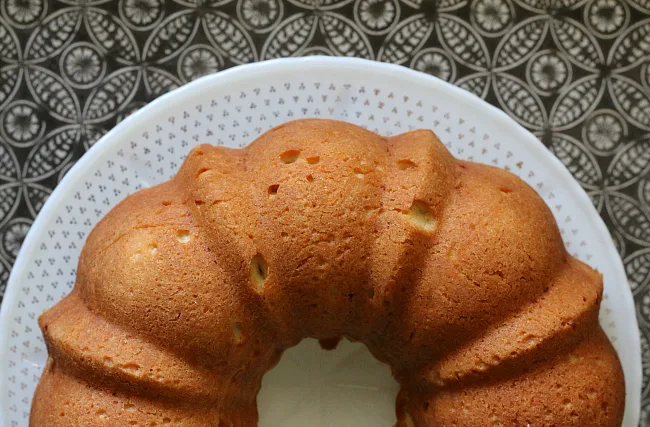 I never liked whipping cream until this past year when I was at a friend's house and she made some homemade whipping cream for me. It was so good and I've been making it her way ever since. I just blend (with a hand mixer or in my Blendtec) heavy whipping cream with some powdered sugar and some pure vanilla extract. I really don't measure, just throw it in and add more sugar and vanilla to taste.
The fresh & light taste of the homemade whipped cream went perfectly with the moist, heavy pound cake. You could also serve this gluten-free pound cake with vanilla ice cream.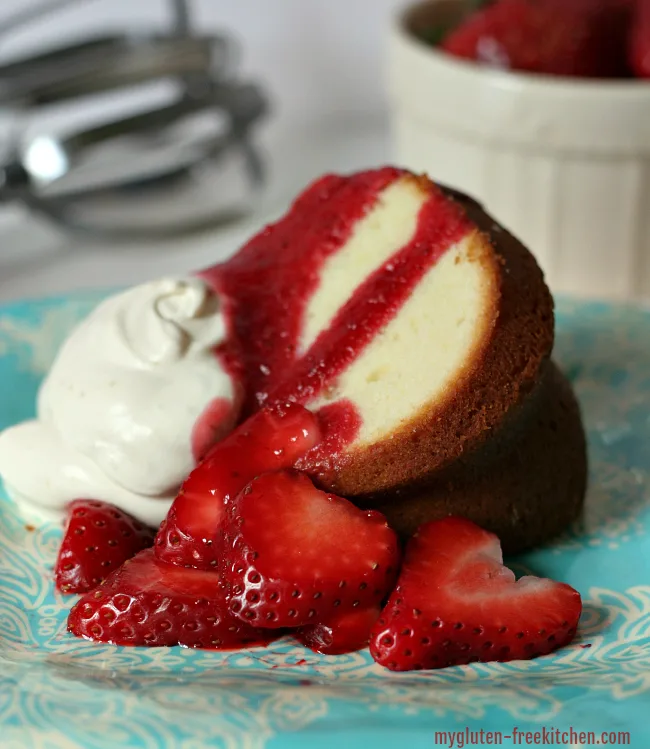 You can serve with your favorite berries, and I definitely recommend you make my Berry Sauce to pour over it! My hubby liked this dessert so much the first time I made it, he immediately went back for seconds, and he seriously got his plate as clean as possible without licking it! It's the same way every time I've made it since. It's in his top favorite desserts I make!
I also wanted to share that after years of making gluten-free bundt cakes and being frustrated with how to store them so they don't dry out, I've finally found a solution! I found this Nordic Ware Deluxe bundt cake keeper and it worked very well for storing this cake. I actually set my cake on a little 9″ cardboard cake round so that I could cut the cake right in there too without scratching up the surface, or easily move it in/out of the keeper if I wanted to. I'll be using this for my bundt cakes all the time now!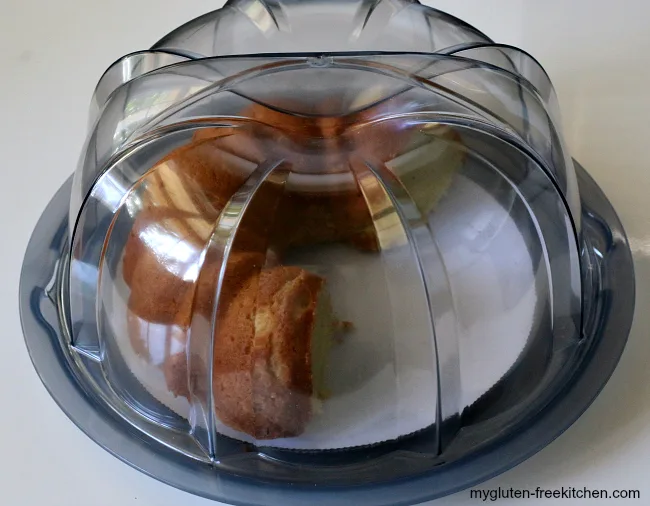 Also, the bundt cake pan that I use for this and pretty much all of my bundt cake recipes is about 10″ across by about 3.5″ tall/deep. It can hold 12 cups. It's this one from Nordic Ware.
Want to make some other gluten-free bundt cakes? They're my favorite kinds of cakes to make because they're so easy! I recommend trying my gluten-free fresh apple cake next in your bundt pan, as soon as apple season hits! It's another one of those recipes I make over and over and has a dairy-free option too. Also dairy-free is my gluten-free lemon coconut bundt cake. My friend Megan made this gluten-free blueberry lemon bundt cake that looks so good! And I'd love to try this gluten-free orange-cranberry cake from my friend Cindy.
I hope you'll make and enjoy this gluten-free pound cake recipe! Read through the comments if you'd like to make mini pound cakes, as some other readers have tried that!
Gluten-free Cream Cheese Pound Cake Recipe:
Yield: 16-18 servings
Gluten-free Pound Cake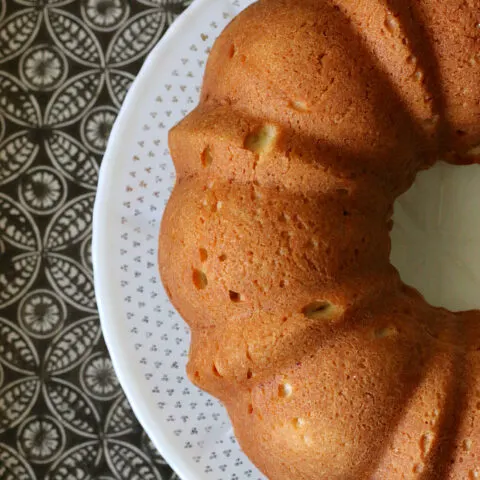 This gluten-free pound cake is a flavorful, moist, dense pound cake, best served with fresh whipped cream or ice cream, and fresh berries.
Cook Time
1 hour
15 minutes
Total Time
1 hour
25 minutes
Ingredients
1 1/2 cups (3 sticks) salted butter
1 (8 oz.) package cream cheese (or use the lighter cream cheese: Neufchâtel)
2 cups white sugar
1 Tbsp. vanilla extract
1 tsp. almond extract
6 eggs
2 2/3 cups good quality gluten-free flour blend
1/3 cup corn starch
1 1/2 tsp. xanthan gum
Instructions
Preheat oven to 325°. Spray a bundt pan or 2 loaf pans with non-stick cooking spray.
In the bowl of your electric mixer, cream together the butter, cream cheese and sugar until light (medium speed -about 5 minutes).
Add the vanilla and almond extracts and beat another 30 seconds to mix well.
Place a sifter/sieve/strainer over a bowl. Measure the flour, cornstarch, and xanthan gum, and dump into the sifter. Sift together the dry ingredients. You can repeat to sift another time or I just used a whisk and really whisked them together well.
Break the 6 eggs into another bowl and set aside.
With your mixer on low, alternately add the flour mixture and the eggs to your butter/sugar mixture, beginning and ending with the flour mixture.
Pour batter into the prepared pan(s).
Bake at 325° for 1 hour and 15 minutes or until toothpick inserted in the center comes out clean. Allow to cool in pan, then gently loosen the sides with a table knife or plastic spatula before turning over onto serving plate.
Notes
As always, be sure to double-check your ingredients for gluten. Feel free to try this with your preferred gluten-free flour blend, but I only guarantee a delicious, non-gritty result if you use one of the flours I recommend!
Recommended Products
As an Amazon Associate and member of other affiliate programs, I earn from qualifying purchases.
Pin this to your gluten-free desserts board: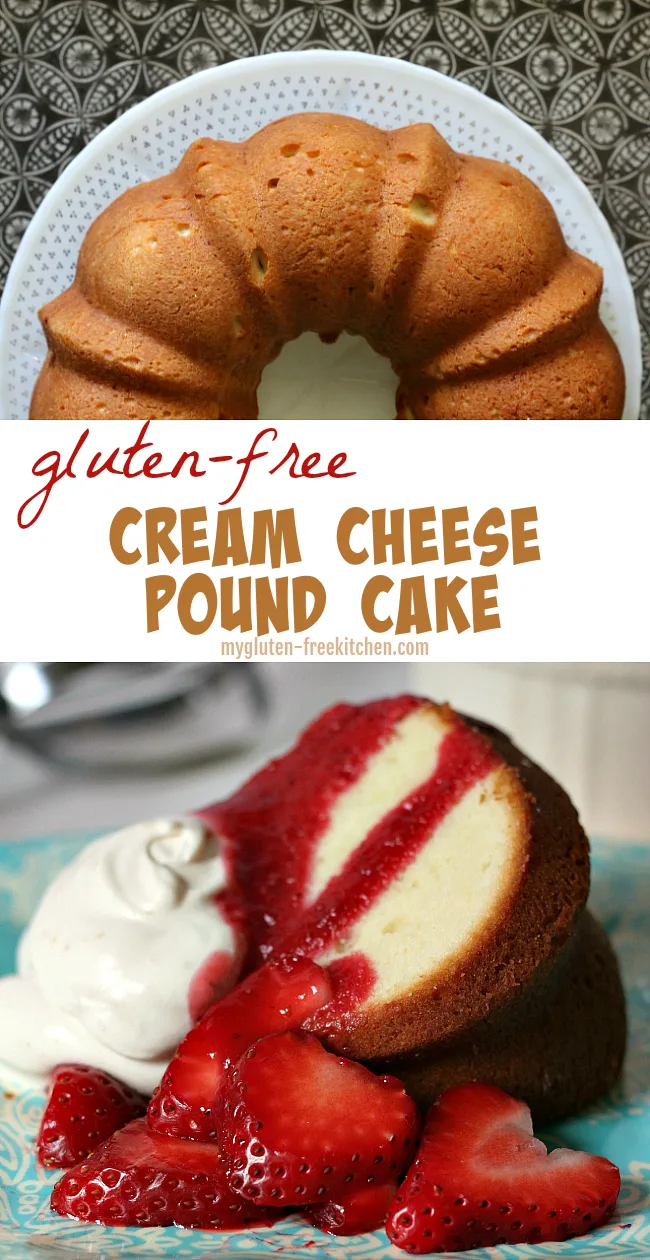 I hope you and your loved ones enjoy this gf pound cake as much as my family and friends have!
Happy baking!