Looking for more easy weeknight meals? You've got to try this gluten-free Chicken Broccoli Lo Mein! Ready in under 20 minutes and full of protein, veggies, and flavor, it's one of my favorite Gluten-free Chinese Food Recipes!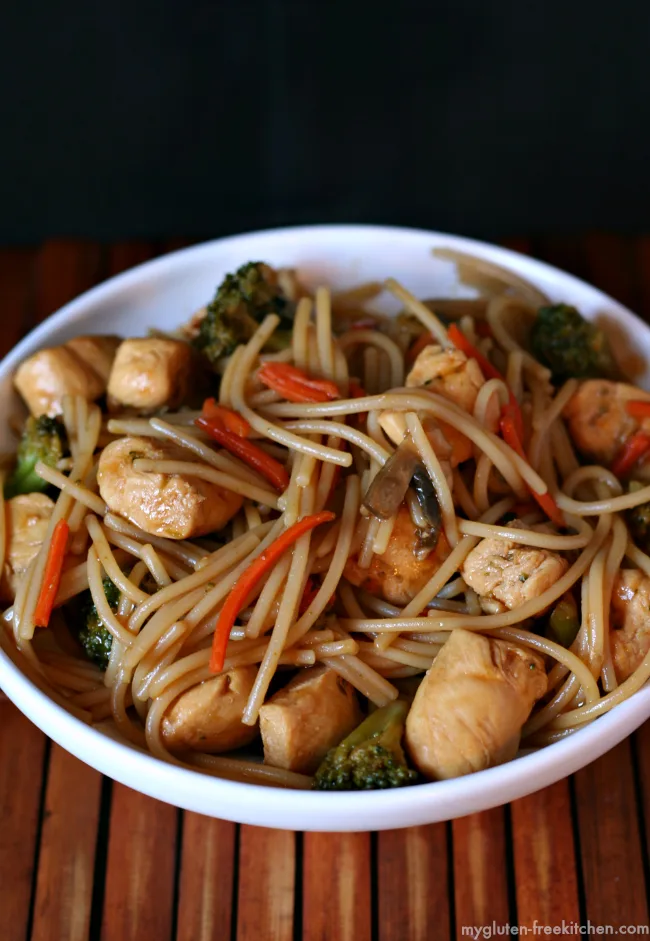 Raise your hand if you miss being able to head to the best Chinese food place in your town and ordering your favorite dishes like Broccoli Beef, Sweet and Sour Chicken, and Chicken Lo Mein? Yeah, me too. Thankfully, I've figured out how to make all of those at home, so I'm sharing the first of those recipes today with this easy gluten-free Chicken Broccoli Lo Mein. This is my American, homemade version, but I sure think it is close to what I used to order at the local Chinese restaurants!
I love meals that are both easy and healthy, and this meal is definitely both! You need only one pot (for boiling noodles) and one pan (for cooking the rest) to make this healthy dish. My hubby and boys always gobble it right up and always have seconds. My youngest isn't a huge veggie eater, in fact he's convinced that lettuce makes him gag and always will! However, he does like broccoli and carrots, so this dish is a great one for getting veggies in him.
I use chicken tenders, just because they require so little trimming, but feel free to use chicken breasts, chicken thighs or any chicken meat removed from a whole chicken. Just dice it up into bite-sized bites. Frozen broccoli florets and pre-shredded organic carrots make it so easy to add the healthy veggies to this stir fry.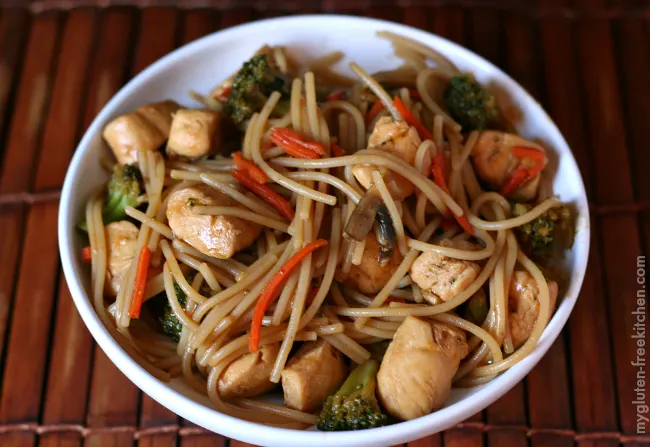 Our family does not prefer spicy foods generally, but if your family does, feel free to spice this dish up a bit with some red pepper flakes. We think the flavor from the sauce is just perfect- a little tangy, and just the right amount of it.
Notes on ingredients for this Gluten-free Lo Mein:
Soy Sauce. Regular soy sauce has gluten (wheat). You have to make sure to use a gluten-free soy sauce in this recipe and all your gluten-free cooking. My preferred soy sauce to use in all of my recipes is San J Gluten Free Tamari Soy Sauce.
Feel free to use your preferred brand of gluten-free rice spaghetti noodles. I do prefer rice pasta over corn pasta in this recipe. I recommend Jovial gluten-free brown rice spaghetti or Barilla gluten-free spaghetti. Both worked well in this recipe and didn't get soggy/mushy. They're both my go-to spaghetti noodles for any recipe!
If you'd prefer to make this meatless, you can add tofu instead. I recommend following this air fryer tofu recipe and then just tossing that in with this broccoli lo mein.
If you're looking for some other copycat take-out recipes be sure to try my gluten-free sweet and sour chicken. I'm planning to make my friend's gluten-free crock pot teriyaki chicken recipe soon – doesn't it look good?!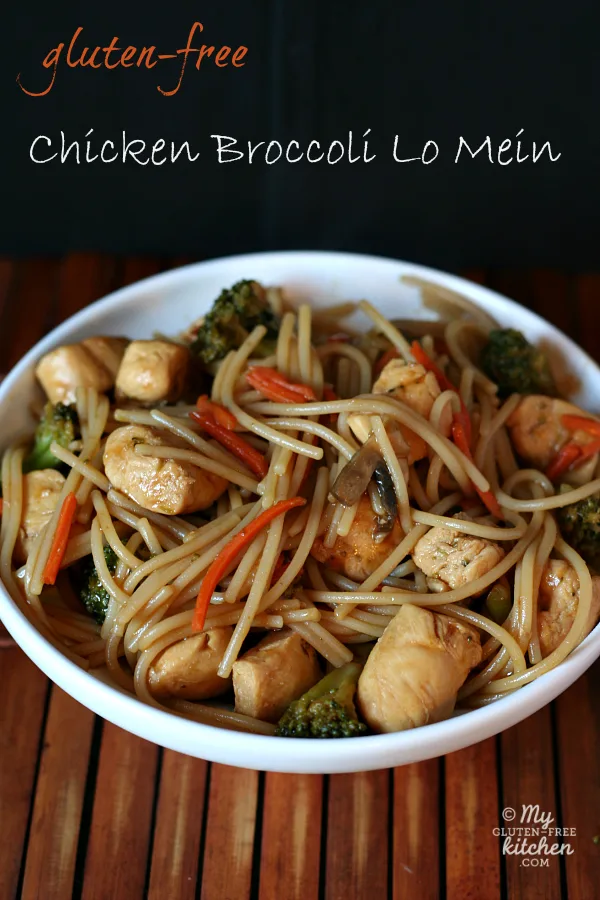 I'd love to hear from you if you try this or if you have any requests for other Chinese dishes you miss. Also, if you have a great recipe for a Chinese dish that you've converted to gluten-free, I'd love if you'd like to share it with me.
Gluten-free Chicken Broccoli Lo Mein Recipe
Yield: 6 servings
Gluten-free Chicken Broccoli Lo Mein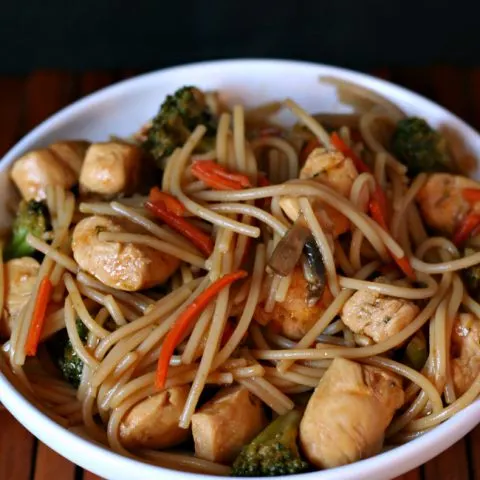 One of my favorite gluten-free Chinese food recipes, this gluten-free chicken lo mein is ready in under 20 minutes! Great weeknight dinner!
Ingredients
8 ounces gluten-free spaghetti (prefer rice pasta)
1 Tbsp. olive oil
2/3 - 1 lb. boneless, skinless chicken breasts or tenders
1/2 cup shredded carrots
3/4 cup - 1 cup fresh mushrooms, sliced
3 cups frozen broccoli florets
1 clove garlic, minced
6 Tbsp. gluten-free soy sauce
2 Tbsp. white wine vinegar
2 Tbsp. ketchup
Instructions
Boil water for pasta. While water is coming to a boil, wash shredded carrots (or slice your own), mince the garlic clove, and wash and slice mushrooms. Set aside.
Cut chicken into 1" cubes, or smaller, depending on preference.
Add gluten-free pasta to the boiling water and cook as directed on the package.
While pasta is cooking in the pot, prepare your large skillet or wok for cooking the chicken and veggies.
Heat the oil in skillet or wok. When the oil is hot, add the chicken, carrots, mushrooms, broccoli, and garlic to the skillet.
Cook for 5-7 minutes or until chicken and veggies are cooked through.
In a small bowl or measuring glass, whisk together the gluten-free soy sauce, white wine vinegar and ketchup. Add sauce to skillet and stir to combine.
Add cooked (and drained) pasta, stir to combine everything, and serve immediately.
Notes
As always, be sure to double-check all of your ingredients to ensure they are gluten-free.
Recommended Products
As an Amazon Associate and member of other affiliate programs, I earn from qualifying purchases.
Pin this to your gluten-free meals board!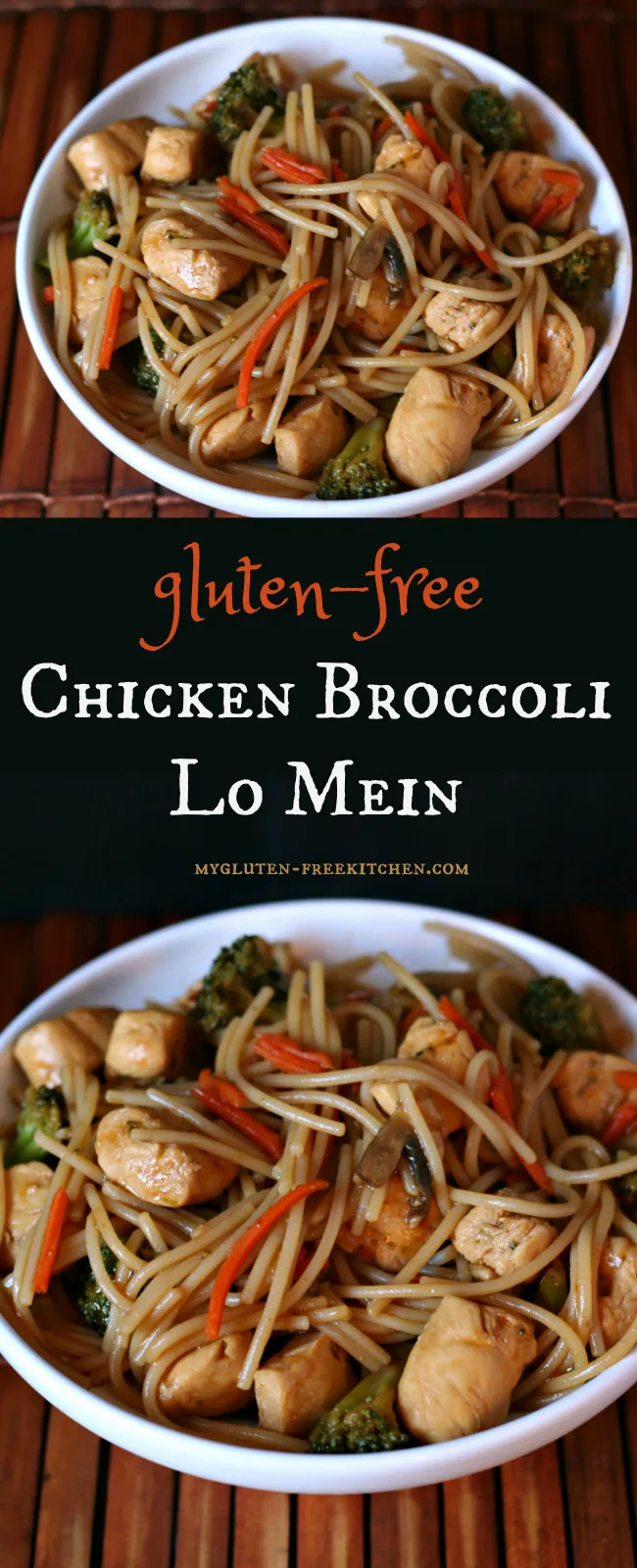 Enjoy!