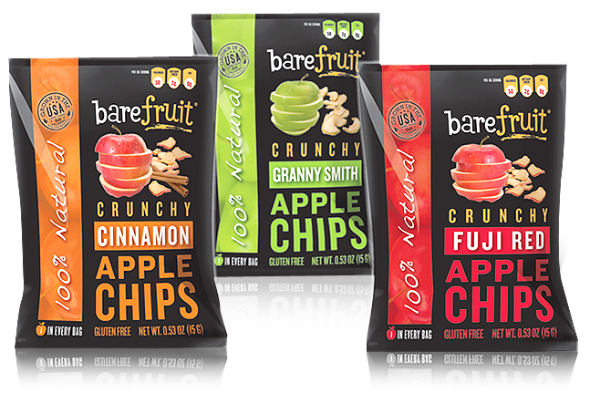 This month, the company Bare
sent me free samples of their naturally gluten-free crunchy apple chips to review. Bare Fruit has a variety of dried fruit products available on Amazon. In addition to being gluten-free, their apple chips have no added preservatives or additives, and most varieties have no added sugar either.
During the month of January, Bare Snacks is offering a coupon for and additional 20% off Bare Fruit Snacks
. You can get free shipping on these, and thousands of other items, with an Amazon Prime membership. I love my Amazon Prime membership and shop via Amazon with free shipping at least once a week.
My husband and youngest son LOVE dried apples so they were very excited to try these. My oldest son and I do not, so we removed ourselves from the testing since we'd be biased against them. I do look forward to trying their other dried fruit snacks, especially their dried mangos.
Our thoughts: Hubby liked the Granny Smith, as he loves tart apples. My youngest son said the Granny Smith were awesome, the Cinnamon were perfect, and he also loved the Sea Salt Caramel flavor, which is no surprise since he has a sweet tooth. They were much crunchier than other dried apples they've tried before, which is I guess why they are called Apple Chips! These are totally something I would buy again for my husband and son to enjoy as a healthy snack. I'm going to make up little snack bags with what is left from our bags, and place them in our healthy snack bin.
*Disclosure: I did receive this product to facilitate my review, these opinions are my own and were in no way influenced by another person.