Occasionally, I will share a favorite item from my gluten-free kitchen: a book, cookbook, gluten-free food or kitchen gadget or a roundup of favorite things from around the web. Hopefully you'll find some new favorites to add to your gluten-free kitchen! While they may contain affiliate links, all Favorites posts reflect my own opinion and are not sponsored by any individual or company.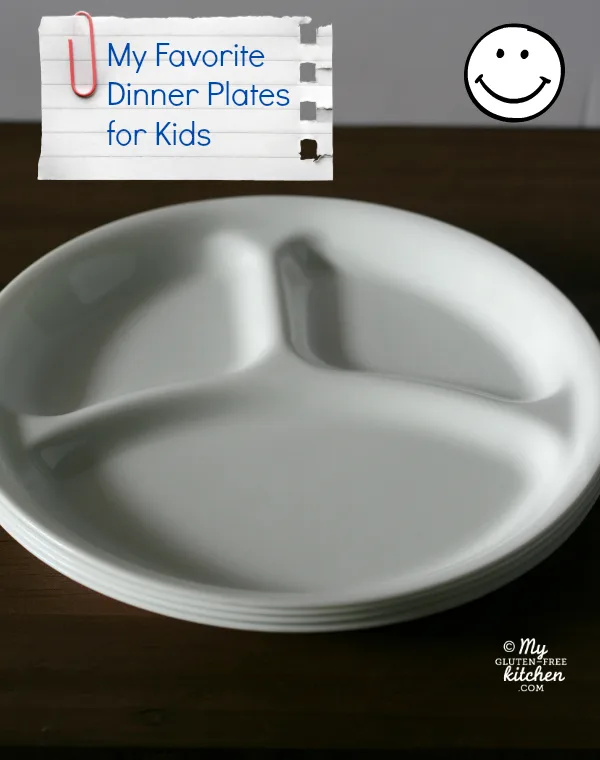 When my boys were little, I used some little melamine plates that were divided into sections, which I loved because I could put a little something different in each section for the kids to try. As they got older, I wanted the convenience of lightweight, not easily breakable plates, but with something that looked less juvenile and was microwave and dishwasher safe. I'm so glad I found these Corelle Livingware Divided Dishes.
My favorite features of these plates:
The divided sections are perfect for keeping food and sauces from mixing together, which many kids (and adults, if we admit it, hate)
The divided sections help me think about making a balanced meal on their plate as I always make sure I have at least one fruit or vegetable in a section at every meal.
These are dishwasher, microwave, and oven safe, unlike the melamine and plastic ones out there!
They stack nicely, nesting inside of each other, so they don't take up much room at all.
These are break resistant and chip resistant, and we haven't had a single chip or crack at all!
We can cut food right on them, as they are tempered glass, whereas with melamine or plastic ones, you can't cut on them without scratching and ruining them.
If you would like to get some for your house, you can buy them one at a time or as a set of 6 on Amazon: Corelle Livingware 10-1/4-Inch Divided Dish, Winter Frost White
. I definitely recommend this 10 1/4″ size for older kids and adults, but they are also available in a smaller size, perfect for toddlers: Corelle Livingware 8-1/2-Inch Divided Dish, Winter Frost White
.
I know these are a little pricy, but I have to say they are totally worth it. I was able to throw out all of our scratched melamine and plastic ones, and use this set of 4 I bought over and over. They look as good as the day I bought them and we've had them about 2 years now. That is my set in the photo at the top! Also, the shipping on these is free if you have Amazon Prime, and if you don't already, you can get a free 30-day trial of Amazon Prime right now too!