I use one of my favorite gluten-free chocolate cake recipes to make these little heart-shaped cakes. They're perfect for a gluten-free Valentine's Day at home!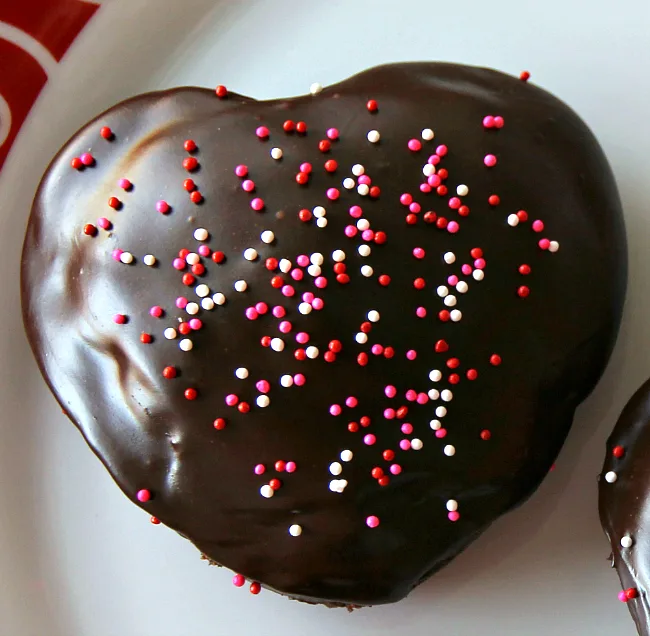 Each Valentine's Day, I love to bake up a fun treat for my family. We never go out for a date on Valentine's Day, preferring to go out on a less-crowded night, so I try to make a special meal and dessert at home. I vary it each year, but these little "Love Cakes" have been a part of our Valentine's Day several times!
I think these cakes have the best texture on the day after baking, so I recommend making them the day before you plan to share them – which is handy if you are a nighttime baker like I am! You can bake them, let them cool, store overnight and frost the next day.
They couldn't be easier to make either, using this Wilton heart pan that bakes 6 heart shaped cakes at a time. If that pan is showing out of stock for you, it looks like this is their new heart pan. This is definitely a treat that your kids can help make and decorate too!
You are probably thinking right now that you don't need another pan, but I can attest that I've gotten a lot of use out of this pan over the years! Every year for Valentine's Day, I also use this heart pan to bake my boys' favorite gluten-free peanut butter banana chocolate chip muffins in! They enjoy coming down for breakfast. I like those little things like that to make the holidays special.
Ingredient Notes:
I like to use part Hershey's Special Dark Cocoa and part regular cocoa in both the cake and the fudge frosting. It adds that deep dark color to them both. In the recipe below I note that, but you are welcome to just use all regular baking cocoa instead of any dark.
As always, I only recommend baking with a good quality all-purpose gluten-free flour blend. All flour blends are not created equal! I recommend avoiding flour blends that contain any bean flours or that are primarily rice flour, as you'll get a more gritty result. This recipe, like pretty much all of my recipes, has been tested with successful results with both Gluten Free Mama's Almond Flour Blend and gfJules gluten-free flour and I recommend either one. Two other flour blends that I've been testing some (but not this recipe yet) with good results are Cup4Cup and Pamela's.
Before you print off my recipe below, I wanted to share 15 more recipes from my friends for "Sweets for your Sweeties"! Check out all the delicious gluten-free recipes they made: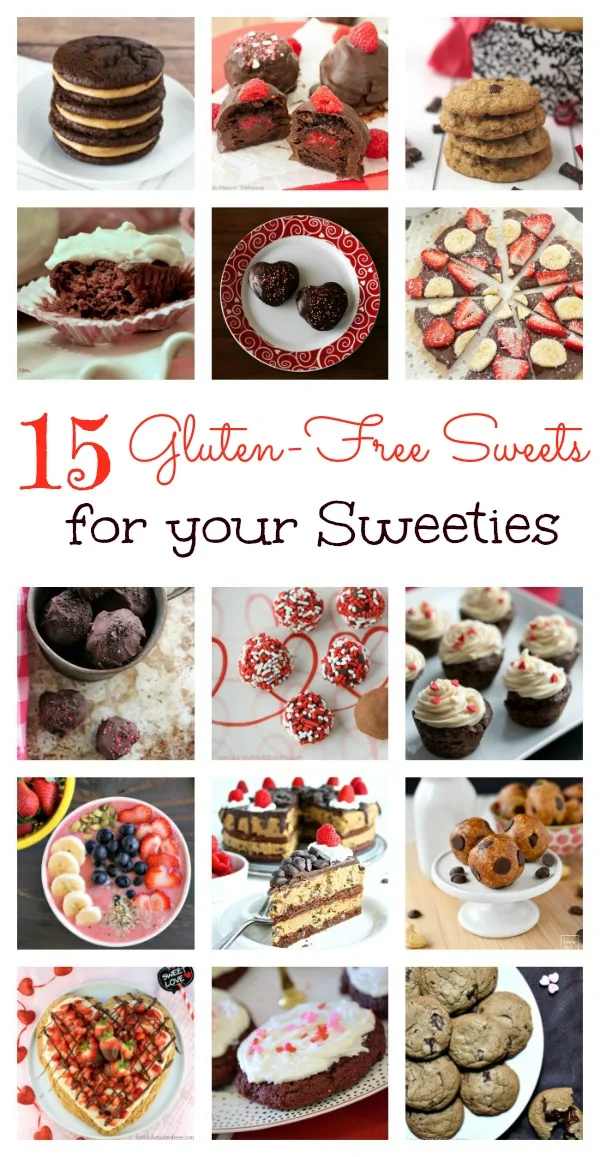 15 Sweets for Your Sweeties – Gluten-free recipes to share with your loved ones for Valentine's Day or anytime. Listed in the order they appear in the photo, left to right, row by row: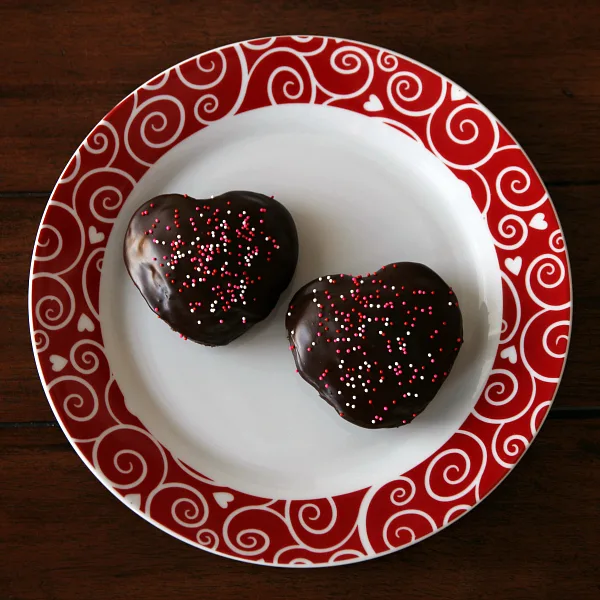 Without further ado, here's the recipe for these delicious cakes!
Gluten-free Heart-Shaped Cakes Recipe:
Yield: 21 cakes
Gluten-free Chocolate "Love" Cakes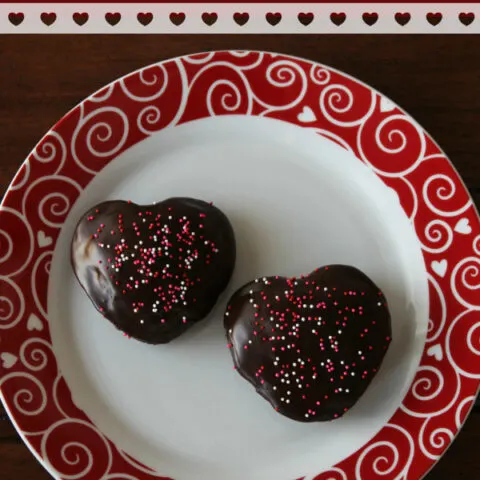 Perfect for a gluten-free Valentine's Day! These gluten-free chocolate cakes have the best texture the day after baking them. On day 2 they have the perfect moist crumb!
Ingredients
Cake:
2 cups good quality gluten-free all-purpose flour blend*
1 tsp. xanthan gum*
2 cups sugar
1 tsp. baking soda
¼ tsp. salt
1 cup (2 sticks) salted butter
⅓ cup cocoa powder (see note)
1 cup water
½ c. buttermilk
2 large eggs
1 tsp. pure vanilla extract
Fudge Frosting:
½ cup butter
½ cup cocoa powder
3 ⅔ cup powdered sugar
6-7 Tbsp. milk
1 tsp. pure vanilla extract
Instructions
Cake:
Spray cooking oil in the bottoms and sides of your heart shaped pans or muffin pan and set aside.
In your mixing bowl, combine flour, xanthan gum, sugar, baking soda, and salt and set aside.
In a medium saucepan, combine butter, cocoa, and 1 cup water. Bring just to boiling, whisking constantly. Remove from heat and add to dry ingredients, beat until combined.
Add buttermilk, eggs, and vanilla and beat for one minute on low-medium speed.
Pour batter into prepared pan.
If using the mini heart shaped pan or cupcake pan, pour ¼ cup of batter into each opening.
Bake at 350° for 17 minutes or until a toothpick comes out clean or with a few crumbs (no wet batter).
Let cool in pan for 4 minutes, then turn over pan and the little cakes should just fall out.
Wait to frost until completely cool.
Frosting:
Using a medium glass bowl, melt the stick of butter in microwave.
Whisk in cocoa powder, then return to microwave for 1 minute.
Add powdered sugar and milk alternately, beating with a hand mixer until creamy.
Add vanilla last, beating in until mixed well.
If you use this frosting while still warm, it is easily spreadable and has the glossy finish when dried like you see in the photo but can slide off of whatever you are frosting. If you let it cool completely, then it firms up and can be placed into a pastry bag for piping for decorating cakes or cupcakes. The icing can be refrigerated to use later; just microwave 10 seconds at a time, and stir, until you get to the right consistency for piping or spreading.
Notes
Gluten-free flour blends that I've tested in this with great success include King Arthur Measure for Measure, Authentic Foods, and Gluten-free Mama's Almond Blend.
*If the gluten-free flour blend you use already has xanthan gum or guar gum in it, then omit the xanthan gum called for in this recipe.

For the cocoa powder in the cake and the frosting, I achieve a nice dark brown by using part Hershey's dark cocoa and the rest regular or Dutch cocoa.
Recommended Products
As an Amazon Associate and member of other affiliate programs, I earn from qualifying purchases.
Pin this to your gluten-free Valentine's board on Pinterest so you can find it again: