Gluten-free Peanut Butter Banana Chocolate Chip Muffins are one of my boy's favorite muffins! He'd like me to bake them every week!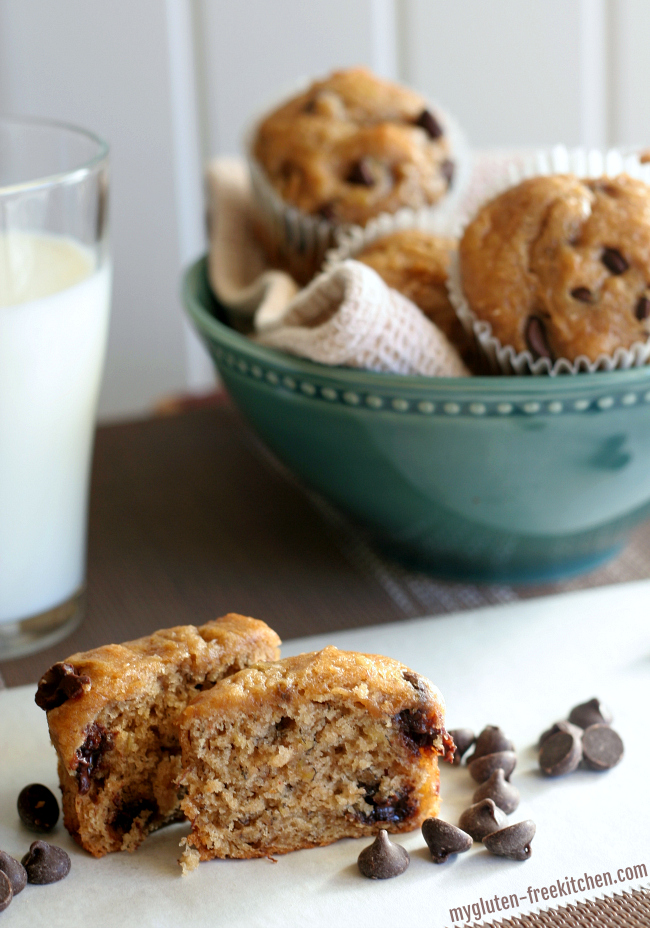 My local grocery stores usually offer a great deal on overripe bananas. When I know I'll have some time for baking, I'll snatch up a bunch of them so I can stock my freezer with gluten-free banana muffins.
This past year I tried out peanut butter banana muffins for the first time, and while my kids thought they were ok, I wasn't too crazy about them. They just didn't have the right texture, so I kept looking for a better recipe.
Then I found this recipe for peanut butter banana chocolate chip mini-loaves over at one of my favorite recipe blogs, Lauren's Latest, and wanted to give them a try as muffins. I whipped up a batch of these with gluten-free substitutions and everyone in our house LOVED them.
Now I make these gluten-free peanut butter chocolate chip muffins regularly!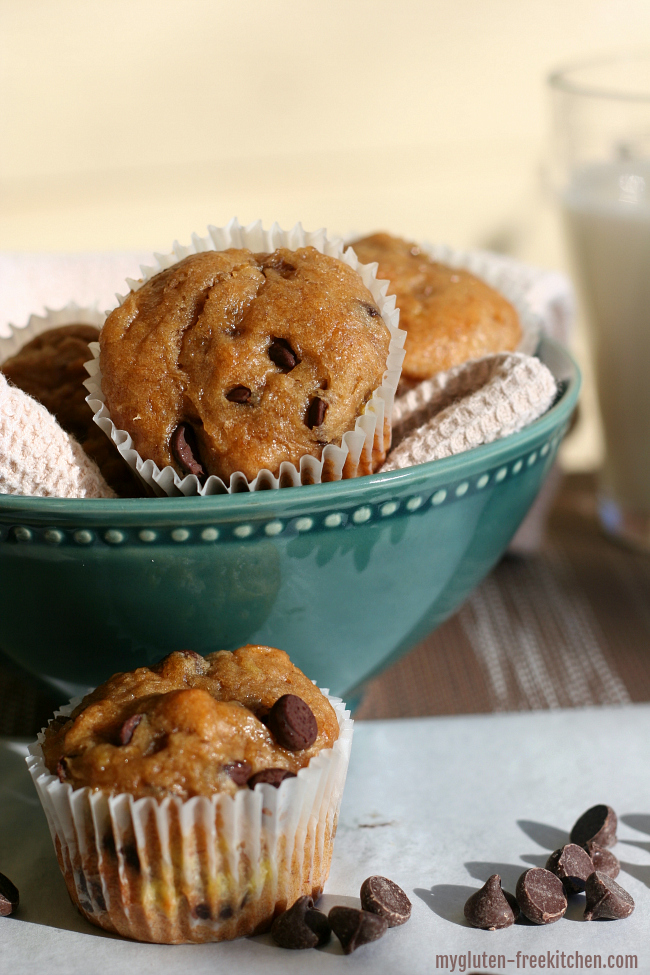 I took some of these peanut butter banana chocolate chip muffins to a celiac friend that teaches at my son's school and she RAVED about how they were the best muffins she's had. They have just the right texture, the perfect moist crumb you want in a muffin. These aren't dry at all. The chocolate chips put these over the top and makes it feel almost like eating a dessert!
I love having muffins in the freezer for pulling out for a delicious breakfast or a easy lunch. After baking, let them cool to room temperature, then put them in a Ziploc freezer bag. When you want to enjoy them, just pull out a couple and warm them up in your microwave. On hurried mornings or when I'm out of bread for sandwiches, I'll usually pull out two muffins for each of my boys, warm them a bit in the microwave, then put in their lunchbox along with fruit, some nuts or a cheese stick for a super easy lunch. I love that the peanut butter in these adds some protein too.
If you'd like to make these a bit healthier, you can definitely cut back or eliminate the chocolate chips, which I do sometimes. You can also easily adapt these to be dairy-free by using your favorite dairy-free alternative to butter, like coconut oil, and omit the chocolate chips or use dairy-free chocolate chips.
I've also made some of them in my heart-shaped pan to surprise my kids for breakfast on Valentine's Day. I use this pan which makes 6 heart shaped muffins at a time. Look how cute they turned out: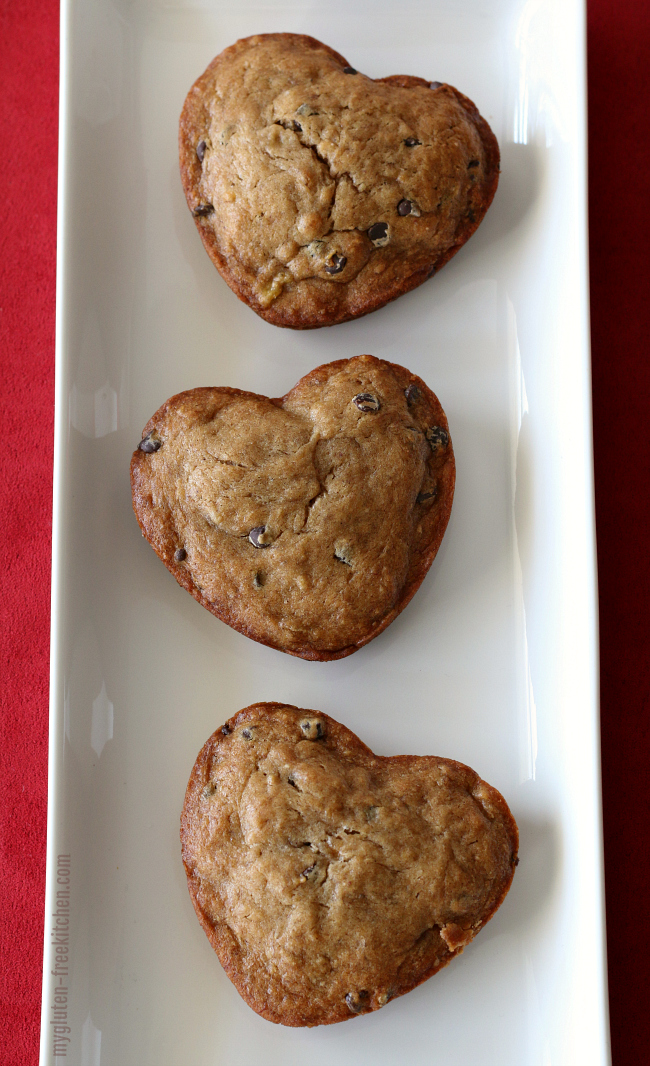 Watch for extra-ripe bananas next time you are at the store so you can make a batch of these gluten-free peanut butter muffins. You'll love them!
Gluten-free Peanut Butter Banana Chocolate Chip Muffins Recipe:
Yield: 24 muffins
Gluten-free Peanut Butter Banana Chocolate Chip Muffins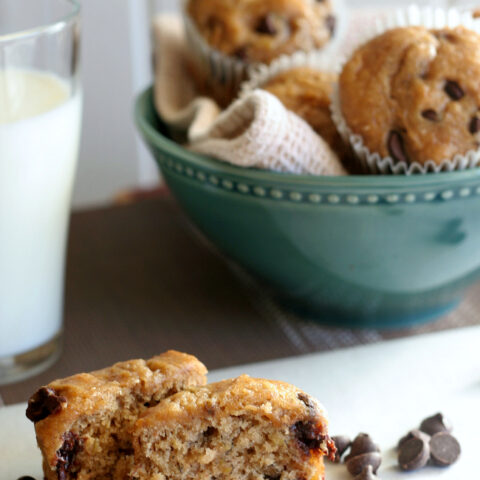 These gluten-free muffins are full of peanut butter and banana flavor! Make a batch of these gluten-free peanut butter banana muffins and put them in the freezer so you can have an easy breakfast, lunch, or snack!

Prep Time 20 minutes

Cook Time 20 minutes

Total Time 40 minutes
Ingredients
2 cups (8.5 oz) quality gluten-free all-purpose flour *
1/2 tsp. xanthan gum *see note
1 tsp. baking powder
1 tsp. baking soda
1 tsp. salt
1 tsp. cinnamon
1/2 cup sugar
1/2 cup packed brown sugar
4 very ripe bananas, mashed (=1 3/4 - 2 cups)
1/2 cup butter or margarine, melted
1/2 cup peanut butter (I used Creamy Natural Jif, feel free to use chunky)
2 large eggs
2 tsp. pure vanilla extract
1 cup chocolate chips (I used semi-sweet; milk chocolate might be good as well)
Instructions
Preheat oven to 325°. Line muffin pan with paper muffin liners or spray well with cooking spray.
In a large bowl, whisk all dry ingredients together until combined - gluten-free flour, xanthan gum (if needed), baking powder, baking soda, salt, cinnamon and sugars.
In a medium bowl, mash the ripe bananas. Then add the softened butter, peanut butter, eggs, and vanilla extract and mix until blended. (I use a whisk or a fork)
Make a well in the center of dry ingredients and pour in the wet ingredient mixture. Stir until just combined. Stir in chocolate chips.
Use a cookie scoop or about 1/3 cup measure to fill muffin cups about 2/3 full.
Bake at 325° for 18-20 minutes or until toothpick comes out clean when inserted in center of a muffin. Cool 5 minutes in pan, then remove to cooling racks. Serve warm or at room temperature.
Store in a bag or container at room temperature, or place in Ziploc freezer bag to store in freezer.
Notes
*Recipe has been tested with these good quality gluten-free flour blends: gfJules, Gluten Free Mama's Almond Blend, Pamela's, and King Arthur Measure for Measure flour blend.
**If using a gluten-free flour that has xanthan gum already in it, then omit the xanthan gum listed in this recipe.
To make dairy-free, use your favorite dairy-free alternative in place of the butter and use dairy-free chocolate chips.

You can easily adapt these to mini muffins, jumbo muffins or mini loaves, just adjust the baking time.
Recommended Products
As an Amazon Associate and member of other affiliate programs, I earn from qualifying purchases.


Recipe adapted from Lauren's Latest peanut butter banana bread.
I hope you and your family enjoy these gf peanut butter banana muffins as much as my family does!
Sunday 16th of November 2014
I made these this morning and they are amazing! I am very fussy about texture etc and these hit the mark perfectly. I think a few pecans in them would be tasty too! Thanks so much for the recipe, it's a keeper!
Sunday 12th of October 2014
Omg I just made these sooooo good!! Very moist!! I love pinterest that's how I found this recipe :)
I've made this recipe many times now, with my own flour blend. They freeze beautifully and make a great snack or addition to the kids lunch. The entire family loves these!
Christine, Thanks so much for your comment. I'm glad to hear that the recipe has worked well for you with your own flour blend too. I almost always have a batch of these in the freezer, in fact I'm hoping to make another batch this week since we ran out! Have a great week!
I made these as an end of year gift for my daughters teacher who can't have gluten, I tried the test one I made as did my husband and we both loved them, and I don't even like bananas! The only changes I made was I used gluten-free bisquick (we live in a small town with little shopping options and the local grocery story had next to no gluten-free flour options and no xanthan gum and this was the only mix I could find there that already had it) I just omitted the baking powder, soda and salt as their were already leavening agents in the mix. I was worried this would effect the final product but they were delicious! Thank you for posting this recipe I will be taking her the muffins tomorrow and I'm sure she will love them as much as we did! My husband has also requested I make a batch for us so this recipe is for sure a keeper! :)
Wednesday 21st of May 2014
Lynn, How incredibly thoughtful of you to make these for her teacher. Way to go giving it a try with what you could find on hand in your town. I'm so glad you and your husband enjoyed them too! Thanks so much for taking the time to comment. This comment made my day!
I just made these and I think they are pretty good. But I have to tell you that my picky 4 year old son, whose diet consists of plain bread, peanut butter sandwiches (no jelly), mac and cheese, and top ramen (seriously) is chowing down on one of these muffins. Granted he's kind of picking around the chocolate chips (I know) BUT he tried something new and actually likes it! I think if I were to make these again, I might split the batter to make some with chocolate chips and some without. Or make them with mini chips.
Wednesday 21st of May 2014
Summer, I'm glad your son loves them! It is so nice to find something new to work into the rotation for a picky eater. I often make these without the chocolate chips also, just to make them a little healthier! My kids enjoy them that way too!