It doesn't get much better than chocolate and peanut butter, folks. As you may have noticed by the other chocolate & peanut butter recipes I have on my blog, I LOVE the combination of chocolate and peanut butter together. It is definitely my favorite flavor combo! These gluten-free chocolate peanut butter swirl cookies marry both of those flavors in a delicious cookie.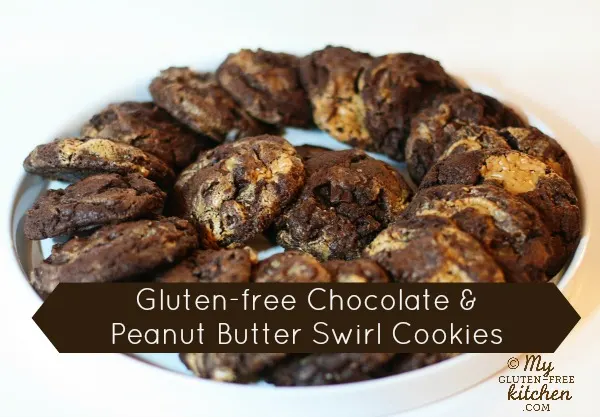 Make sure you use good quality chocolate as the chocolate flavor really is intense in these! I love the ribbons of peanut butter throughout the cookie. Trust me, these are soooo good!
The original recipe for these chewy & fudgy cookies came from Picky Palate. While her blog isn't a gluten-free blog, it is a great source for inspiration for recipes for my cooking and baking. I love her recipes so much that I just picked up a copy of her cookbook, The Picky Palate Cookbook
, and am looking forward to trying many more of her recipes, adapting as needed to suit our gluten-free household.
This recipe takes just a little bit longer to prepare than most cookie recipes, because you are going to need to freeze the peanut butter mixture for 30 minutes before adding to the batter, so make sure you allow enough time.
Just out of the oven, these cookies are fudgy and the chocolate is gooey and melted.
If you let them cool and set-up, they become a sturdy, but still chewy and fudgy, cookie that is enjoyed by everyone.
I often put half of these into the freezer so we can enjoy some another day. When you want to use them from the freezer, just pull out however many you want, and microwave at 80% power for about 12-15 seconds. You may need to do a little longer, depending on your microwave.
They make a great afternoon snack!
Gluten-free Chocolate Peanut Butter Cookies Recipe:
Yield: 36 cookies
Gluten-free Chocolate Peanut Butter Swirl Cookies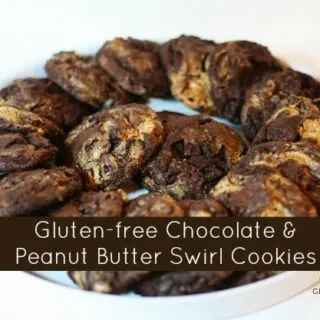 If you love the combo of chocolate and peanut butter together, you'll love these gluten-free chocolate peanut butter cookies! They take some time, but the taste is so worth it!

Prep Time 40 minutes

Cook Time 14 minutes

Additional Time 5 minutes

Total Time 59 minutes
Ingredients
1 cup creamy peanut butter (I use Jif Natural)
1 cup (2 sticks or 16 Tbsp.) salted butter
1 cup sugar
3/4 cup packed light brown sugar
2 large eggs
1 Tbsp. pure vanilla extract
1 3/4 cups gluten-free all-purpose flour
3/4 tsp. xanthan gum *see note
1 tsp. baking soda
1/2 tsp. kosher salt
1 cup cocoa powder
2 cups chocolate chunks or chips
Instructions
Scoop 1 cup of creamy peanut butter into a bowl and place in freezer until firm, about 30 minutes.
Line a large cookie sheet or baking pan with parchment paper or a silpat liner.
Preheat oven to 350°.
In a stand mixer, beat butter & sugars until well combined. Add eggs and vanilla, beating well until combined.
Place gluten-free flour, xanthan gum, baking soda, salt, and cocoa powder into a large bowl and whisk together to mix.
Add the flour mixture to the wet ingredients along with chocolate chunks or chips, slowly mixing just until combined.
Drop dollops of frozen peanut butter into dough and turn the mixer on for just a few turns of the mixer to get swirls of peanut butter throughout the dough.
With a medium cookie scoop, scoop dough onto lined cookie sheets, leaving about 1" space between cookies.
Bake at 350° for 14-16 minutes, until set.
Let cool on baking sheet for about 5 minutes before transferring to a cooling rack.
Makes about 3 dozen cookies.
Notes
*If the gluten-free flour blend you use already has xanthan gum or guar gum in it, then omit the xanthan gum called for in this recipe.
Recommended Products
As an Amazon Associate and member of other affiliate programs, I earn from qualifying purchases.