Craving donuts since you've gone gluten-free? I was too, so I created this recipe for gluten-free cinnamon sugar donuts. This gluten-free donut recipe is so easy and delicious!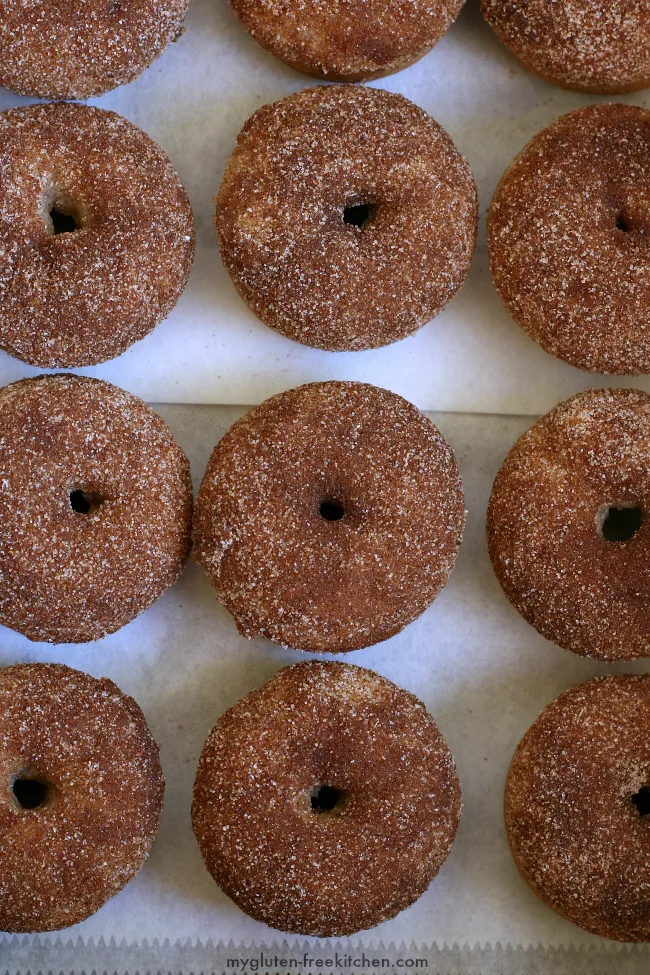 Doughnuts are among the top three things I've missed the most since having to give up gluten. Really, I only would buy doughnuts at most 3 times a year during my adult life, but still, the idea that I can no longer grab a doughnut with my kids is such a bummer.
I've decided that I just need start making my own homemade gluten-free doughnuts! These gluten-free cinnamon sugar doughnuts are the result of trying and tinkering with several recipes until I got them just right. They taste like the doughnut holes I remember, but honestly, I think these are even better!
I made these mini gluten-free doughnuts in my Norpro Nonstick Mini Donut Pan
.
You know what I learned? I needed to order a 2nd one! Doing one batch of 12 doughnuts at a time took a little too long for my tastes.
Luckily the pans are affordable, so getting two isn't a big deal. If you have a full sized doughnut pan, feel free to use that instead. The cooking time would likely be just a couple minutes longer. These would also work well in a Babycakes Nonstick Coated Donut Maker
.
Since this was my first time using my doughnut pan, I wasn't sure what the best technique was for filling the cavities in the pan. I tried scooping it in, but that covered up the hole in the middle, and also made a mess of the pan.
I consulted with my friend Jeanine, the gluten-free doughnut queen, and she suggested placing the batter in a Ziploc bag, cutting off the corner, and squeezing it into each cavity. That worked perfectly!
I used Gluten Free Mama's Almond Blend All Purpose Gluten-Free Flour
for the flour in this recipe, with excellent results. Other good all-purpose blends would likely work well in this, such as King Arthur Flour Gluten-free Measure for Measure Flour
or gfJules, but I haven't tested them in this recipe yet. As always, I recommend avoiding gluten-free flour blends with bean flours.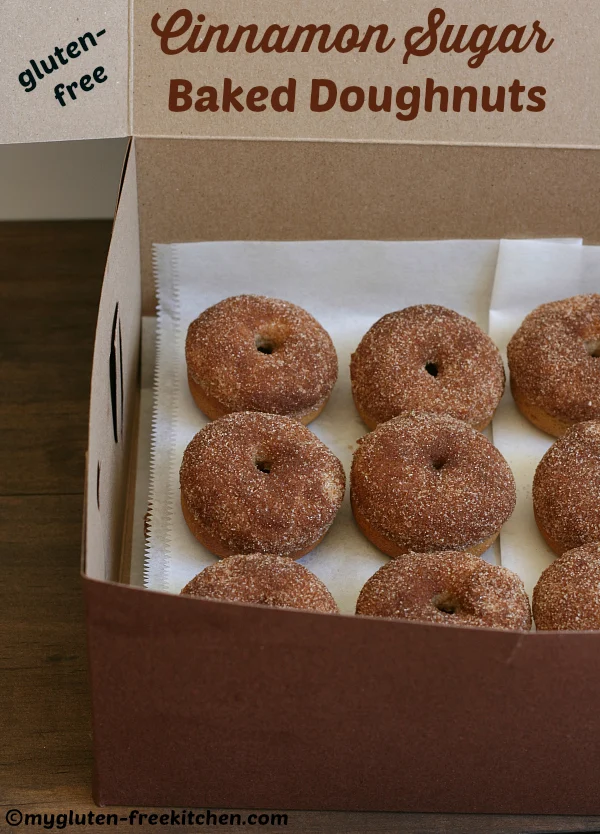 Last week was teacher appreciation week. I have a teacher friend, Angie, at my son's school that has celiac, so I like to sign up to provide treats that she can eat. I made these doughnuts to send for her and the other gluten-free folks to enjoy at the teacher appreciation breakfast.
I even packaged them up in a doughnut box. She loved them and asked for this gluten-free donut recipe, so I knew they were a hit with more than just my family.
I think you'll enjoy them too! Be sure to try my recipe for gluten-free maple donuts too! They're equally delicious and a favorite treat of mine. My kids love both of these doughnuts and beg me to make them more often!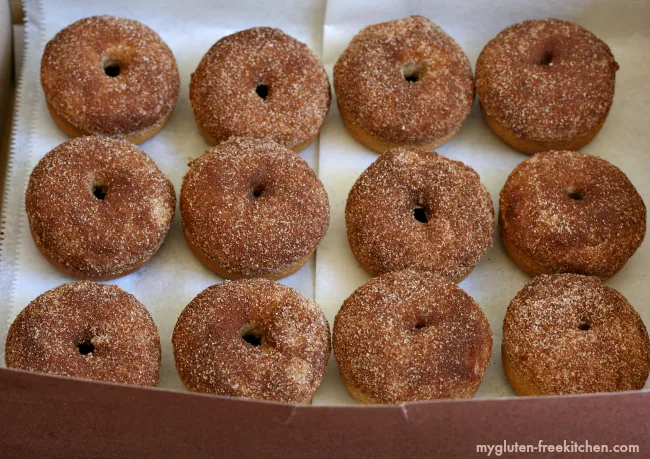 Recipe adapted from King Arthur Flour.
I also have an entire Pinterest board full of gluten-free donut recipes you can check out! I've pinned so many more gluten-free donut recipes that I'm wanting to try too!
If you make these and love them, please come back and give this recipe a 5 star rating in the recipe card! Feel free to comment with tips or to share any successful substitutions you made.
Gluten-free Cinnamon Sugar Donut recipe:
Yield: 48 donuts
Gluten-free Cinnamon Sugar Donuts
This cinnamon sugar gluten-free donut recipe is so easy and delicious! Not only are these super easy to make and delicious, but they were just as great on day 2. So feel free to bake them up the day before you need them.

Prep Time 15 minutes

Cook Time 7 minutes

Additional Time 20 minutes

Total Time 42 minutes
Ingredients
Doughnuts:
1/4 cup unsalted butter, room temperature
1/4 cup vegetable, corn or canola oil
1/2 cup sugar
1/3 cup brown sugar
2 large eggs
1 1/2 tsp. vanilla
11 1/4 oz. (about 2 2/3 cups) all-purpose gluten-free flour
1/2 tsp. xanthan gum*
2 tsp. ground cinnamon
1 1/2 tsp. baking powder
3/4 tsp. to 1 tsp. ground nutmeg
3/4 tsp. salt
1/4 tsp. baking soda
1 cup milk
Topping:
5 Tablespoons salted butter, melted
1 1/2 Tablespoons cinnamon
1/2 cup sugar
Instructions
Preheat oven to 425°. Spray mini doughnut pan with non-stick cooking oil spray.
In the bowl of your electric mixer, cream together the butter, oil, and sugars until smooth.
Add the eggs and vanilla, beating until smooth.
In a small bowl, whisk together the flour, xanthan gum, cinnamon, baking powder, nutmeg, salt, and baking soda.
Alternate adding the flour mixture and the milk to the butter mixture, beginning and ending with the flour. Mix on low just until everything is thoroughly combined.
Scoop the batter into a gallon-size Ziploc bag and seal tightly. Use scissors to snip off a bottom corner. Squeeze the batter out of the opening into the cavities of the doughnut pan, filling until almost flush with the top of the cavities.
Bake at 425° for 7 minutes or until they are a pale, golden brown, and a toothpick inserted in a doughnut comes out clean.
Remove from the oven and let cool in the pan for 2-3 minutes. Turn the pan over to turn doughnuts out onto a cooling rack.
Repeat with remaining batter, spraying pan again with cooking spray between batches. Makes 4 dozen.
While doughnuts are cooling, make the topping.
Topping:
Melt the butter in a small bowl.
In another small bowl, whisk together the cinnamon and sugar.
Take each cooled doughnut, dunk the top half in the butter, then in the cinnamon-sugar mixture to coat. Place on rack or tray to set. Enjoy!
These can be stored in an airtight container at room temperature for 2-3 days.
Notes
*If the gluten-free flour blend you use already has xanthan gum or guar gum in it, then omit the xanthan gum called for in this recipe.

*Tip: After you dip a dozen or so of the doughnuts into the cinnamon sugar mixture, the mixture starts to get clumpy. If you care about that, I recommend only putting a small amount of your cinnamon sugar mixture in your dipping bowl, keeping the rest reserved. Once your mixture gets clumpy, dump it out and refill from the reserved mixture. Hope that makes sense! Let me know if you have questions!

*A little note about the nutmeg in this recipe. I put a range that you can choose. The first time I made these, I used a full teaspoon, and it was perfect. However I was using an older nutmeg container. Shortly after, I bought a new container of nutmeg and used that the second time I made these. I felt the nutmeg was a little overpowering in that batch. So feel free to adapt based on how much you like nutmeg and how new your spices are.
Recommended Products
As an Amazon Associate and member of other affiliate programs, I earn from qualifying purchases.

Pin this to your gluten-free breakfast board on Pinterest: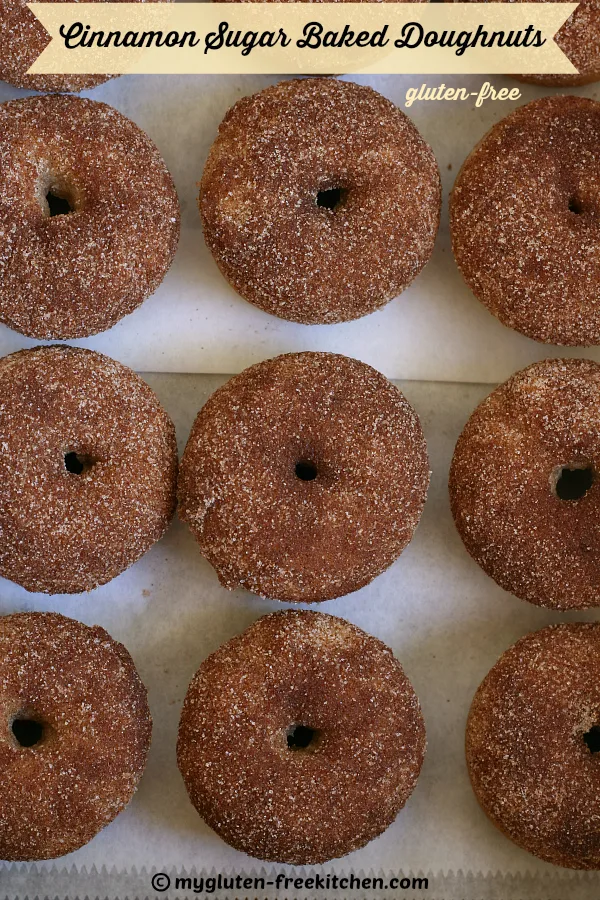 I hope you and your family enjoy these gluten-free doughnuts too!
Please come back and rate and review these gluten-free donuts after you try them!