We affectionately call these gluten-free banana chocolate chip cookies "Monkey Cookies". My little monkeys have loved these cookies!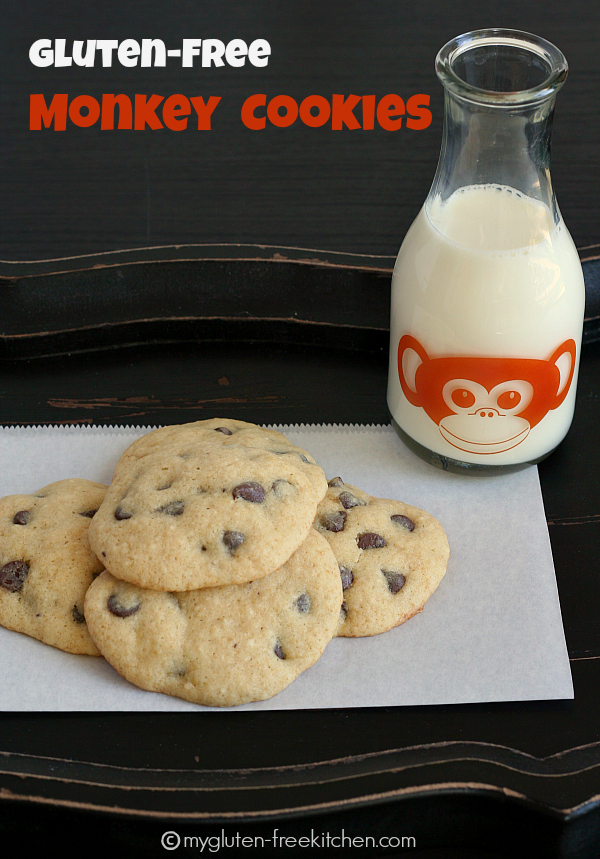 What do you make when you have just one overripe banana? It isn't enough to make a batch of gluten-free banana muffins, unless you want to make a half-batch. One overripe banana is all you need to make these gluten-free banana chocolate chip cookies, which we call Monkey Cookies! This is another of those recipes that I've made for so many years that I have no idea when I initially discovered the recipe.
These gluten-free banana cookies have a texture that is very different than my usual cookies. They aren't chewy, gooey, or crumbly. I'd describe them as moist and cakey in texture. They are, I think, the perfect lunchbox cookie because they don't fall apart or squish.
I've had a number of people contact me about the cute monkey milk bottle. You can buy them on Amazon: Monkey Face Mini Milk Bottle Drinking Glasses
I just love mine! So fun!
I have had the best success with this recipe when I've used Gluten Free Mama's Almond Blend All Purpose Flour. It is one of my favorite gluten-free flour blends. I've tested pretty much every single recipe on my site with this flour blend.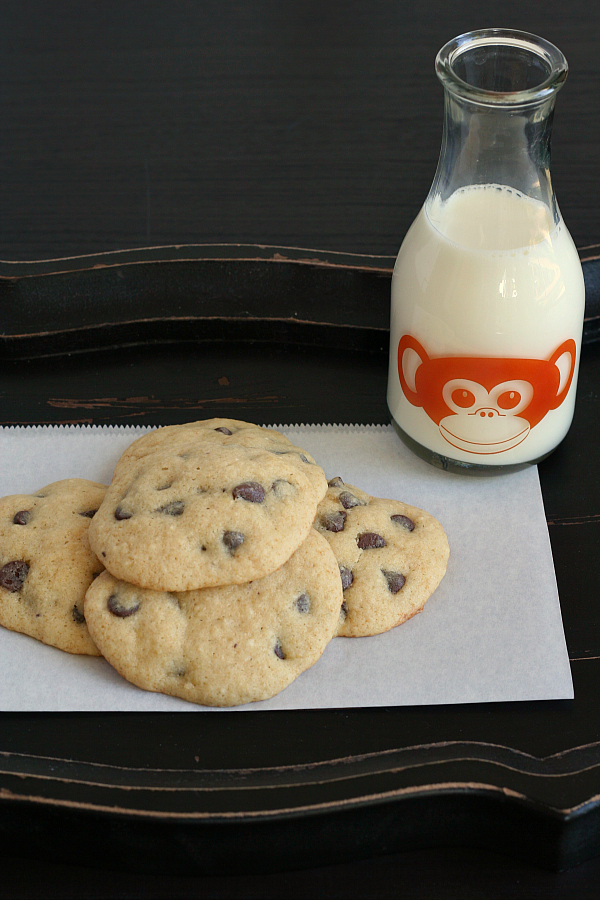 Like the combination of banana and chocolate? Then you'll love my gluten-free chocolate banana bread recipe. Or go for my gluten-free banana chocolate chip muffins – they're dairy-free too!
Gluten-free Banana Chocolate Chip Cookies Recipe:
Yield: 18 cookies
Gluten-free Banana Chocolate Chip Cookies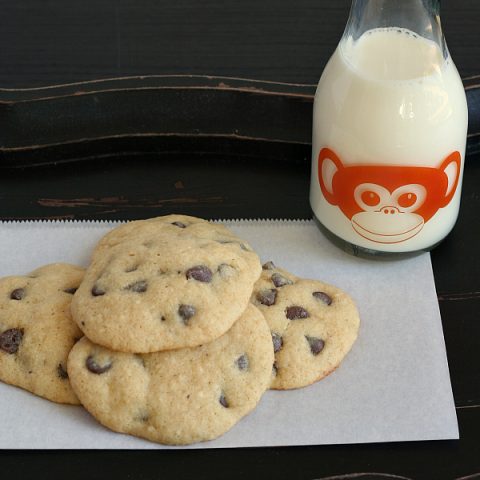 Gluten-free banana chocolate chip cookies are the perfect recipe for when you have just one overripe banana lying around!
Prep Time 10 minutes
Cook Time 11 minutes
Additional Time 5 minutes
Total Time 26 minutes
Ingredients
1 1/4 cups (162 grams) gluten-free all-purpose flour blend
1/2 tsp. xanthan gum* (see note)
1/2 tsp. baking powder
1/2 tsp. salt
1/3 cup salted butter, softened
1/3 cup sugar
1/3 cup brown sugar
1/2 cup mashed banana (=1 large overripe banana)
1 large egg
1 tsp. pure vanilla extract
1 cup semi-sweet chocolate chips
Instructions
Preheat oven to 375°.
Line a cookie sheet with parchment paper or a silicone baking liner. If you don't have either one, spray your pan with non-stick cooking spray.
In a small bowl, whisk together flour, xanthan gum, baking powder, and salt.
In the bowl of your mixer, cream together butter and sugars.
Add banana, egg, and vanilla and beat together.
Pour dry ingredients into creamed mixture and beat on low just until mixed in.
Stir in the chocolate chips with a spatula.
Use a cookie scoop to scoop out equal portions on prepared cookie sheets. I use a medium sized scoop.
Bake at 375° for 9-11 minutes or until cookies are set and edges just barely start to brown.
Allow to set on cookie sheet for 5 minutes before carefully removing to cooling racks.
Store leftovers in airtight containers or bags, or freeze in Ziploc freezer bags.
Yields 18 cookies that are about 3" wide.
Notes
*If your gluten-free flour blend contains xanthan or guar gum already, then omit the xanthan gum called for in this recipe.
I usually make these using Gluten Free Mama's almond blend flour, but feel free to try it with your favorite gluten-free flour blend.
Recommended Products
As an Amazon Associate and member of other affiliate programs, I earn from qualifying purchases.
I've made these twice now and both times they were devoured within a couple of days! A super easy recipe that is quick to make and clean up! Very yummy!
Hi I love the idea of your monkey cookies and I made some for my son who is a newly diagnosed coeliac. We can't get Gluten Free Mama's Almond Blend All-purpose Flour here in NZ. I tired using an all purpose GF flour blend we have here in NZ (we don't seem to have an almond blend) and using this flour they came out really moist and sticky, more cakey than biscuit. Would I have put I too much baking powder as using a non almond blend flour and what should I do to make them more crunchy and biscuit like?
Thursday 22nd of May 2014
I hope I get picked to win the contest, im just starting out on my own, after my husband passed away, and this sounds like a very good product for my self with health related issues. your recipe sounds yummy.
I love your recipes! I've been gf for 2 years and yours are some of the best around. #glutenfree
I look forward to trying this recipe, but more than anything I want to know where that carafe came from! We really love monkeys in this house, and we want some of those!