This is my tried and true family favorite recipe for gluten-free chili that I've been making for years! This slow cooker chili recipe is an easy, hearty meal that feeds a crowd! Grab your Crock-pot and simple ingredients and you're on your way to the best chili!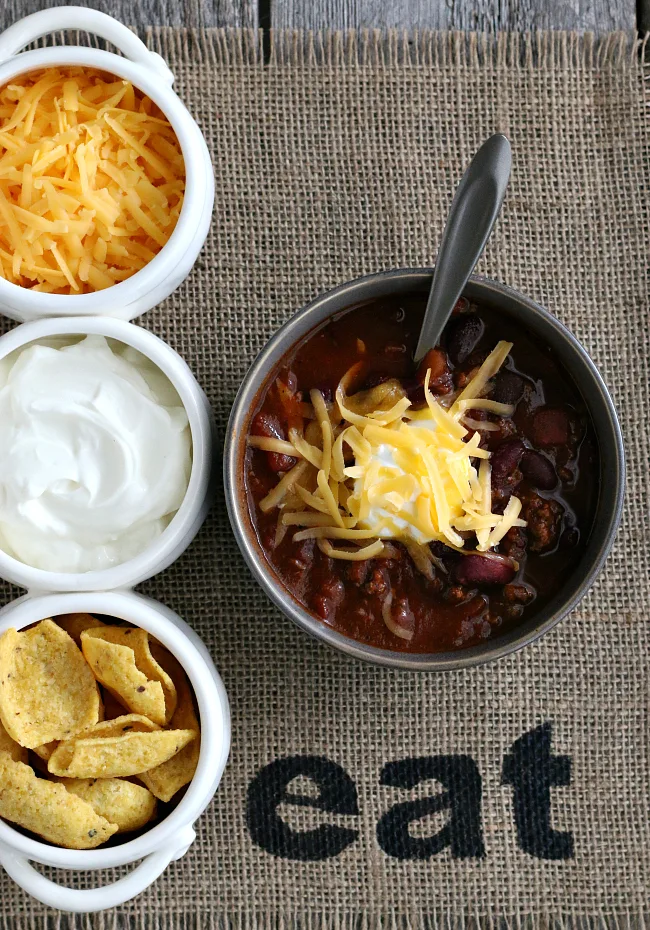 I've shared so many of my family favorite recipes on here, but realized recently that I'd not yet shared my chili recipe. I think every family should have a go-to chili recipe, so if you don't already have one, I hope mine becomes your family chili recipe! And just like every chili recipe, mine has its secret ingredient – which I'll get to later! Make sure you make my gluten-free cornbread recipe with this chili!
Chili is my favorite thing to make when I need to feed a crowd. When it's my turn to bring something to bring at least 12 people, I opt for a big crock-pot of chili! So many people like to eat a bowl of chili, or put chili over baked potatoes.
This simple chili recipe easily serves 12 people. Depending on how big of bowls, you can definitely feed more!
Baking a bunch of potatoes is a way of stretching this recipe to feed even more people, since people usually use less chili as a potato topping than if they are having a bowl of it.
While I made this as a gluten-free beef chili this time, you can also use ground turkey for gluten-free turkey chili. Or use venison for a gluten-free elk chili.
This is a favorite recipe for me to suggest to others that don't normally cook gluten-free, but need to for a family or small group that they're hosting with people that follow a gluten-free diet. No one has to hunt down a bunch of special ingredients. It's easy to dump and cook!
People often ask me does chili have gluten? Is chili gluten-free? Honestly, you can never ever just blindly trust any restaurant or homemade chili. It is very common for people to add barley to chili. Some cooks also add flour as a thickener.
So unless you can read the ingredients or ask someone to list them all, you can't trust that chili is gluten-free. But my homemade version sure is!
Here's a look at the ingredients you'll need to buy for this easy chili recipe. I'm assuming you'll have all the spices already in your spice cabinet, but if not, be sure to jot down the ones you need.
Notes on ingredients for this Gluten-free Chili recipe:
Beans: I always use Kidney Beans. I like to buy some light and some dark kidney beans. They taste the same, it's really just for visual appeal. Feel free to use either or both. I don't recommend buying the beans that say chili beans, as they're seasoned already and you can't control all the flavor on your own that way. If you're wondering are plain beans gluten-free, yes they are!
Beef: While I used ground beef in this chili, you can also use ground elk, bison, or turkey if you prefer!
BBQ sauce is my secret ingredient! My favorite gluten-free BBQ sauce is this one from Stubb's. You can use any of their sauces in this as they're all gluten-free.
Smoked Paprika: I like smoked paprika so much, but you can totally use regular paprika.
Chili powder: this recipe uses a lot of chili powder – 4 Tablespoons actually! But it isn't too spicy at all!
I prefer not to use any chili seasoning, and instead use my own blend of spices for gluten-free chili seasoning instead of any pre-made packets. I think doing it from scratch tastes much better! If you need to swap one out with something else more suited for your likes, feel free!
Did you spot my secret ingredient? BBQ sauce! I have always added some bbq sauce to my chili – the sweetness cuts the spiciness of the chili just right. I get so many compliments on it!
This gluten-free slow cooker chili is so easy to make! Let me show you how!
How to make Slow Cooker Chili:
Cook the ground beef in a skillet, seasoning it with garlic powder while cooking. Drain any excess grease, then add meat to your slow cooker.
Strain and rinse all the canned beans, then add to the slow cooker.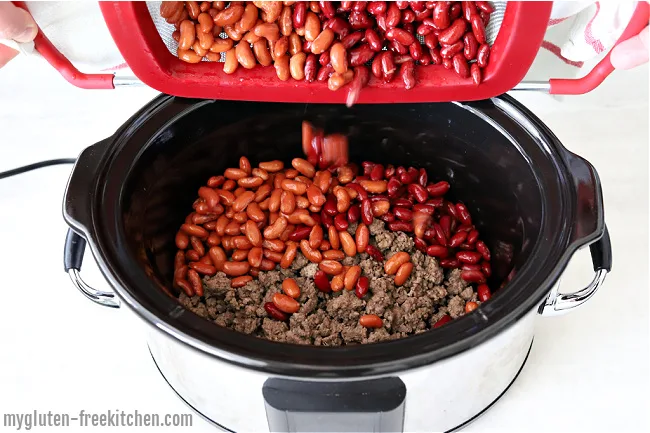 Add canned diced tomatoes, tomato sauce, and half a can of water.
Add all the seasonings.
Here's a look once you've added everything into the Crock-pot: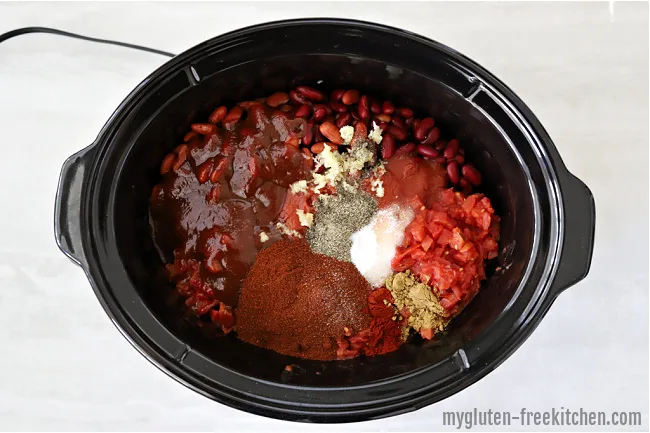 Cover and cook on low for 8-10 hours. The gluten-free crock pot chili is delicious and ready to eat before 8 hours, but it definitely thickens up closer to 8 hours. I wouldn't let it go much longer than 10 hours usually as more of the moisture will boil off.
You can also prep this chili the night before – getting all ingredients in it. Then in the morning, pull it out of fridge and place the insert into the warmer and cook on low as indicated.
We like to serve this chili as in the photos for the first night. Our chili toppings of choice include sour cream, shredded cheese and Fritos.
My husband and son like if I put out a bowl of chopped onions too. I just forgot this time!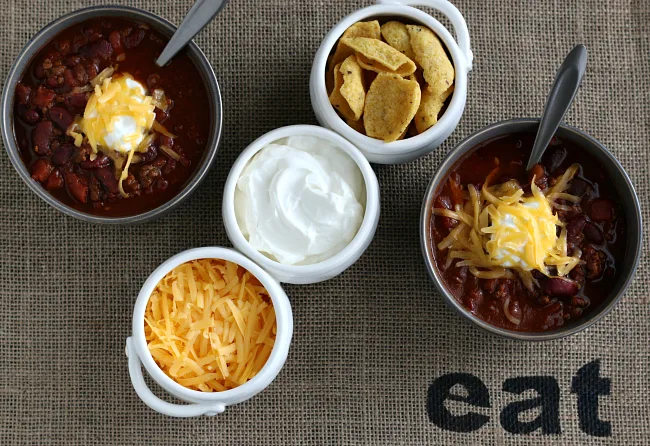 Then we enjoy the leftovers served over Idaho baked potatoes the next day! So good! You can also put out a batch of my gluten-free corn muffins!
This is a dairy-free chili as well, as made. Any dairy would be in the toppings you add, which you can of course omit or substitute with dairy-free alternatives.
I hope you enjoy my family favorite recipe for gluten-free chili as much as my family does!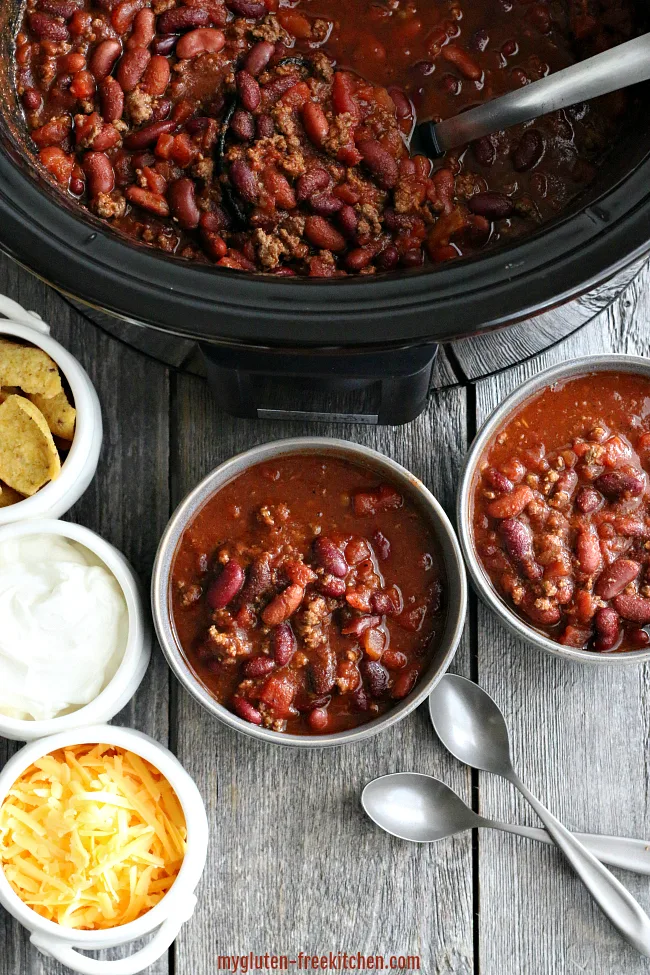 Do you have any secret ingredients that you add to your chili? Or a way of serving it that's different than mine? Tell me about it in the comments below!
If you make this chili and enjoy it, please come back and give this recipe a 5 star rating in the recipe card! Feel free to comment with tips or to share any successful substitutions you made.
Crockpot Gluten-free Chili Recipe:
Yield: 12 servings
Crockpot Gluten-free Chili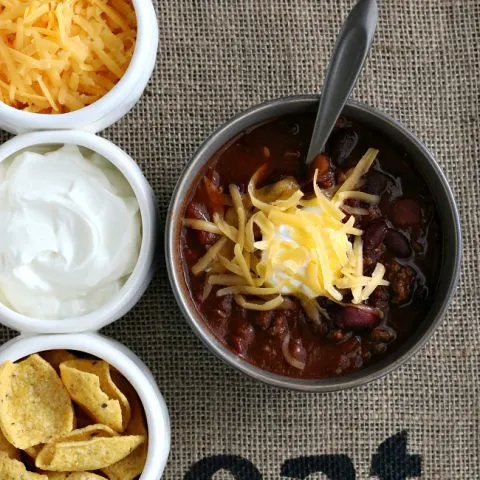 Grab your slow cooker so you can make this easy Crockpot gluten-free chili recipe. Easily feeds 12, even more if you're serving with baked potatoes or on chili dogs.
Total Time
8 hours
20 minutes
Ingredients
1 lb. ground beef
1 tsp. garlic powder
4 cans (16 oz. each) red kidney beans
3 cans (14.5 oz each) petite diced tomatoes
1 can (8 oz.) tomato sauce
4 oz. water (I just fill half of the tomato sauce can)
1/2 cup sweet bbq sauce
4 Tbsp. chili powder
4 garlic cloves, chopped
2 tsp. pepper
2 tsp. salt
1 tsp. ground cumin
1 tsp. smoked paprika
Instructions
Cook the ground beef (or turkey/elk/bison) in a skillet. Season with the teaspoon of garlic powder while cooking. Cook fully. Drain excess grease, then add to the Crockpot.
Open all of the cans of kidney beans into a strainer. Rinse the beans. Add to the Crockpot.
Add all remaining ingredients listed. Stir.
Cover. Cook on low for 8-10 hours. Stir once or twice throughout the day if desired and before serving.
Serve with your preference of toppings like shredded cheese, onions, sour cream, Fritos, cornbread.
Notes
I have tried doubling this recipe and it is too big for my large 6 qt. Crock-pot. So if you really want a full pot, then do this recipe PLUS half of this recipe That will get you a full but not too full pot of chili!
Please see blog post for information about ingredients and substitutions.
Great served with Gluten-Free cornbread!
Recommended Products
As an Amazon Associate and member of other affiliate programs, I earn from qualifying purchases.
Pin this to your Gluten-free Soups or Dinners board on Pinterest: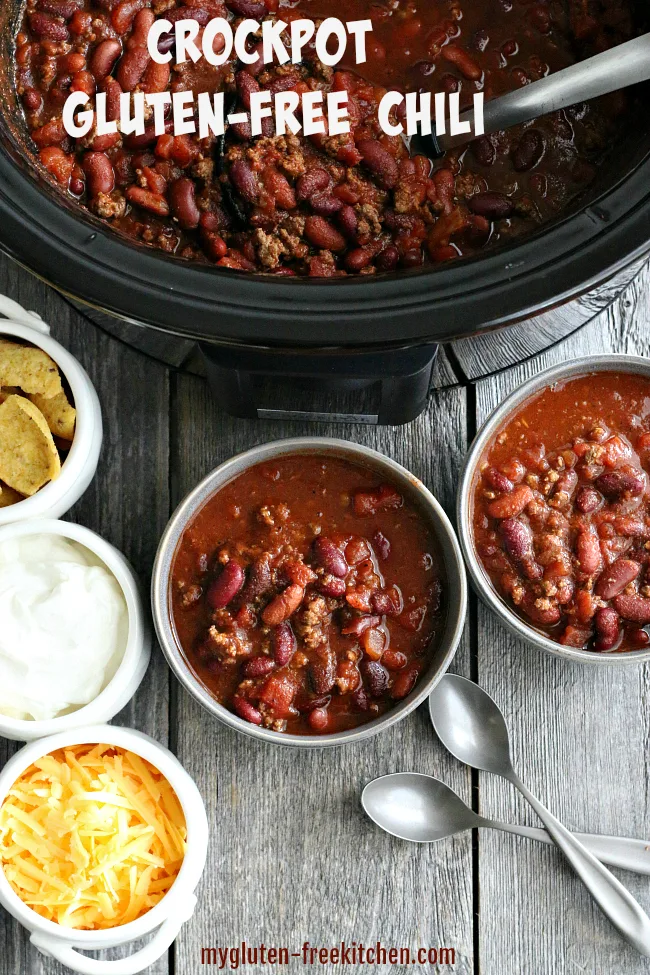 I hope you and your guests enjoy this chili!