My tried and true family recipe for gluten-free chili that I've been making for years and am finally sharing with all of you. This slow cooker chili recipe is an easy, hearty meal that feeds a crowd! Grab your Crock-pot and simple ingredients and you're on your way to the best chili! This family recipe is sponsored by Albertsons Market Street.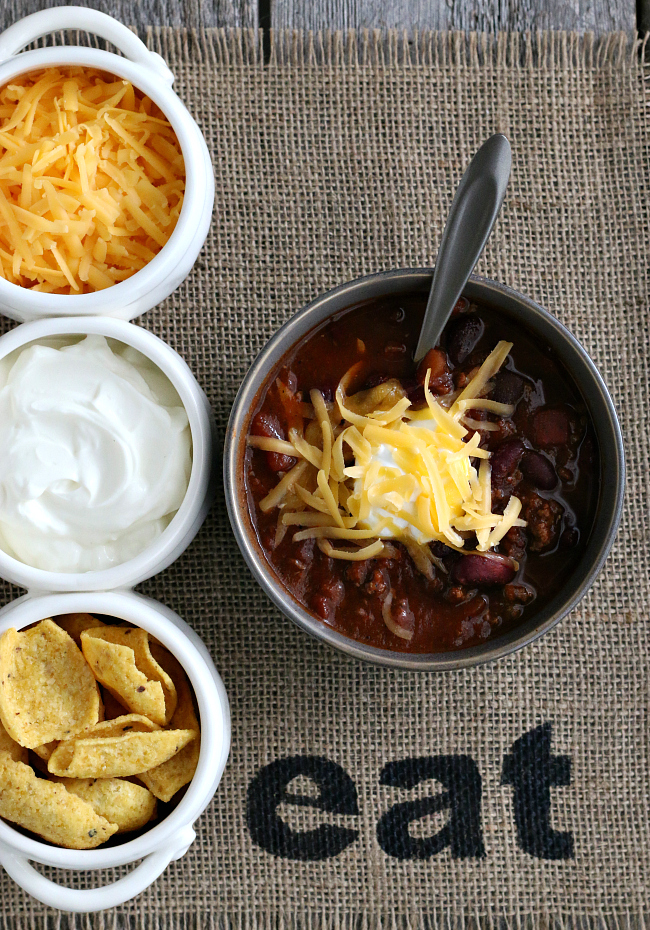 I've shared so many of my family favorite recipes on here, but realized recently that I'd not yet shared my chili recipe. I think every family should have a go-to chili recipe, so if you don't already have one, I hope mine becomes your family chili recipe! And just like every chili recipe, mine has its secret ingredient – which I'll get to later! Make sure you make my gluten-free cornbread recipe with this chili!
First though, I've got to tell you about the WORLD'S biggest Albertsons store! Albertsons Market Street just opened by me in Meridian, Idaho (near Boise) and I'm super excited. You guys, it's over 110,000 square feet, features a HUGE deli full of gluten-free Boar's Head meats, and a cheese section with more varieties of cheese than I ever knew existed! Plus they make fresh mozzarella in store! I'm buying that just a soon as I decide what I want to make!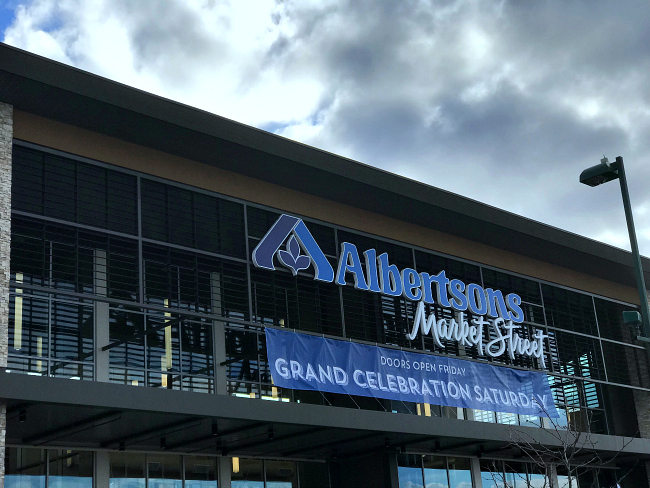 I'm most excited about all the gluten-free offerings at the store. By far the biggest selection of gluten-free grocery items than anywhere in town since our gluten-free store closed. Now instead of driving to three different stores to get what I need each week, I'll be able to pop in here and get everything I need in one trip!
They also have this one whole freezer section of the amazing fresh baked items from our local Gluten Free Galaxy. I buy their hoagie and hamburger buns weekly! Look for this freezer section just next to the bakery cakes: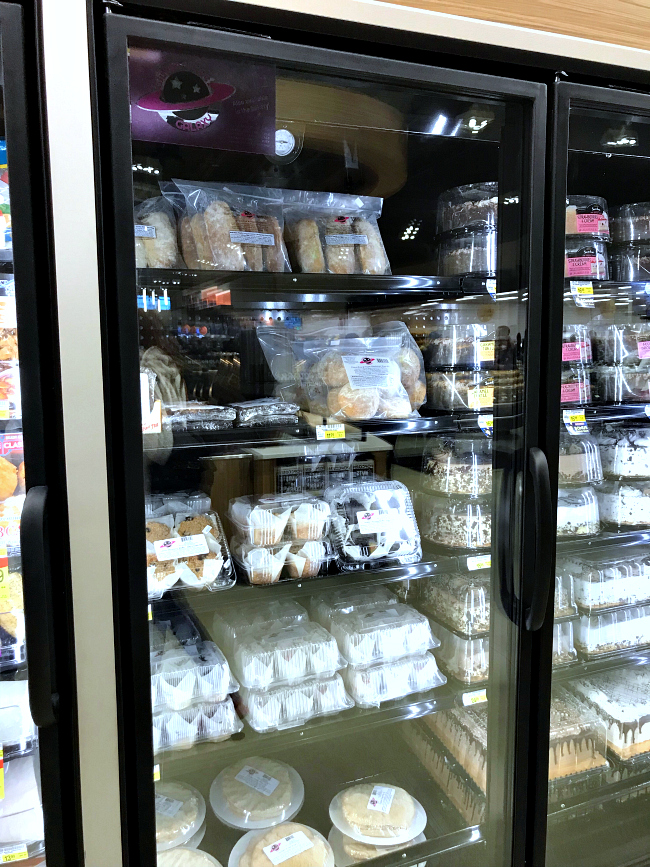 There are also fresh baked gluten-free cinnamon rolls in their own section in the bakery too! Don't miss those!
I love how many local companies are featured in this store! All throughout the store there were little flags marking Local, Made in Idaho products.
A section I'm super excited about is this Chop Shop section which features freshly chopped veggies that you can buy bulk style, getting exactly what you need for your recipe. I don't know why I didn't think to buy some chopped onions from there to serve alongside the chili! Next time!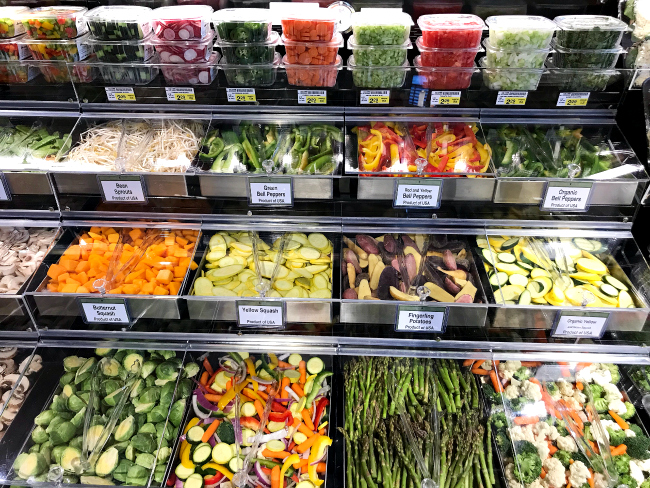 You could also do a soup and salad night – featuring this chili and a fresh salad made from produce from the HUGE produce section which features local and organic produce from over 100 local growers and vendors!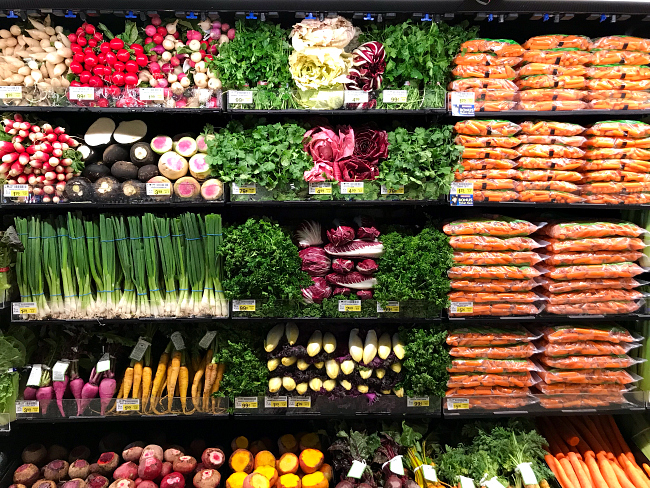 Here's a look at the ingredients you'll need to buy for this easy chili recipe. I'm assuming you'll have all the spices already in your spice cabinet, but if not, be sure to jot down the ones you need. By the way, the cans of beans were on sale at Albertsons Market Street for buy 10, get each for a $1 so I bought 10 cans, so I'm ready for the next batch of chili plus more!
Did you spot my secret ingredient? BBQ sauce! I have always added some bbq sauce to my chili – the sweetness cuts the spiciness of the chili just right. I get so many compliments on it!
Notes on ingredients for this Gluten-free Chili recipe:
Beans: I always use Kidney Beans. I like to buy some light and some dark kidney beans. They taste the same, it's really just for visual appeal. Feel free to use either. I don't recommend buying the beans that say chili beans, as they're seasoned already and you can't control all the flavor on your own that way.
Beef: While I used ground beef in this chili, you can also use ground elk, bison, or turkey if you prefer! Albertsons Market Street even sells ground elk meat.
BBQ sauce is my secret ingredient! My favorite gluten-free BBQ sauce is this one from Stubb's. You can use any of their sauces in this as they're all gluten-free.
We like to serve this chili as in the photos for the first night. Sides of sour cream, shredded cheese and Fritos. When we have company over, then I'll also serve chopped onions too.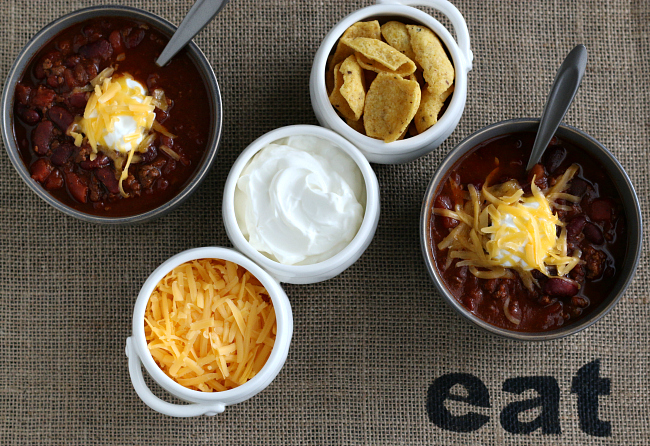 Then we enjoy the leftovers served over Idaho baked potatoes the next day! So good!
I hope you enjoy my family favorite recipe for gluten-free chili as much as my family does!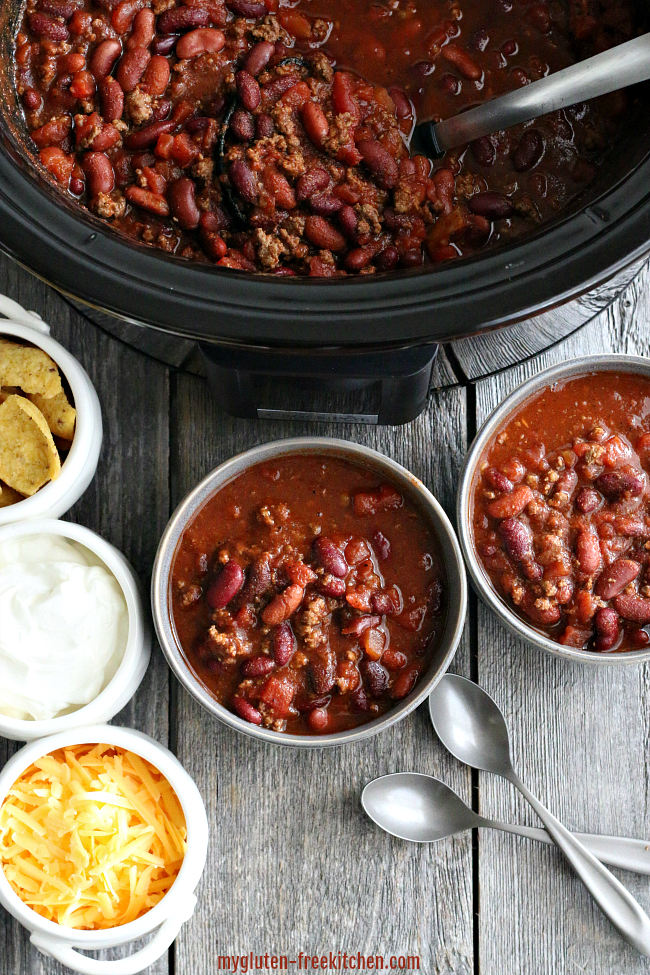 Crockpot Gluten-free Chili Recipe:
Yield: 12 servings
Crockpot Gluten-free Chili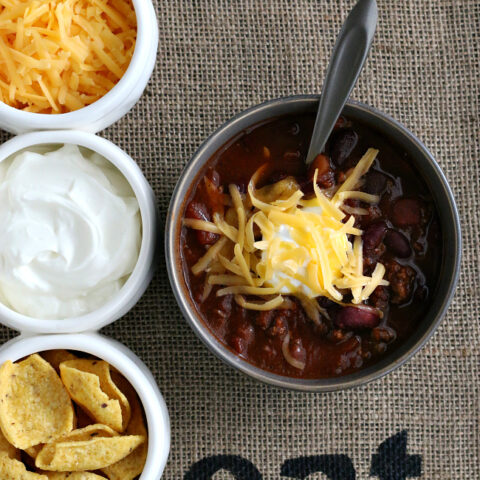 Grab your slow cooker so you can make this easy Crockpot gluten-free chili recipe. Easily feeds 12, even more if you're serving with baked potatoes or on chili dogs.

Prep Time 20 minutes

Cook Time 8 hours

Total Time 8 hours 20 minutes
Ingredients
1 lb. ground beef
1 tsp. garlic powder
4 cans (16 oz. each) red kidney beans
3 cans (14.5 oz each) petite diced tomatoes
1 can (8 oz.) tomato sauce
4 oz. water (I just fill half of the tomato sauce can)
1/2 cup sweet bbq sauce
4 Tbsp. chili powder
4 garlic cloves, chopped
2 tsp. pepper
2 tsp. salt
1 tsp. ground cumin
1 tsp. smoked paprika
Instructions
Cook the ground beef (or turkey/elk/bison) in a skillet. Season with the teaspoon of garlic powder while cooking. Cook fully. Drain excess grease, then add to the Crockpot.
Open all of the cans of kidney beans into a strainer. Rinse the beans. Add to the Crockpot.
Add all remaining ingredients listed. Stir.
Cover. Cook on low for 8-10 hours. Stir once or twice throughout the day if desired and before serving.
Serve with your preference of toppings like shredded cheese, onions, sour cream, Fritos, cornbread.
Notes
I have tried doubling this recipe and it is too big for my large crock-pot. So if you really want a full pot, then do this recipe PLUS half of this recipe That will get you a full but not too full pot of chili!

Great served with Gluten-Free cornbread!
Recommended Products
As an Amazon Associate and member of other affiliate programs, I earn from qualifying purchases.

Pin this to your Gluten-free Soups or Dinners board on Pinterest: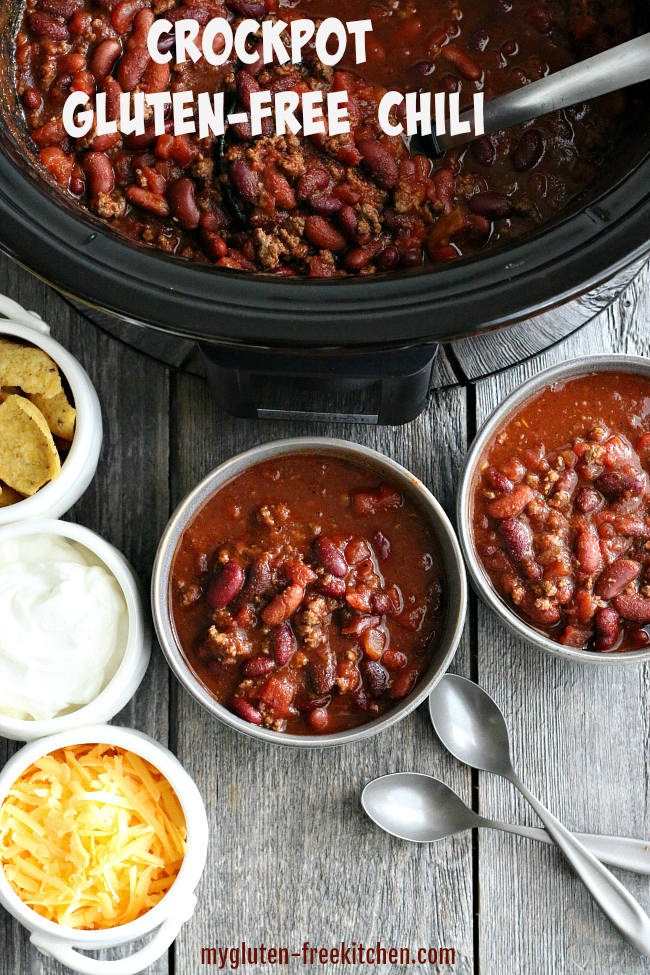 This sponsored post was created through my partnership with Albertsons Market Street. As always, all opinions are my own. Collaborating with brands I love allows me to keep bringing you new and varied recipes! Thanks for your support!
Thursday 6th of August 2020
Thank you for your delicious GF recipes. They've been a Godsend since passing of my father. I made my mother your GF chocolate chip cookies and they're first cookies she's loved in last 5 years! Finding GF recipes that taste great is tough, but not anymore thanks to your website! THANK YOU! Celiac patients struggle.
Tuesday 7th of April 2020
[…] Crock-pot Gluten-Free Chili is from My Gluten-Free Kitchen. This slow cooker chili recipe is an easy, hearty meal that feeds a […]
Saturday 8th of February 2020
Can I cook it on high for less time?
Sunday 9th of February 2020
Yes, you can! When I'm short on time, I have cooked it for 4 hours on high!
Sunday 26th of January 2020
If I double the meat do I double the seasoning?
Friday 31st of January 2020
If you are only doubling the meat, not the beans and tomatoes, then no I wouldn't double all of the seasonings. I would just double the garlic that you're using when you cook the meat.
Wednesday 13th of November 2019
Have you ever made this vegan?? Would you just suggest taking out the meat? Might sound like a stupid question
Wednesday 13th of November 2019
You absolutely could! It's very hearty even without the meat. I would suggest adding one more can of beans in place of the meat.