I know you all love hearing about new gluten-free products, so today I'm sharing some new ones! These gluten-free breakfast ovals and gluten-free protein bites are great breakfast or snack additions from sponsor Enjoy Life Foods.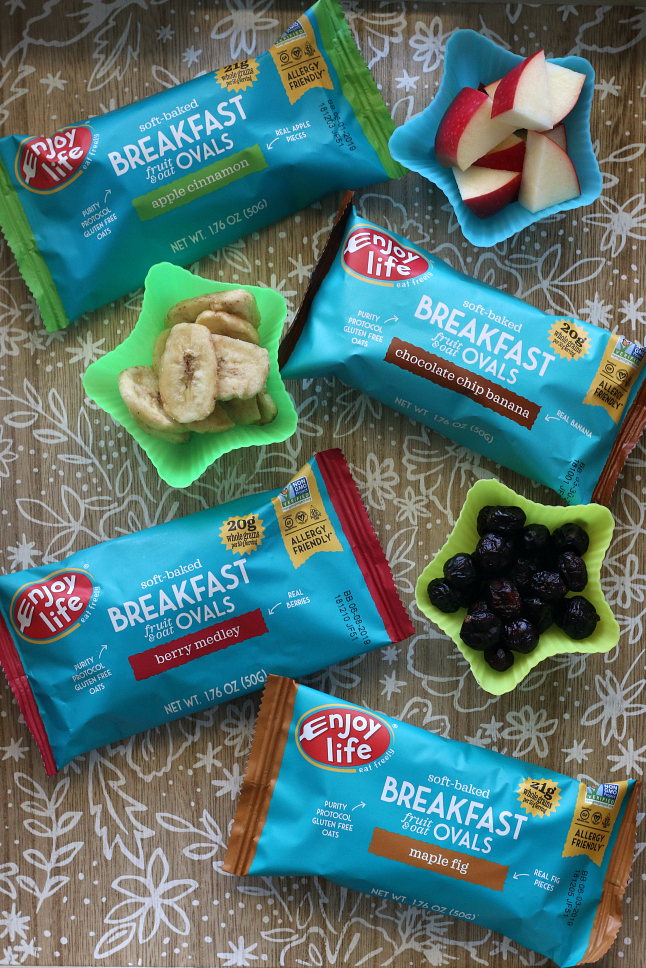 Since alarms don't always get set or alarms get turned off in a half-sleep state, it makes sense that there are going to be mornings when you or the kids just don't have time for breakfast! Since being gluten-free, I've so missed having a quick grab and go breakfast option for those mornings when everyone is running late. Thankfully, Enjoy Life is coming through with these gluten-free soft-baked fruit and oat breakfast ovals!
Enjoy Life's breakfast ovals are available right now in the four flavor combos you see in the photo. All of them are made with purity protocol certified gluten-free oats! YAY! That's so important to me as a celiac!
All four varieties are high in fiber, and include real fruit. They're all certified gluten-free as well as free from the 14 most common food allergies. They're verified Non GMO too.
My family has tried them all and they're all well liked here! The family members that love apple cinnamon instant oatmeal all LOVE the apple cinnamon variety. I really like the maple fig and the berry medley!
Where can you find these so you can try them too? They're starting to hit grocery store shelves, so check out the store locator here to see if they're in your area yet. If not, you can buy them directly online from Enjoy Life's here. They're also available on Amazon now here!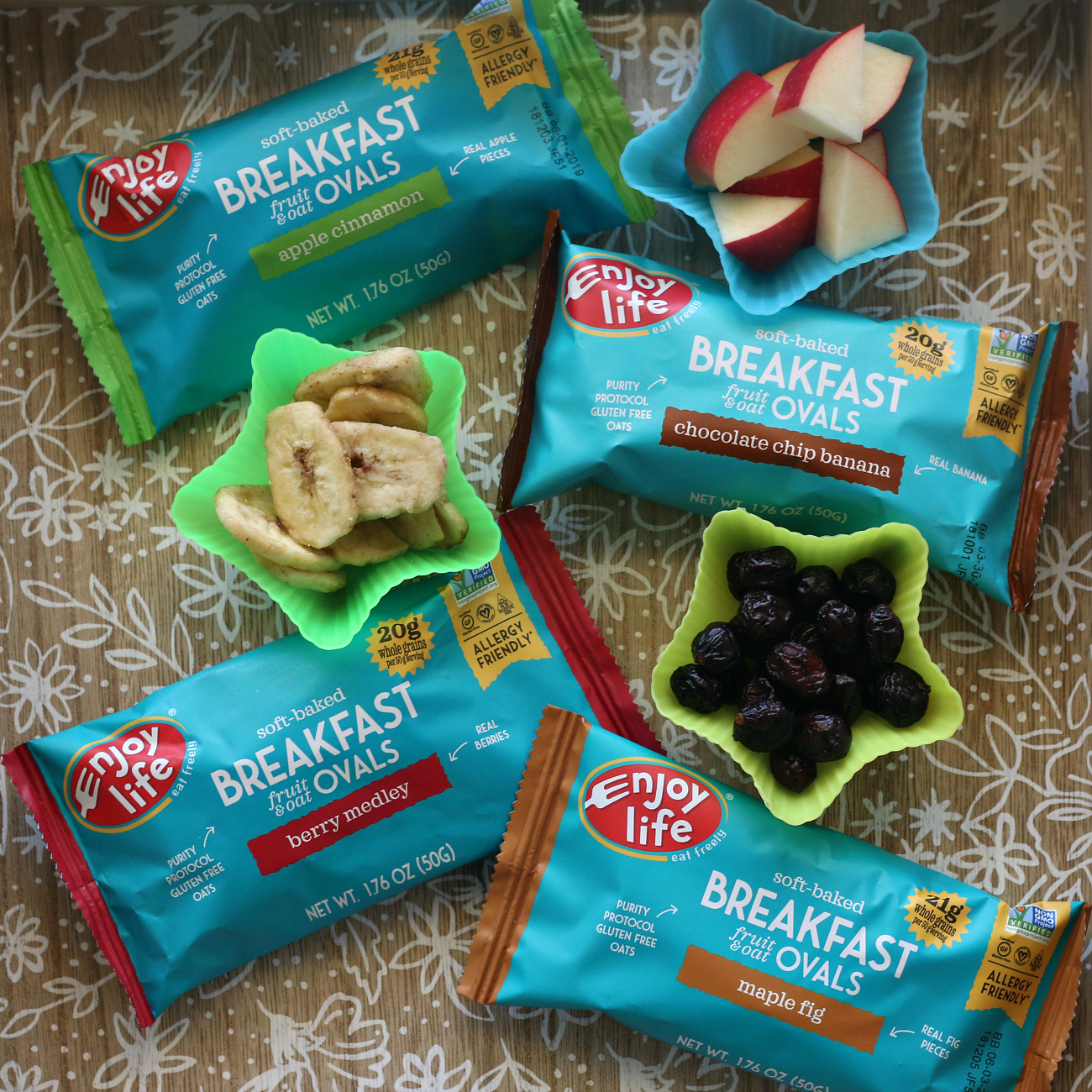 These gluten-free breakfast ovals would be a great addition to your gluten-free carry-on bag while traveling too! I tucked them in my hospital bag for a recent surgery and then again last week when I accompanied a friend to the hospital for the day. Speaking of hospitals, wouldn't it be nice to see these available in hospital cafeterias/snack shops? I'd sure love that!
Another new addition from Enjoy Life that would be a great addition to your bag are these single serve protein bites! I've written before about the Enjoy Life Protein Bites here. We've bought full-size bags of all 4 varieties here.
Now the Protein Bites are available in convenient single serve pouches! So convenient! My son has been adding these to his basketball bag so he can snack on them after school, so he'll have the energy he needs for basketball practice. He only has a couple minutes to chow down a quick snack on his way to the gym, so these work perfectly for that!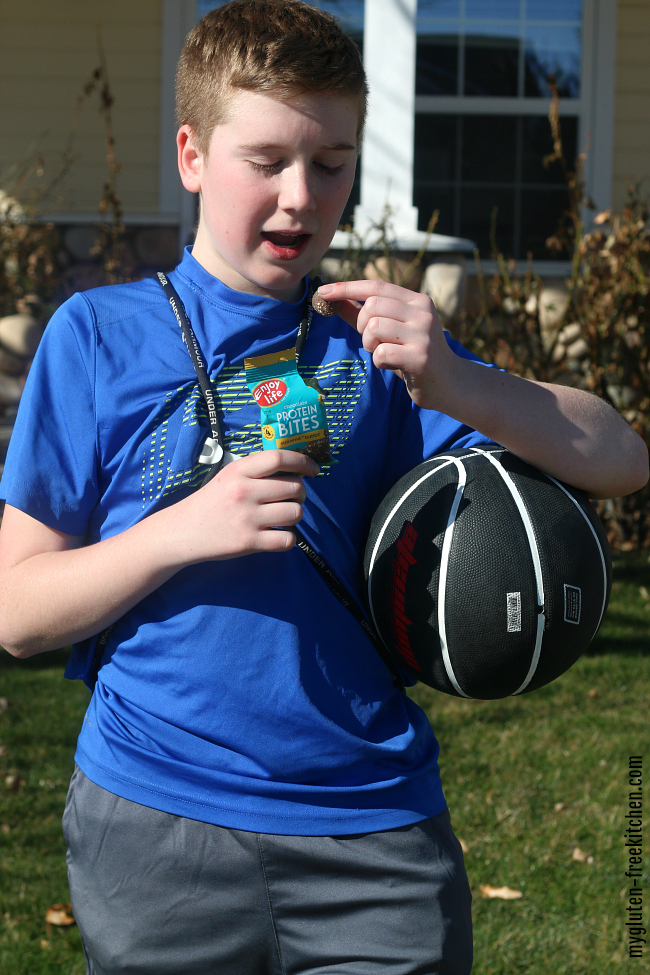 Each single serve pouch provides 8 grams of plant-based/vegan protein. These make such a great pre-workout or post-workout snack!
The single serve pouches are available in 4 flavors right now. Dark Raspberry and Dipped Banana are available online now. SunSeed Butter and Cinnamon Spice will be available online soon.
The SunSeed Butter Protein Bites are now sold at Trader Joe's locations nationwide! Have you spotted them? I was so excited when I found them at my local (Boise) Trader Joe's store and had to pick some up for my son as this is his favorite flavor!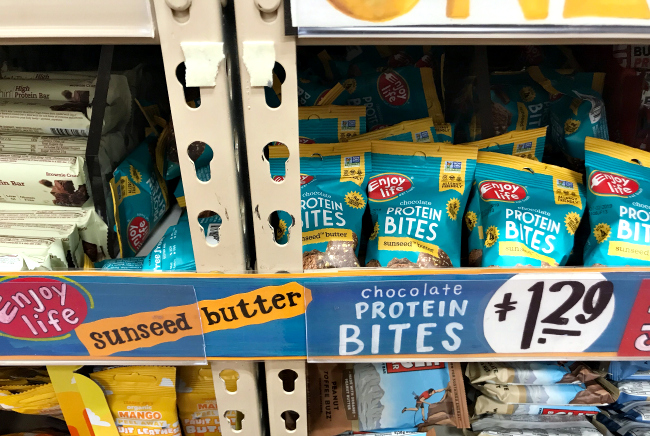 One thing I wanted to point out that I liked is that when you buy a box of them online, they come in these boxes where you the top removes easily and the open box can sit on your pantry shelf. It's handy for sure!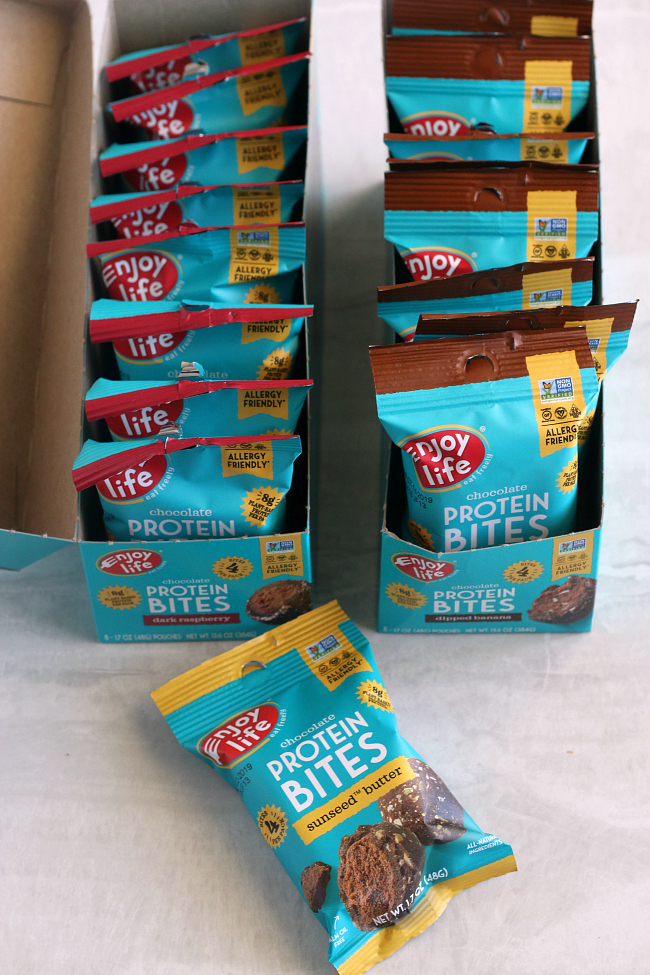 I'm so thankful for all of these new additions to the Enjoy life line of products! I've loved this brand for years, which is why I partner with them. I so appreciate their commitment not only to the celiac community in providing safe, certified gluten-free foods, but also to the allergy community.
I think both the breakfast ovals and the protein bites will be continue making their way into basketball bags, travel bags, and backpacks for a long time!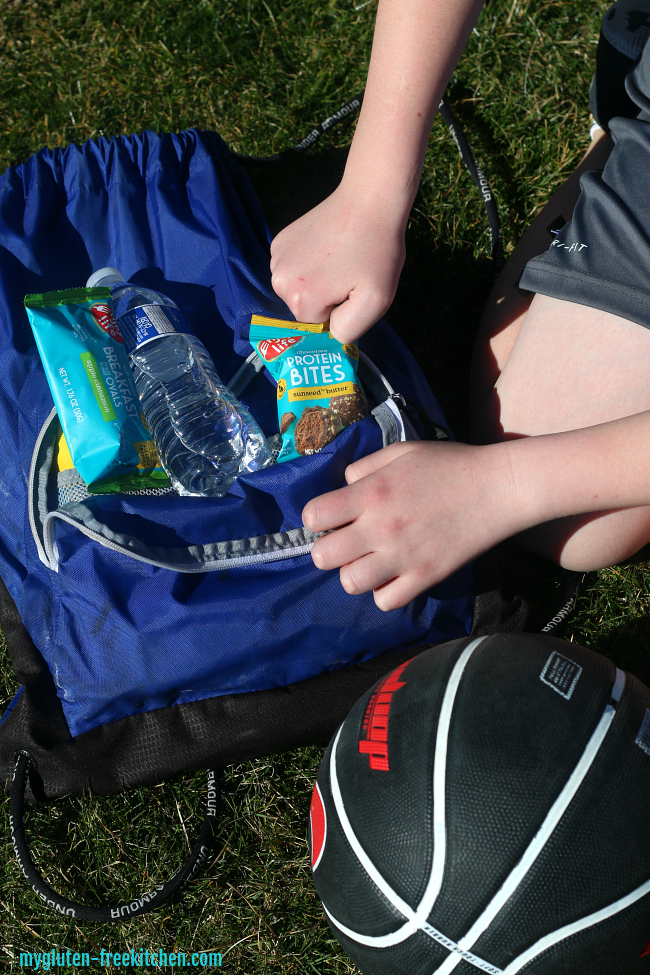 This sponsored post was created through my partnership with Enjoy Life Foods. As always, all opinions are my own. Collaborating with brands I love allows me to keep bringing you new and varied recipes! Thanks for your support!