Gluten-free cornbread muffins are perfect for those times when you don't need a whole pan of gluten-free cornbread, and would rather have a batch of muffins instead! If you have a basket of these gluten-free cornbread muffins out, I'm pretty sure they'll all get snatched up!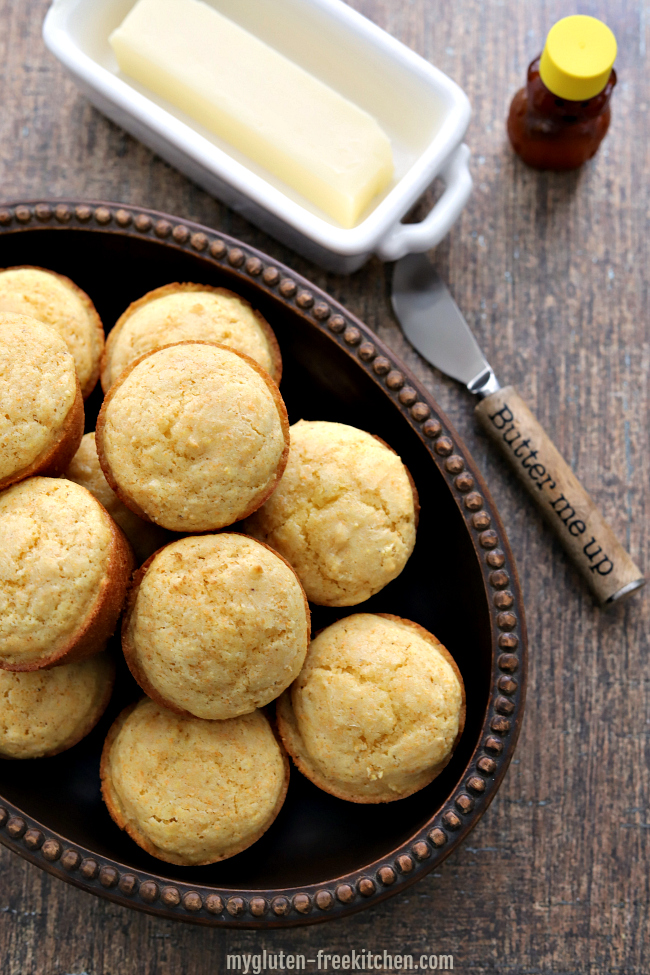 This gluten-free cornbread muffin recipe is adapted from my popular gluten-free cornbread recipe. I made multiple changes, such as cutting the recipe in half, adding baking powder to get a muffin crown, and experimented with cooking times until I got these perfect!
It took me 6 tries to get the recipe right and 3 tries to be happy with the photos! Now I'm very happy with both and ready to share with you!
Let's talk about what you need for this recipe.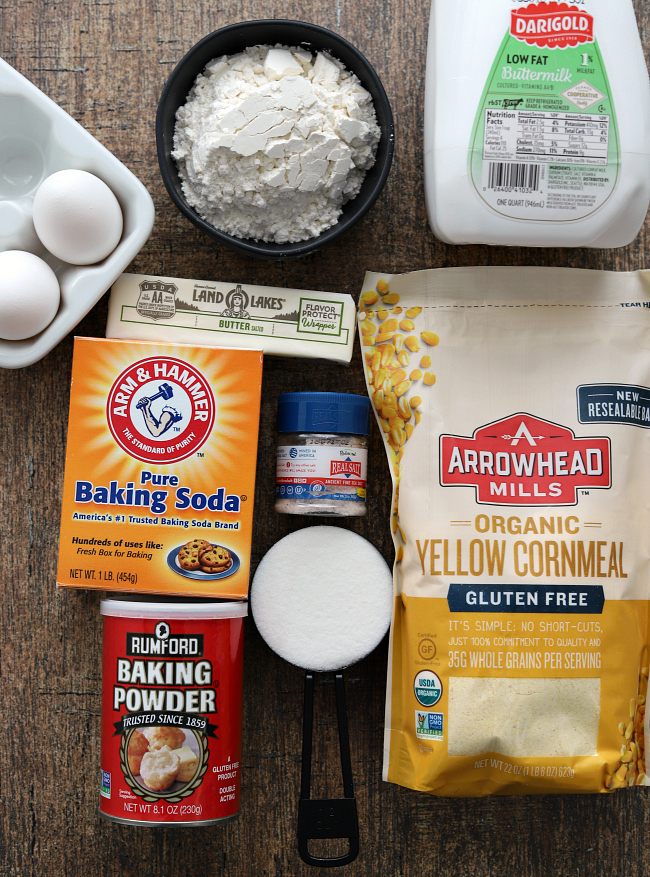 Notes on ingredients for these gluten free corn muffins:
Cornmeal: You need to buy gluten-free cornmeal of course. Not all brands are certified gluten-free, so make sure you look closely at the packaging. Also, some brands are very course, resulting in a gritty muffin. I recommend and use all the time this Arrowhead Mills gluten-free cornmeal that I buy from Amazon in a 6-pack (you can put the extra bags in the freezer to last even longer if needed). I do not recommend Bob's Red Mill cornmeal as it is not certified gluten-free and is gritty.
Gluten-free flour blend: As it's my favorite for cornbread, I most often grab my gfJules gluten free flour – which I buy directly here or on Amazon here. I have also tested them with King Arthur Flour Measure for Measure with great results. Both of these flours already have xanthan gum in them, so I do not add the additional xanthan gum listed below. I have that listed in case you're using a flour blend that does not already have xanthan or guar gum in it. Feel free to use your favorite gluten-free flour blend in this. If you don't already have a favorite, use one of the ones I just recommended.
Buttermilk – Regular store-bought buttermilk has modified food starch clearly listed on the label. In the US, if modified food starch is made from wheat it has to have wheat clearly labeled (per FALCPA – which specifies that the top 8 allergens must be called out on a food label). If the product simply says "modified food starch" and has no wheat allergen warning, it is derived from a gluten-free source. The most common sources include corn, potato and tapioca. So, using regular buttermilk is fine in the US for anyone on a gluten-free diet. You can also choose to buy organic buttermilk as it doesn't contain modified food starch, but organic buttermilk can be very difficult to find in stores: impossible in my town. I like to buy Darigold buttermilk because it doesn't have a bunch of added ingredients to it.
Buttermilk Substitute – Also, I know many people don't always have buttermilk on hand. A great substitute to keep on hand in your fridge is Saco Cultured Buttermilk Blend. It is a powdered buttermilk that you keep in your fridge and then in a recipe that calls for buttermilk, you instead add this powdered buttermilk with your dry ingredients, and then add extra water with your wet ingredients. The package gives exact measurements for substitutions. I buy this at my local Winco store, but you can also buy on Amazon here.
Note that I have made these dairy-free by substituting non-dairy butter alternative for the butter and adding lemon juice to almond milk for the buttermilk substitute, but I really wasn't too happy with the results. They were just ok, not amazing like these are when made with actual butter and buttermilk.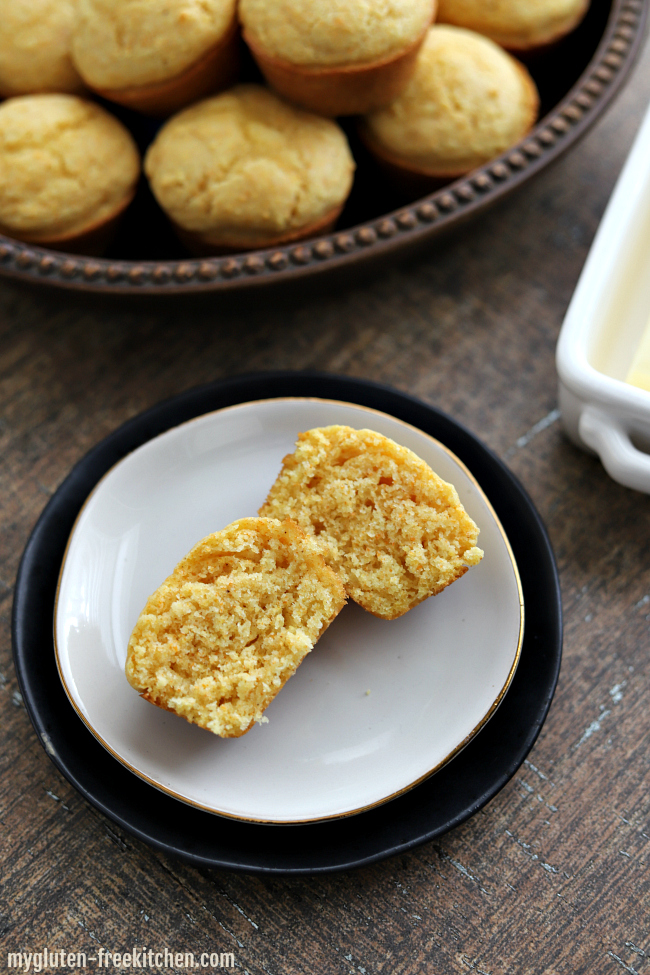 This recipe makes one dozen gluten-free cornbread muffins. You can also make a double batch of these muffins – just double everything listed!
I do not recommend using paper liners in your muffin pan for this recipe. While I love using those paper liners in my gluten-free banana muffins and other muffin recipes, these gluten-free cornbread muffins stick to those paper liners. Instead, spray each cavity of the muffin pan well with cooking spray.
If you don't already have a nice muffin pan, this is the one I've had and loved using for many years now. I love that it has the extended area on each end, so that when I grip the pan with my oven mitts, none of the muffins gets messed up. Plus the raised grips make it less likely for the pan to slip from my grasp.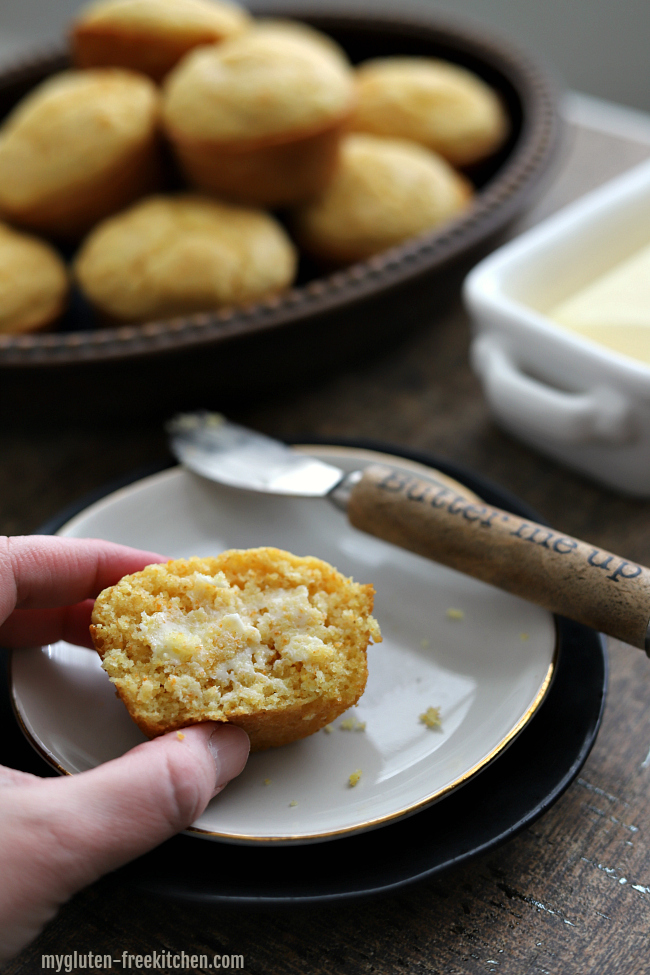 I like these gluten-free corn muffins with just butter, but some of my family likes honey with them too.
They're also delicious plain, which makes them great to put out alongside gluten-free chili or gluten-free ham and potato chowder so people can just grab a corn muffin and add to their bowl, no plate needed!
Make these soon to go with your gluten-free meals and let me know what you think by coming back to leave a rating and review! I so appreciate it!
Gluten-free Cornbread muffin Recipe:
Yield: 12 muffins
Gluten-free Cornbread Muffins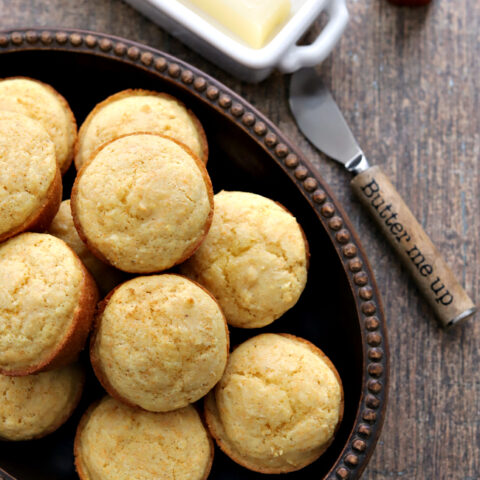 Gluten-free cornbread muffins are great served alongside pretty much any dinner! This recipe makes one dozen cornbread muffins. You can also make a double batch of these muffins - just double everything listed!

Prep Time 15 minutes

Cook Time 14 minutes

Total Time 29 minutes
Ingredients
1 cup buttermilk
1 tsp. baking soda
1/2 cup melted butter (=1 stick or 8 Tbsp.)
1/2 cup sugar
2 eggs
1 cup cornmeal
1 cup gluten-free flour blend
1/2 tsp. xanthan gum* (if needed)
1/2 tsp. baking powder
1/2 tsp. salt
Instructions
In a glass measuring cup, measure buttermilk, then add baking soda. Mix together and let sit.
Place melted butter into a large mixing bowl. Add sugar and use a spatula or wooden spoon to mix into the butter. Add eggs and stir.
Add buttermilk/baking soda mixture to the butter/sugar/egg mixture and mix just until combined.
In a separate bowl, whisk together cornmeal, gluten-free flour, baking powder, and salt. Add to wet ingredients and stir.
Preheat oven to 375°. Use cooking spray to coat the bottom and sides of each of the 12 cups of the muffin pan. I do not recommend using paper liners or foil liners.
Use a large scoop to scoop the cookie dough evenly among the 12 muffin cups.
Bake at 375° for 14-15 minutes, or until a toothpick inserted into a muffin comes out clean and muffins just start to brown a bit.
Remove from oven and place on cooling rack. Let cool for 5 minutes in pan, then remove from pan and place in basket or on plate for serving.
Notes
I do not recommend using paper muffin liners or foil muffin liners. Liners stuck to these muffins when I made them. Just spray the pan with cooking spray instead.

I've linked to both of the gluten-free cornmeal varieties that I recommend. Some other brands are very gritty or aren't certified gluten-free so I don't recommend them.

*If the gluten-free flour blend you use already has xanthan gum or guar gum in it, then omit the xanthan gum called for in this recipe. I've tested this with gfJules flour and with King Arthur Flour. These both have xanthan gum in them so I don't use the xanthan gum listed in the recipe.

These gluten-free cornbread muffins stick to those paper liners. Instead, spray each cavity of the muffin pan well with cooking spray.
Recommended Products
As an Amazon Associate and member of other affiliate programs, I earn from qualifying purchases.

Pin these to your gluten-free muffins board on Pinterest: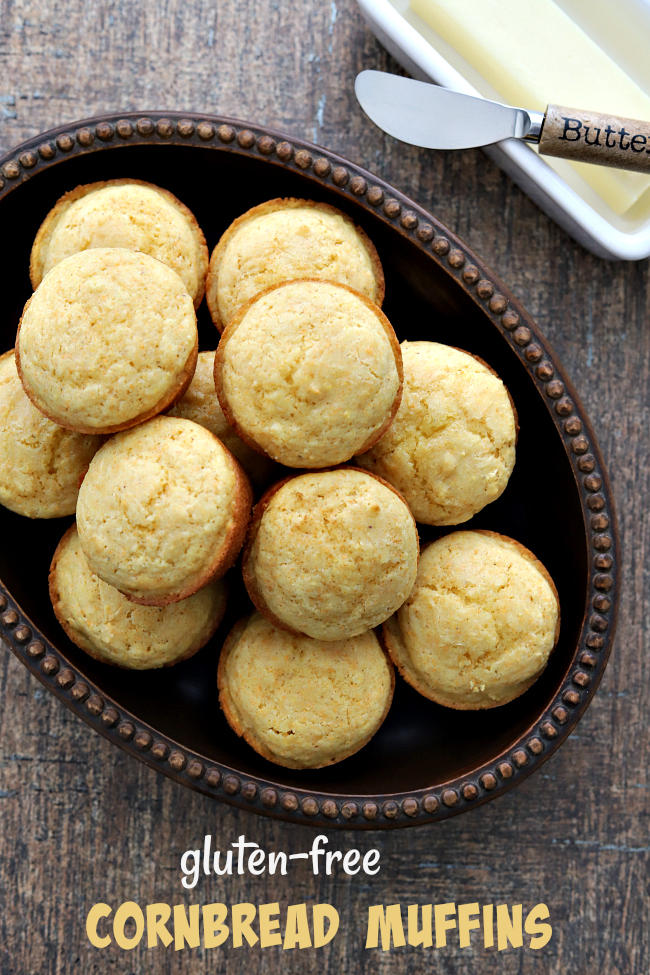 I hope you and your family enjoy these gf cornbread muffins as much as my family does! Happy baking!