This is my family-friendly, full meal version of a gluten-free charcuterie board – a gluten-free vegetable, meat, and cheese tray with hummus and sour cream taco dip. The whole gluten-free party tray took me under 45 minutes to assemble, with absolutely no heating up of the kitchen, making this a great summer option for dinner or dinner parties! This post is sponsored by Albertson's.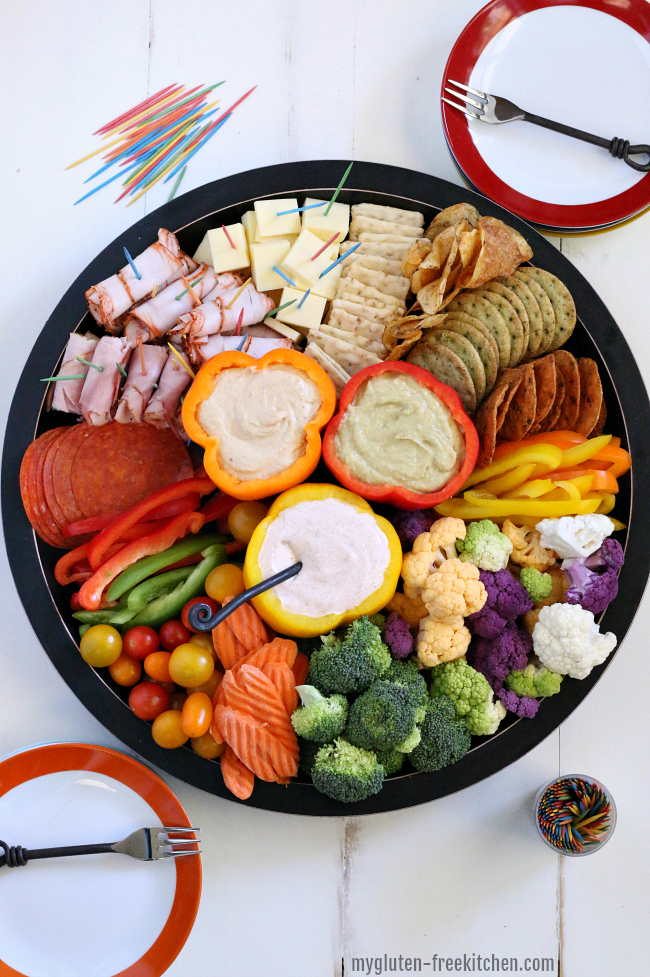 After touring the new Albertson's on Broadway in Boise Idaho, and seeing their huge assortment of local and organic fresh vegetable selection, I knew I had to do a veggie tray.
After seeing their deli counter full of Boar's Head gluten-free deli meats, and their cheese counter full of cheese from around the world and right here locally, I wanted to do a charcuterie board.
A fancy charcuterie board doesn't fit as well with my family friendly, easy recipes theme, so I combined the two ideas together for one epic tray that's ready for a dinner party or a fun family dinner at home! I think your kids will dig right in!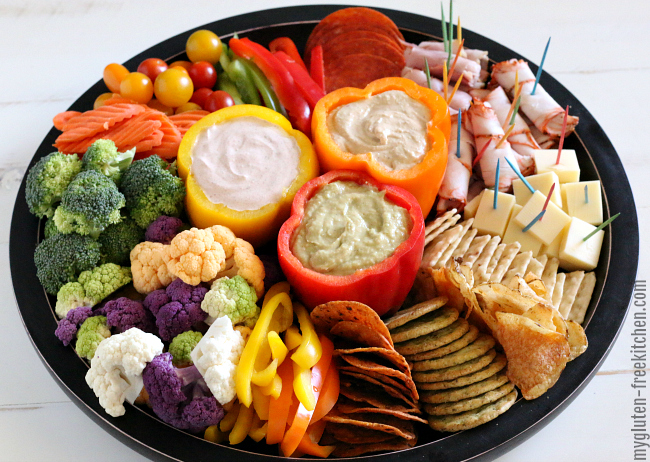 But first, let me back up and tell you about this fun new store. This will surely be of interest to my local readers here in the Boise, Idaho area, but hopefully those of you throughout the U.S. will find some things to go check your local Albertsons store for too!
The first thing to catch my eye downstairs was this adorable free fruit wagon for the kids! I've seen little baskets cropping up at more and more Albertsons stores offering kids to pick a piece of fruit, but they took it to the next level at this store! So fun! And what a great selection for the kids to pick from! Hopefully yours has this too.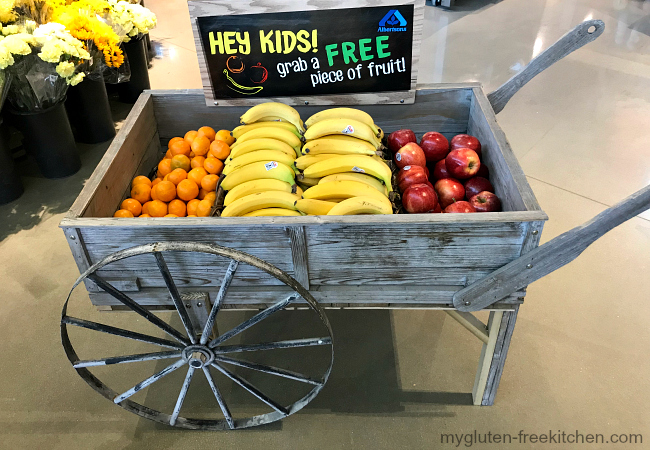 Let me show you the what caught my eye in the produce department. Row after row of beautiful vegetables, both in the organic section and the regular section.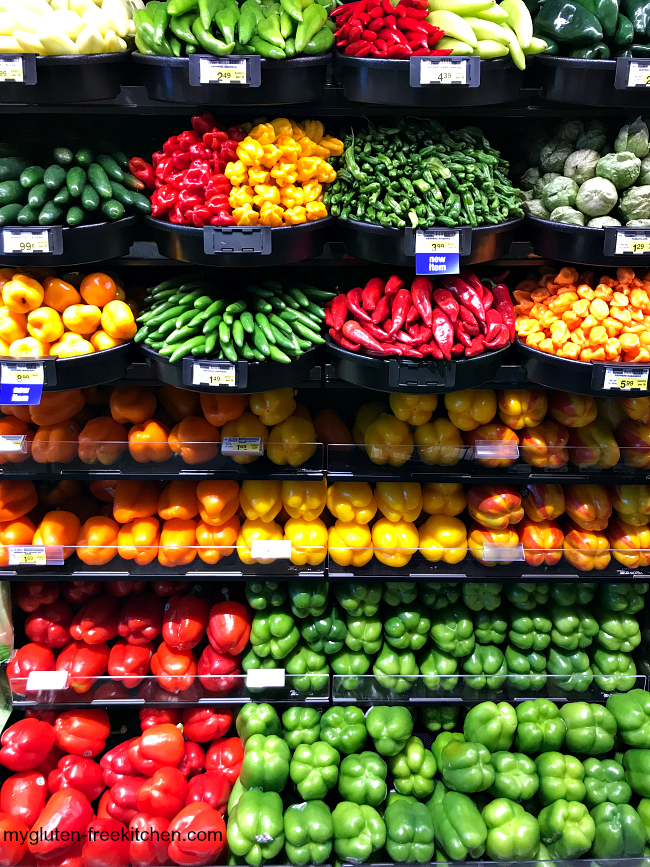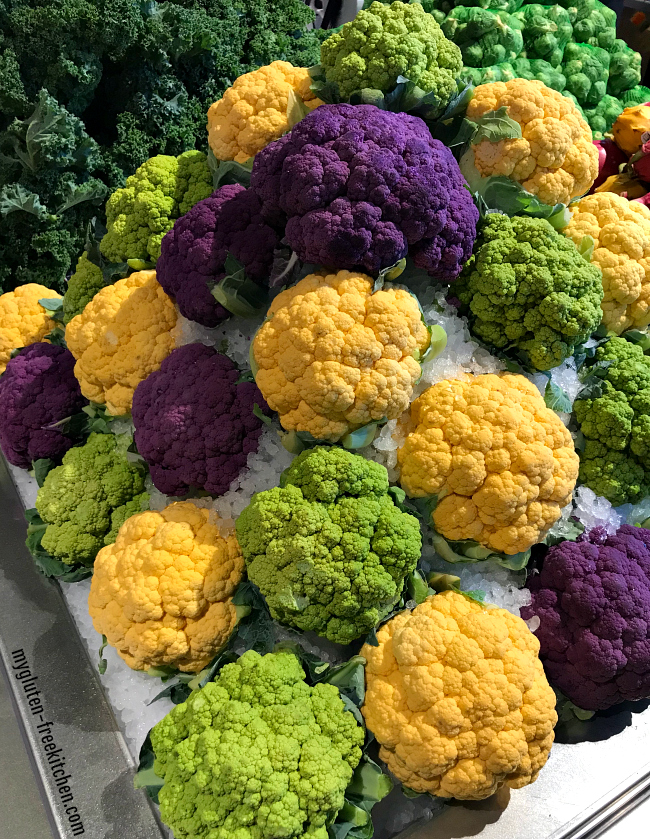 Row after row of packaged, ready to use vegetables, making putting together a veggie tray, appetizer platter, or even dinner a breeze.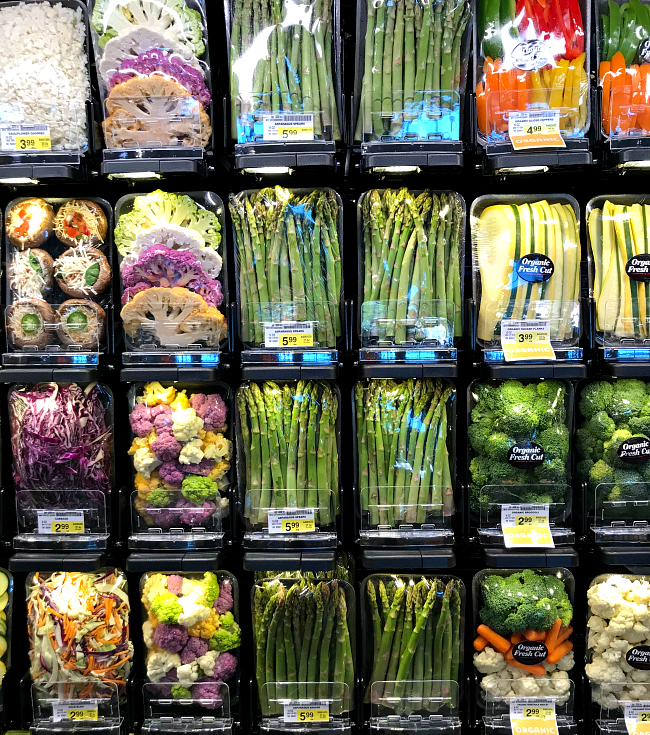 I wanted a nice variety of colors and flavors, so I opted to purchase these veggies for the veggie tray: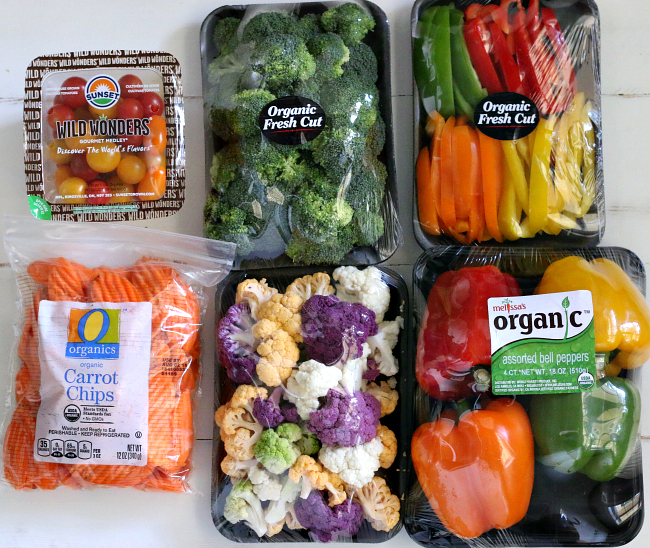 It was so handy having most all of these already pre-cut and ready to go! Pre-cut veggies also make it so easy for your kids to help assemble this!
For the whole bell peppers, I just cut out the core, then evenly sliced the top flat. Once I did that, it was easy to use a spoon to scoop out all of the seeds and inner fibrous parts so that the pepper could hold the dip.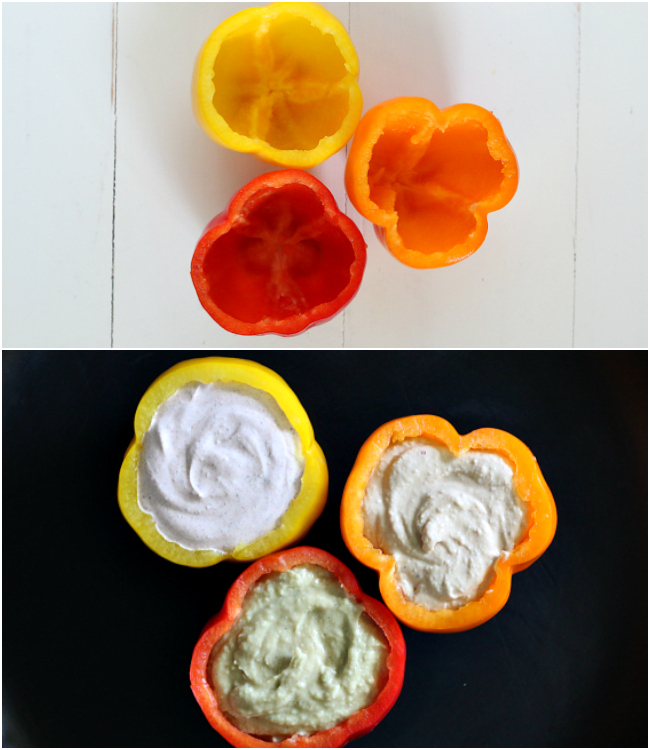 Inside the bell peppers, I scooped either hummus or sour cream taco dip. I had purchased two kinds of hummus. One is a tried and true favorite of mine, Hope Spicy Avocado hummus. The other is a new-t0-me local hummus brand called Hummuna, available in a variety of flavors – I chose the roasted garlic as I thought it would go really well with the vegetables. These were great choices for gluten-free veggie dip choices. This Carmelized French Onion dip would be a great addition too!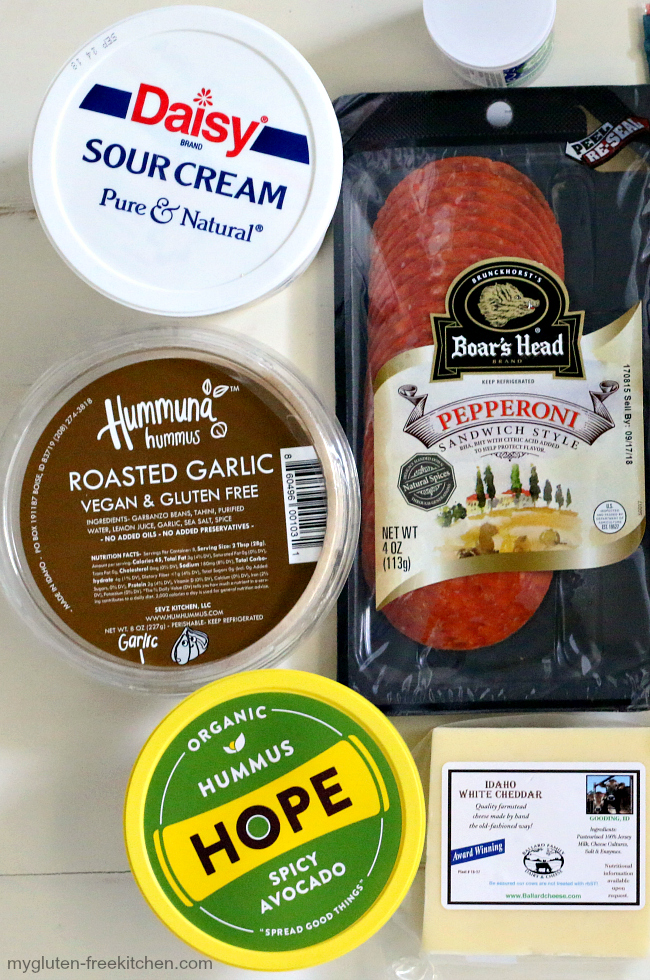 The other dip was a homemade sour cream taco dip that I'm sharing the recipe for when you scroll down. I bought the sour cream there at Albertsons, but had all the seasonings here on hand.
If you wanted you could just make a whole veggie tray. Just repeat what I did on this half on the other half, or incorporate other vegetables you like!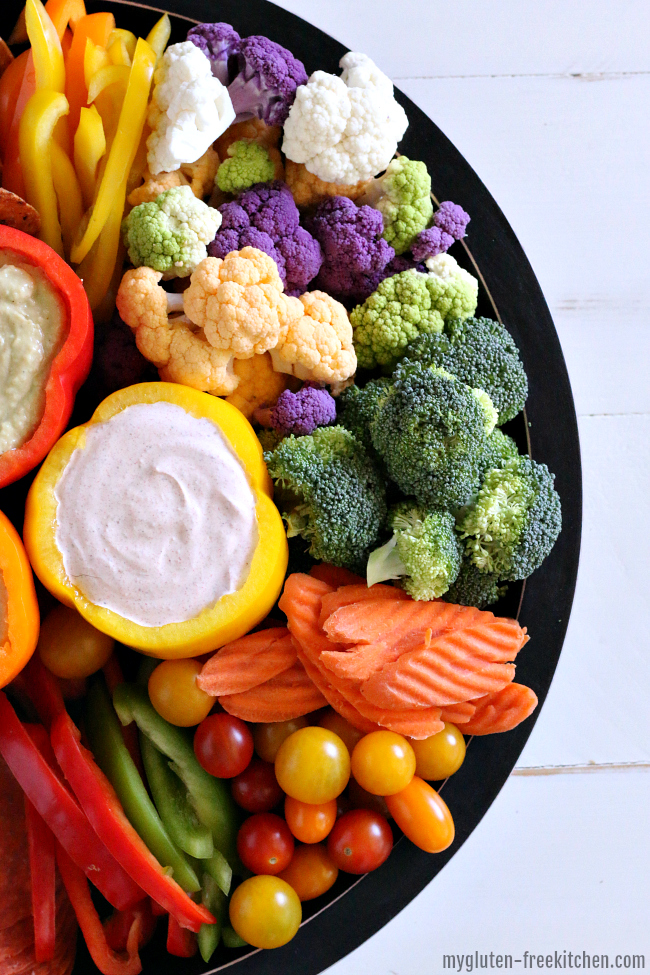 Alternately, you could just make a huge meat and cheese tray, filling the other side like this with more deli meats, assorted cheeses, and gluten-free crackers and chips.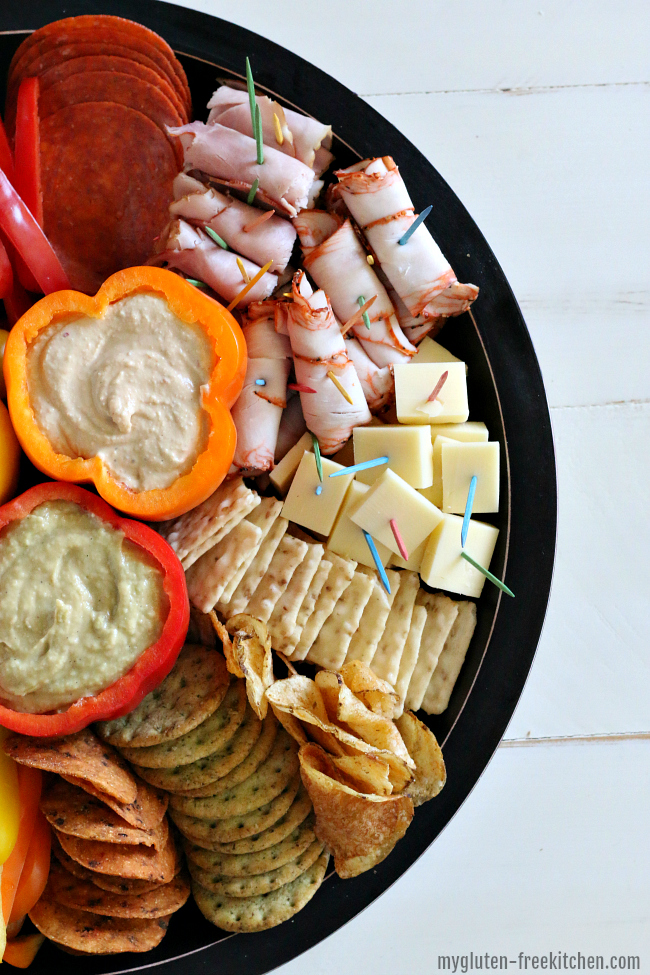 While choosing what I wanted to include on my tray, I walked by this sample station from Ballard Cheese, and found out Ballard is an Idaho cheese company. I couldn't resist trying several varieties and they were so good. I opted for the Idaho White Cheddar for my tray, as my whole family loves Cheddar cheese!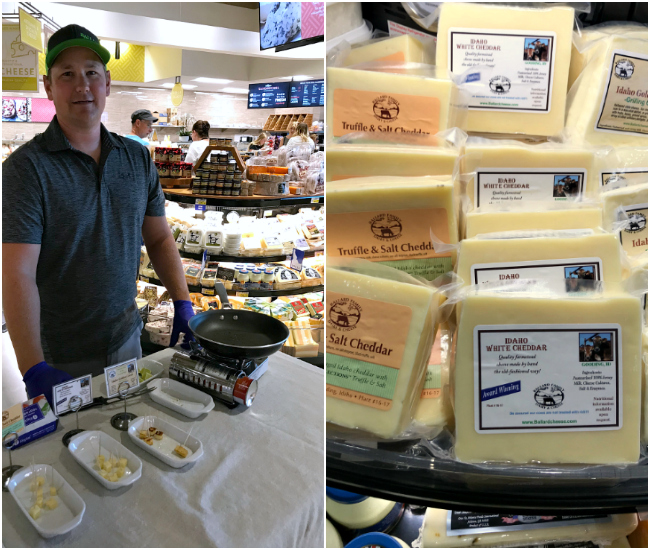 Next I browsed the huge deli selection. Samples of a new Boar's Head BourbonRidge Uncured Smoked Ham were being handed out and oh was it good, so I had to buy it! All Boar's Head Brand meats, cheeses, hummus and condiments are gluten-free, so I knew these were a safe option! (Note from 2019: This is now my FAVORITE lunch meat and I buy it all the time!)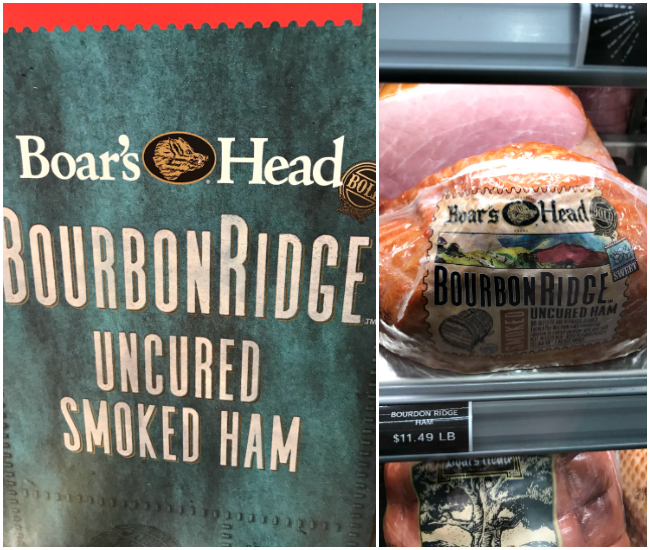 I settled on this new Boar's Head Ham and also a Cracked Pepper Turkey. Around the corner, I picked up a package of Boar's Head pepperoni to add because my youngest is a huge pepperoni fan.
The last items I needed for my tray were gluten-free crackers and chips. I was thankful to find so many to choose from! Not only were they on the cracker and chip aisles, some were in the deli, and some were on special displays.
I passed this display of Teton Valley potato chips made with Idaho potatoes, so of course I had to add those!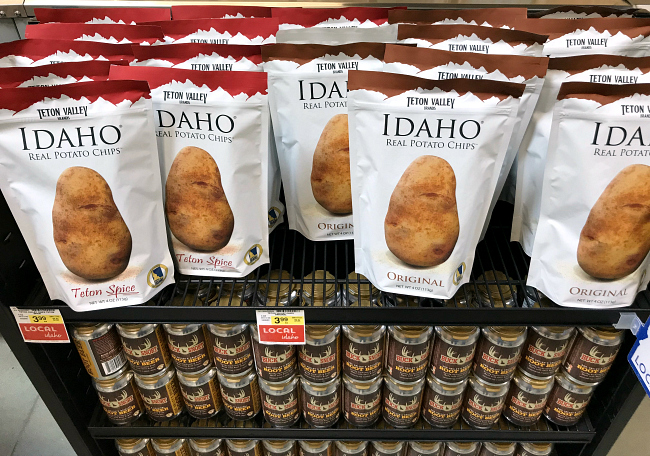 I bought way more than needed, but for the tray, I narrowed it down to these four – two gluten-free crackers and two gluten-free chips! Boy of boy, The Better Chip Chipotle chips are SPICY! Perfect choice if you like hot!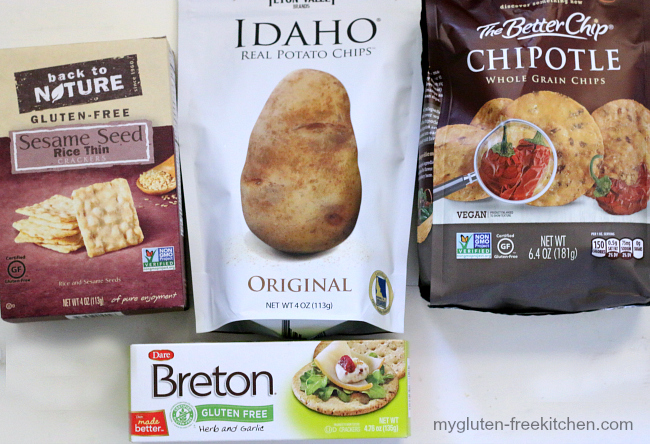 Hopefully this post gave you some great ideas of products to watch for so you can put together your own gluten-free vegetable, meat and cheese tray! You could also add other favorite dips or salsas to make it suit your family's tastes! Let me know what you add to yours!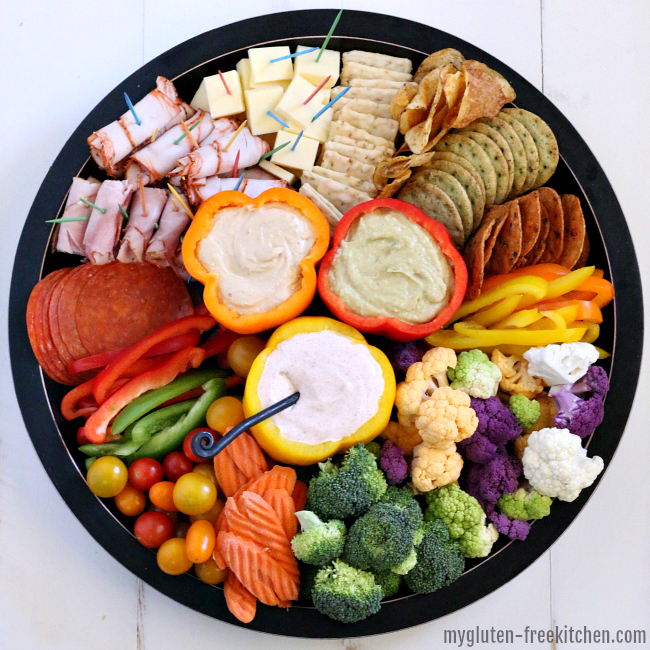 Gluten-free Sour Cream Taco Dip Recipe:
Yield: 1 cup
Gluten-free Sour Cream Taco Dip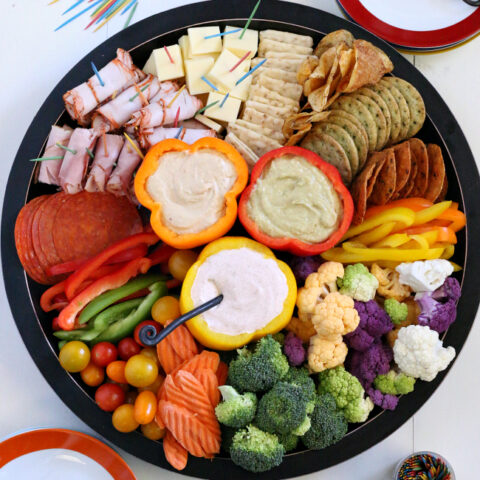 This versatile gluten-free sour cream taco dip is yummy for dipping vegetables, gluten-free chips and more in. You can adjust the heat of it!

Prep Time 5 minutes

Total Time 5 minutes
Ingredients
1 cup sour cream
1 tsp. paprika
1/2 tsp. to 3/4 tsp. chili powder (depending on how spicy you desire!)
1/2 tsp. garlic powder
1/2 tsp. onion powder
1/4 tsp. sea salt
1/4 tsp. cayenne pepper
1/4 tsp. cumin
Instructions
In a small bowl, stir all ingredients together until mixed well.

While you can serve in a bowl, it is fun to serve this in a bell pepper! Simply cut out the stem of the bell pepper. Then slice straight across the top of the bell pepper so that it is level. Then use a spoon (I used a long iced tea spoon, but a grapefruit spoon would work well too) to scrape out the seeds and hollow out the pepper.

Scoop the sour cream taco dip into the hollowed out pepper. If not serving soon, place in refrigerator until ready to serve!


Pin this to your gluten-free appetizers Pinterest board: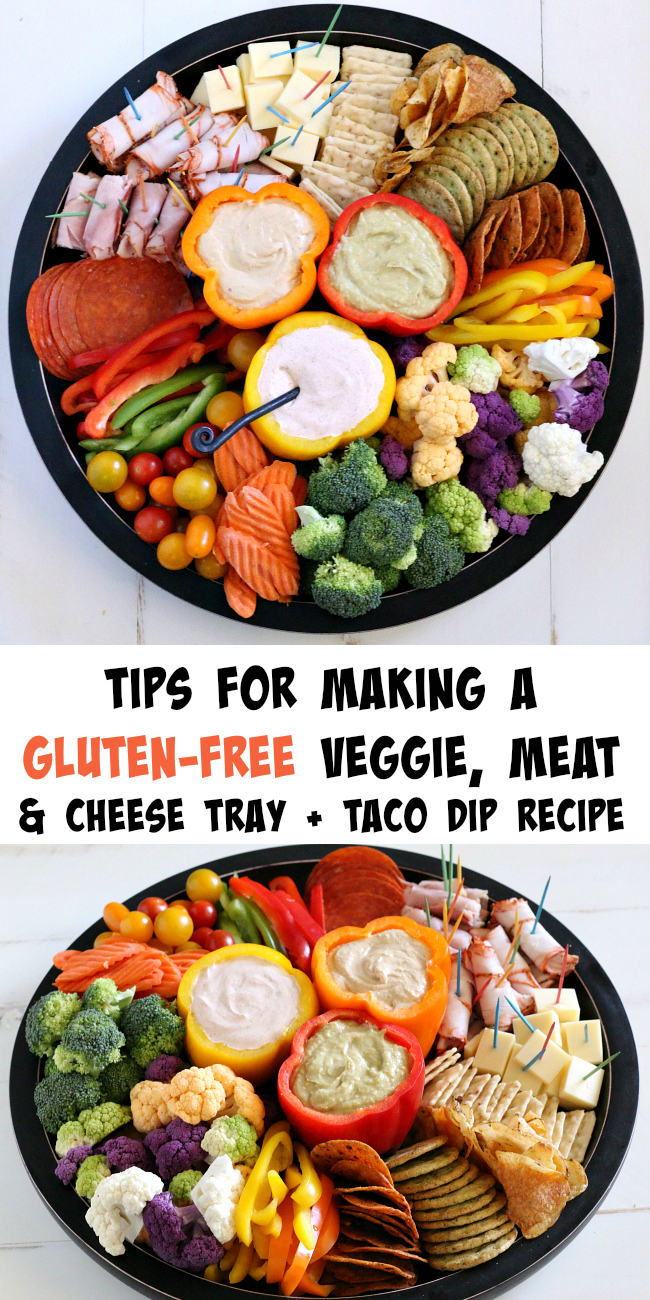 This is a sponsored conversation written by me on behalf of Albertsons on Broadway. The opinions and text are all mine.
I hope you and your guests enjoy gluten-free party trays like these!