I LOVE to read cookbooks. I curl up on the couch with a blanket, a drink and a stack of cookbooks and I'm a happy camper! My hubby is so patient with my stacks of cookbooks and cooking magazines everywhere. He's a gem, I tell you.
Many new gluten-free cookbooks came out this year so I thought I'd put together a little post on many of them! Some of these were sent to me, some I've purchases myself, and some I've checked out from our local library -a great way to save money! All opinions are my own! I've linked each photo and title to Amazon, where I like to buy my cookbooks with free Prime shipping. These are my affiliate links, which means that your purchases help support this blog without affecting your price.
Gluten-Free Family Favorites: The 75 Go-To Recipes You Need to Feed Kids and Adults All Day, Every Day
Who doesn't need more family-favorite meals? Features of this cookbook include full-size photos of every recipe and instructions at the bottom of each page for how to make the recipe egg-free, dairy-free, corn-free etc. Recipes I've marked to try soon: Cinnamon Granola Bars, Personal Quiches, Monkey Bread, and Apple Cider Doughnuts.
The Lagasse Girls' Big Flavor, Bold Taste–and No Gluten!: 100 Gluten-Free Recipes from EJ's Fried Chicken to Momma's Strawberry Shortcake
is another cookbook full of beautiful photos. While there aren't photos of every single recipe, there were for most, including full page photos and step-by-step photos. I felt like the appetizers and salads are what really shine in this cookbook. Recipes I've marked to try soon: Shrimp Stuffed Mushrooms, Spicy Crab Dip with Homemade Garlic Parmesan Crackers, Easy Chicken Satay Skewers, the Kale & Apple Salad with Pine Nuts, and Cheddar Cheese Souffle.
Gluten Free Fork: A collection of 40 simple to make, budget-friendly recipes to nourish your family.
Since it doesn't have recipe photos, this paperback from my friend Cindy Gordon of Vegetarian Mamma is the least expensive cookbook on my list, but is still full of great family-friendly meals. I'm impressed with Cindy's vegetarian, gluten-free spin on old favorites like Tater Tot Casserole, Tuna Casserole and Stroganoff. This cookbook is full of great sandwich ideas too. Recipes I've marked to try soon: Mushroom Risotto and Crunchy Potato Tacos.
Decadent Gluten-Free Vegan Baking: Delicious, Gluten-, Egg- and Dairy-Free Treats and Sweets
by Cara Reed of the blog Fork and Beans. This is another great choice if you have multiple allergies or are vegan. Beautiful full-page color photos make you want to try these recipes, even if you aren't vegan! Recipes I've marked to try soon: Churros with Chocolate Dipping Sauce, Thin Mints, Brown Sugar Mini Donuts, and Sweet Almond Braided Bread.
Sweet Debbie's Organic Treats: Allergy-Free and Vegan Recipes from the Famous Los Angeles Bakery
If you aren't intimidated by lengthy ingredient lists, the allergy-free and vegan recipes in this cookbook look like they'll be worth the effort! Pics of almost every recipe are included in this paperback cookbook as well. Recipes I've marked to try: Pumpkin Pie Muffins, Blueberry Streusel Donut Holes and Multigrain Loafer.
Danielle Walker's Against All Grain: Meals Made Simple: Gluten-Free, Dairy-Free, and Paleo Recipes to Make Anytime
I just loved Danielle's first cookbook
so I've been really excited about this new one. Great choice if your family is grain-free or paleo as well. The menu plans are so helpful! Recipes I've marked to try: Beef Stroganoff, Garlic Herb Chicken Thighs and No-Bake Chocolate Pudding.
The Zenbelly Cookbook: An Epicurean's Guide to Paleo Cuisine
I've been following Zenbelly on Instagram for quite some time, always drooling over the beautiful photos. I haven't gotten my hands on a copy of this one yet, but hope to soon!
The Everyday Art of Gluten-Free: 125 Savory and Sweet Recipes Using 6 Fail-Proof Flour Blends
I have the first cookbook from Karen Morgan, Blackbird Bakery Gluten-Free
, and love it, so I'm excited about this new release. It just came out, so I've yet to see a copy, but it is on my wish list!
The Allergy-Free Pantry: Make Your Own Staples, Snacks, and More Without Wheat, Gluten, Dairy, Eggs, Soy or Nuts
by Colette Martin. I peaked at this one while at a food bloggers conference with Colette, and thought it looked like a great choice if your family is managing multiple allergens.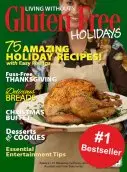 Living Without's Gluten Free Holidays magazine is full of great tips, menus, and recipes for your holiday entertaining. With articles from a variety of authors and information about a number of new products, I found this to be a great resource and worth the $6.95 price! Recipes I've marked to try: Quinoa, Cranberry & Spice Dressing, Gingerbread Cranberry Cake with Lemon Icing, and Cranberry English Muffins.
Not new, but new to me:

Gluten-Free Girl Every Day
by Shauna Ahern. I just got my hands on a copy of this beautiful book. The photos are exceptional, even chicken and dumplings look amazing! Recipes I've tabbed to try: Chicken and Dumplings, Lemon Yogurt Cake, and Peach Brown Butter Buckle.
If I've missed your favorite cookbook from 2014, let me know in the comments!
Note: Some links in this post are my referral links. Read my disclosure policy here. If you do decide to purchase something at Amazon or another retailer after following my link, I receive a small commission, at no additional cost to you, which I use to pay for web hosting and services for this blog.