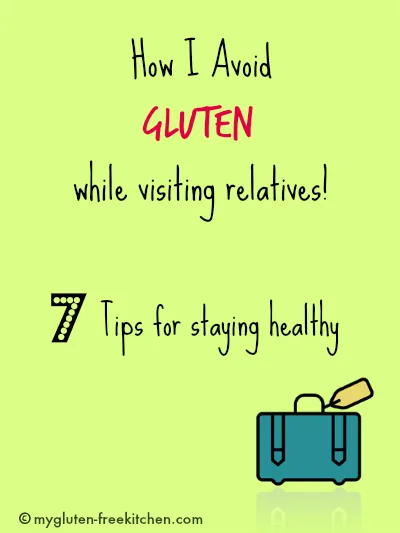 Many of us will be packing up our stuff and traveling to visit relatives this holiday season. While road or airplane travel has its own set of challenges with staying gluten-free, so does staying with relatives that all eat gluten. I find it can be very difficult to keep from getting "glutened" when I'm staying in a house full of people that are all cooking and eating foods that aren't safe for me.
When we travel for the holidays, we stay in my in-law's house for a week. For some of the meals, there are 18-20 people there but I'm the only one that needs to eat gluten-free. The first few visits after my celiac diagnosis, despite my efforts, I did get glutened, which resulted in being sick for a several weeks each time. I've learned some tricks and tips since then so I thought I'd share them with you!
Hopefully these 7 tips can help you stay safe on your next visit to family or friends!
1. Dedicate a shelf to your safe, gluten-free food. Label it and make sure everyone knows not to use anything on this shelf! My mother-in-law went so far as to label a shelf in the garage fridge with my name and added another label to a paper on that shelf. No one could miss that this was my shelf! If there isn't space for you to have your own shelf, keep a cooler stocked with your items instead. Here's what I kept on my shelf: Lettuce/spinach, new container of sour cream, new bag of shredded cheese, new stick of butter, gluten-free bagels & tortillas, new bottle of salad dressing, new packages of cheese and lunch meat, and hummus. As I cook other foods during the week, I add the leftovers to this shelf.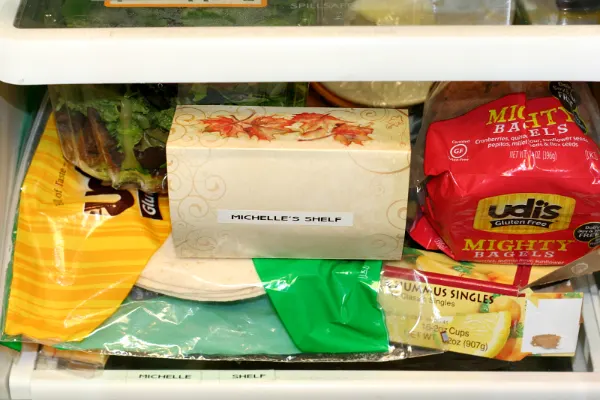 2. Plan out meals with your host. Discuss the menu your host is planning and give input on how you can help. On the first day I visit, my mother-in-law and I plan out all of the dinners for the whole week. I help my mother-in-law make some meals that are entirely gluten-free (and no one misses the gluten). One easily gluten-free meal that we make every time I'm there: gluten-free slow cooker chicken tacos. Everyone uses corn tortillas or gluten-free flour tortillas. Again, I use my own new container of sour cream and shredded cheese so as not to worry about cross-contamination that may have occurred previously with those. Another easily gluten-free meal that can feed everyone is taco salad or chef salad. If she has plans for a meal that I can't eat, I plan something easy that I can make separately without being in the kitchen at the same time.
3. Help with the grocery shopping. I bring or offer to buy my own gluten-free crackers, snacks and all the items I need for my meals. If you have a relative that isn't totally understanding of your necessary gluten-free diet, paying for the cost of your groceries can go a long way towards helping this go over well! I'm blessed to have in-laws that totally understand and support me. My mother-in-law and I make a thorough grocery list while we meal plan and then go do the shopping together on our first day of visiting. I'm able to double-check labels and make sure the correct brands of each item are bought this way.
4. When you do cook, cook extra for leftovers. One night each time I visit, I usually help prepare a ham, diced or my gluten-free twice baked potatoes, and glazed sweet potatoes for the dinner for everyone. I always serve up my food first, and I make up a second plate of the food and place it, covered, on my shelf in the fridge. Then I have a safe meal for the next day ready to go! I always make this meal for dinner the night before Thanksgiving. Then while everyone else has turkey and stuffing, I can pull out my safe leftover meal to enjoy instead, and can avoid being in the kitchen during all the chaos! P.S. That dinner roll in the first photo is from Udi's. It was good! I wrapped it in foil to avoid coming in contact with any gluten, and warmed in the oven.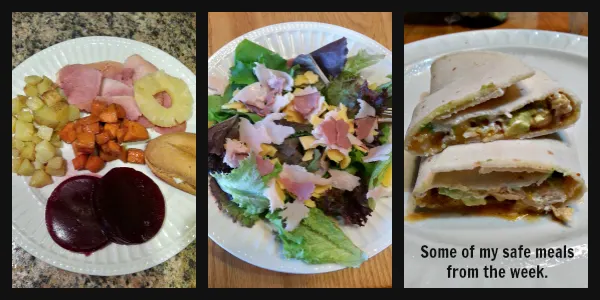 5. Wash all bowls, skillets, cutting boards, spatulas, etc. before using them. Even if they look clean, give them a good rinse-off and dry with paper towels (not with the dish towel people have been wiping counters with!)
6. Use bottled water or bring your own labeled bottle. If there are a lot of people in the house and the glasses all look similar, you run the risk of drinking from a cup that someone else drank from. I have been glutened before from shared cups, so now I don't chance that at all. I brought my own bottle and just refilled it with water all week. No one could mistake it for theirs!
7. Consider purchasing a toaster that is just yours. You already know not to put your gluten-free bread in a shared toaster, so you probably just go without while visiting. Last year we picked up a cheap $12 toaster at the local chain store. My mother-in-law keeps it boxed up and stored in the garage the rest of the year, and only pulls it out when I'm there. As you can see in the photo, we keep it covered and labeled when I'm visiting. It was so nice to be able to have something besides cereal every morning! Here at home, I have 1/2 or a full bagel almost every morning with 2 eggs that are fried or scrambled. I enjoyed being able to make this safe, healthy breakfast while visiting them for a week too! Even if you only buy and use the toaster for one visit, $12 is a small price to pay for keeping your food safe while still having some variety.