Occasionally, I will share a favorite item from my gluten-free kitchen: a book, cookbook, gluten-free food or kitchen gadget or a roundup of favorite things from around the web. Hopefully you'll find some new favorites to add to your gluten-free kitchen! While they may contain affiliate links, all Favorites posts reflect my own opinion and are not sponsored by any individual or company.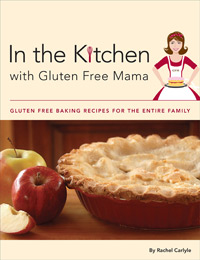 Today I want to share with you one of my favorite gluten-free cookbooks. In the Kitchen with Gluten Free Mama is written by my friend Rachel. She is the creator of some of the wonderful all-purpose flour blends I recommend, Mama's Almond Blend and Mama's Coconut Blend . I had the honor of guest posting over on her blog last weekend, sharing my gluten-free chocolate "love" cakes.
In the Kitchen with Gluten Free Mama was one of the first gluten-free cookbooks I purchased. I have used it again and again! Each delicious recipe has been tried and tested again and again before being included in the book. We've found a lot of new favorites! Next week I'll share with you some delicious cream puffs that I use her recipe from this cookbook as a base for. My top three favorite recipes in this cookbook are the cream puffs, pull-apart dinner rolls, and apple pie made with an amazing pie crust!
Whether you are just getting started or are a seasoned gluten-free baker, you'll find many recipes to add to your collection of favorites. You can find used copies of this cookbook here on Amazon.
This is not a sponsored post. I'm just sharing my honest opinion about a product I love!