I've had several requests to share my favorite gluten-free granola recipe and I'm happy to share it. This gluten-free almond granola is full of flavor from the vanilla, honey, and cinnamon. It's delicious as is, or with your favorite mix-ins!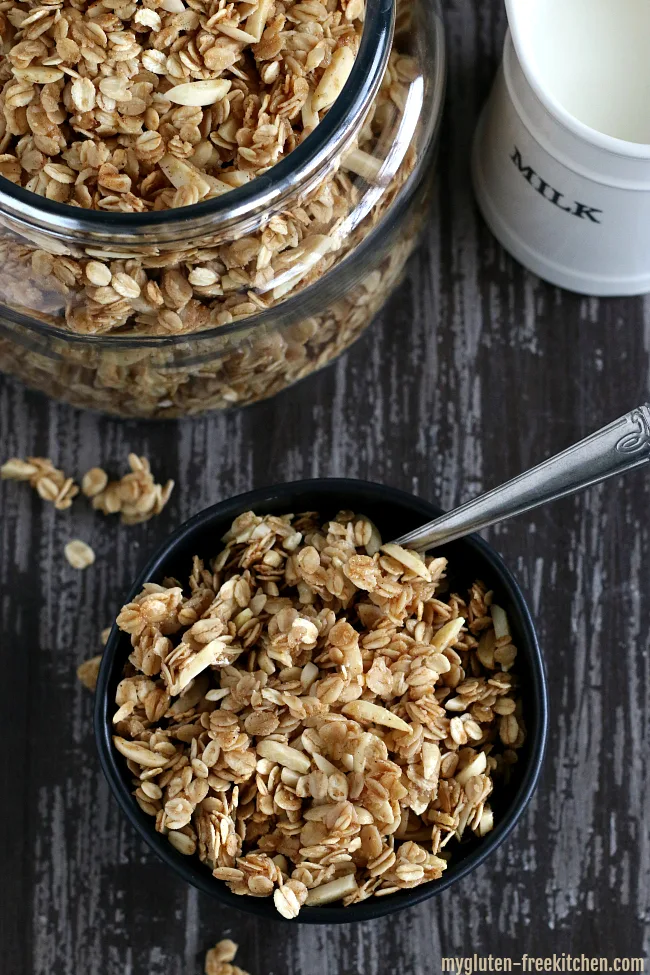 I discovered the base of this granola recipe many years ago but unfortunately did not note the source, and have made it regularly for years. Since going gluten-free, I've changed it by using certified gluten-free oats, and I've made some tweaks from the original recipe like adding more flavor by using more cinnamon and decreasing the brown sugar a bit. Now this gluten-free granola is just perfect and everyone in my family loves it!
Those of you that are dairy-free will love that you can easily make this dairy-free by using your favorite oil. I've made it both ways, with real butter or with vegetable, corn, or coconut oil, and there isn't much difference in how it turns out. Try it either way, and I'm confident you'll love it!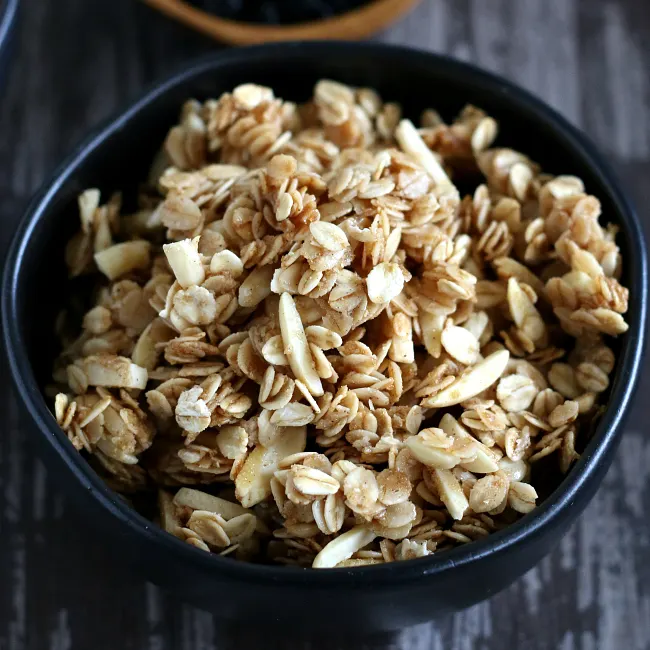 Are oats gluten-free? Do oats contain gluten at all?
Just in case there is anyone reading this that doesn't know about oats and gluten, I thought I should include this info. Oats are inherently gluten-free, meaning they do not have the gluten protein. However they are typically grown, harvested, transported, processed, and/or packaged on equipment along with wheat, so there is a high amount of cross-contamination. As a result, if you are a celiac or are gluten-intolerant, you will want to buy and consume only certified gluten-free oats. Yes, they make certified gluten-free old-fashioned oats, certified gluten-free rolled oats, and even certified gluten-free quick/instant oats!
Also, if you are newly diagnosed with celiac, you may want to avoid oats completely for a while as they can be hard for your damaged body to digest. When you do begin eating oats, you may want to consume small amounts so as not to aggravate your system.
Notes on ingredients and substitutions for this gluten-free granola recipe:
Oats: Use certified gluten-free old-fashioned oats or certified gluten-free rolled oats. Don't use instant oats or quick oats. I buy my gluten-free old-fashioned rolled oats on Amazon here (GF Harvest gluten-free rolled oats and GF Harvest gluten-free Organic rolled oats). I actually use Amazon's subscribe and save feature to have a bag of oats shipped to me regularly, so I'll have plenty for granola and gluten-free oatmeal cookies.
Almonds: I buy all of my almonds for baking and eating from Nuts.com because these almonds are certified gluten-free. Many other companies process their nuts on shared equipment with wheat, and I'd rather avoid that! You can use either slivered or sliced almonds in this. I buy these slivered almonds and these sliced almonds.
Butter: Feel free to substitute with your favorite oil, such as vegetable, corn, light-tasting olive oil or coconut oil.
Honey: Since you're cooking the honey, you can even use up some honey in your cabinet that has solidified a bit! I've used store-bought name brand honey, and local raw honey. Turns out well no matter which you choose!
Vanilla Extract: Please use pure vanilla extract in this recipe! I recommend if for all recipes, but since this is a vanilla almond granola, the vanilla is extra important! If you use 4 teaspoons of imitation vanilla in this then yuck! I use good quality pure vanilla extract like Nielsen-Massey or Costco's brand.
I love how you can customize this granola by adding in whatever you prefer as it is cooling: dried blueberries, dried cranberries, raisins, dried banana chips, or dried chunks of apples. My favorite is adding in dried blueberries, then when I'm eating a bowl of this yummy granola with milk, I also slice in a fresh banana. Mmmm You could even toss in some mini chocolate chips once this cools completely if you'd like!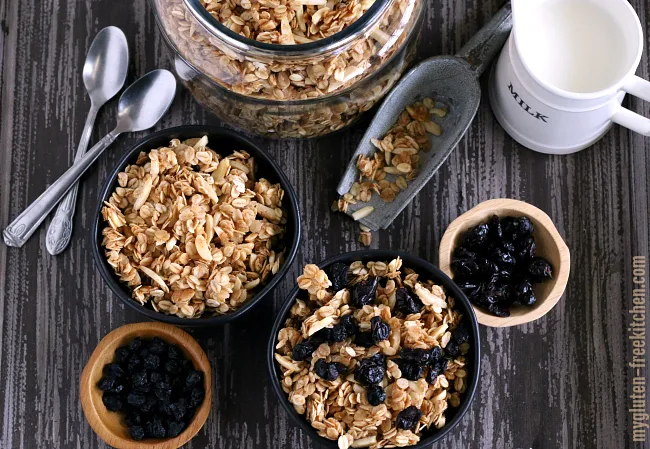 As the granola cools, you get to decide how big of chunks you want it to have. Let it cool untouched and then break apart in bigger pieces to put in bags to munch on for a snack. If you'd like to enjoy it as a breakfast cereal, you might break it up into smaller chunks as it cools. If you want the granola to be very small pieces for adding to yogurt, I'd recommend you stir every few minutes after you take it out of the oven, so that it won't harden into large chunks.
If you don't know what a jelly roll pan is, it is a large baking sheet with about 1″ sides. Usually it is around 10 1/2″-12″ wide and 16″-18″ long. I love my insulated Baking Pan
If you don't have one of these pans, feel free to use two 9×13 pans instead. The pre-cut sheets of parchment paper
called for in the recipe will really make clean-up a breeze, which is why I recommend it. These pre-cut sheets of parchment paper that I buy on Amazon fit perfectly in my jelly roll pan.
Looking for more recipes that use gluten-free oats?
Try my gluten-free oatmeal cookies – with or without the chocolate chips, these are delicious, and dairy-free! For a top 14 allergen free option, try these gluten-free banana oatmeal cookies that I adapted from my grandmother's recipe. My friend Megan makes a streusel with oats for these baked peaches.
Give this gluten-free almond granola recipe a try and let me know how you decided to customize it for your tastes!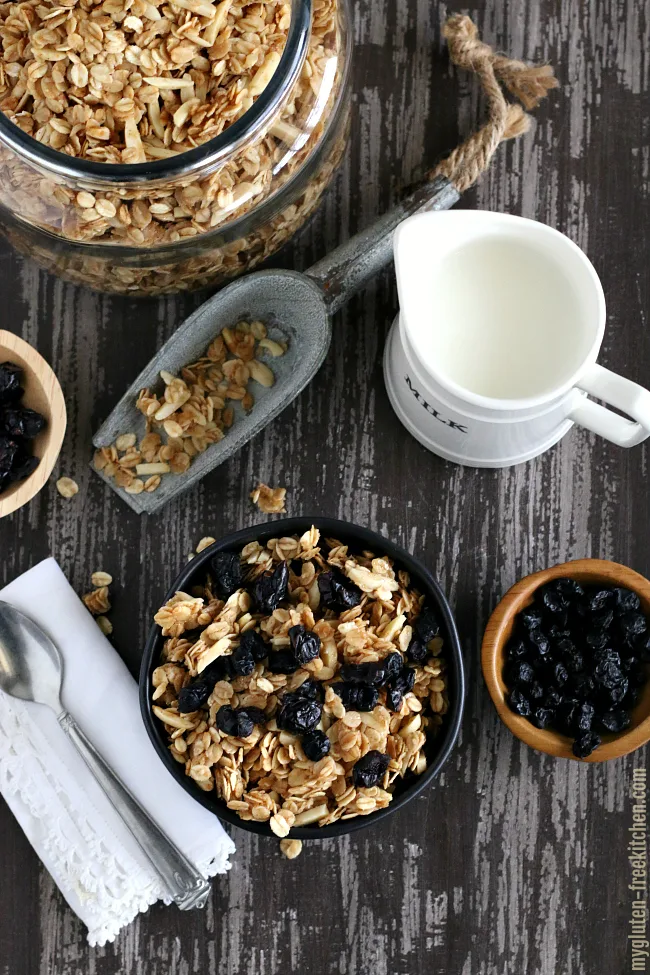 Gluten-free Granola Recipe:
Yield: 8 cups
Gluten-free Almond Granola Recipe
You can customize this gluten-free granola recipe according to your preferences by adding in any sort of dried fruit or using different nuts in the recipe.
Ingredients
4 cups certified gluten-free oats (rolled or old-fashioned, not instant)
1 cup sliced or slivered almonds
1/3 cup brown sugar, packed
1/4 tsp. salt
1/2 tsp. cinnamon
1/3 cup melted unsalted butter or oil of choice
1/4 cup honey
2 Tbsp. sugar
4 tsp. pure vanilla extract
Instructions
Preheat oven to 300°.
Line a jelly roll pan (about 10.5"x15.5") with parchment paper, or spray with nonstick cooking spray.
In a large bowl, use a spatula to stir together gluten-free oats, almond pieces, brown sugar, salt, and cinnamon. Set aside.
In a small saucepan over medium heat, combine the butter or oil, honey and sugar. Bring to a simmer over medium heat stirring constantly with a whisk to get the sugar to dissolve and the mixture to come together. Once it comes together and simmers about 30 seconds, remove from heat. Whisk in the pure vanilla extract.
Pour the hot liquid mixture over the oat mixture in the bowl. Stir well with a large spatula or wooden spoon. Spread granola on prepared jelly roll pan. Bake at 300° until golden brown, about 25-30 minutes. Once or twice during the baking time, pull out the pan and stir granola a bit and put back in for the remainder of the baking.
Transfer pan to a rack; If you want to add in dried fruit, add it now. Cool granola completely. If you want smaller chunks, stir several times while it cools so that it doesn't harden into large chunks. If you want to add in mini chocolate chips, add them after it has cooled completely.
When cooled, use your hands to break apart to the size you want and store in an airtight container.
Notes
Stay away from the imitation vanilla extract. I never advise using it, but especially in a recipe with this much vanilla, nothing beats the flavor of the real stuff!
Pin this to your gluten-free breakfast board on Pinterest: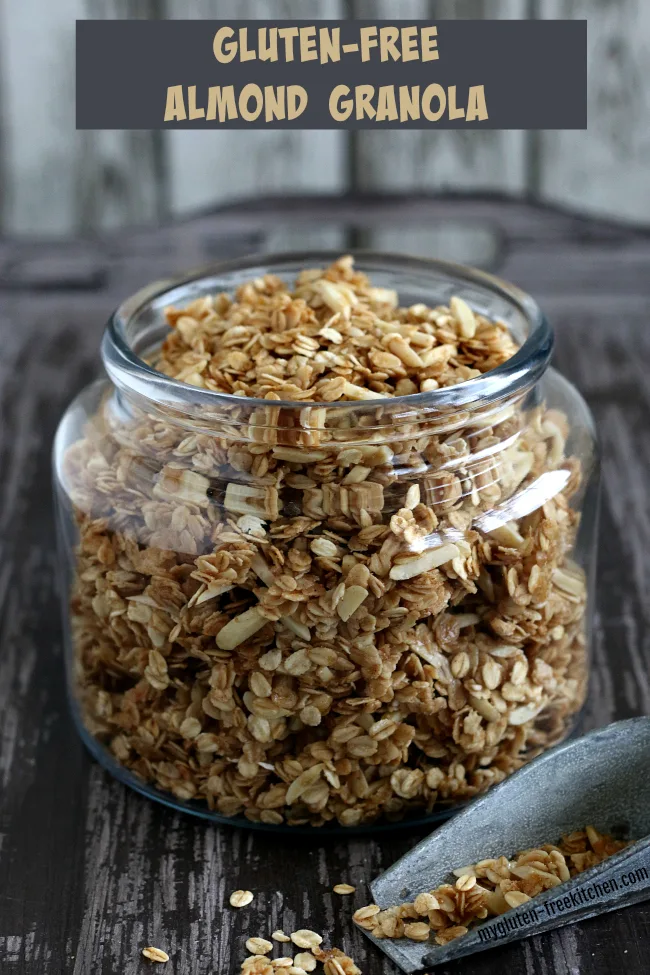 These are my two favorite brands of certified gluten-free oats to use in this recipe (choose either one) as well as the parchment paper and baking pan I use for making this granola:
(affiliate links)