Occasionally, I will share a favorite item from my gluten-free kitchen: a book, cookbook, gluten-free food or kitchen gadget or a roundup of favorite things from around the web. Hopefully you'll find some new favorites to add to your gluten-free kitchen! While they may contain affiliate links, all Favorites posts reflect my own opinion and are not sponsored by any individual or company.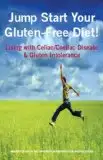 One of my favorite resources for accurate, up-to-date information about celiac disease and current research is the University of Chicago Celiac Disease Center. I am so thankful for their online resources, the information they share on Facebook, their research and advocacy, and also this FREE book they published.
If you are looking for accurate, reliable information to help you understand celiac disease, getting tested, and transitioning to a safe gluten-free diet, this book is for you. Jump Start Your Gluten-Free Diet! Living with Celiac / Coeliac Disease & Gluten Intolerance
is a great resource. You can download it for free to read on your Kindle or the Kindle App on your mobile device or even read via the Cloud Reader on your computer. This is one free resource that I would totally have paid money to buy and definitely recommend.
.