Golden brown, moist and flavorful gluten-free buttermilk pancakes topped with butter and pure maple syrup are a favorite meal at our house. We have breakfast for dinner once a week and these easy gluten-free pancakes appear very often on our table!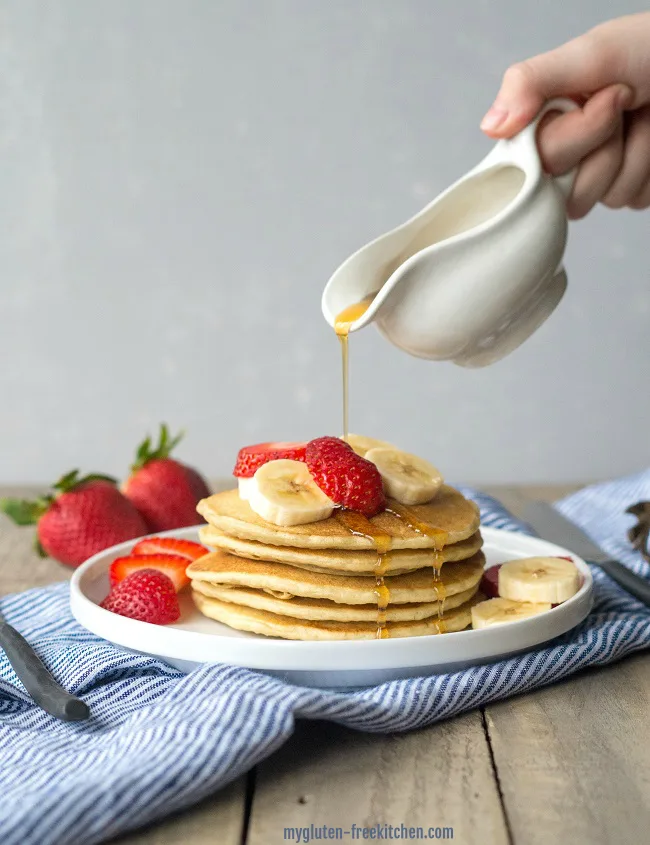 I've tried a lot of gluten-free pancake recipes. I've also tried a lot of gluten-free pancake mixes. Boy oh boy, I've had a lot of bad pancakes! I can't stand rubbery pancakes, and have found a lot of gluten-free pancakes are rubbery. Or gritty. Blech. But these, these are my favorite gluten-free pancakes: my go-to, number 1 recipe. Not rubbery, not gritty, just the best gluten free pancakes!
Our family favorite recipe for gluten-free buttermilk pancakes is adapted from one I found in one of my favorite gluten-free cookbooks. Blackbird Bakery Gluten-Free: 75 Recipes for Irresistible Gluten-Free Desserts and Pastries
is a lovely cookbook written by Karen Morgan.
Beautiful photos accompany every recipe in the cookbook, which is a feature that always wins me over! (My pet peeve is cookbooks without photos!) Recipes range from homey favorites like buttermilk biscuits and popovers to fancier treats like apricot clafoutis and charlottes (both of which I'd never heard of!) On my list of recipes I want to try soon are apple pumpkin muffins and cutout sugar cookies.
I've adapted Karen's recipe slightly to suit our family. While I understand Karen's arguments against using xanthan gum, I've found my body doesn't tolerate the guar gum her recipes call for, so I use xanthan gum instead. I also increased the yield of this recipe so that it adequately feeds my family of 4, with a couple pancakes left over sometimes.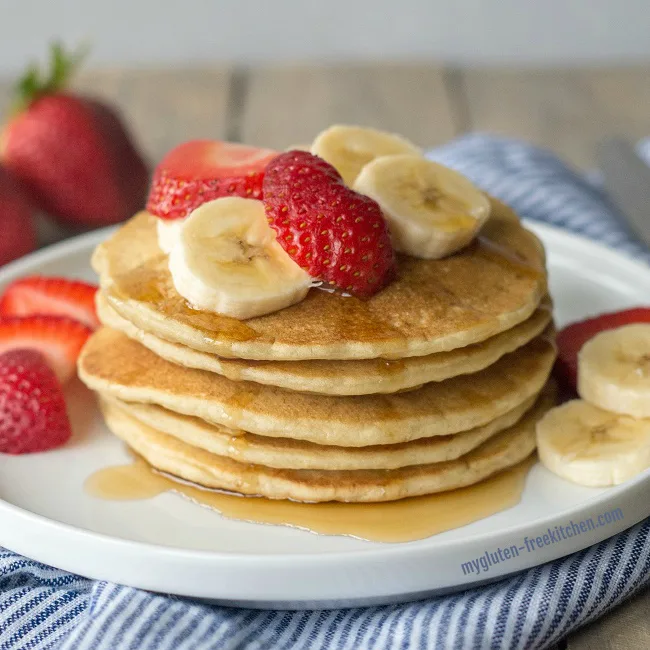 Notes on Ingredients for Gluten-free Pancakes:
The recipe calls for glutinous rice flour, which might make you concerned that it contains gluten; it doesn't. The term glutinous refers to the sticky/glue-like consistency this flour becomes when wet. Sweet rice flour is the same thing as glutinous rice flour. I have better luck finding sweet rice flour or glutinous rice flour at our local Asian food store. I've also ordered it online from Amazon here.
I buy the almond flour and millet flour direct from nuts.com from their certified gluten-free section. I also like this almond flour that I buy from Amazon.
You can use xanthan gum or guar gum in this recipe. I use this xanthan gum.
Tip: Every time I make this gluten-free pancake recipe, I get out a second bowl, line it with a Ziploc bag, and measure out a second batch of the dry ingredients only. Then I seal and label the bag "gluten-free pancake mix" and store it in my pantry. Then the next time my family wants pancakes, I don't have to haul out all of the ingredients again. I dump the dry ingredients in a bowl, add the wet ingredients and I've got breakfast or dinner made in just a few minutes! It's a great way to have gluten-free pancakes from scratch and still save some time!
Since you'll likely be buying a large bag of certified gluten-free almond flour, I thought I'd help you with a few more recipes you can use that bag of almond flour for! You could make this paleo coconut macaroons recipe which uses almond flour and maple syrup, perfect after making these pancakes! I use almond flour in this gluten-free sweet almond danish recipe.
How about some muffins? Food Faith Fitness uses almond flour in these low carb sugar free keto blueberry muffins. If you're in the mood for waffles, these paleo dairy-free waffles look like a great choice for your next breakfast. My friend Erin uses almond flour in her popular almond flour chocolate chip cookies and boy do they look good!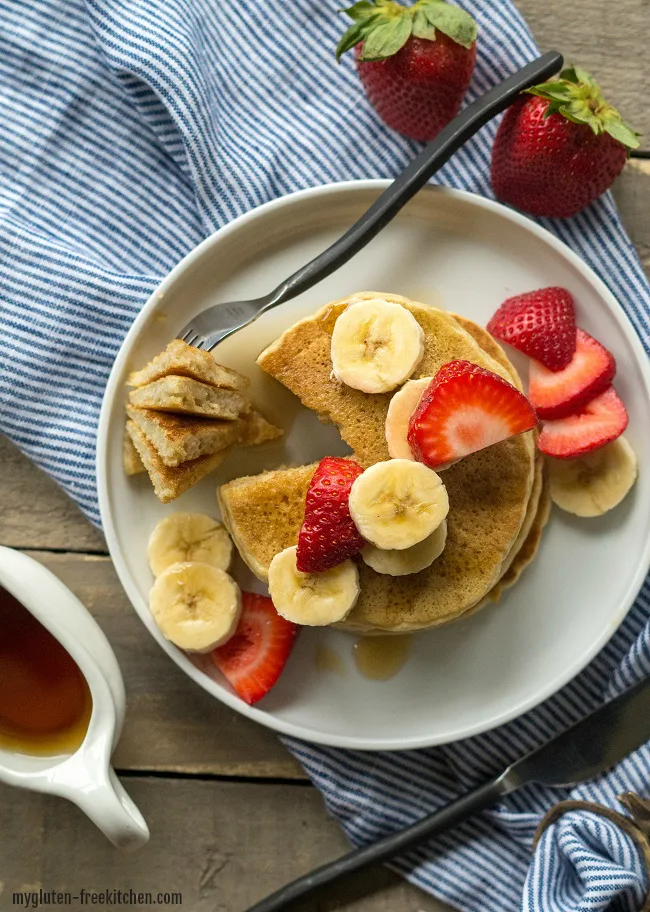 What do you like on or in your pancakes? I'm very traditional, enjoying butter and maple syrup, but my hubby and one son loves having peanut butter and maple syrup on theirs.
I also enjoy adding raspberries to my homemade gluten-free pancakes. My youngest just grabs these pancakes and eats them plain!
I mentioned that we have a breakfast for dinner night once each week. Besides these wheat-free pancakes, some of the other things we have include these gluten-free puff pancakes. Sometimes I switch things up and make these gluten-free chocolate chip waffles. My kids tend too put a whole lot of whipped cream on those! For a savory breakfast for dinner, I'll make this gluten-free breakfast casserole.
If you make these and love them, please come back and give this recipe a 5 star rating in the recipe card! Feel free to comment with tips or to share any successful substitutions you made.
Gluten-free Buttermilk Pancake Recipe:
Yield: 16 pancakes
Gluten-free Buttermilk Pancakes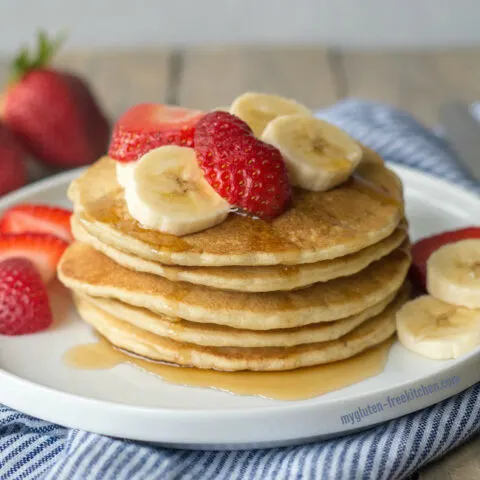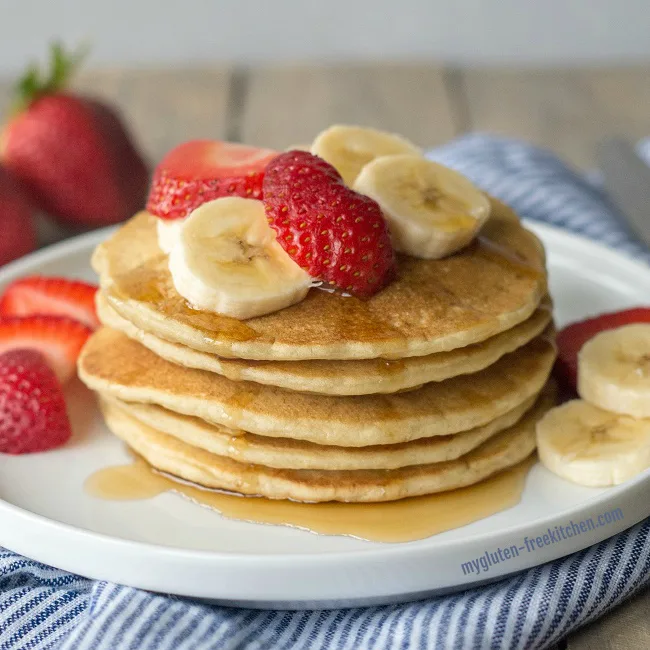 Usually when I get out all of these ingredients for these gluten-free pancakes, I'll measure out the dry ingredients for a second batch into a ziploc bag, label, and put in the pantry to use in the next month.
Ingredients
1 cup millet flour
3/4 cup almond flour
1/4 cup glutinous rice flour* or sweet rice flour
1/4 cup coconut palm sugar or regular sugar
1 tsp. xanthan gum
1 tsp. salt
1 tsp. baking soda
1 tsp. baking powder
4 large eggs, beaten
2 cups buttermilk
1/4 cup (4 Tbsp.) unsalted butter, melted
optional: blueberries, berries or banana slices
Instructions
In a large bowl, whisk together all of the dry ingredients.
Add the eggs, buttermilk, and melted butter and whisk until smooth.
Heat a large skillet or griddle over medium heat. I set my griddle for 350°.
I usually make large pancakes, using a 1/4 cup measuring cup to pour the batter for each pancake. Cook until bubbles form on the top of each pancake, then use a spatula to flip them and cook until golden brown.
This makes just the right amount for our family of 4, probably about 16 large pancakes.
*Optional: Feel free to sprinkle blueberries, berries or banana slices onto each pancake before flipping.
Notes
*Despite the sound of the name, glutinous rice flour does not have gluten! It is a superfine rice flour found at Asian stores.

Recipe adapted from Karen Morgan's book "Blackbird Bakery"
Recommended Products
As an Amazon Associate and member of other affiliate programs, I earn from qualifying purchases.
Pin this to your gluten-free breakfast board on Pinterest: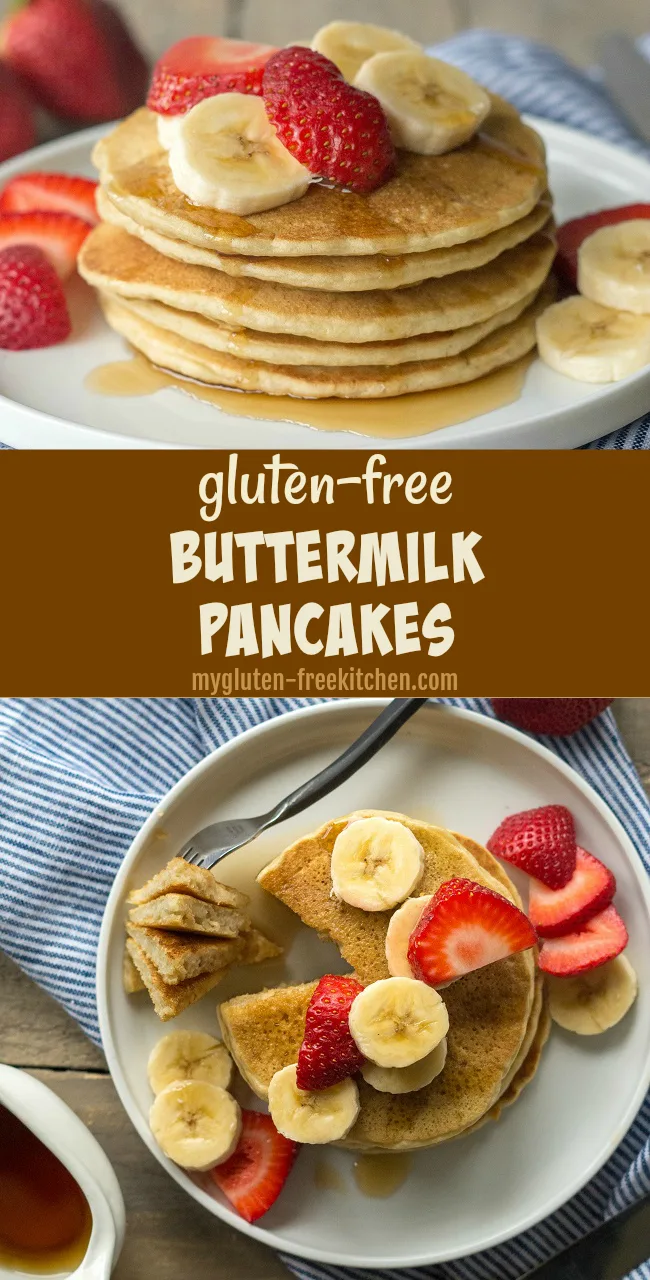 Old photos from when I originally posted this recipe in 2013.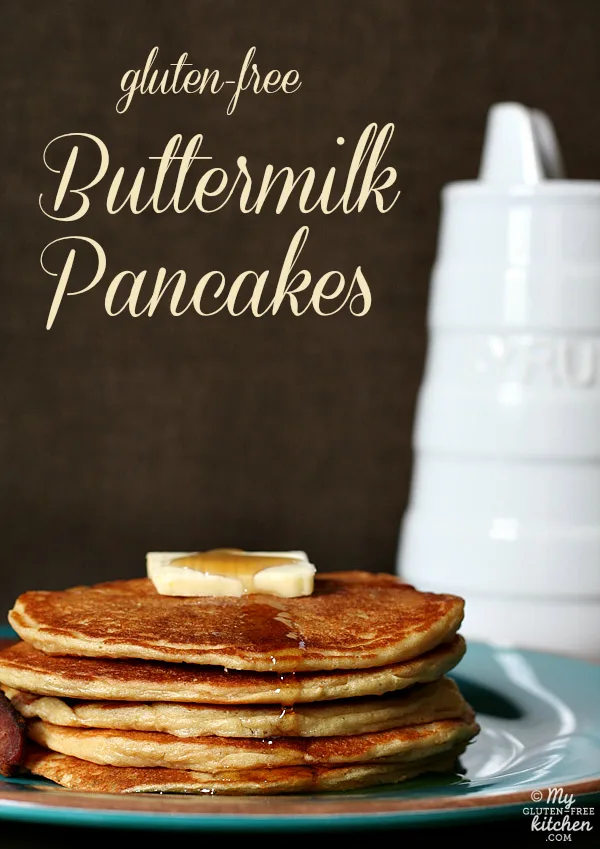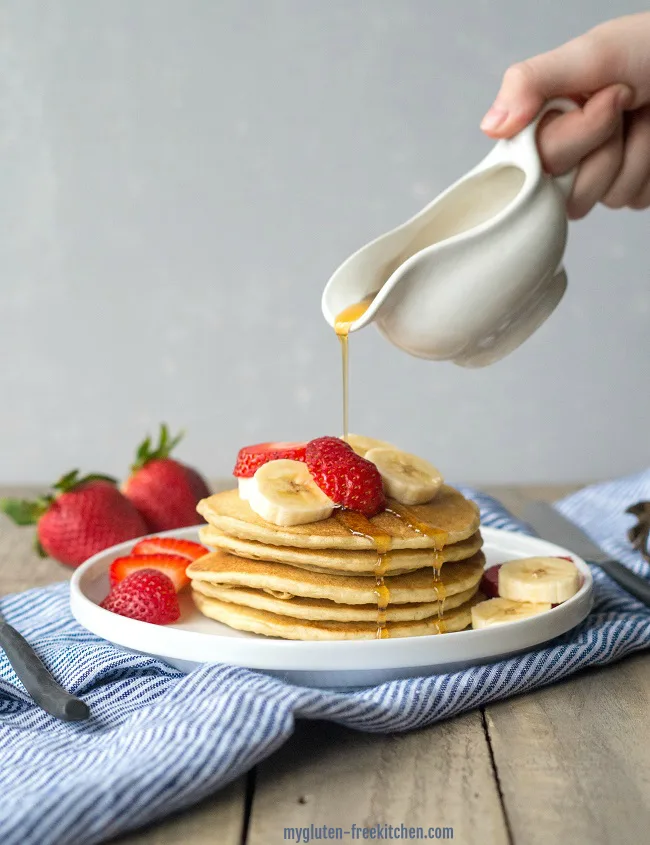 I hope you and your family enjoy these gf pancakes as much as my family does!