As so many of us are gearing up for the start of a new school year, I thought I'd share my household's gluten-free snack bin.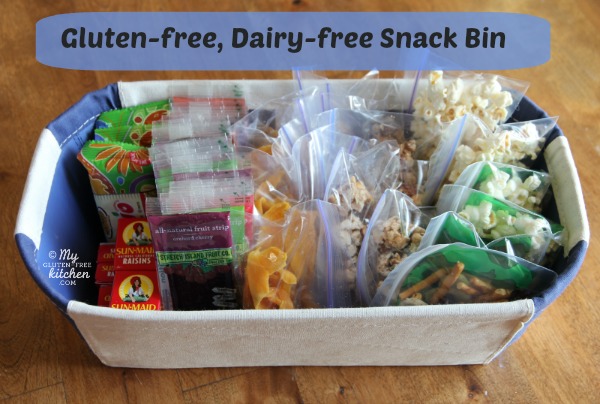 As so many of us are gearing up for the start of a new school year, I thought I'd share my household's gluten-free snack bin. I find that keeping a snack bin stocked with healthy, pre-portioned snacks helps my kids eat healthier, and keeps our grocery costs down.
I like to buy gluten-free snacks in bulk and repackage into single servings. My boys can grab a healthy snack in the morning to put in their backpack to enjoy at snack time. If we have after school errands or sports practices, I'll quickly grab a snack for each of us to have after school.
Our snack bin is gluten-free, dairy-free, egg-free, and mostly nut-free. My boys cannot bring snacks with nuts to school, but I keep some nut snacks handy for them to grab when we're on our way out the door for errands or to sports.
Here is what I put in our gluten-free snack bin (with included affiliate links to purchase online if you'd like):
Sun-Maid raisins I buy the mini boxes, 12-14 in a package. At local stores or here on Amazon.
"Nut Bars" as we call them. They are Mrs. May's Trio bars. I buy an 18-pack at Costco.

Fruit Leather. I buy this Stretch Island Fruit Leather at Costco or here on Amazon.
Dried Mangoes. I buy a bag at Costco or here on Amazon and then repackage into snack size bags with about 6 pieces per bag. If you'd prefer a variety of mango slices with less sugar on them, I recommend these.
Cashew Clusters. These are Kirkland brand and available at Costco (also on Amazon here.)I repackage into snack size bags with 7 cubes per bag.
Popcorn. I air-pop a batch of organic popcorn, add 2 Tbsp butter, margarine, or oil, and sprinkle with sea salt. I package into snack size bags. This Trader Joe's organic popcorn is our favorite!
Homemade snack mix. The contents of these little snack bags vary, but this time I have banana chips, craisins, and some gluten-free pretzels.
I hope this gives you some ideas for making your own healthy snack bin. It really is so handy!
If you have one already, please comment to let me know what healthy snacks you include.
*Always double-check ingredients lists. Often, dried fruit and nuts are packaged on shared equipment with wheat. I avoid those products. If you're unsure, contact the manufacturer via phone, email, or social media to ask about their procedures and certifications.
Tuesday 28th of April 2015
this is such an awesome idea for myself. I'm a teacher in after school I'm always looking for a snack for myself, thanks.
Monday 17th of February 2014
These are great ideas for at home, but my son doesn't like the texture of real dried fruit and he can't take anything with nuts to school due to kids with nut allergies. I am always looking for ideas of what to pack for his lunch & snack. He's not a big veggie eater either. He'll only eat carrots. So, we end up with fresh fruit, popcorn, cheese, sausage. I'm not crazy about him eating processed foods, but I also pack fruit snacks, pudding and GF pretzels. I'd love to hear any other ideas you might have for lunches for picky eaters.
Sunday 16th of February 2014
Dear Michelle, Do you have any recommendations or suggestions to make apple chips by chance? I love the Seneca apple cinnamon flavor but they are so expensive & for such a small amount. Just wondering if there is any way to cut the cost of these &; inrease the quantity of a sweet snack.
Any suggestions would be greatly appreciated. Thank you, in advance.
Peggy
Thursday 30th of April 2015
hi I make Apple.chips.in my oven. all I do is slice.them thinly then lay them out on a cookie sheet. I set the oven to.the lowest setting (170 for mine) and leave.the oven door cracked. I don't add sugar.because Apple's are naturally sweet. I check them every 2 hours or so. my kids go nuts over them .
Sunday 5th of January 2014
Great post! I do something similar for the car/day trips in the summer but I like the idea for the school year too. Even though we homeschool this would be really handy! :)
Monday 6th of January 2014
It really is handy Jenny! You'd love it! I love that the kids know exactly what the choices are for a healthy snack!
Monday 9th of September 2013
Thank you so much for this, I have EoE and need to be Gluten Free for sure and possibly dairy free, egg free and soy free. My son might have my same condition but is not going to the Dr until October 2013. My husband and I have decided to make our house free of most of the foods I listed so me or either one of my kids have to worry that what they eat will make us sick. Since this is all so new to us (less than a month) I am feeling overwhelmed at times.