Even before we had to start eating gluten-free, we thought this was the best grilled salmon recipe. Thankfully, no changes needed made to make this the best gluten-free salmon recipe too!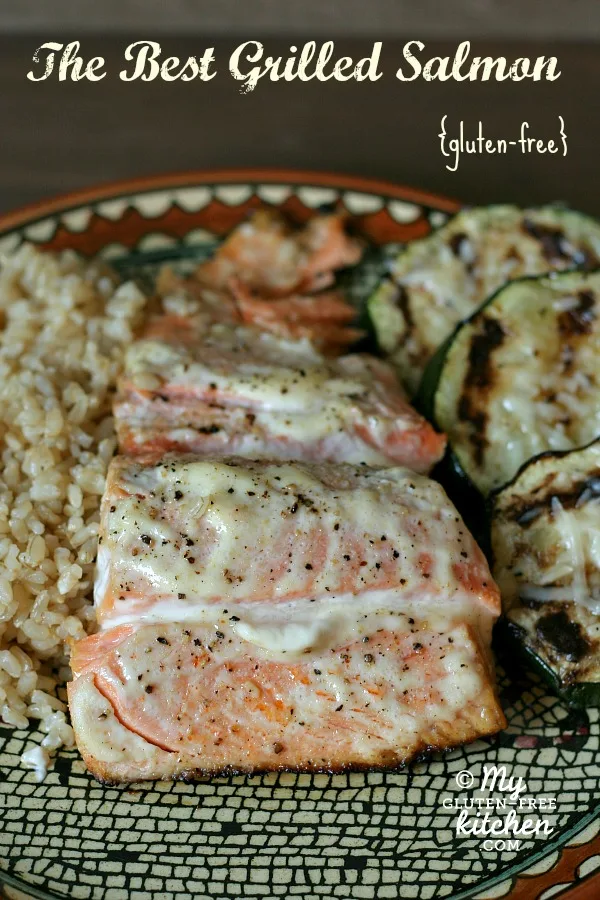 The Best? Well, even my hubby that doesn't like seafood loves this salmon! Fresh salmon is glazed with layers of flavor before being grilled in foil until it is flaky tender. This is the only recipe for fish I've ever seen him enjoy, and even request! There are a lot of gluten-free salmon recipes out there, but we sure think this is the best!
I enjoyed eating a variety of seafood growing up, whether it was lobster or shrimp at my favorite restaurant, catfish from the store, or fresh caught Rainbow Trout from a lake on a family camping trip. In college, I became friends with a number of people that were from Alaska and all worked in the fishing industry in the summer. That is the first time I can remember eating salmon, and I liked it. It helps when you are introduced to a food by people that have cooked it a lot!
Fast forward a few years and my dear friend Corey had my hubby and I over for dinner and served this salmon. I was skeptical, because I am NOT a mayo lover. My hubby was skeptical, because he is NOT a salmon lover. This dish won us both over! We've adapted it just a bit over the years and declare it perfect every time we serve it, which isn't often enough, according to my 9 year-old!
Is salmon gluten-free?
Yes. Salmon is naturally gluten-free, as is all fresh fish. As with all seafood and meats, it's a matter of what is added during marinading or cooking. Many times, people will add soy sauce in their marinade for salmon. This recipe does not use any soy sauce or other gluten-containing ingredients.
This "recipe" is unlike most recipes I'll share on my blog, in that I'm not including measurements. Given the wide variation is size, servings, etc. of salmon, I feel like it would be better to simply walk through the steps and ingredients and then you just use what you need to cover all of the salmon you are cooking for your family or guests.
How to make this grilled salmon: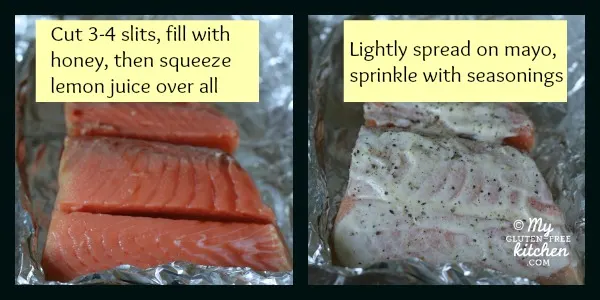 You start by taking your de-boned salmon fillets and cutting a few slits in them to fill with honey. Next you squeeze fresh lemon juice over all the salmon. Then you spread mayo all over, as thin or thick as you'd prefer – I prefer thin, hubby prefers thick. Last, sprinkle with sea salt, pepper, and garlic powder. If you have a gluten-free lemon pepper, that goes really good on this as well.
The salmon cooks up so nicely in foil on our gas grill, and when served, is so tender and flaky. I was so excited to serve and photograph the salmon on this new plate that my hubby brought me back from Israel! There is a little bucket in the middle, surrounded by the two fish. It definitely brings to mind the Biblical story of the loaves and fishes!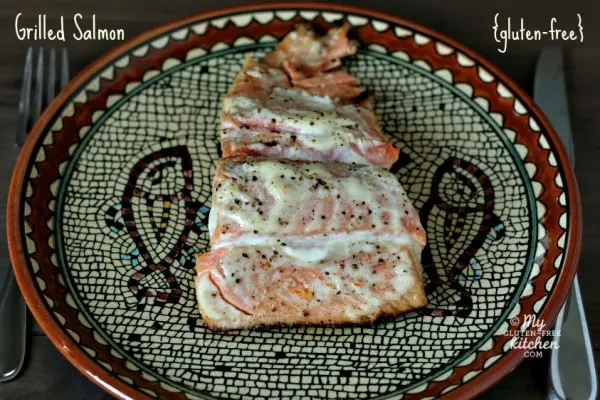 What to serve with grilled salmon?
When we grow zucchini, then I serve this with grilled zucchini as our vegetable. I also make my baked brown rice to serve.
A simple coleslaw goes well also!
My friend Cindy's pasta salad for kids would be a great choice too!
Gluten-free Grilled Salmon Recipe:
Yield: 1 serving
The Best Gluten-free Grilled Salmon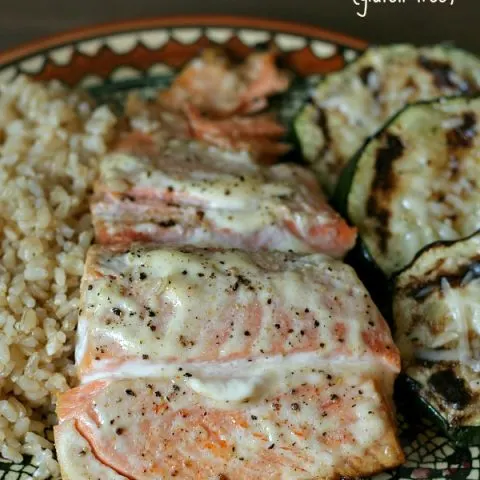 The amounts of ingredients will vary depending on how wide/thick/long your fillets are and how many you make. Just use as much as you need! Plan on one salmon fillet per person.
Ingredients
Honey
Fresh Squeezed Lemon Juice
Light or full-fat Mayonnaise or Mindful Mayo
Sea Salt
Fresh Ground Pepper
Garlic Powder
Instructions
Use aluminum foil, folded over for added stability, to make a "boat" shape that your salmon fillet can sit in. Spray it with cooking spray. The "boat" edges just help keep your juices from running off.
Take your de-boned salmon fillets and cut a few slits in them to fill with honey. Squeeze fresh lemon juice over all the salmon.
Spread a layer of mayo all over, as thin or thick as you'd prefer.
Sprinkle with sea salt, pepper, and garlic powder.
If you have a gluten-free lemon pepper, that goes really good on this as well.
Grill the salmon, in the foil boat, over direct heat until salmon flakes apart easily with a fork, approximately 8-10 minutes. You won't be flipping the salmon over!
Notes
To make this egg-free, just use Mindful Mayo or another similar substitute.
Recommended Products
As an Amazon Associate and member of other affiliate programs, I earn from qualifying purchases.
Pin this to your gluten-free meals board on Pinterest: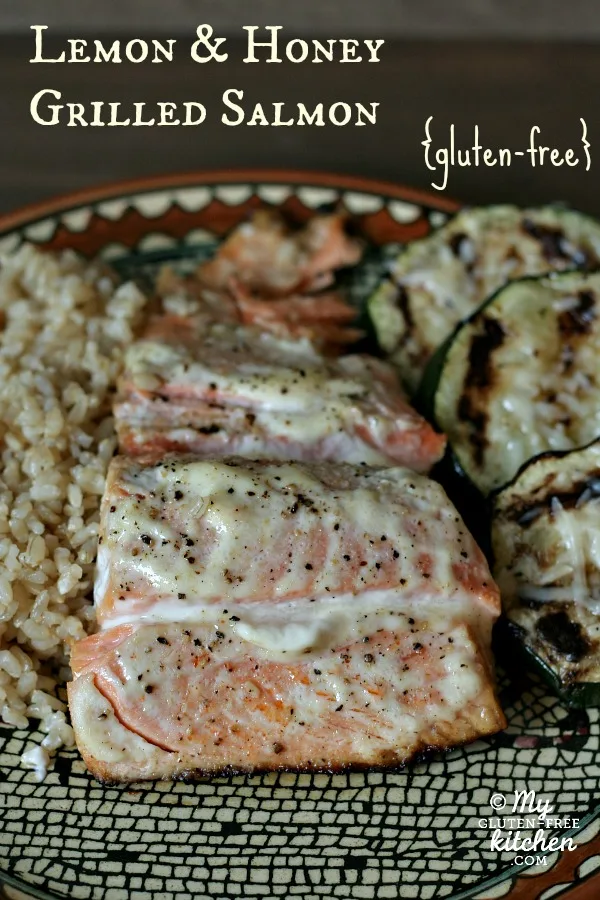 I hope you and your family enjoy this gf salmon too!