Gluten-free beef stew made in the Crock-Pot for an easy family dinner. This gluten-free dinner is an especially cozy winter meal! Perfect for a cold day! I suggest making my gluten-free cornbread to serve alongside this gluten-free beef stew recipe! They go so well together!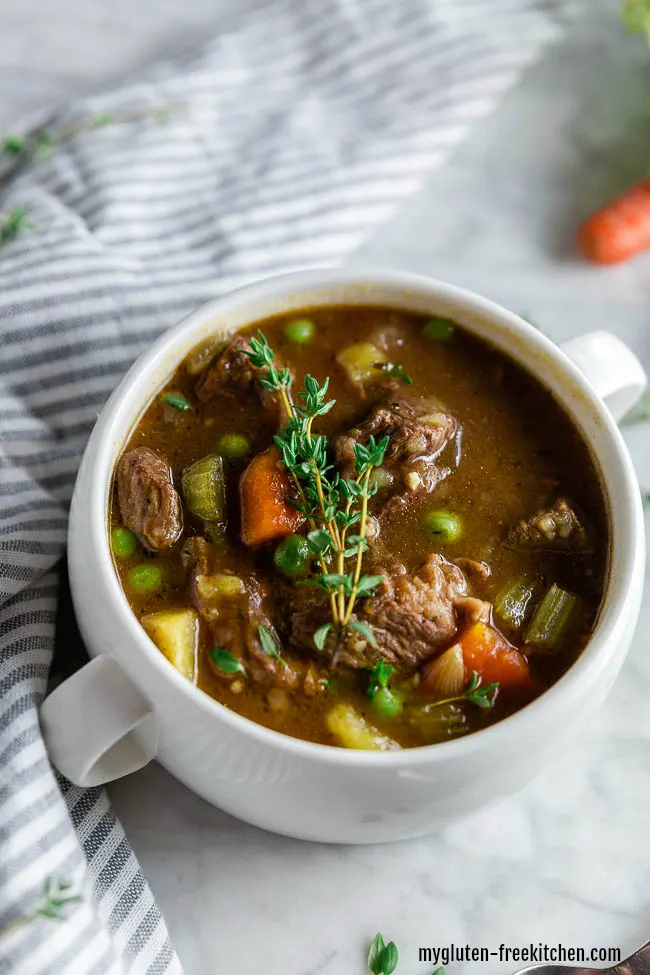 While you can make gluten-free beef stew on the stove top, I love making it in my Crock-Pot. It's just so easy and makes my house smell amazing. There's something to be said for beef that has been slowly cooked until tender, too. And just like in my gluten-free chili recipe, this slow cooked meal is so easy!
When you think of beef stew, you think hearty, filling, thick and comforting. Beef and potatoes go hand and hand when it comes to cool winter nights.
When making this beef stew, I always sear my meat in a skillet before adding to the slow cooker. This gives the beef a nice crust, adding some amazing flavor into the beef stew. Can you skip the browning step? It depends on who you ask. I think it's definitely a game changer and only takes about 5-10 extra minutes, but it's totally up to you!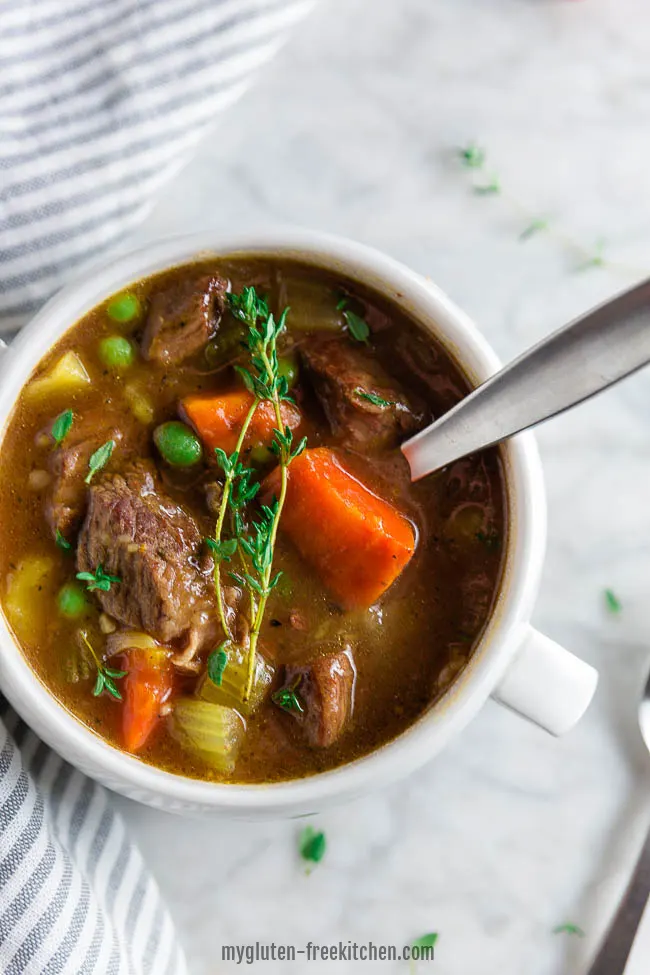 Notes on Ingredients for this Gluten-free Beef Stew in Slow Cooker:
Beef Chuck – While I use a boneless 2 pound beef chuck roast, this recipe is quite forgiving and you can sub in other cuts of beef. Top Round Roast, Rump Roast, Blade Roast, and others are all suitable. In a pinch, I have used already cut beef labeled Beef Stew Meat that my local store sells.
Onion – I used a white onion, but you can definitely vary the flavor by adding your favorite if you prefer sweet onion or purple onions instead.
Celery – Use two stalks of celery, cut into 1/2 inch pieces.
Yukon gold potatoes – I always use skin-on Yukon gold potatoes in this recipe because the potatoes hold their own and don't break down into a mash in the slow cooker. Red potatoes are also a great option. Don't use Russet or Idaho potatoes that may loose their shape by soaking in too much moisture.
Beef Broth – Beef broth lends a great flavorful base to this recipe. I use Pacific Foods Beef Broth. Just read labels to make sure you buy a beef broth labeled gluten-free.
Worcestershire sauce – this contributes to the great flavor here. Be sure to read labels to make sure you get a sauce labeled gluten-free. I use Lea & Perrins Original Worcestershire sauce.
Vegetables like peas will easily break down during a whole day cooking in a slow cooker so you'll add them at the end. I like keeping frozen peas on hand in the freezer and portioning out what I need for my stew. Just stir it into the stew before serving and they should come to temperature in just a few minutes.
You don't have to peel the potatoes. Just give them a really good rinse and scrub to remove and dirt from the skins before dicing. Make sure you cut your potatoes small enough so that they cook through and are tender.
Fresh herbs brighten up any beef stew with tons of color and freshness. I like to stir in some fresh thyme just before serving and top with a sprig of thyme. It really amps up the flavor of the stew and makes for a beautiful presentation.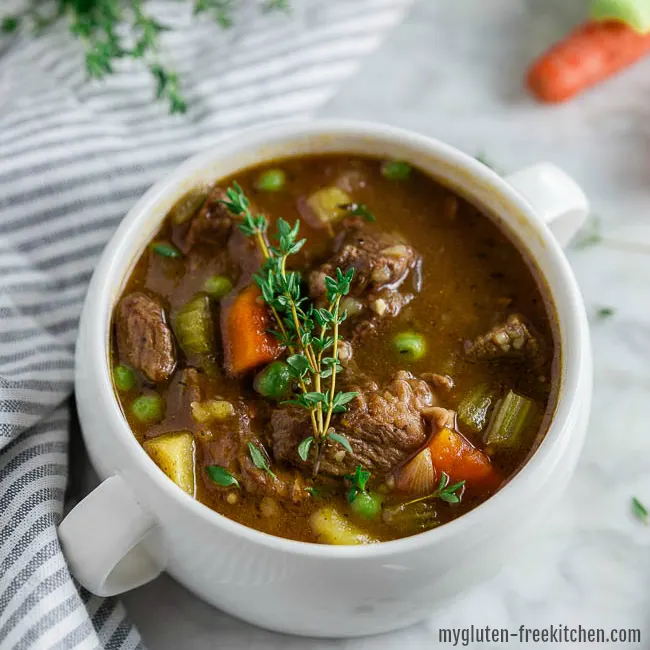 How to Thicken Beef Stew:
About a half hour before serving, you will thicken this beef stew using cornstarch. The trick is you make a slurry by combining cornstarch with a liquid and whisking to remove any clumps. If you just add the cornstarch straight to the slow cooker, it will clump up and you'll get unpleasant bits of cornstarch in your stew.
You can combine cornstarch with water in a bowl and whisk together. However, I prefer removing 1/2 cup of the broth from my slow cooker and adding that with the cornstarch. It just imparts more flavor into the stew than water would.
If you can't use cornstarch, arrowroot starch or tapioca starch are other great options for thickening your stew.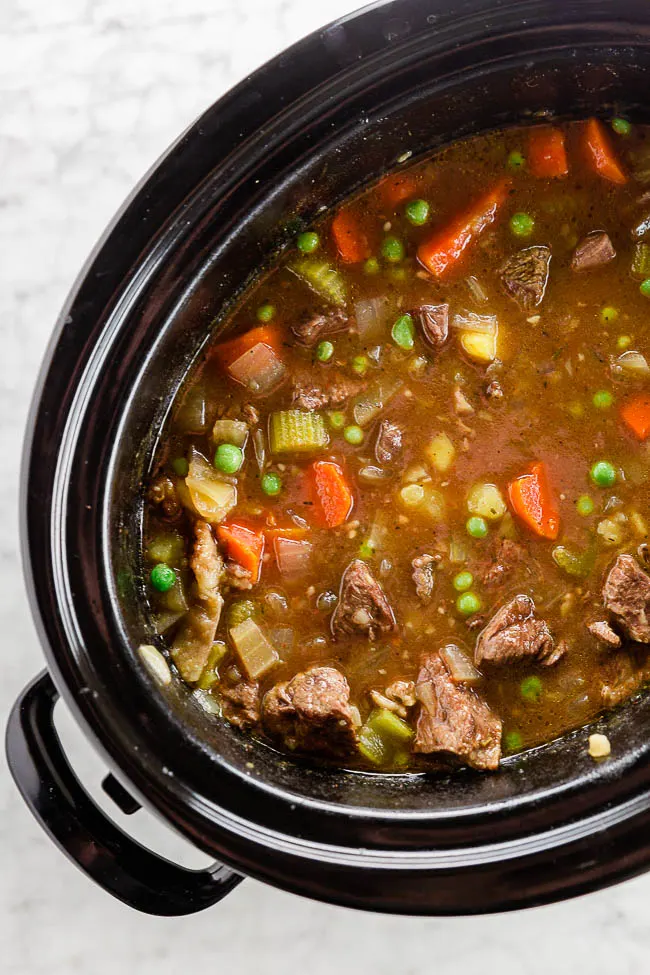 If you're in the market for a new slow cooker, I have one to recommend! The slow cooker I've had for years was recently discontinued, so I tried out some new ones so I could recommend one. My new slow cooker is a Crock-Pot 6 quart Cook & Carry Programmable Slow Cooker that I bought on Amazon here.
What other gluten-free recipes do I think you should make in your slow cooker? I definitely recommend you make my gluten-free French Dip recipe as it's a monthly staple in my house. When it's cold season, you'll always find me pulling out my slow cooker to make this gluten-free slow cooker chicken noodle soup.
This Crock-Pot Pineapple Pork Burrito Bowl is on my must-make-soon list! Looking for a meatless option? Try this slow cooker vegetable minestrone soup.
Enjoy!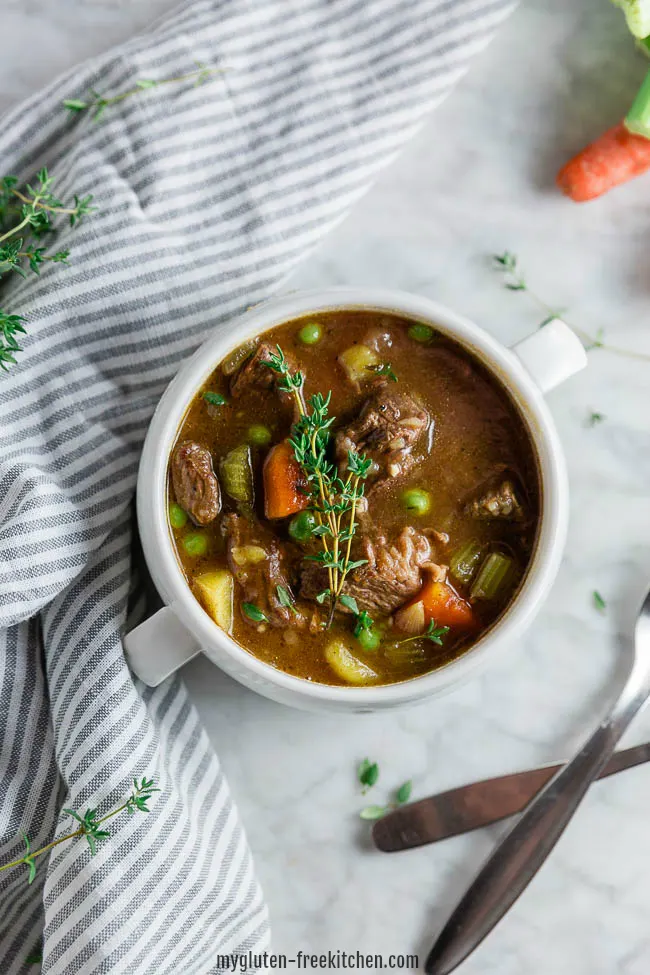 If you make this Crock-Pot Beef Stew and enjoy it, please come back and give this recipe a 5 star rating in the recipe card! Feel free to comment with tips or to share any successful substitutions you made.
Gluten-free Beef Stew in Crock-pot recipe:
Yield: 8 servings
Gluten-free Beef Stew in Slow Cooker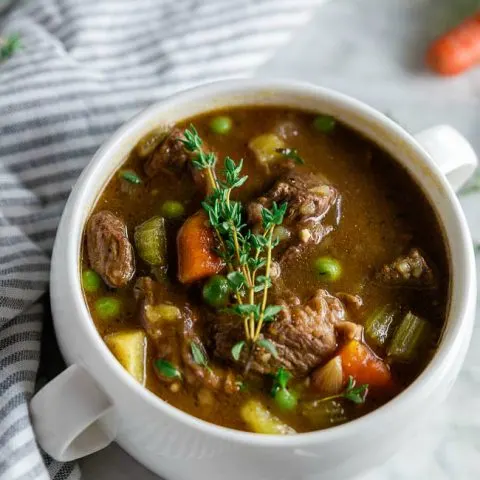 Gluten-free beef stew made in the Crock-Pot for an easy family dinner. This gluten-free dinner is an especially cozy winter meal! Perfect for a cold day!
Total Time
7 hours
20 minutes
Ingredients
2 lbs. beef chuck, cut into 1 inch pieces
1/4 teaspoon salt
1/4 teaspoon ground black pepper
1 tablespoon olive oil
1 large white onion, diced
2 stalks celery, cut into 1/2 inch pieces (about 1 cup total)
1 lb. Yukon gold potatoes, cut into 1/2 inch to 1 inch cubes (leave skins on)
3 large carrots, cut into 1/2 inch pieces (about 1 cup total)
32 oz beef broth, gluten-free
1/2 teaspoon salt
1/2 teaspoon ground black pepper
3 tablespoons tomato paste
1 tablespoon Worcestershire sauce, gluten-free
2 cloves garlic, minced
2 whole bay leaves, dried
1 teaspoon dried thyme
2 tablespoons cornstarch
1 cup frozen peas
fresh thyme sprigs, for serving
Instructions
1. Season cubed beef with salt and pepper on all sides and set aside.
2. Preheat a large skillet over medium high heat. Add olive oil to skillet.
3. Working in batches, add the cubed beef to the pan and brown on all sides, about 30 seconds per side making sure not to crowd the pan. As the beef is browned, add it to your slow cooker. Repeat with remaining cubed beef.
4. Add diced onion, celery, potatoes and carrots to the slow cooker with the beef. Stir to combine.
5. Pour beef broth over the beef and vegetables.
6. Stir in the salt, pepper, tomato paste, Worcestershire sauce, minced garlic, bay leaves, and dried thyme.
7. Cook the beef stew on the low setting for 6-7 hours or on high for 3-4 hours. Beef should be tender and easily shredded with a fork.
8. Remove bay leaves from the slow cooker and discard.
9. Remove 1/2 cup of beef broth from the slow cooker and combine in a bowl with cornstarch. Whisk until there are no longer any clumps.
10. Pour cornstarch mixture into the slow cooker and stir to combine. Let beef stew cook another 30 minutes, until thickened.
11. Add frozen peas to the slow cooker and cook for a few minutes until they are heated through.
12. Serve with fresh thyme sprigs or chopped fresh parsley.
Notes
Can you skip the browning step? I think it's definitely a game changer and only takes about 5-10 extra minutes, but it's totally up to you!
Recommended Products
As an Amazon Associate and member of other affiliate programs, I earn from qualifying purchases.
Pin this to your Gluten-free Dinners board on Pinterest: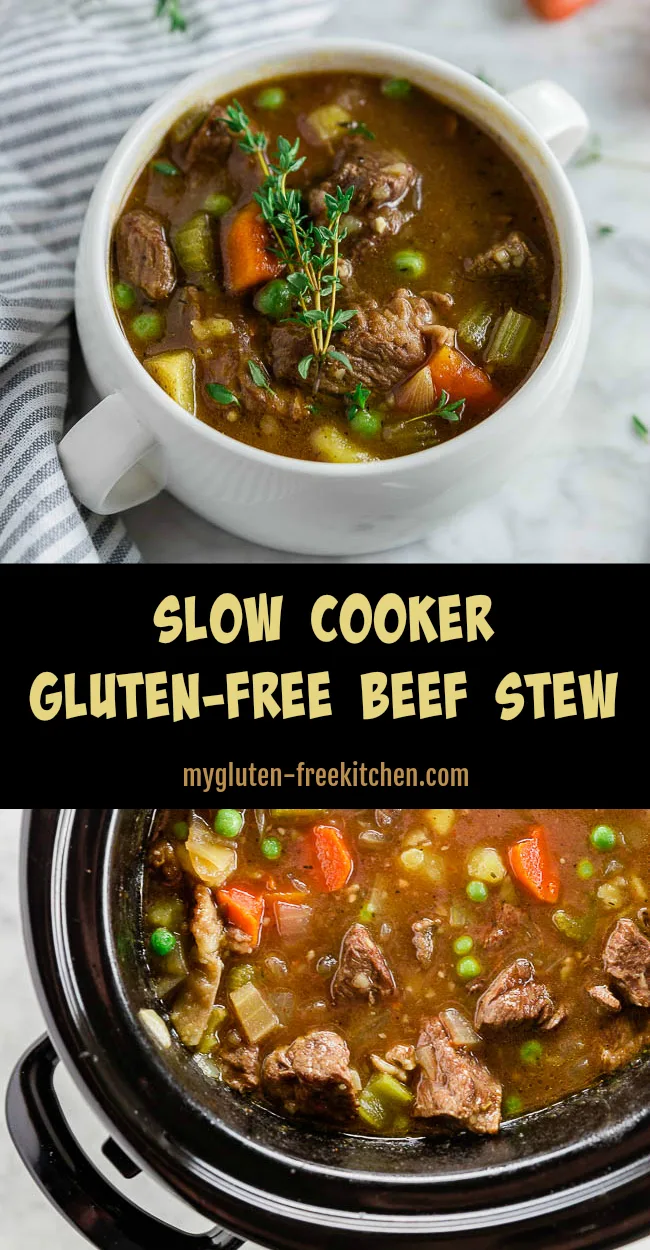 I hope you and your family enjoy this gluten free beef stew as much as mine.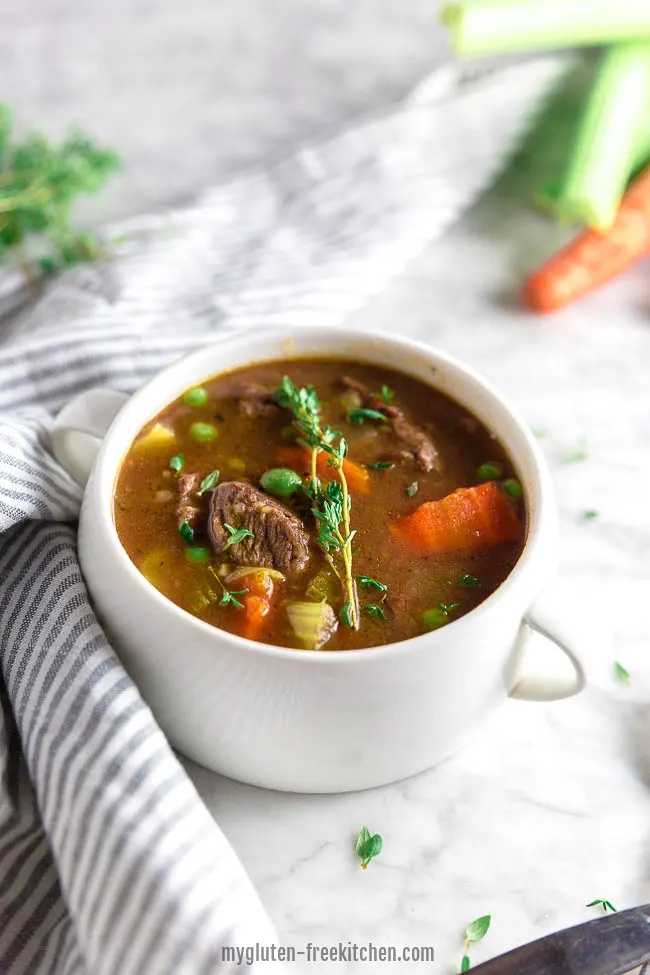 Please come back and rate and review this recipe after you try it!