One of our favorite slow cooker meals, these Gluten-free French Dip Sandwiches make for a hearty, filling dinner! Pull out your Crock pot for this easy gluten-free dinner!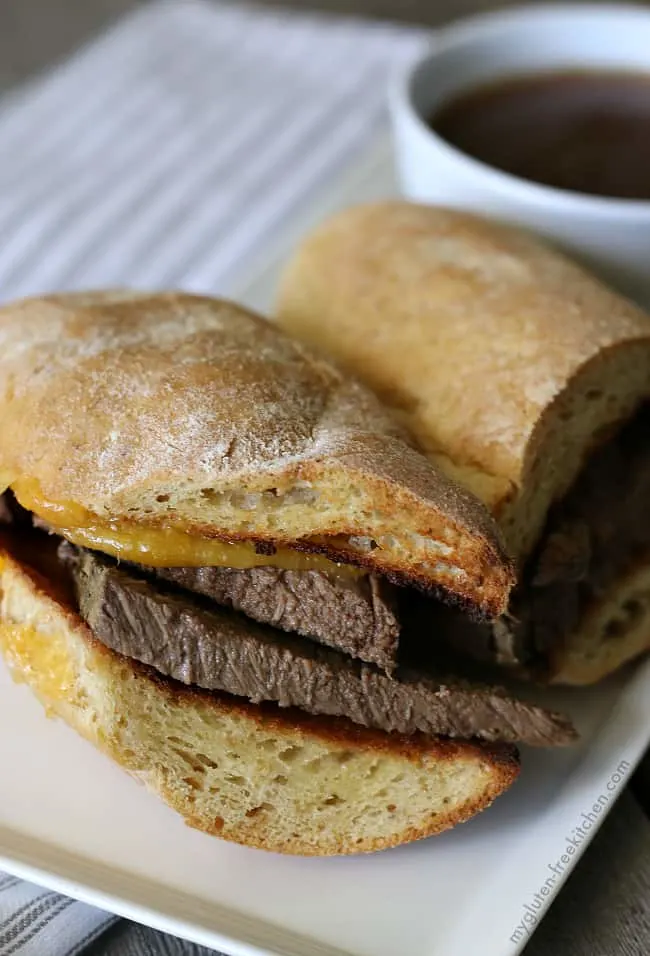 There are few things as satisfying as walking in the door at 4:30-5:00 and smelling a delicious dinner that has cooked all day in the CrockPot. It just puts me in a good mood! I love meals like these gluten-free French Dip sandwiches that are super easy to prepare and serve, taste great, and are hearty.
This beef roast slow cooks all day in a simple broth/water mixture, and leave you with a flavorful au jus for dipping the French Dip sandwiches in! So good! I have one kid that won't dip his in au jus, but he loves to just dip his in BBQ sauce instead.
I originally shared this recipe in April 2013, during my first 6 months of blogging! I've updated the pics, text, recommendations, and recipe a bit today! I don't want you to miss this tried and true meal that my family devoured again last week! It's always a hit with my family!
This meal is also very freezer friendly. After we enjoy the meal one night for dinner, if we won't be having leftovers the next night, I freeze the rest of the meat in the juices in a good Rubbermaid container. It reheats very well to enjoy another night, so really, you are getting TWO easy meals out of this!
Everyone knows it can be a little more expensive to eat gluten-free. One of the ways I save money is by stocking up on meat when there is a good sale, and loading up my freezer full of it. I recently found a great sale on beef roasts and bought 3 for my freezer. I'm not really stuck on using a certain cut, but I always use boneless beef roasts: chuck roasts, rump roasts, bottom round, etc.
We already enjoyed one roast in our gluten-free Slow Cooker Pot Roast, and enjoyed a second roast in today's yummy recipe for these gluten-free French Dip sandwiches. I'm thinking I'll use the third roast to make shredded beef for tacos or enchiladas.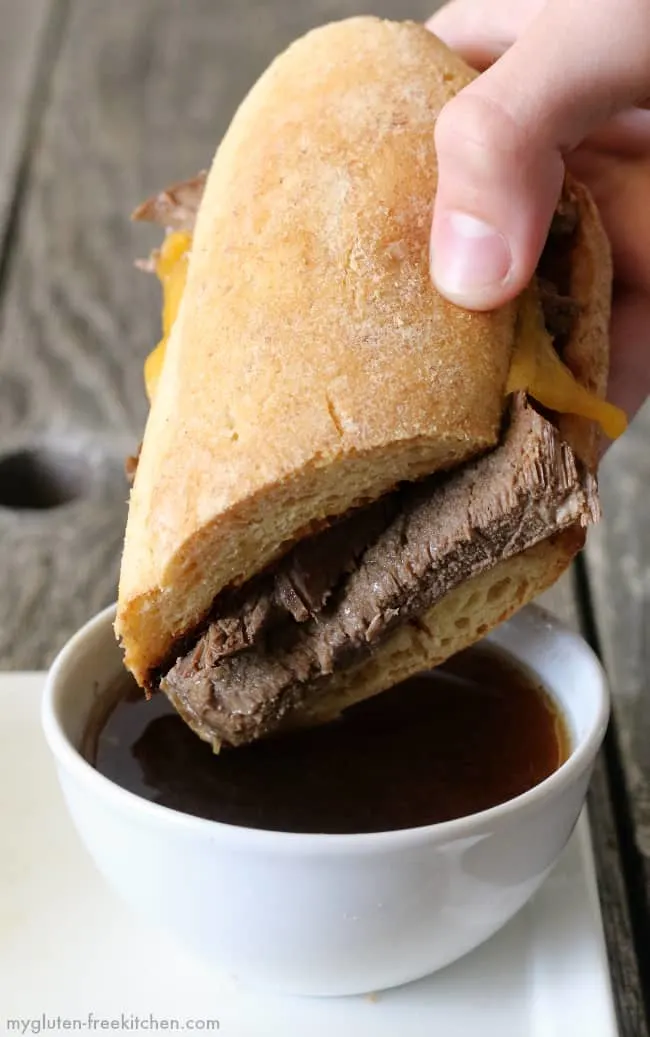 Notes about ingredients and substitutions for these gluten-free French Dip Sandwiches:
Soy sauce: I always use San-J's Gluten-free Tamari Sauce (buy here at Amazon). It is certified gluten-free and easy to find in my area at regular grocery stores like Fred Meyer and Albertsons. If you'd like to buy a big jug of it, check out this 64 oz. Sam-J bottle on Amazon! Talk about stocking up!
Beef bouillon: I use Herb-ox which is clearly labeled gluten-free. It is available as granules or cubes and I find it at my local Winco store, so it should be easy for you to find as well. You can also purchase Herb-on beef bouillon online at Amazon.
Cheese: You can omit the cheese or use a dairy-free cheese like Daiya and this meal will be dairy-free!
You are probably wondering about the gluten-free rolls to serve the french dip sandwiches on. If you have the pleasure of living near a gluten-free bakery, you might be able to pick up some fresh baked french bread, hoagie rolls, or even hamburger buns to use for these sandwiches.
Alternately, in the gluten-free freezer section of many stores, you can find several brands of pre-baked rolls or baguettes you can use, or you can buy gluten-free hot dog buns. I also don't mind just picking up Trader Joe's gluten-free hamburger buns for our French Dip sandwiches.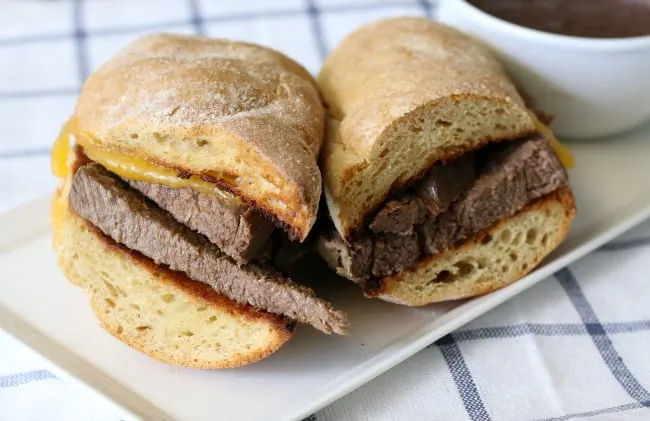 Wondering what to serve alongside your gluten-free French Dip sandwiches? I like to serve with a fruit side dish like apple grape salad, and some tater tots in the air fryer.
Served au jus, these gluten-free French Dip sandwiches are so flavorful! If you have a picky eater that does not want to try eating the sandwich au jus, they might enjoy eating this as my youngest does: dipping it in ketchup! I guess it's like a cheeseburger to him!
For dessert, if you have time, make my gluten-free cheesecake. Or if you're a chocolate lover like I am, make my gluten-free brownies with frosting. Or if you want something lemony, make my gluten-free lemon cookies.
I hope you'll try these soon!
If you make these and love them, please come back and give this recipe a 5 star rating in the recipe card! Feel free to comment with tips or to share any successful substitutions you made.
Gluten-free French Dip Sandwich Recipe:
Yield: 8-10 servings
Gluten-free Slow Cooker French Dip Sandwiches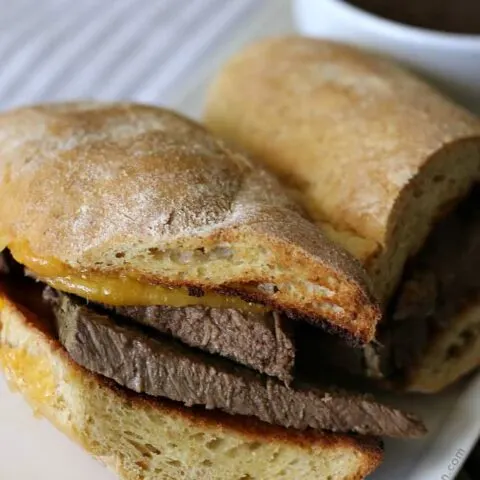 A boneless beef roast slow cooks all day, yielding a tender roast and flavorful broth for dipping the sandwich in! Our family of 4 easily gets 2 full dinners out of this meal.
Additional Time
10 minutes
Total Time
9 hours
15 minutes
Ingredients
1 (3-4 lb.) boneless beef roast (chuck roast, bottom round, etc.), thawed
1/2 cup gluten-free soy sauce (I prefer San-J's gluten free Tamari sauce)
1 tsp. beef bouillon (I use Herb-Ox brand)
1 tsp. garlic powder
3 cups water
8-10 French Rolls, Hoagies, Baguettes or Hamburger Buns
thinly sliced cheese (Swiss, Monterey Jack, Cheddar, etc.)
Instructions
Trim away extra fat from the outside of the roast. Place the trimmed roast in a slow cooker/CrockPot.
In a 1 or 2-cup measuring glass, measure the soy sauce. Stir the bouillon and garlic powder into the soy sauce. Pour the mixture over the roast.
Using same measuring cup, add 3 cups of water to the slow cooker.
Place lid on slow cooker and set to cook on LOW heat for 8-10 hours, or until meat is very tender. Meat should shred easily with a fork when done.
After cooking, remove the meat from the broth. Slice the meat with a knife if you prefer slices, or shred with two forks if you prefer shredded.
Layer meat on hoagie roll to desired thickness. Add thinly sliced cheese.
You can serve immediately, or you can broil them to melt the cheese and toast the bread.
My broiling tips: Line a jelly roll pan or cookie sheet with foil for easy clean-up.
Line up each hoagie bottom that is topped with meat & cheese. Leave the tops off of the sandwiches, set them on the cookie sheet cut side up so they will toast. Place in oven on HI broiler setting. Watch carefully! You just want to slightly melt the cheese and toast the top bun.
While these are toasting, you can spoon the broth from the slow cooker into ramekins or glass bowls for a dipping sauce (au jus). Enjoy!
Notes
As always, be sure to double-check your ingredients for gluten. If you have a picky eater that doesn't prefer au jus, they might enjoy dipping their sandwich in ketchup or bbq sauce instead!
Recommended Products
As an Amazon Associate and member of other affiliate programs, I earn from qualifying purchases.
Pin this to your Gluten-free Dinners board on Pinterest: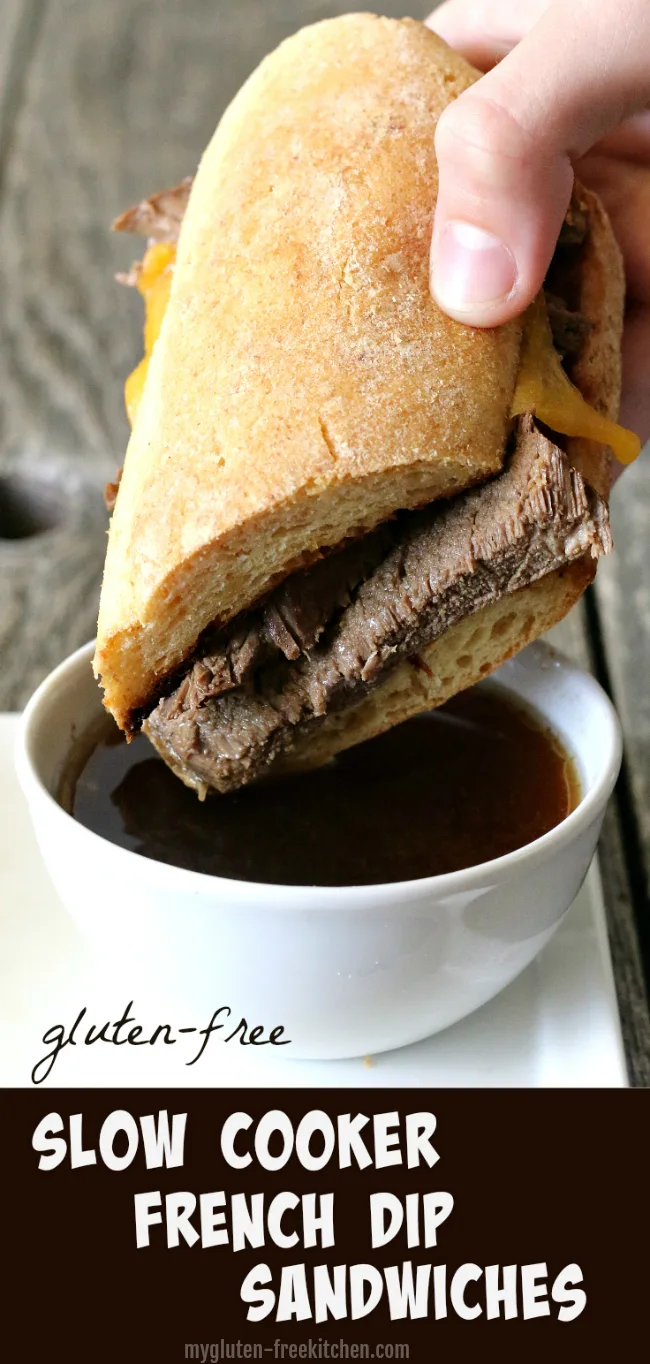 Old photo from original post: