Whether you get your fresh cherries from an orchard, farmer's market, grocery store, or your own backyard, you'll enjoy them in this gluten-free cherry almond coffee cake! This gluten-free cherry cake is perfect for breakfast, brunch, or dessert!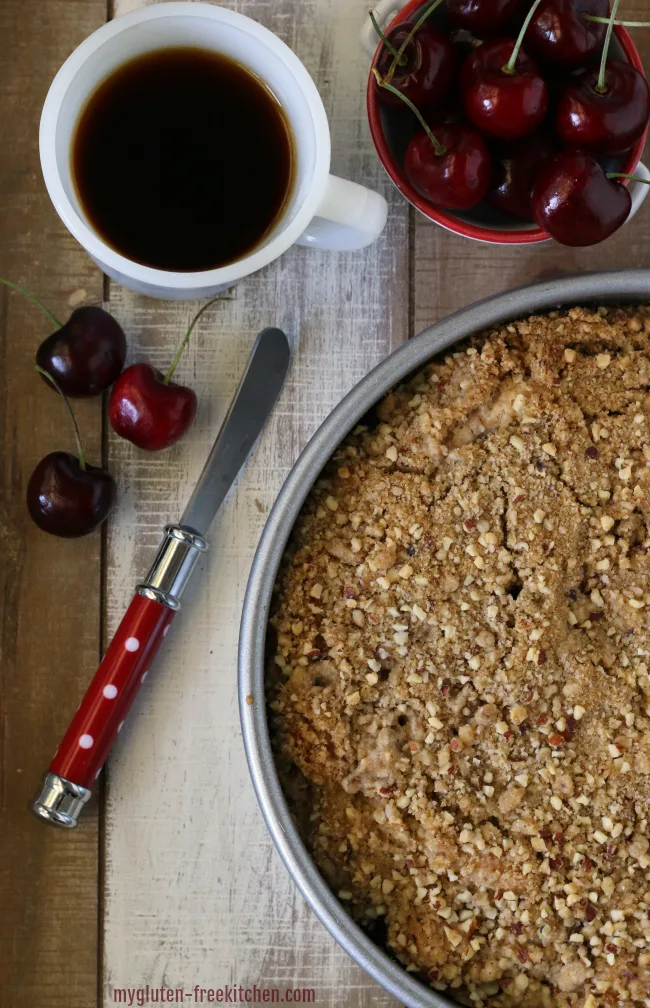 Every June, my family drives to a family run orchard about 25 minutes away to pick cherries for only $2/lb. Truly, it's my husband that climbs the tall ladder we bring and picks 90% of the cherries, while I stand on a step stool and pick maybe 10%, while the boys run around chasing each other with fruit tree branches that they find on the ground. It really does make for fun memories and the fresh cherries are way tastier then most of the ones from the grocery store!
The orchard we go to is called Tyler's Rocky Point Orchard in Emmett Idaho. Here's a couple pics from this year's trip up there. As you can see, it's beautiful!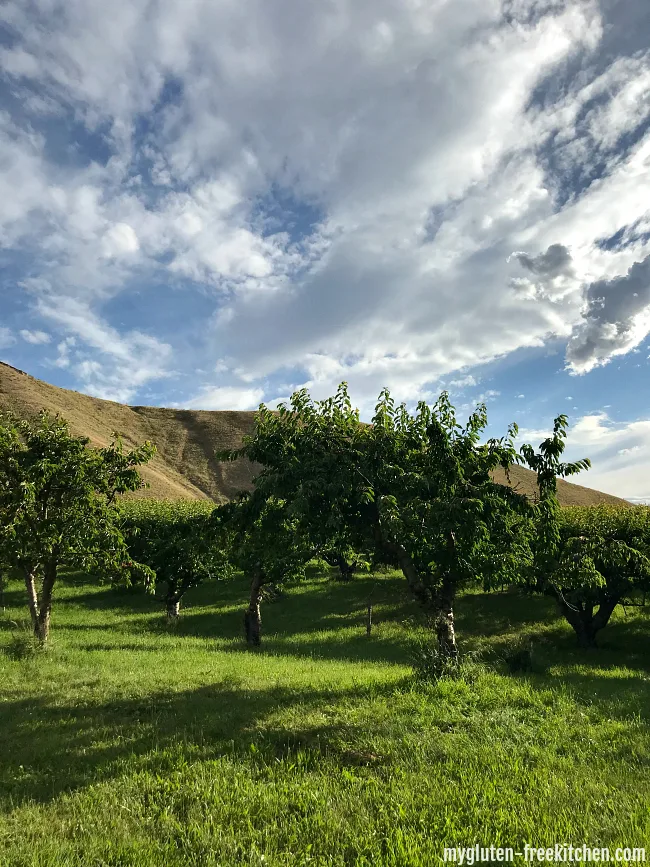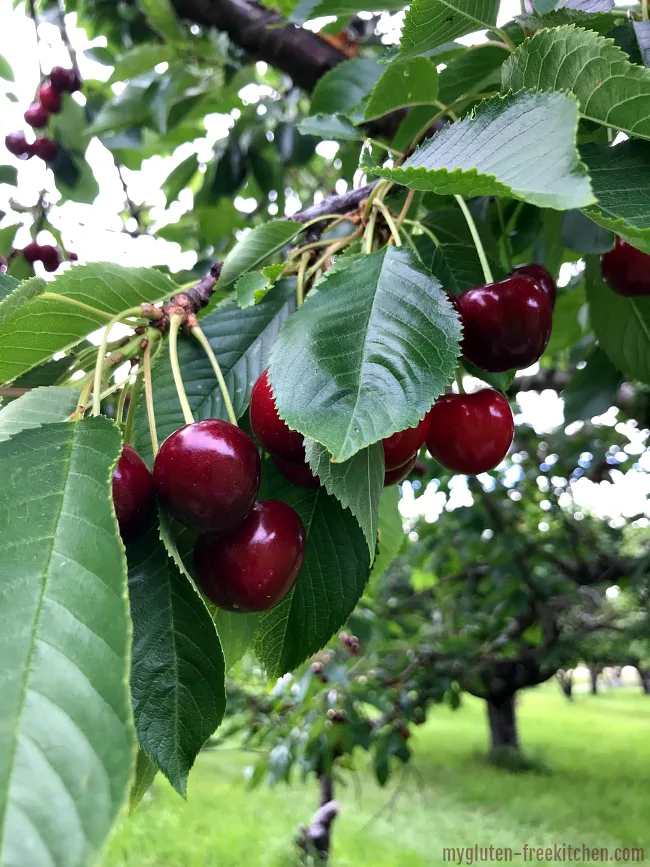 We enjoy most of the fresh cherries as is – they're just so good! I've also made a cherry sauce before to put over ice cream (I'll have to make that again so I can share it.) While my hubby would love cherry pie, I haven't ever made one. I've got my eye on this gluten-free cherry pie from my friend Jules though and WILL make it for my hubby next year!
If you've got fresh cherries, the number one thing I recommend you buy is a good cherry pitter! Using one makes it so easy to pit cherries before giving cherries to little kids, and for preparing cherries for baking or cooking. I've had this cherry pitter for years and recommend it. It's also available in red here. The clear plastic part is removable and we removed ours long ago as we prefer using without it.
I thought about making a gluten-free cherry loaf. But I love making gluten-free coffee cakes and decided that I should make a coffee cake with my fresh cherries.
In thinking about flavors and browsing through my various old cookbooks, I found the idea of pairing cherry and almond. Since so many of my readers have problems with dairy (I do too lately), I decided to make this a dairy-free cherry cake too!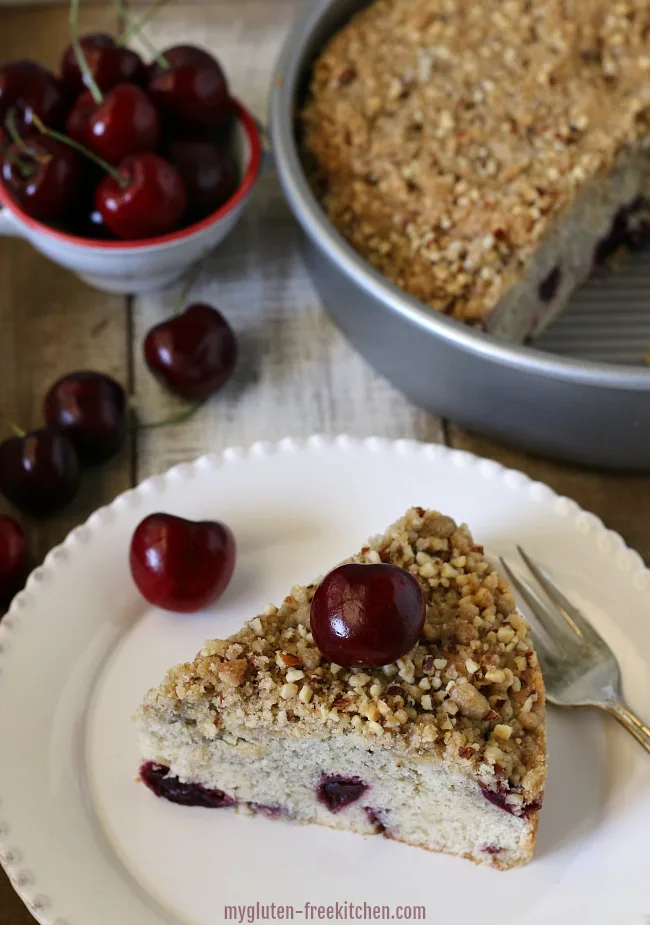 I totally forgot to take a pic of all the ingredients used, so I'll have to do that next time! It's super easy though and you can buy everything you need at your local store or online easily!
Notes on ingredients for gluten-free cherry cake:
Flour: I tested this recipe with one of my favorite gluten-free flour blends, gfJules. It has xanthan gum in it already, so no need to add additional. Other high quality flour blends should work just fine in this as well. If your flour blend doesn't have xanthan or guar gum in it already, you'll need to add it, as indicated in the recipe. You can buy gfJules gluten-free flour directly or from Amazon.
Extracts: This recipe uses both almond and vanilla extracts. I use Nielsen-Massey extracts, which are certified gluten-free. I both buy on Amazon: almond extract and pure vanilla extract. If you don't want to use almond extract, you could opt for a lemon spin and use lemon extract instead, or just use double the vanilla extract.
Chopped almonds – I buy these certified gluten-free chopped almonds from nuts.com. They have a great selection of certified gluten-free nuts and dried fruits that are packaged in a separate gluten-free line in a separate part of their warehouse away from any gluten. So often, nut products are manufactured on shared equipment, so having a dedicated gluten-free environment is awesome. I buy all my nut and dried fruit products there!
Coconut Oil: I use this coconut oil that I pick up at my local Fred Meyer store or buy a 3-pack on Amazon here.
Non-dairy milk: Use your favorite plain or vanilla milk alternative. My go-to non-dairy milk lately is Good Karma unsweetened vanilla Flax milk. I love it and can find it at several local stores. I also keep their shelf stable cartons of vanilla flax milk on hand that I buy from Amazon and those would work well in this recipe too!
Please note that if you can have dairy, and would prefer to, just use unsalted butter in place of the coconut oil and real milk in place of the non-dairy milk.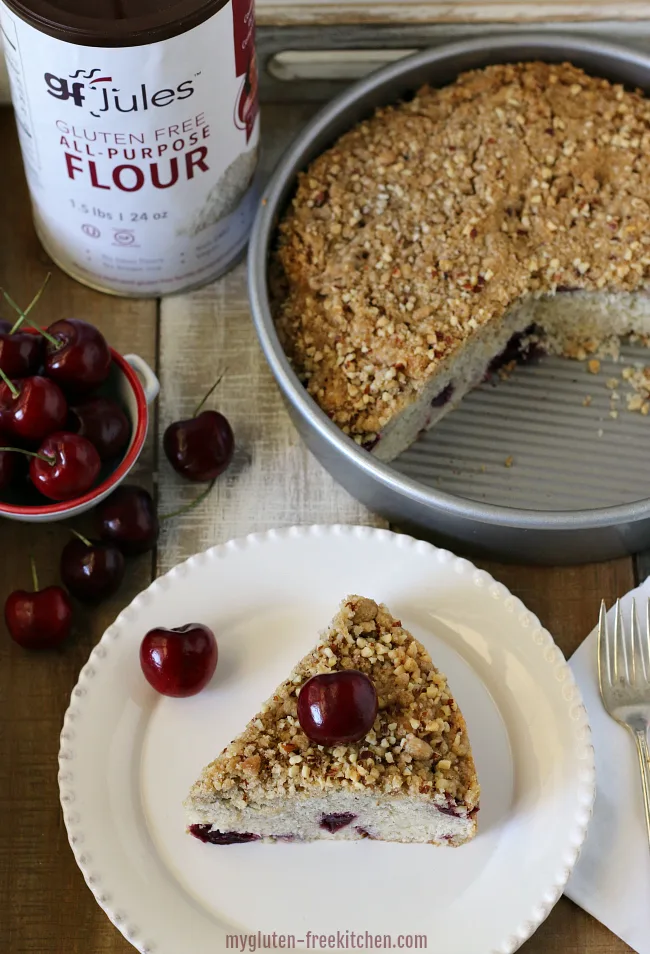 While this is NOT a sponsored post for gfJules gluten-free flour, I wanted to share a bit more about it, just because I love this product and brand. I've been using gfJules flour since I was first diagnosed (it had a different name before). Every recipe I make here on the blog has been tested with either gfJules or Gluten-free Mama flour, but usually tested with both. I love that gfJules flour is truly an all-purpose gluten-free flour blend. You can use it as a cup for cup flour replacement in all of your non-yeast recipes. (Yeast breads are tricky – I recommend following gfJules bread recipes for those!
Over the years, I've become dear friends with Jules, the amazing woman behind the gfJules brand. I've never had a sister, but if I did, I'd wish she was like Jules. She's a kind woman, tough as nails, smart, helpful and an incredible celiac advocate.
All that said, if you haven't tried her flour yet, you totally should! You can sign up for emails to receive coupon codes for percentages off your order, or free shipping, etc. When you're ready to buy, you get a great price from buying from gfJules website directly. But I also know it's so convenient to just add gluten-free flour to your Amazon order, so I'm thankful that Amazon carries gfJules flour too.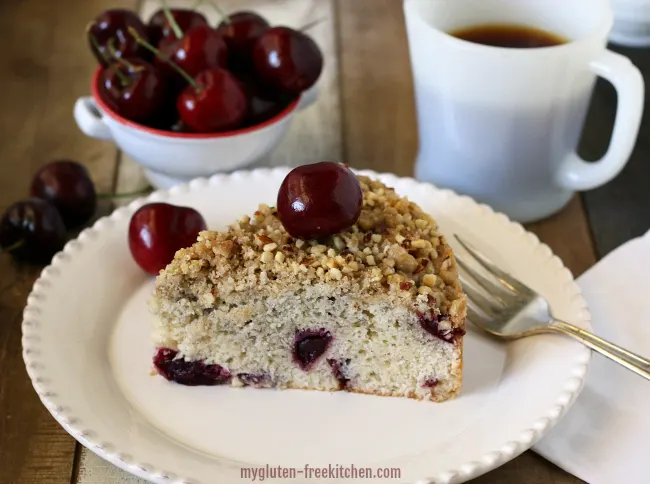 Other gluten-free cherry recipes:
Looking for more gluten-free recipes that use fresh cherries? Try this amazing looking gluten-free black forest cake from my friend Jeanine. I love the idea of using tart cherries in these gluten-free cherry pie dessert shots from my friend Chrystal. And my friend Chandice just posted this gluten-free cherry cobbler that looks delicious!
If you love coffee cakes, be sure to try my gluten-free triple berry coffee cake too! It's perfect for later in the summer when raspberries and blackberries are ripe, but you can sub any favorite berry in it!
Would you like to come over and join me for a coffee break? We can have cherry cake, coffee, and some fresh cherries too!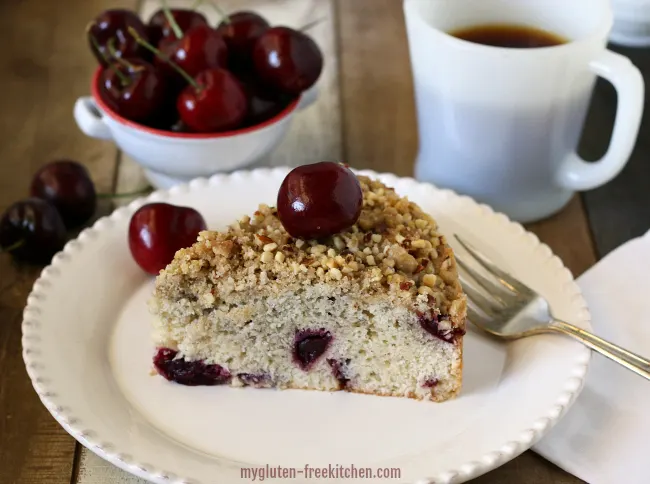 Gluten-free Cherry Cake Recipe:
Yield: 8-12 slices
Gluten-free Cherry Coffee Cake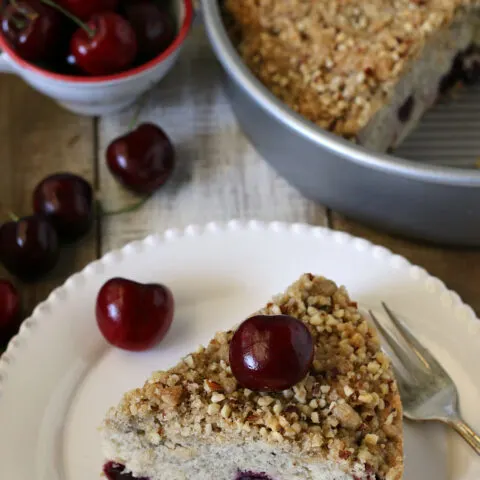 Use fresh cherries in this gluten-free cherry almond coffee cake! It's perfect for breakfast, brunch, or even dessert! This yummy gluten-free dairy-free coffee cake is topped with a perfectly crumbly streusel.
Ingredients
Streusel
3/4 cup all-purpose gluten-free flour
1/4 tsp. xanthan gum *see note
1/2 cup brown sugar
1/2 cup chopped almonds
4 Tbsp. coconut oil (room temp)
1/4 tsp. salt
CAKE
2 cups fresh whole cherries
1 3/4 cup good quality gluten-free flour blend
1/2 tsp. xanthan gum (if needed, see note)
2 tsp. baking powder
1/2 tsp. salt
1/4 tsp. cinnamon
3/4 cup sugar
1/2 cup coconut oil
2 large eggs
1 1/2 tsp. almond extract
1 tsp. vanilla extract
1/4 cup non-dairy milk (or milk)
Instructions
PREPARE:
Spray bottom and insides of a 9" round metal cake pan with cooking spray. Alternately, you can use an 8x8" square metal pan. Set aside. Preheat oven to 350°.
MAKE THE STREUSEL FIRST:
In a medium bowl, place all streusel ingredients (gluten-free flour, brown sugar, chopped almonds, coconut oil, salt) and use two forks or knives to mix up until it's a well-mixed crumbly streusel mixture. Set aside.
PREPARE THE CHERRIES:
Wash the 2 cups of fresh whole cherries. Pat dry. Remove stems, and remove pits. I recommend using a cherry pitter for this!
Slice each cherry into 4 pieces and place in 2-cup measuring glass or a bowl. You should end up with 2 cups of sliced cherries. Set aside.
MAKE THE COFFEE CAKE:
In a medium bowl, whisk together gluten-free flour blend, xanthan gum (if needed), baking powder, salt, and cinnamon. Set aside.
In the bowl of your electric mixer, beat together sugar and 1/2 cup coconut oil. Beat 1 minute on medium speed until well mixed and creamy.
Add 2 large eggs, almond extract, and vanilla extract. Beat 1 minute on low-medium speed, until well mixed.
With your mixer on low, add about half of the flour mixture, then half of the milk. Beat on low just until mixed, then add remaining flour mixture and milk and beat just until mixed.
Stir in the fresh cherry pieces. It is hard to do this without some of the batter getting streaked with the cherries, but that's okay! Just stir until they're mixed fairly evenly.
Scoop into oiled 9" round metal cake pan. Use a spatula to spread batter fairly evenly.
Top with the streusel mixture evenly.
Place in preheated oven and bake at 350° for 50-55 minutes or until topping is browned and toothpicks inserted near center come out with moist crumbs but not wet batter.
Place on cooling rack to cool completely before serving. Cake will fall apart if cut and served while hot.
Cut slices and enjoy with coffee or juice or your favorite beverage!
Notes
Check to see if your gluten-free flour blend has xanthan or guar gum already in it. If it does, no need to add the xanthan called for in this recipe. If it doesn't, add the 1/4 tsp. called for. Example, when I used gfJules flour for this, I omitted the xanthan gum because her flour has xanthan in it already.

If you CAN have dairy, feel free to use real unsalted butter in place of the coconut oil in both places it's called for and use dairy milk in place of the non-dairy milk.

See my blog post for the specific brands/kinds of everything I used if you have any questions!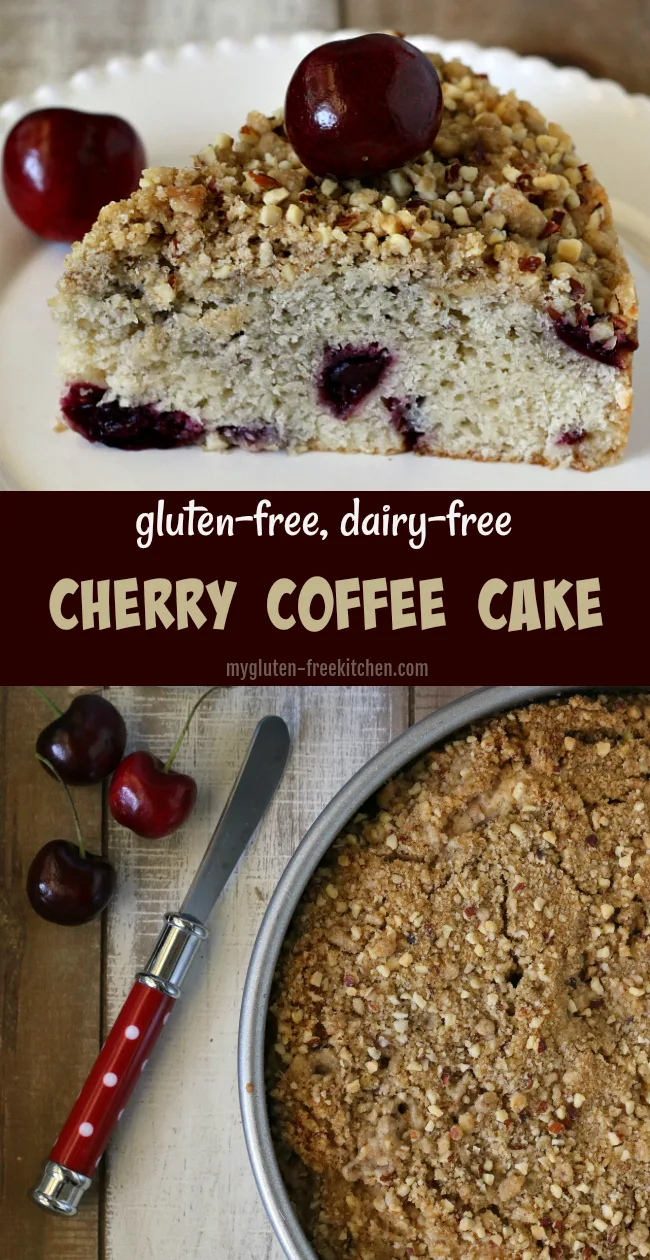 I hope you and your family enjoy this cherry cake gluten-free!