Rich and full of chocolate, this gluten-free chocolate banana bread is a delicious alternative to regular banana bread. It's perfect for a breakfast treat, morning snack or even a dessert! Thanks to Enjoy Life Foods for sponsoring this gluten-free banana bread recipe as part of our ongoing partnership. I love this company and their awesome products!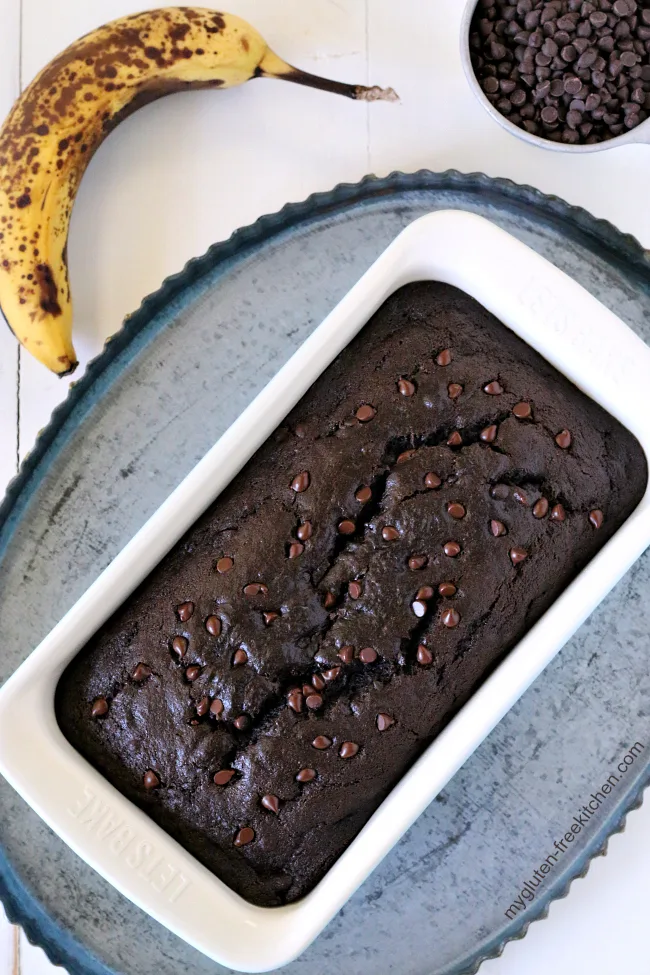 My kids love if I include a slice of this gluten-free chocolate banana bread in their gluten-free lunch too! They much prefer this or a slice of my usual gluten-free banana bread over junk food.
I've been reading cookbooks, clipping recipes from magazines, and printing recipes off of websites for my entire adult life. I have sooooo many recipes saved. Many are organized into themed binders, but I've also got many shelves full of cookbooks and magazines with recipes marked with little post-it stickies.
Some days I'll pull some out and flip through the recipes and pick one to try. That was the case with this Chocolate Banana Bread. I had printed off a recipe for a chocolate sour cream banana bread from a website in 2008! Yep, ten years ago, and the website no longer exists.
I made the usual changes to convert this to gluten-free. Swapping the flour for good quality all-purpose flour, adding xanthan gum as a binder, and using certified gluten-free chocolate chips (Enjoy Life of course). After making it, I knew this was going to be a keeper with just a few more changes.
I made some adjustments like reducing the sugar, using dark cocoa, switching to using mini chocolate chips (and more of them), and then declared this a winner.
I've made this multiple times this year, just to be sure I had it perfect before sharing with you! Now it's ready for you to make and enjoy a few slices with a cup of coffee or a glass of milk, or both!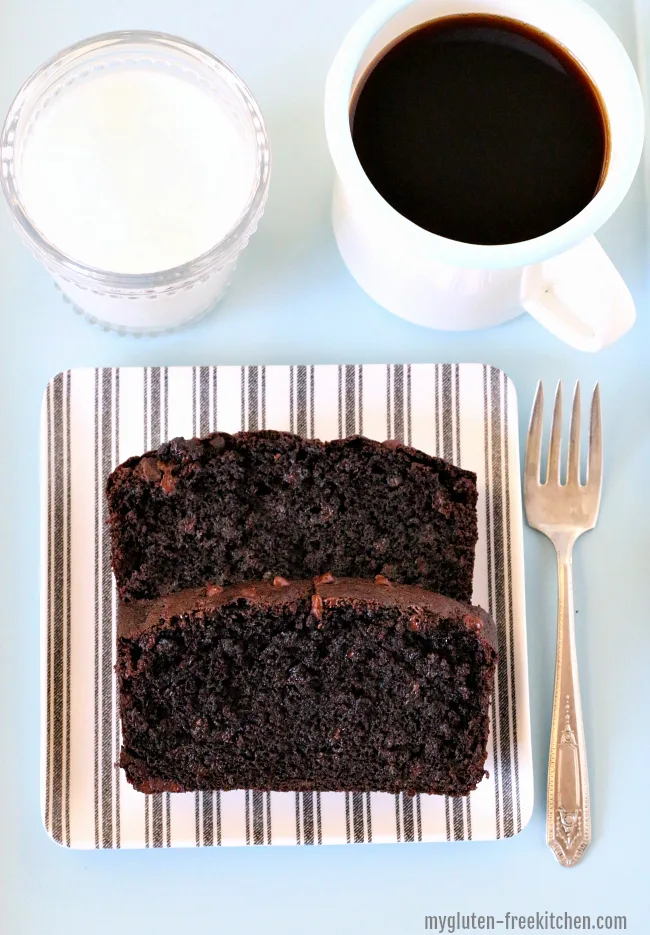 Notes on Ingredients and substitutions for Gluten-free Chocolate Banana Bread:
Butter – I recommend making this with butter! I haven't tried this with butter alternatives. I used salted butter and love the flavor and consistency it gives this quick bread.
Sour Cream – This lends the needed moisture to this. Using light sour cream is fine – I tested again with it with great results. You should also be fine with substituting greek yogurt in place of sour cream. While I haven't tried that in this recipe, I have in similar recipes and it works fine.
As always, I recommend using a good quality gluten-free flour blend, which to me means no bean flours, and not just rice flour. When using a flour blend that doesn't include any xanthan or guar gum, then you just add a bit of xanthan or guar gum like I've listed below in the recipe. Now when using a flour blend that already contains xanthan or guar gum, no additional binders are needed, so you'll omit the xanthan called for in this recipe. Just check your go-to flour blend and see and make the change accordingly!
Chocolate Chips: I used mini semi-sweet chocolate chips, since those are my favorite, but you could also use milk chocolate or dark chocolate if you prefer! I used and recommend Enjoy Life semi-sweet mini chocolate chips which are certified gluten-free. The Enjoy Life dark chocolate morsels would work well in these too if you're more of a dark chocolate fan.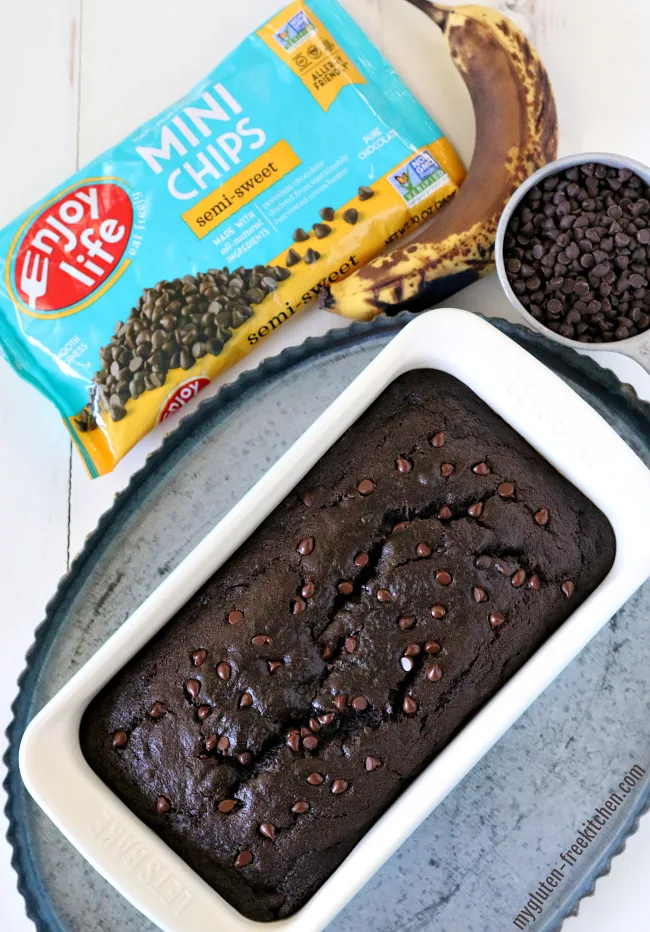 When you're looking for the Enjoy Life semi-sweet mini chips at your store, be sure to watch for their new teal packaging! I'm loving that they switched all of their products over to this teal packaging as it makes it so easy to spot them at my local store!
I find Enjoy Life chocolate for baking at my local Co-op, Whole Foods, Fred Meyer, Albertsons and even Wal-mart. You can use their store locator to see where to find them in your area. If your local stores don't carry them you can order them online direct from the Enjoy Life store or via the Amazon links I included above.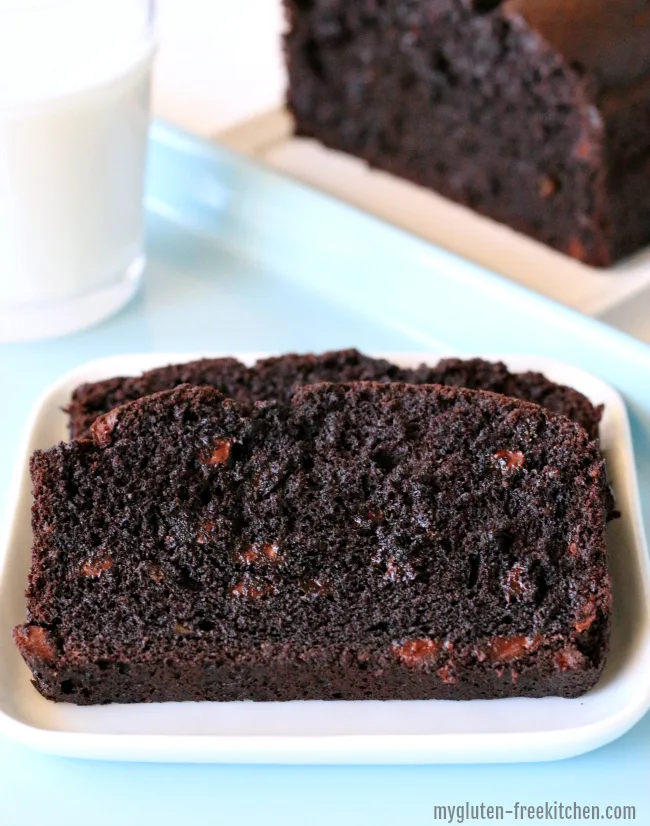 One note about baking pans. I tested this in both an 8.5″ loaf pan and a 9″ pan and it's just fine with either as these are considered standard loaf pan sizes. If you have a much smaller loaf pan, and the batter fills up up all the way, then you should instead divide the batter up into two pans so it doesn't overflow. Cooking time will be much less if you divide batter into smaller loaf pans, so you'll need to check often!
Looking for more recipes to use up your bananas and chocolate chips? Try my recipe for gluten-free banana chocolate chip muffins. They're another lunchbox favorite here. If cookies are more your thing, try these gluten-free banana oatmeal chocolate chip cookies! Both of these are on my list to make again before our summer trips as they make for great travel snacks.
For dessert, I'm wanting to make this allergy-friendly banana split ice cream pie!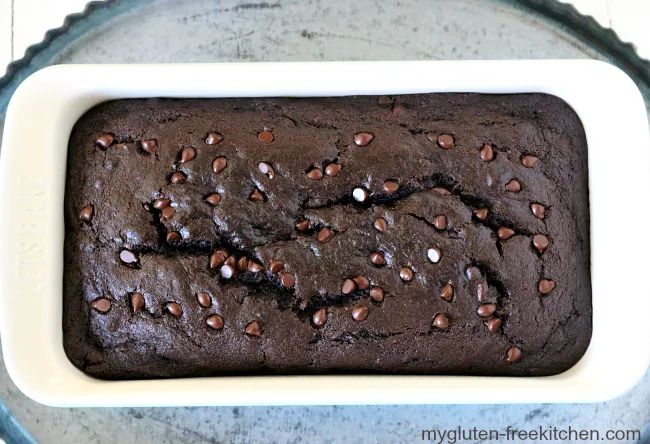 If you love making gluten-free quick breads, make sure you check out my other quick bread recipes. My gluten-free zucchini bread uses up all of your neighbor's garden zucchini in two tasty loaves. My gluten-free apple bread and gluten-free pumpkin bread is perfect for fall.
This recipe was adapted from one from the site RecipeZaar which is no longer online. Original submitter was Miss Diggy. Thanks Miss Diggy!
If you make this and love it, please come back and give this recipe a 5 star rating in the recipe card! Feel free to comment with tips or to share any successful substitutions you made.
Recipe for Gluten-free Chocolate Banana Bread:
Yield: 1 loaf
Gluten-free Chocolate Banana Bread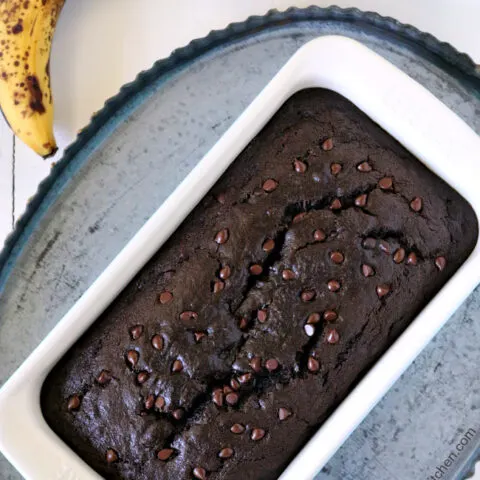 This gluten-free chocolate banana bread is a delicious way to use up a couple of overripe bananas!

Prep Time 15 minutes

Cook Time 55 minutes

Total Time 1 hour 10 minutes
Ingredients
1/2 cup (1 stick) butter, room temp
3/4 cup sugar
1 tsp. pure vanilla extract
2 eggs
2 ripe bananas, mashed
1/2 cup sour cream
1 1/4 cup. good quality all-purpose gluten-free flour blend
1/2 tsp. xanthan gum*
1/4 cup dark chocolate baking cocoa **
1 tsp. baking soda
1/2 tsp. salt
2/3 cup Enjoy Life semi-sweet chocolate mini chips
Instructions
Prepare large metal loaf pan (mine was 8.5" loaf pan) by spraying bottom and sides with nonstick cooking spray. Preheat oven to 350°.
In the bowl of your stand or hand mixer, cream butter, sugar, and pure vanilla extract together until creamy, about 1-2 minutes on medium speed.
Add eggs and beat until mixed, about one minute.
Add the mashed bananas and sour cream and mix.
In a separate bowl, whisk together gluten-free flour, xanthan gum (if needed), baking cocoa, baking soda and salt.
Pour half of the dry ingredient mixture into your wet mixture and mix on low until mixed in. Repeat with remaining dry ingredients.
Stir in the chocolate chips, scraping the bottom and sides of bowl to incorporate batter evenly.
Pour into one prepared metal loaf pan. You can sprinkle the top of the loaf with more of the mini chips if you'd like!
Bake at 350° for 55-60 minutes. Cool completely before cutting and serving.
Notes
*If your gluten-free flour blend has xanthan or guar gum already in it, then you can omit the xanthan gum called for in recipe.

** I used Hershey's Special Dark Cocoa. You can use regular baking cocoa if desired, it just won't come out as dark as mine, but still delicious!

***If the batter fills up your loaf pan completely full, it's too small. If that happens, divide the dough between two loaf pans instead and watch cooking time closely as it will be done much sooner.

You can use light sour cream if that's what you have on hand or prefer. I tried it and it worked just the same!
Recommended Products
As an Amazon Associate and member of other affiliate programs, I earn from qualifying purchases.

This sponsored post was created through my partnership with Enjoy Life Foods. As always, all opinions are my own. Collaborating with brands I love allows me to keep bringing you new and varied recipes! Thanks for your support!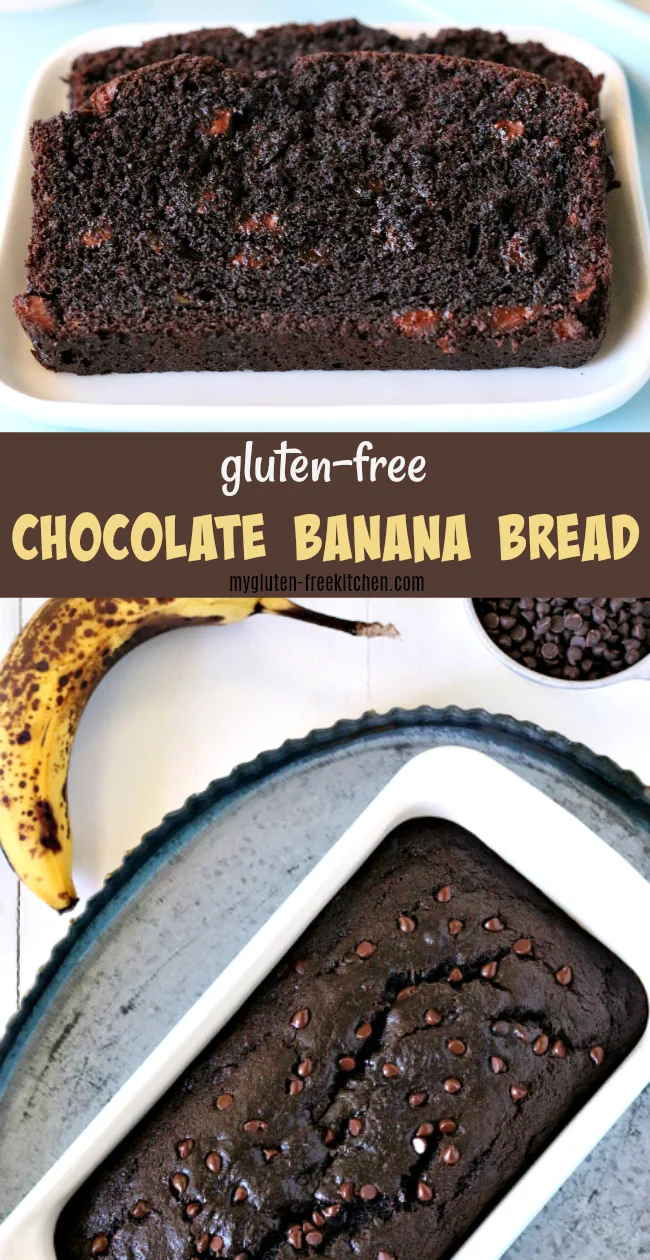 I hope you and your family enjoy this gf chocolate banana bread as much as mine!