When fresh raspberries are plentiful this summer, take the time to use some in this incredibly delicious gluten-free raspberry cream pie. With a nutty cookie crust, creamy filling, and raspberry topping, it's the a perfect dessert to make to share with friends and family. Thanks to Enjoy Life Foods for sponsoring this gluten-free no-bake pie recipe as part of our ongoing partnership.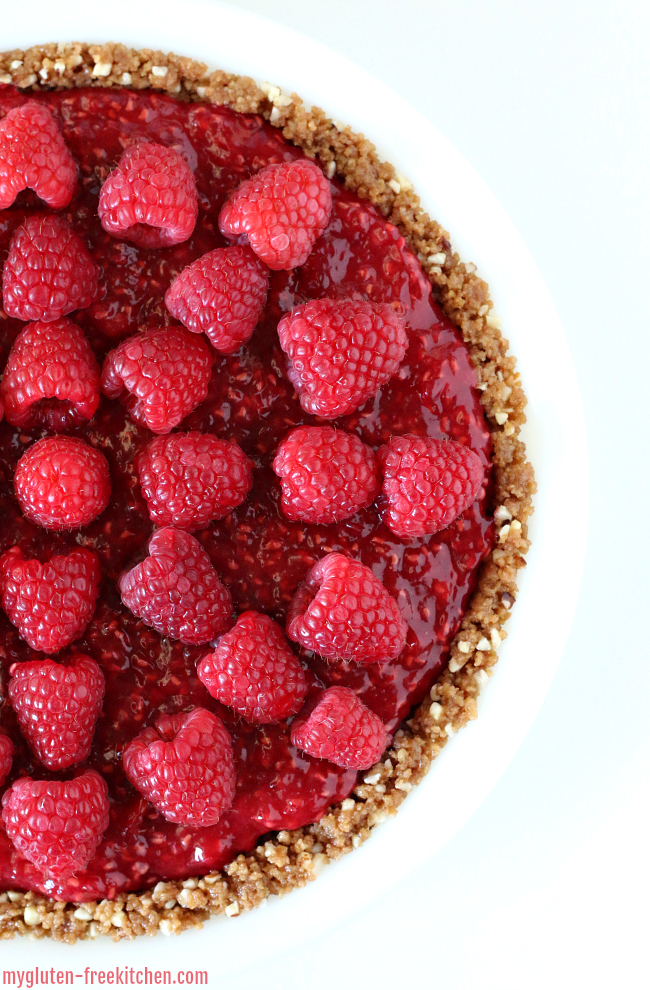 We have quite a few raspberry and blackberry plants in our backyard. I'd say it's my favorite thing to grow. Super easy to maintain from year to year and we get such plentiful harvests of both kinds of berries. We use the fresh berries in gluten-free triple berry coffee cake, this berry sauce recipe, and make fresh fruit salads with them almost daily in the summer!
I love that berries can be enjoyed in so many different ways, and if we know we don't have time to use fresh raspberries before they go bad, we can throw them in the freezer to be used later in jam or raspberry peach smoothies.
The other day I was brainstorming recipe ideas and thought I should make a raspberry pie. I wanted to make it in a cookie crust, but felt like it needed something besides just the cookie crust and raspberries. Enter the idea of a creamy filling. After a few tries, this recipe turned out just like I imagined – with a gluten-free graham cracker type crust, creamy filling, sweet raspberry topping, with fresh raspberries to top it off!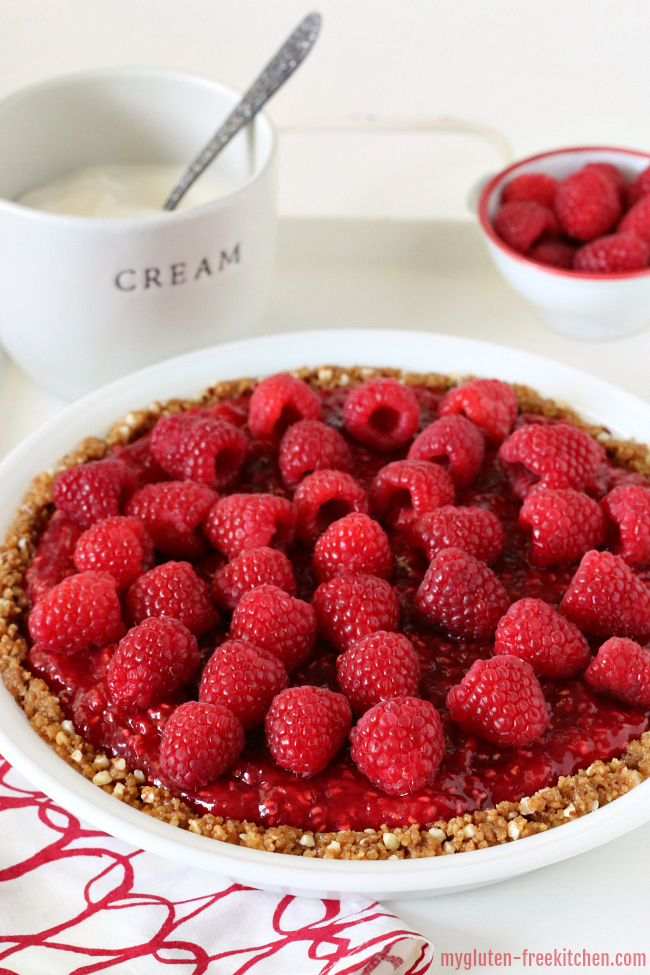 I wanted the crust to be a bit similar to a graham cracker crust. I immediately reached for my stash of Enjoy Life Vanilla Honey Graham cookies. Yes, I really do keep a stash of these, since I use them for gluten-free backyard S'mores, and gluten-free S'mores sandwiches. This crust uses an entire box of these, so make sure you buy two boxes if you want some cookies for S'mores too!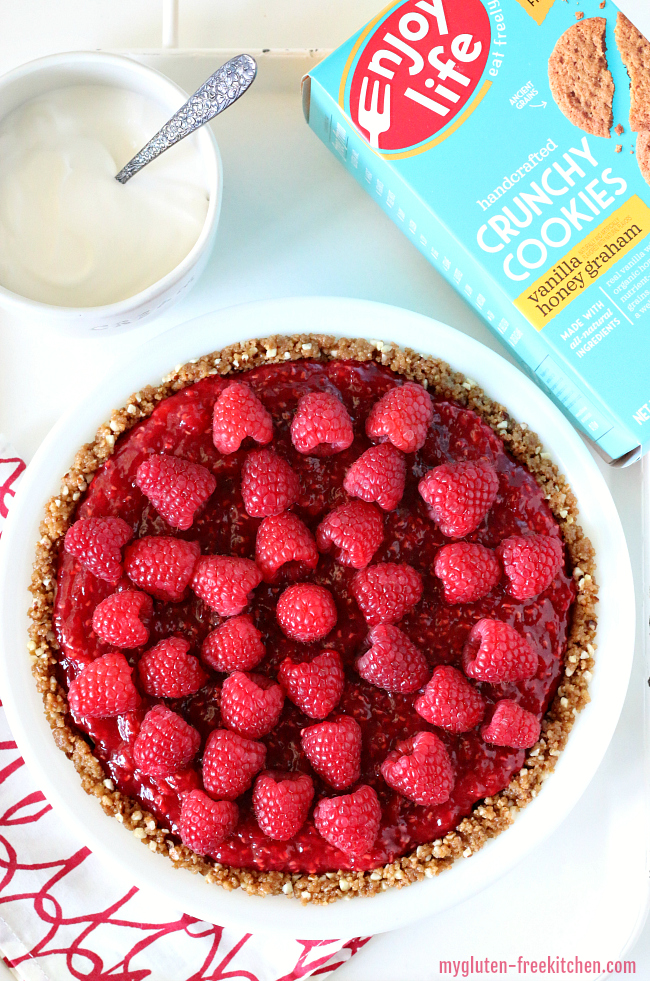 I've shared before that I'm not a fan of traditional pie crusts. I much prefer cookie crusts for my pies. I've used the Enjoy Life Double Chocolate cookies to make a cookie crust for my gluten-free Chocolate Cream Pie and gluten-free raspberry mousse pie. Both are also great choices for summer pies since they're cool and creamy!
For this cookie crust, I wanted some crunch, so I incorporated some chopped almonds in my crust. It made for a great textured crust that didn't get mushy quickly.
How is this gluten-free raspberry cream pie different from a gluten-free cheesecake? The filling is different. In a cheesecake, the filling is a huge layer and it is often more tart. In this gluten-free raspberry cream pie, the middle layer is much thinner than cheesecake, and the cream cheese flavor not so strong since freshly whipped cream is added.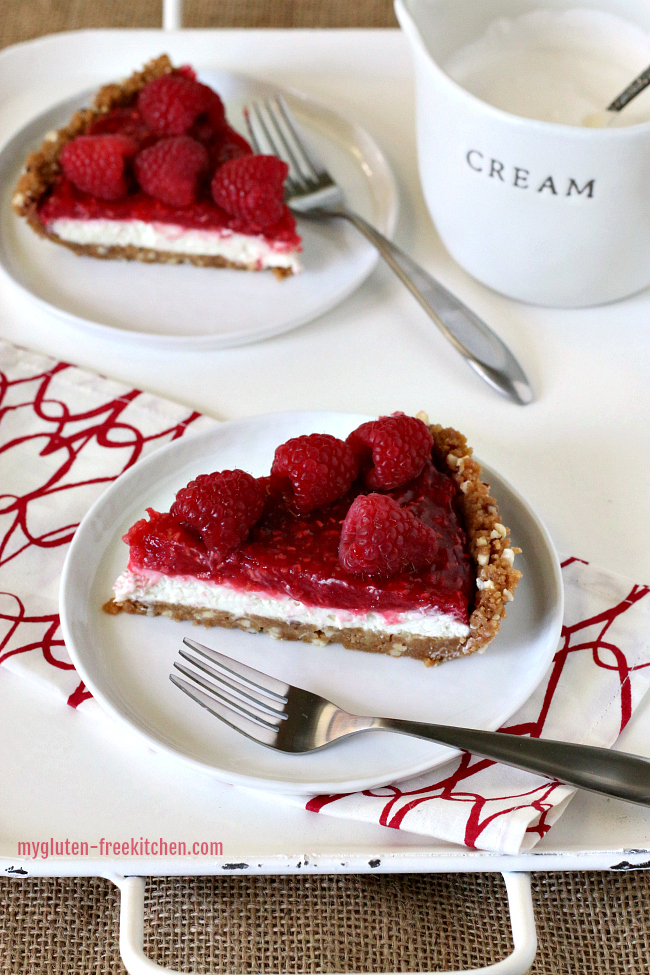 Notes on ingredients for gluten-free raspberry cream pie:
Cookies: I wanted my crust to be similar to a graham cracker crust, so I used Enjoy Life Vanilla Honey Graham Cookies. They're certified gluten-free and free of many top allergens too! You can use their store locator or buy them here. I can find these at my local stores but they're also available directly from Enjoy Life's store and from Amazon.
Almonds: These add some great crunch to the crust. You could substitute with another chopped nut if you'd like. You can buy already chopped almonds, or buy slivered or whole almonds and chop them up.
Cream Cheese: I used regular, full-fat cream cheese here since you're only using 4 ounces of it. I do think you could get away with using Neufchatel if you're looking to cut fat down a bit or that's what you have on hand.
Whipping Cream: I use Heavy Whipping cream. I start with 1 cup, then whip it up, which yields 2 cups. You'll use 1 cup of that in the pie filling, and then save the other cup for adding dollops of whipped cream to slices of pie! Of course, you can always whip up even more.
Almond Extract: Almond flavor is definitely complimentary to raspberry, so in addition to using almonds in the crust, I used almond extract in the filling to give it just a hint of yummy almond flavor. Alternately, if you'd prefer lemon flavor, you could use a bit of lemon extract, but use very little. I can tell you that 2 teaspoons of lemon extract in the filling resulted in a pie that no one would eat. So either stick with almond extract or use just 1 tsp of lemon extract.
Tips on making this gluten-free raspberry cream pie:
Plan for lots of time for this to chill between steps and before serving!
I like to use a plastic food glove on my hand for pressing the crust into the pie plate.
This dessert is rich, so I suggest cutting into 10 slices, but you can definitely opt for 8 larger slices if you'd prefer.
What else can you use these Enjoy Life Vanilla Honey Graham Cookies in? You could make my friend Cindy's Allergy-Friendly Banana Split Pie. It looks so cool and refreshing too! This allergy-friendly no bake strawberry jello pie looks so easy to make! Another cool treat to make is this Banana Pudding Ice Cream from my friend Holly.
I hope you enjoy this creamy, fruity no-bake gluten-free pie! Let me know if you have another favorite pie you want me to create a recipe for!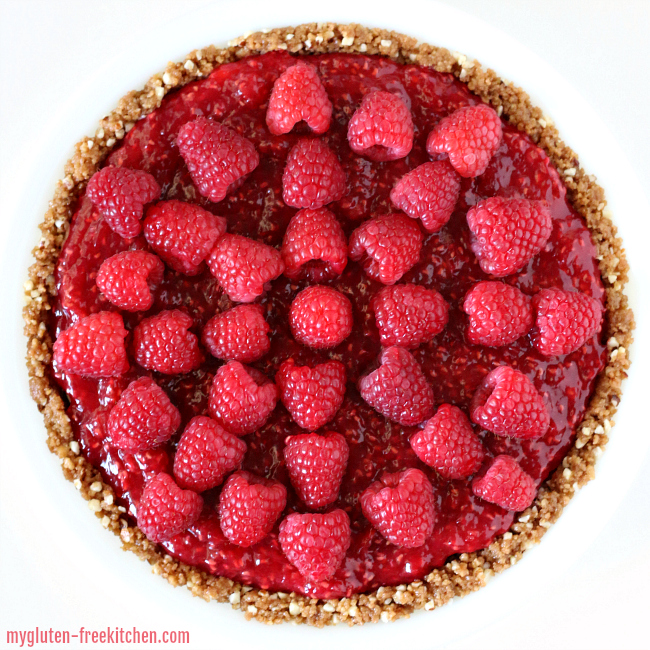 Recipe for Gluten-free Raspberry Cream Pie:
Yield: 10 slices
Gluten-free Raspberry Cream Pie (no-bake)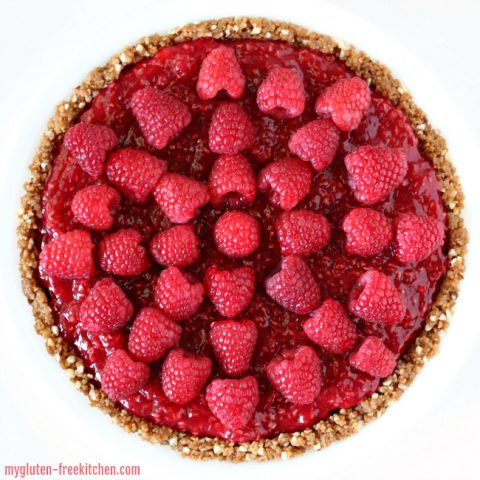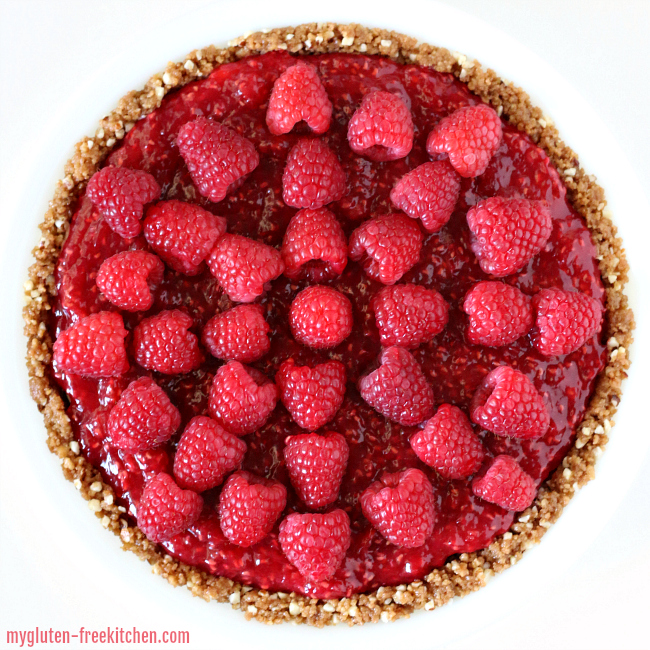 When fresh raspberries are plentiful this summer, take the time to use some in this incredibly delicious gluten-free raspberry cream pie. With it's nutty cookie crust, creamy filling, and raspberry topping, it's the a perfect dessert to make to share with friends and family.

Prep Time 45 minutes

Total Time 45 minutes
Ingredients
Crust:
1 2/3 cup cookie crumbs (1 full pkg of Enjoy Life Vanilla Honey Graham Cookies)
1/3 cup chopped almonds
5 Tbsp. melted butter (I used salted)
Whipped Cream:
1 cup heavy whipping cream
1 Tbsp. powdered sugar
Filling:
1 cup fresh whipped cream
4 ounces cream cheese (half of an 8 oz brick)
1/2 cup powdered sugar
2 tsp. pure vanilla extract
1-1 1/2 tsp. almond extract
Raspberry topping:
1/2 cup sugar
3 Tbsp. cornstarch
3 Tbsp. water
2 cups fresh raspberries
Instructions
In a small food chopper or food processor, crush the cookies until large crumbs. If you don't have one, you can place the cookies in a sealed freezer bag and roll over them with a rolling pin until crushed.

Place the crumbs and chopped almonds into a bowl. Pour melted butter over and mix with a fork until mixed well. Press into a 9" pie plate that has been sprayed well with non-stick cooking spray. I pressed in bottom and up the sides about 1". Now place pie pan in refrigerator.

In a medium bowl, beat the one cup of heavy whipping cream on medium-high speed until soft speaks form. Add the powdered sugar and mix just until mixed in and still has soft peaks. This yields 2 cups. Remove one cup of this freshly whipped cream to use in the filling, and set the bowl with remaining whipped cream in the refrigerator to use later to top slices of pie with.

Filling:

In a large mixing bowl, beat cream cheese powdered sugar, vanilla extract and almond extract on medium speed for 3 minutes, stopping partway through to scrape sides.

Use a spatula to stir in the 1 cup of the freshly whipped cream that you made earlier. Stir just until combined. Spread into the crust. Place pie into the refrigerator to chill while you make topping.

In a small saucepan, whisk together the sugar and cornstarch. Switch to using a wooden spoon or rubber spatula and stir in water. Add 2 cups fresh raspberries. Cook over medium-high heat until it boils, then cook and stir for 2-4 more minutes until it's nice and thick. As it cooks, I would use the wooden spoon to crush the berries well, helping to release the natural pectin for thickening and so that the sauce wouldn't be so chunky.

Remove from heat and let cool at least 15 minutes. Pour onto pie, spreading evenly. Return pie to refrigerator.

Before serving, decorate pie with additional 1 to 1 1/2 cups of fresh raspberries in any desired pattern. Slice pie and serve with dollops of additional fresh whipped cream that you stored in refrigerator earlier. Enjoy!

This dessert is rich, so I suggest cutting into 10 slices, but you can definitely opt for 8 larger slices if you'd prefer.
Notes
The amount of almond extract will vary a bit depending on preference. Taste the finished filling with 1 teaspoon in it, and if you'd like a little more, up it to 1 1/2.


This sponsored post was created through my partnership with Enjoy Life Foods. As always, all opinions are my own. Collaborating with brands I love allows me to keep bringing you new and varied recipes! Thanks for your support!
Pin this to your Gluten-free Pies Pinterest board!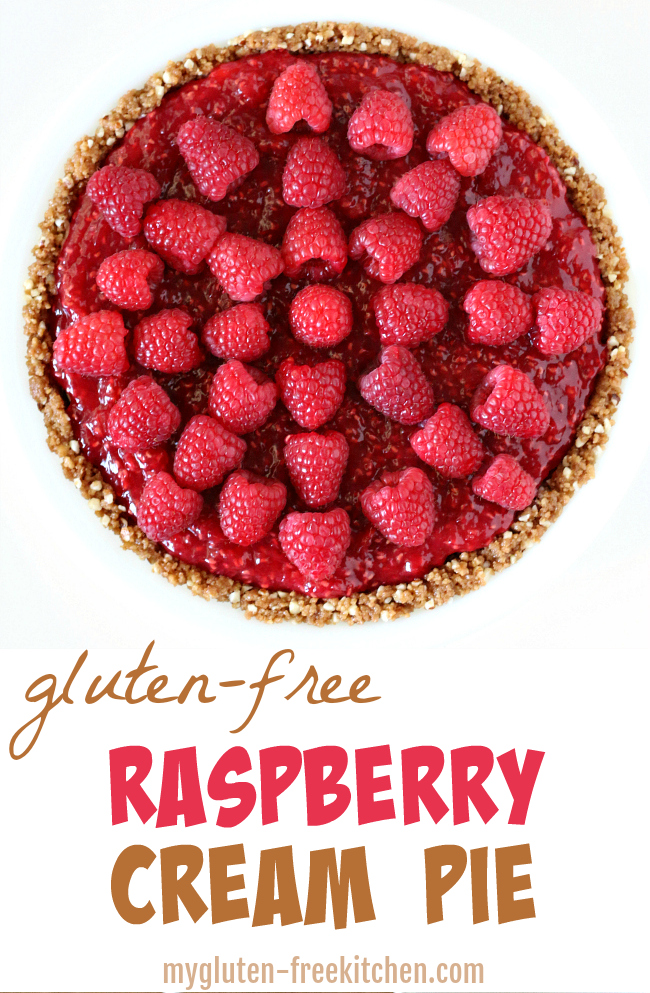 Saturday 2nd of March 2019
Honestly, I was surprised at how tasty this pie was! I plan to make it again, and my husband and I are not gluten-free out of necessity. Thanks for a winning recipe!
Thursday 19th of July 2018
This is truly a stunning pie. I don't like raspberries, usually, but this may just make me change my mind! Or maybe swap it with strawberries!
Tuesday 17th of July 2018
What a gorgeous pie!! I love the vibrant red with the beautiful raspberries. It's stunning!