Perfect for bake sales, after school treats, and potlucks, these gluten-free chocolate chip cookie bars will be a hit with all the chocolate lovers! They're easier and quicker to make than cookies.
So many of you have tried and love my gluten-free chewy chocolate chip cookie recipe, that I thought I'd post a few adaptations of it this year. First up – gluten-free chocolate chip cookie bars!
You've got to make these yummy gluten-free chocolate chip cookie bars. In making these bars instead of cookies, I made a few changes. I don't know about you, but I've had some disappointingly dry cookie bars before. I didn't want that to happen here, so I increased the butter so that these bars wouldn't be dry at all. It was a good decision!
Secondly, I used two different sizes of chocolate chips. I wanted to make sure there was a bit of chocolate in every single bite! I used both regular semi-sweet morsels and mini semi-sweet morsels.
You could also mix it up by using some milk chocolate and some dark chocolate. But definitely consider including some mini ones for sure. They help make sure that you don't get a single little bite that isn't chocolatey!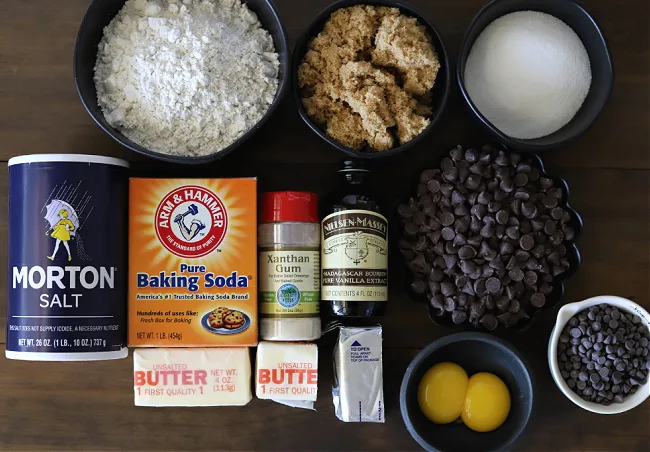 Notes on ingredients for these gluten-free chocolate chip bars:
I like sprinkling a few more chips on them for the last couple minutes of baking for that shiny, slightly melted look like you see in the pictures above. If you'd like that too, just reserve some of the chocolate chips called for in the recipe.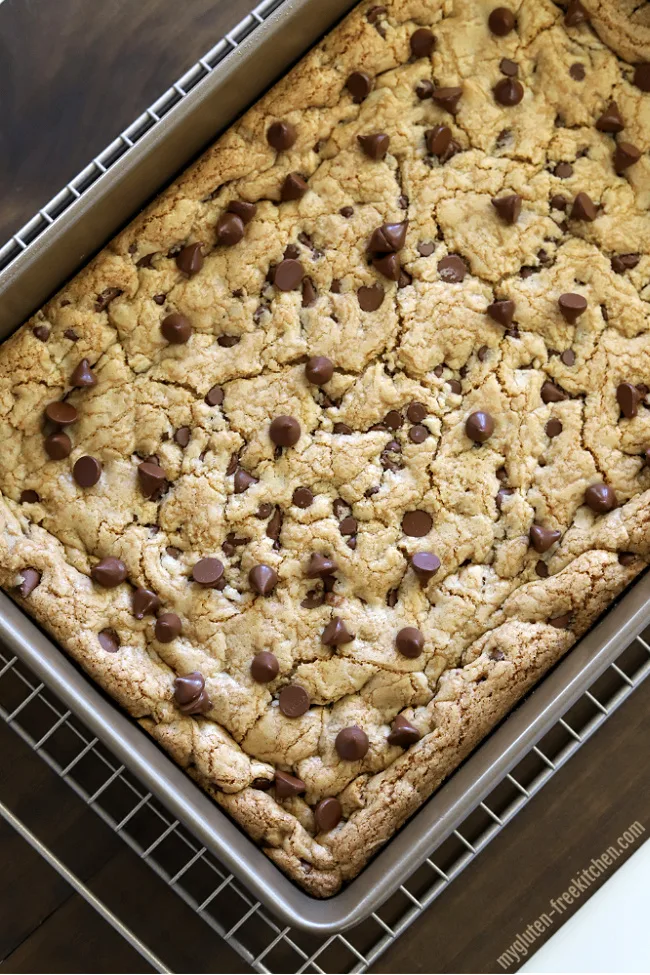 However, if you're wanting to pack these up to mail to someone, I'd skip the chocolate chips on top so they aren't so messy.
After these cool in the pan, then you can slice them up. I recommend you use a plastic knife to cut these. I recently bought this one and it works so well! This keeps you from scratching up your pan, and it slices through the bars so cleanly instead of getting gunked up.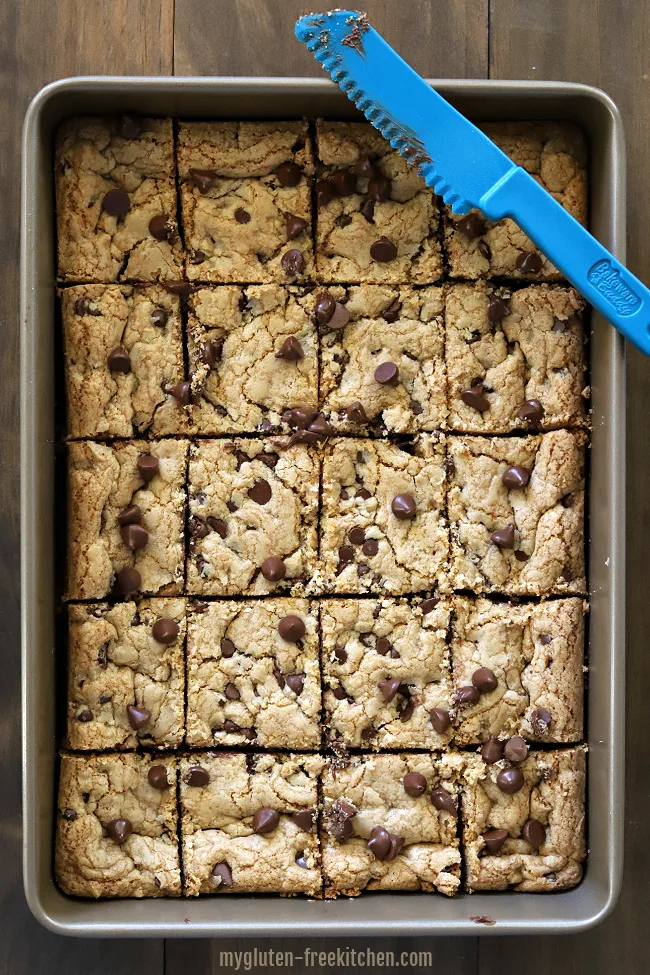 You can slice these up as big or small as you'd like. I usually think about how many people will be eating them at whatever gathering I'm bringing them to, and slice accordingly.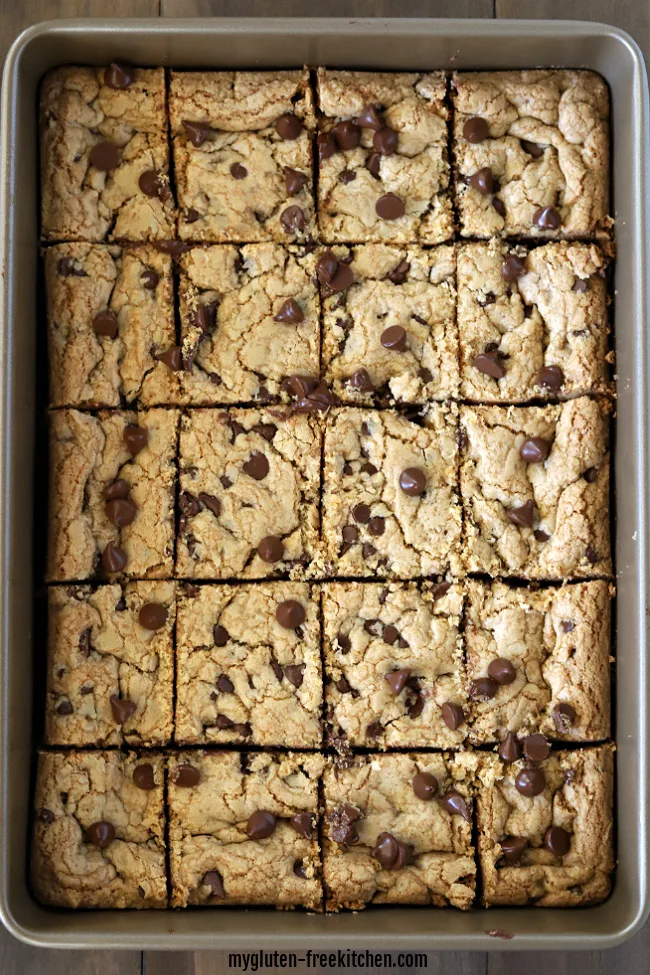 These would be a fun treat to bring to share at a potluck or to mail to a loved one. Let me know if you make them and what flour you used!
If you make these and love them, please come back and give this recipe a 5 star rating in the recipe card! Feel free to comment with tips or to share any successful substitutions you made.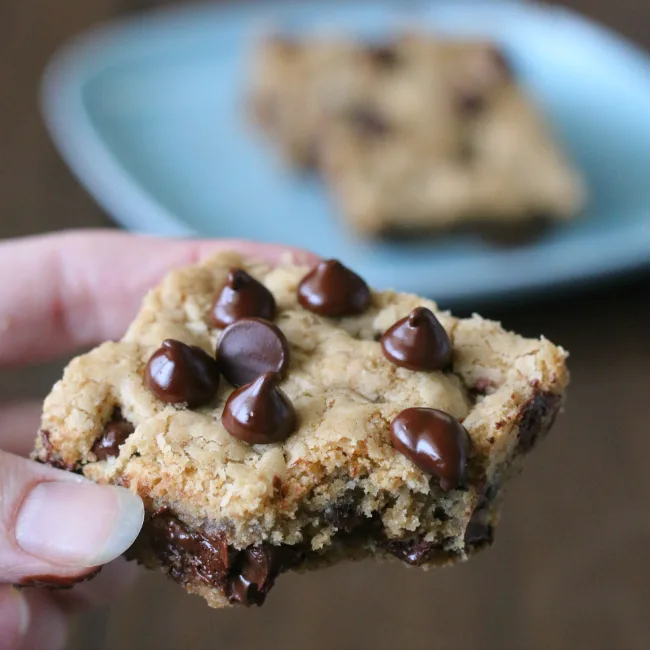 Gluten-free Chocolate Chip Bars Recipe:
Yield: 24 bars
Gluten-free Chocolate Chip Cookie Bars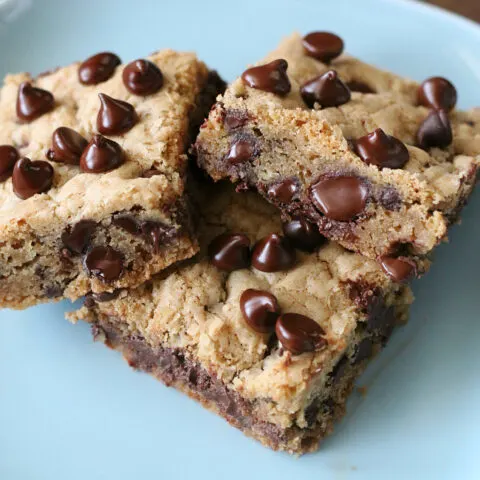 All the yummy flavor of my chewy gluten-free chocolate chip cookies in a much easier, quicker bar cookie form!
Additional Time
30 minutes
Total Time
1 hour
13 minutes
Ingredients
2 1/4 cups (~282 grams) good all-purpose gluten-free flour blend
1/2 tsp. xanthan gum*
1 tsp. baking soda
1 tsp. salt
2 ounces cream cheese, room temp
1 cup (2 sticks) unsalted butter, melted
1 cup packed brown sugar
1/2 cup sugar
2 tsp. vanilla extract
2 egg yolks (room temp)
1 1/2 cups semi-sweet chocolate chips
1/2 cup semi-sweet mini chocolate chips
1/4 cup additional semi-sweet chocolate chips for topping if desired
Instructions
In a medium bowl, whisk together gluten-free flour, xanthan gum (unless flour blend already has xanthan or guar gum), baking soda and salt. Set aside.
In the bowl of your stand mixer, place the cream cheese, then pour melted butter over it. Add brown sugar and sugar and mix on medium speed for 2 minutes. (I use the paddle attachment on my mixer.)
Add vanilla extract and egg yolks (one at a time) mixing on low-medium speed until well mixed.
Add the flour mixture that you set aside earlier, beating on low until just combined.
Add both sizes of chocolate chips and mix on low or by hand, just until mixed thoroughly.
Spread into lightly greased 9x13 metal pan. Bake in preheated 350˚ oven for 25 minutes. Remove from oven, sprinkle with additional 1/4 cup of chocolate chips and return to oven for 2-3 more minutes.
Remove from oven and place pan on cooling rack. Let cool before cutting. (Note, to save your pan from getting scratched up, I like to use a plastic knife to cut the bars.)
You can cut these whatever size you'd like of course, anywhere from 12 big bars to 24 smaller ones. Enjoy!
Notes
*omit xanthan gum if gluten-free flour blend has xanthan or guar gum already
Recommended Products
As an Amazon Associate and member of other affiliate programs, I earn from qualifying purchases.
Pin this to your Gluten-free Desserts board on Pinterest: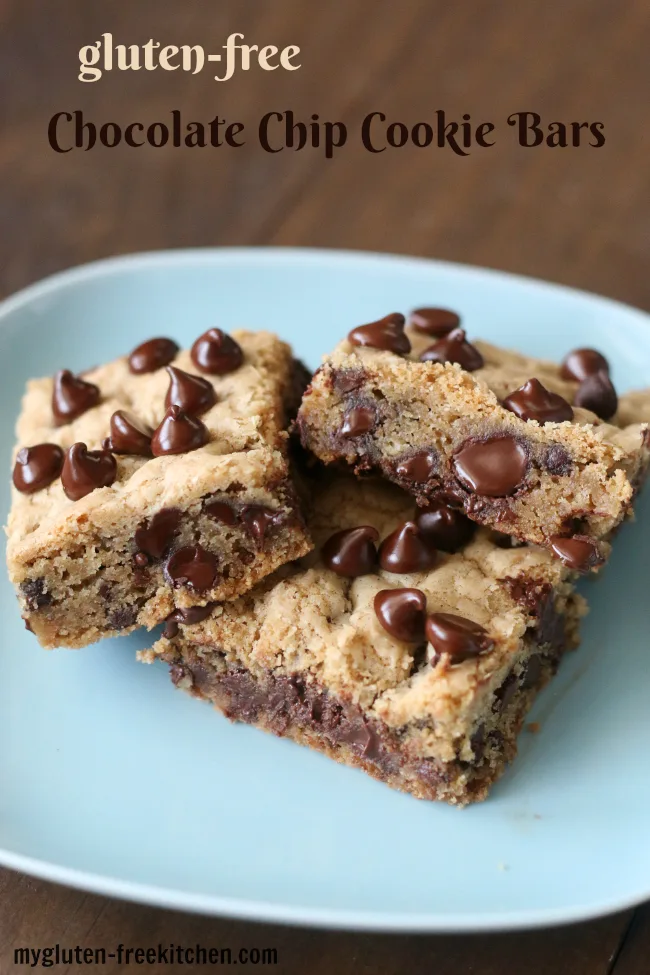 I hope you love these! Let me know if there's another gluten-free bar cookie you'd like me to have a recipe for!