By popular request, I'm sharing my tried and true recipe for the best chewy gluten-free chocolate chip cookies! If you're looking for gluten-free chocolate chip cookies that have crispy edges, are chewy with a bit of a gooey center, and full of chocolate, then these are the cookies for you!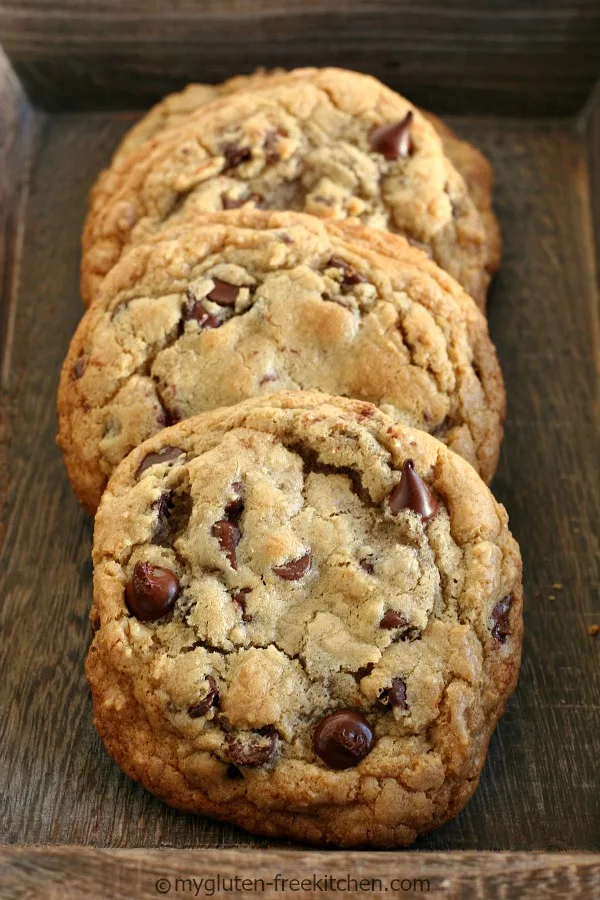 I don't like to throw the term "Best Recipe" around casually. But when I want to really get across that I've tested and tried and adapted a recipe a bunch until I got it PERFECT, then I feel justified in calling it the Best gluten-free chocolate chip cookies ever!
I have notes and slips of paper from over 3 dozen attempts at making really good, chewy gluten-free chocolate chip cookies over the past 5 years of baking gluten-free before coming up with this perfect version!
That's a whole lot of gluten-free cookies eaten for testing purposes so that I could share the best gluten-free cookies!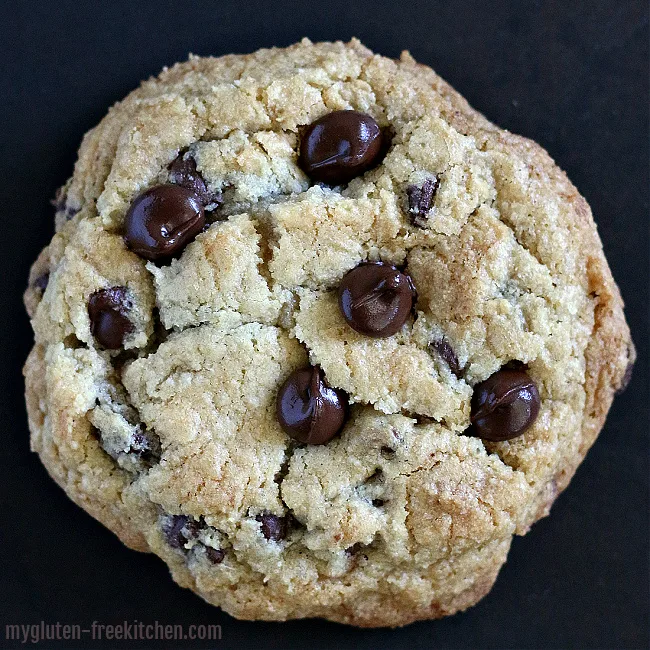 Back when I used to be able to eat gluten, I worked for years to find a homemade chocolate chip cookie recipe that I loved that reminded me of my favorite mall cookies.
I grew up loving the old Mrs. Field's chocolate chip cookies. My favorite thing to get at the mall was one of the huge cookies that they sold back in the 1980s. They were the perfect chewy cookie and were about as big as my head as a child! Over the years, the cookie size and quality has gone down, but I did still love those cookies.
I also liked the famed New York Times cookie recipe that was going around about 8-10 years ago pretty well. Just when I finally had a recipe for cookies that I loved, I got diagnosed with celiac and had to start all over with my recipe testing.
Ugh, how am I going to make gf chocolate chip cookies? I had to get trying!
Here's what I wanted in a gluten-free chocolate chip cookie:
Crispy edged, chewy cookies with a bit of a gooey center.
Lots of chocolate – no chance of having a bite without chocolate in it.
No gritty texture or weird feeling in mouth from too many starches or gums.
No odd smells from alternative flours.
Ability to make the dough ahead and bake a few cookies daily, or to freeze the dough balls to bake later.
#3 and #4 were by far the biggest challenge and the reason it took over 3 dozen attempts to get a perfect gluten-free chocolate chip cookie recipe.
The rice flour in gluten-free flour mixes adds some grittiness that is unnoticeable in most gluten-free baked goods, but tends to be more noticeable in gluten-free cookies.
For some reason, that rice flour grittiness was most noticeable in my chocolate chip cookie attempts.
I also tried using different proportions of a bunch of different flours and starches so that I could avoid rice flour or use less of it, but would end up with odd/off smells from the alternative flours or a weird mouth feel from the different starches.
I didn't want any of that. I wanted people to LOVE this cookie, not just think it was good for a gluten-free cookie.
I've finally made one that gluten eaters and gluten-free eaters will all enjoy! It is as close as I can get to the Mrs. Field's style/New York Times famed cookie combination that I used to make before my celiac diagnosis. I've succeeded!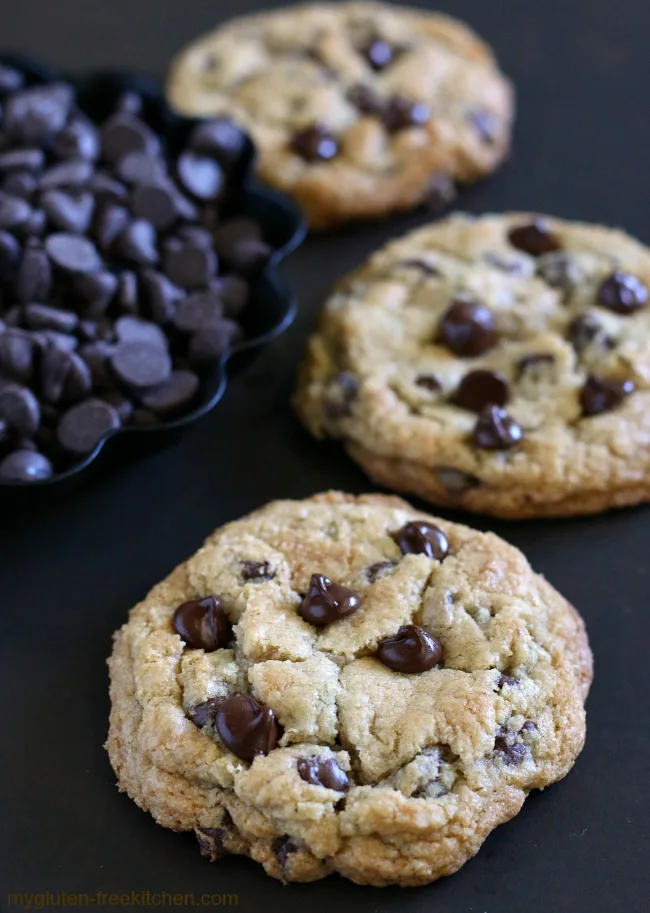 There are 5 keys to this gluten-free chocolate chip cookie recipe being free of gritty texture or a weird mouth feel, and being perfectly chewy:
First is the addition of cream cheese. I found this tip in this recipe from Just a Taste and thought it was worth a try. That small 2 ounces of cream cheese is just enough to cover any grit that would have been in these cookies otherwise. I wish I had thought of this many years ago!
Melting the butter is another key to this perfect cookie, as it adds to the chewiness and overall flavor profile. My friend Celeste says she likes to brown the butter and use browned butter to make these even more amazing.
Using just egg yolks, no egg whites to help with the chewiness of the cookie. This is an old trick I learned from Alton Brown. I like to use an egg separator so that I don't end up with any stray shells or break the yolks in the process. This is the egg separator I have and like because it sits flat over a small bowl.
Using a good quality all-purpose gluten-free flour blend. See my notes below in the ingredients section.
Chill the dough at least 4 hours before baking any cookies. These will not come out like my photos or with best texture if you bake these without chilling thoroughly. You can also chill for up to 3 days. After chilling the dough, allow it to come closer to room temperature so you can scoop the cookies easily before baking.
If you don't have the time for chilling dough but still want your chocolate chip cookie fix, I suggest you head over to my gluten-free chocolate chip cookie bars recipe instead! I've altered the recipe a bit for those and you just mix and bake!
Depending on how much cookie dough you eat, you'll have about 20-22 cookies from this recipe!
I have had many ask if you can freeze this dough. Yes you can freeze this cookie dough! I suggest that after you finish mixing ingredients, then scoop immediately and freeze the balls of dough to bake later.
When you are ready to bake, pull out the desired number of cookie dough balls you want to bake, let them sit on parchment paper lined sheet while you pre-heat your oven, then bake them from their still frozen state. Your cooking time will be longer than I have listed in my recipe, so keep an eye on them!
Here's a look at the ingredients for this gluten-free chocolate chip cookie recipe: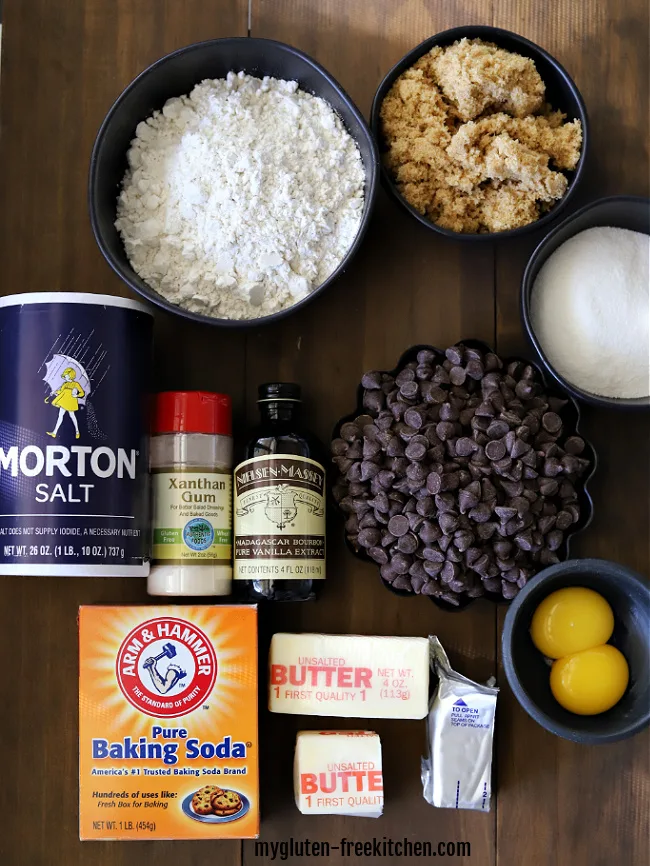 Ingredients and substitutions for this gluten-free chocolate chip cookie recipe:
Gluten-free Flour Blend: I've had best results making this with Authentic Foods Multi-Blend Flour or BakeGood Almond Flour Blend or Gluten Free Mama's Almond Blend. I tried with Cup4Cup gluten-free flour with good results. (Note, usually gfJules is one of my go-to blends, but it is a little too starchy to get the right chewy texture with gooey center in this recipe. It still makes a very good cookie, just won't be as chewy or gooey.) These were good but not great with King Arthur Measure for Measure or Bob's Red Mill. I do not recommend using Maninis, Namaste or Pillsbury gluten-free flour for these. I will update this as I try it with other flour blends as well. Stay away from the blends that have any bean flours.
If the gluten-free flour blend you choose to use already has xanthan or guar gum already in it, then omit the xanthan gum called for in my recipe.
Sugar and Brown Sugar: I don't recommend swapping these out, but some people prefer to use coconut sugar for some of the sugar called for in the recipe, just know that it will affect the texture.
Butter: You can use a non-dairy butter alternative like Melt or Earth Balance if you would prefer. I would still melt it to use in the recipe. Results will vary and will not likely look the same as my cookies, because mine are made with real butter.
Cream cheese: I have used Kite Hill plain cream cheese alternative and it worked very well. Use equivalent amount.
Baking soda: This is NOT the same as baking powder. DO not substitute the baking soda with anything else.
Chocolate: These are loaded with chocolate so choose your favorite chocolate! Sometimes I do semi-sweet chocolate chips like you see here (usually Guittard or Trader Joe's), sometimes I do a mix of semi-sweet chunks and mini chips. If you prefer milk chocolate, then use milk chocolate chips in yours.
Vanilla: I always recommend using pure vanilla extract, not an imitation vanilla extract. I usually buy this Nielsen-Massey pure vanilla extract or these large bottles sold at Costco.
There have been a few people out of the hundreds that have tried this recipe that felt there was too much chocolate in these cookies. I can't fathom that, since in my opinion you can never have too much chocolate. But if you want more cookie and less chocolate, feel free to cut back the amount of chocolate chips you add.
Also, if you would like to use chunks, you can chop up semi-sweet chocolate bars or use Trader Joe's chocolate chunks.

How to make gluten-free chocolate chip cookies:
My recipe card below and also the video will show you step by step how to make these cookies. The important thing to remember is that you need to let the dough chill for at least 4 hours. Then let it come to a scoop-able temperature before you proceed.
For successful results, make sure you use room temperature ingredients, measure properly (the only ingredient you ever pack in is brown sugar), use a large #20 cookie scoop to make cookies all the same size, use a preheated oven that you have checked temperature on, and use parchment paper or silicone liners for your baking pans.
I also like to give my cookies plenty of space around them so the edges can get a little crisp and no cookies spread into each other. This is what my they look like on my cookie sheet usually, using that large cookie scoop and spacing out on the parchment paper: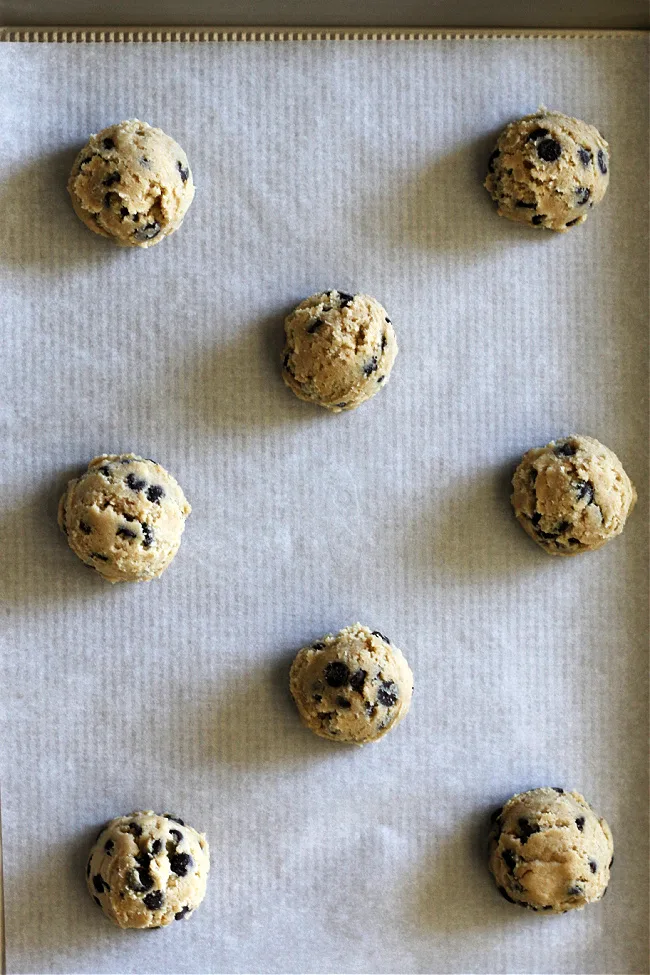 When they come out of the oven, I sprinkle the hot gluten-free chocolate chip cookies with more of the chocolate chips so that my cookies will have that melty chocolate chip look to the top. This step is totally optional though!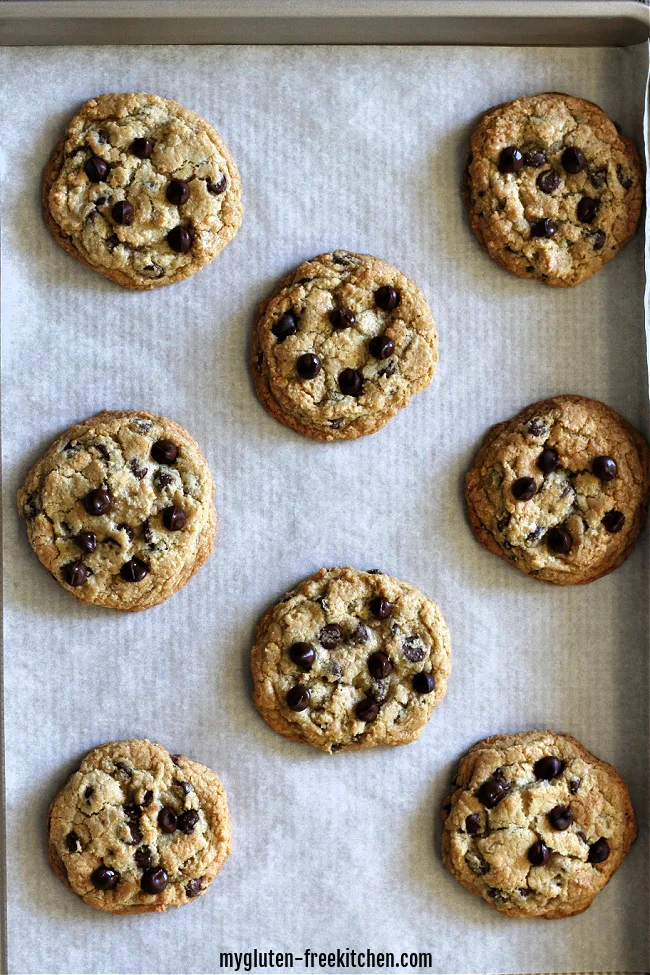 Can you make these gluten-free chocolate chip cookies dairy-free?
I'm working on that! I have tried dairy-free cream cheese from Kite Hill and it worked perfectly as a replacement for the cream cheese in this recipe. So I know you can make that dairy-free swap and have the same results.
I have not found the perfect swap for the butter yet but get good results with swapping with Melt or Earth Balance sticks. Feel free to make some adaptations to suit you though, and come back and let me know how they work!
How many cookies does this recipe make?
Well that depends on the size and how much cookie dough you eat! This recipe makes about 20-22 large cookies. I use a #20 size cookie scoop for those and those are the cookies you see in most all the photos on this post.
But I know some of you want to make smaller cookies. So recently, I grabbed my other size scoops and did some testing and made notes along the way!
I used my large #20 scoop for the biggest ones. I used a medium scoop which is a #40 scoop for medium sized cookies. For the smallest, bite size cookies, I used a small #60 scoop. Yes, if you didn't know, as the numbers get bigger, the scoops get smaller.
Here's a look at making these various sizes: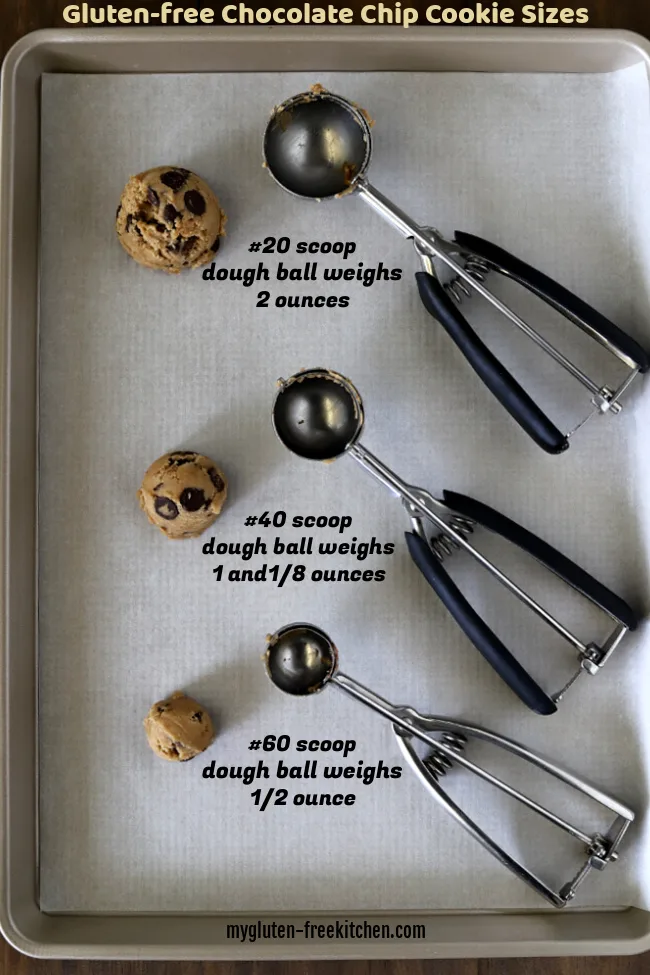 You can always use other sized scoops, I just went with the three sizes I have on hand.
Here's a look at them after baking and I've included the approximate baking times for each as well.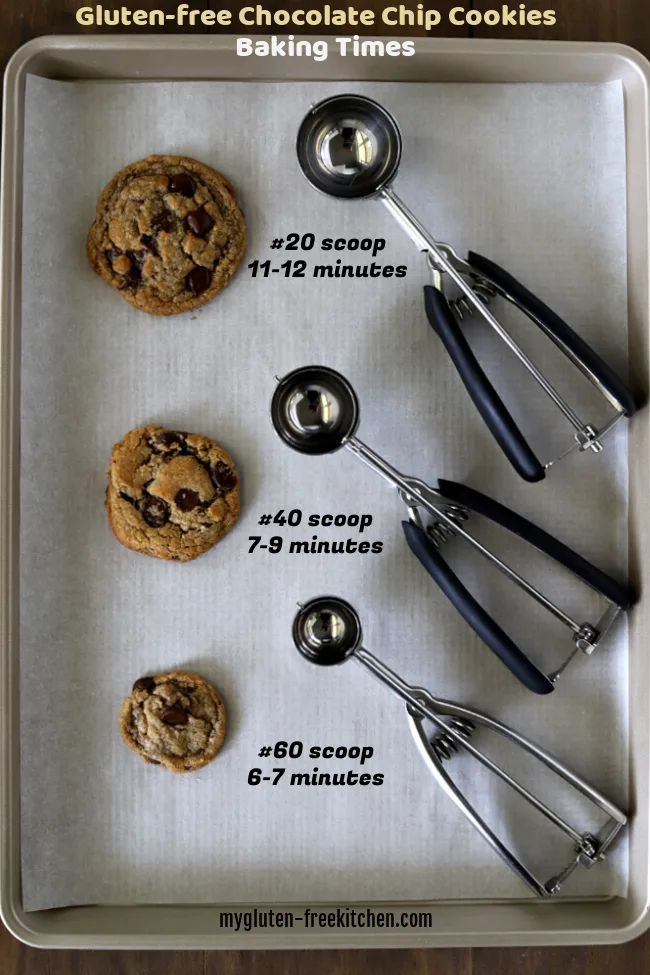 Factors like pan thickness and quality, temperature of your dough, accurate temperature of your oven, whether you use parchment or not, and the type of flour blend you use all will influence when your cookies are done.
From my testing, cookies made using a #20 scoop will take about 11-12 minutes to be baked perfectly, and you'll get 20-22 cookies. Cookies made using a #40 scoop will take anywhere from 7-9 minutes to be perfect. And cookies made using a #60 scoop will take about 6-7 minutes to be perfect.
Using the #60 scoop yields dozens and dozens of cookies – I lost count of how many little cookies! You can see here: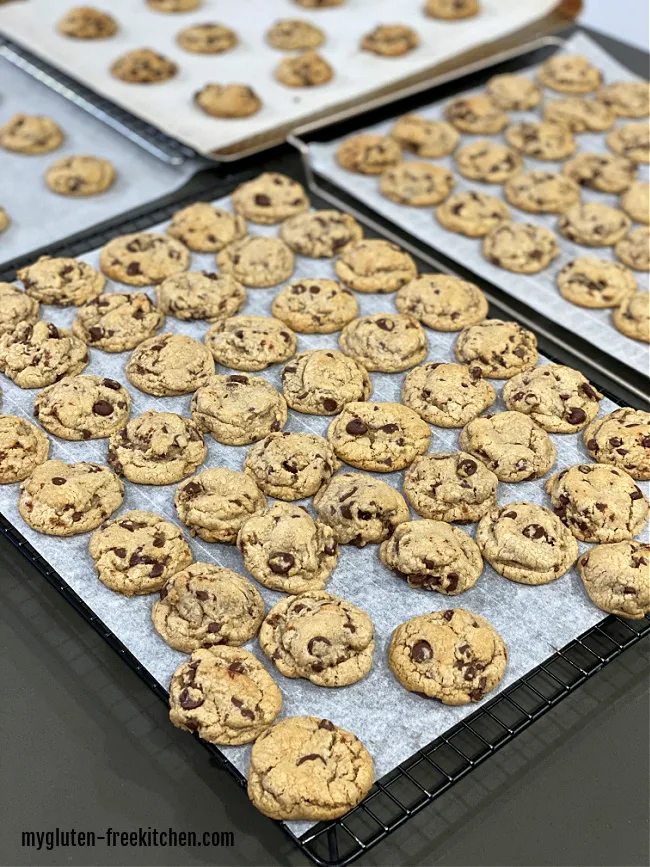 Note: You CAN double this recipe as long as you're using a good stand mixer that can mix that amount of dough.
After you make these, the next thing you should make is my recipe for the best gluten-free peanut butter cookies! I know you'll love them too!
I make this gluten-free chocolate chip cookie recipe a couple times a month, and have been for many years now! I hope these become a family favorite for you too!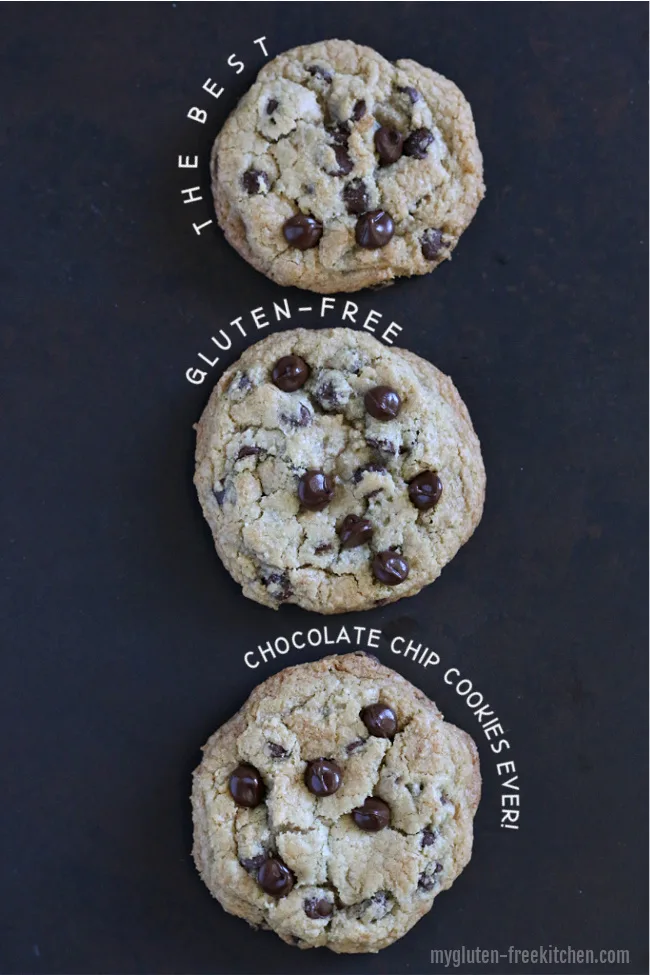 I hope you'll try and love these gluten-free chocolate chip cookies just as much as I do!
If you make these and love them, please come back and give this recipe a 5 star rating in the recipe card! Feel free to comment with tips or to share any successful substitutions you made.
Best Gluten-free Chocolate Chip Cookies Recipe:
Yield: 20 cookies
The Best Chewy Gluten-free Chocolate Chip Cookies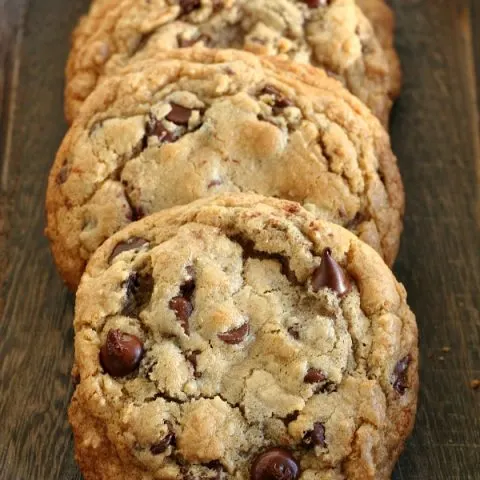 Plan ahead so the dough can chill prior to baking for the best gluten-free chocolate chip cookies!

Prep Time 15 minutes

Cook Time 12 minutes

Additional Time 4 hours

Total Time 4 hours 27 minutes
Ingredients
2 1/4 cups (~282 grams) good all-purpose gluten-free flour
1/2 tsp. xanthan gum* (see note)
1 tsp. baking soda
1 tsp. salt
2 ounces cream cheese, room temp
3/4 cups (12 Tbsp.) unsalted butter, melted
1 cup packed brown sugar
1/2 cup sugar
1 1/2 tsp. pure vanilla extract
2 egg yolks
2 cups (12 oz.) semi-sweet chocolate chips
Instructions
In a medium bowl, whisk together gluten-free flour, xanthan (unless flour blend already has xanthan or guar gum), baking soda and salt. Set aside.
In the bowl of your stand mixer, place the cream cheese, then pour melted butter over it. Add brown sugar and sugar and mix on medium speed for 2 minutes. (I use the paddle attachment on my mixer.)
Add vanilla extract and egg yolks (one at a time) mixing on low-medium speed until well mixed.
Add the flour mixture that you set aside earlier, beating on low until just combined.
Add the chocolate chips and mix on low or by hand, just until mixed thoroughly.
Cover the mixing bowl with plastic wrap and refrigerate a minimum of 4 hours and up to 4 days.
When you are ready to bake, remove from refrigerator and allow it to come closer to room temperature so you can scoop the cookies easily before baking.
Preheat oven to 375°.
Line cookie sheets with sheets of parchment paper or silicone liners. Do not spray!
Use a #20 cookie scoop to scoop even mounds of cookie dough spaced several inches apart. I can get 12 per cookie sheet.
Bake the cookies for 11-12 minutes at 375°. Remove when edges are set and just browning. The centers will look undercooked, but will continue cooking as they cool. To ensure you don't over bake, I suggest you bake a few test cookies so you can determine the right baking time for your oven. If you like gooey centers, cook less, if you like crunchier cookies, cook longer.
If you'd like, you can sprinkle more chocolate chips on them once you remove from oven.
Let the cookies sit on the cookie sheet for just 2-3 minutes before removing to a cooling rack to finish cooling.
Notes
*omit xanthan gum if your gluten-free flour blend has xanthan or guar gum already

Please note that these brown faster/more if the flour blend you are using has any almond flour in it. Your cookies might be done a minute sooner.

Please see blog post for information on ingredients used and substitution options.

Pin these to your gluten-free cookies Pinterest board: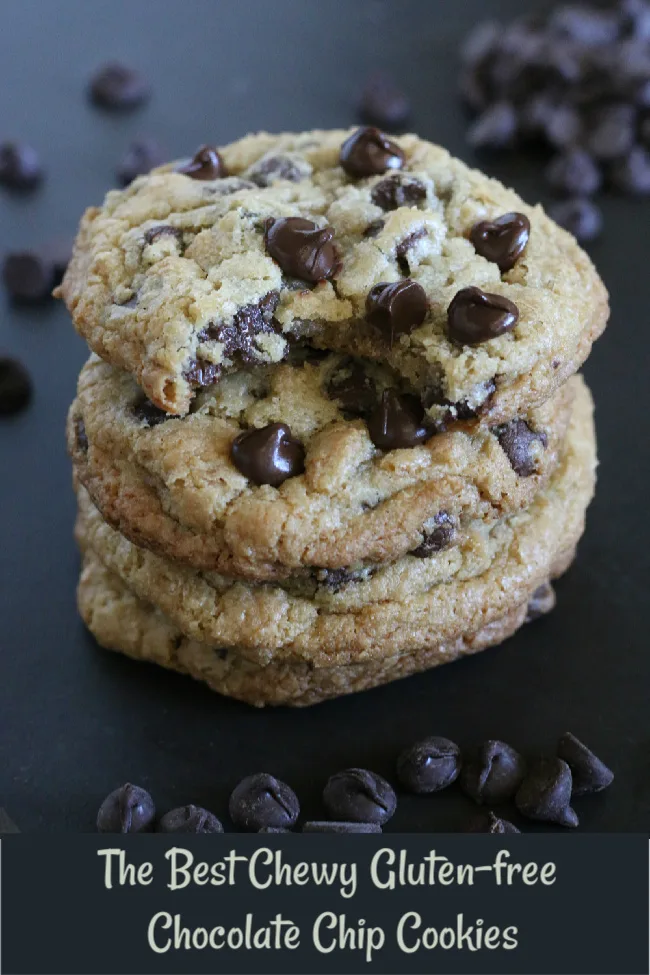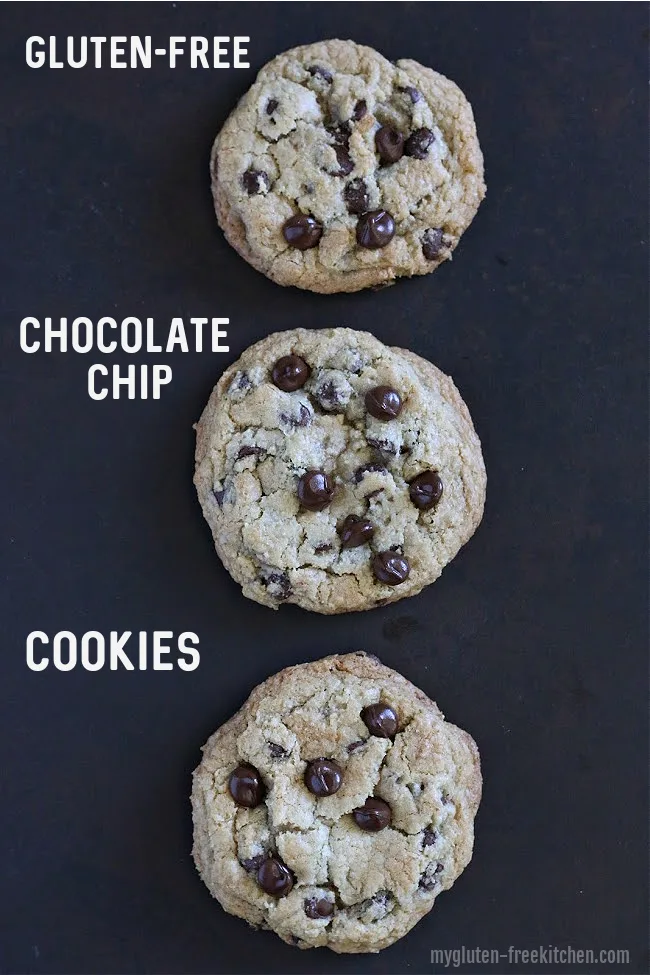 Be sure to try some of my other gluten-free chocolate chip recipes:
gluten-free chocolate chip cookie bars (no chilling required!)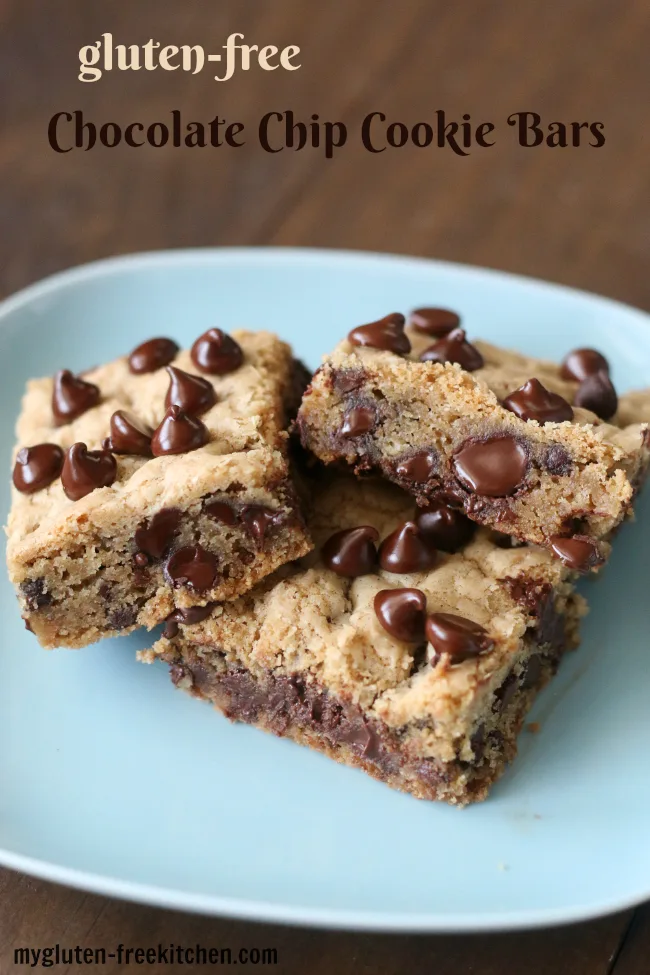 Gluten-free Monster Cookies (uses chocolate chips and M&Ms!)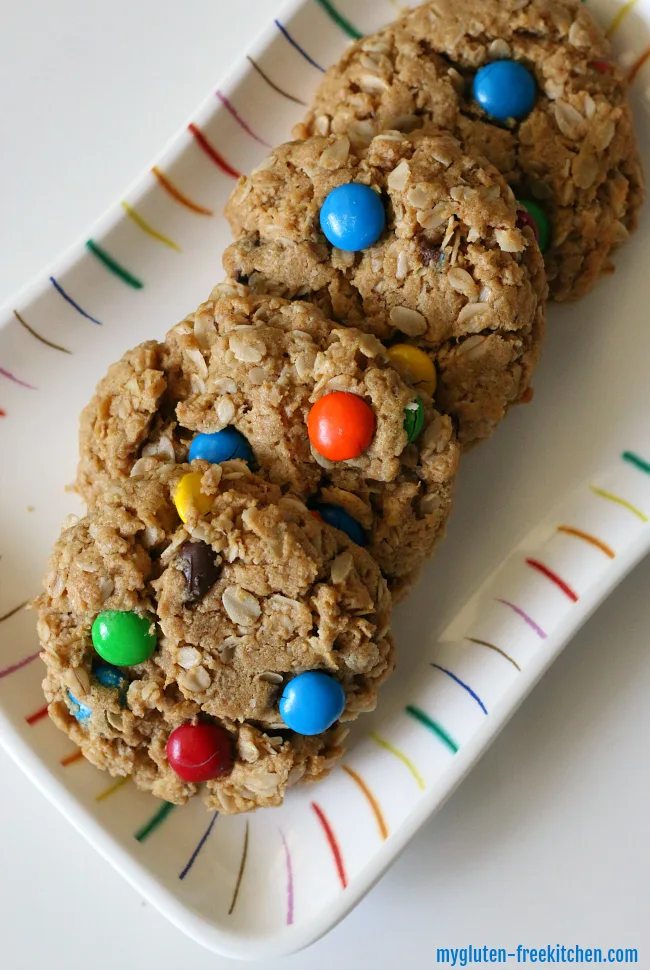 Enjoy!