Looking for the perfect allergy friendly Valentine's Day treat to share with a classroom full of kids? I've got just the one for you today! These easy Valentine's Chocolate and Berry Kabobs are gluten-free, dairy-free, nut-free and peanut-free, making them suitable for many classroom parties! Best part is that no one needs to know they're free of all those things, since they sure aren't free of tasting good!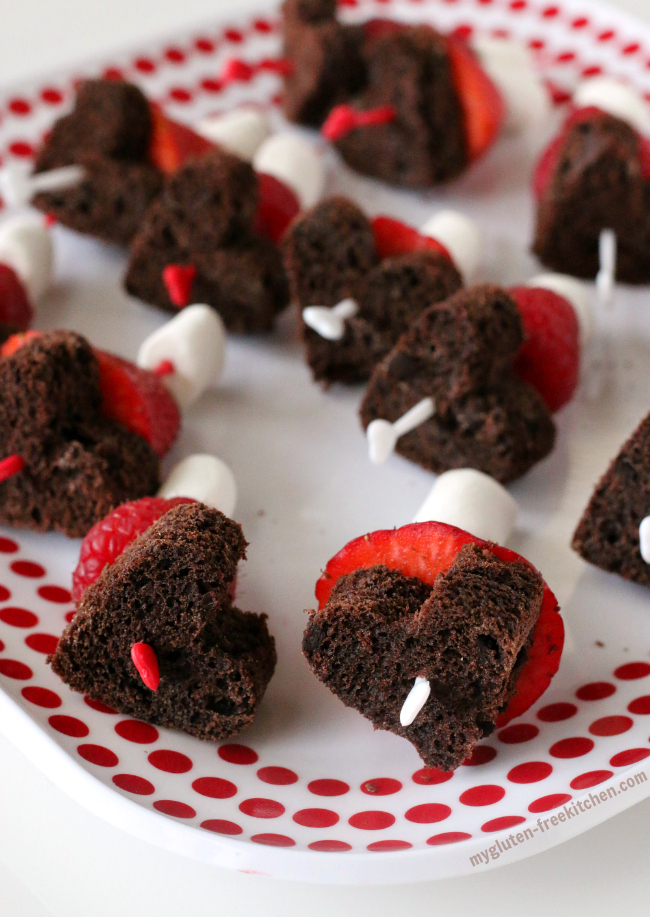 Before each holiday, I have friends sending me messages asking what treats they can bring for their child's class party that are gluten-free and nut-free, or gluten-free and dairy-free. I freely admit that before I had to go gluten-free, I wouldn't have had any ideas of treats for a classroom that fit those allergens either!
I'm trying to add more ideas to my site that'll help all of you that are trying to be inclusive of students with food allergies. Kudos to you for wanting to include all the kids!!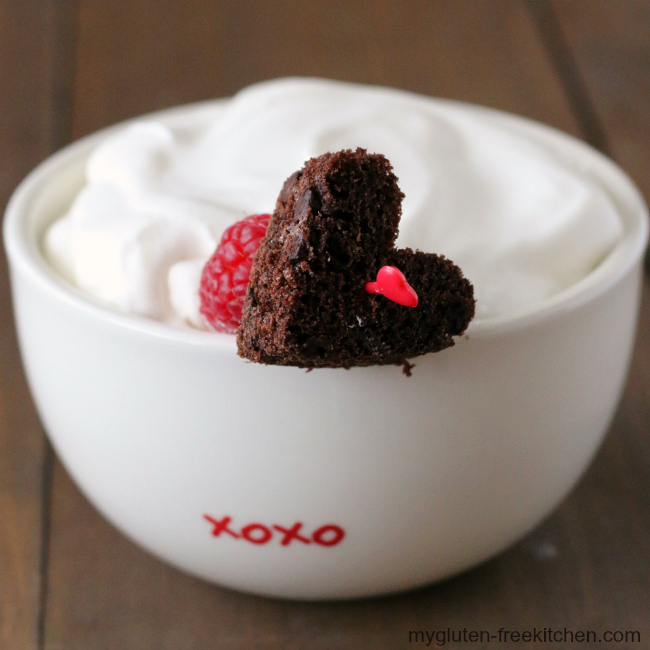 Last year I shared a post about non-candy class Valentine's ideas – full of ideas for fun gifts that avoid food and candy completely. So since that post takes care of the actual Valentine's cards/gifts, I thought today's post could take care of the food portion – giving you something you can send to the party!
I partnered with Udi's for today's recipe, as I'm an Udi's ambassador this year again. These kabobs are more of an idea than a recipe, as you can scale it to make as many kabobs as you need! And if you don't need a treat to send to school and are just wanting a fun little treat to make at home, you can just do a few!
Having two boys, we don't go all crazy here for Valentine's Day, but I do always make a heart shaped treat for them for breakfast, snack or dessert on Valentine's Day. This the the treat for this year – they loved these so much when I made them for the blog that I'll be making them again for Valentine's Day!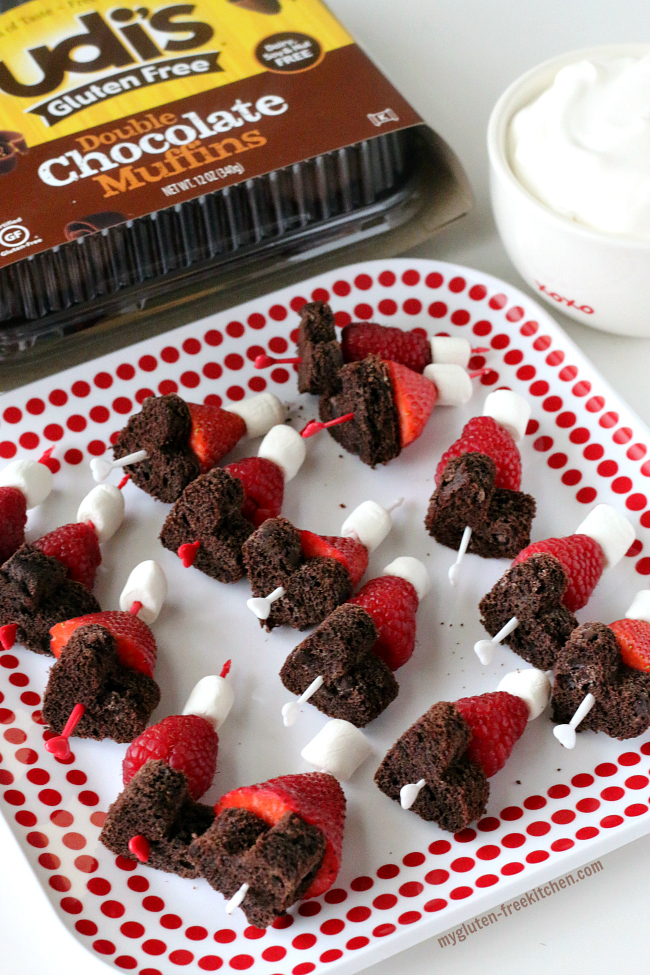 My boys are crazy for Udi's chocolate muffins, so I decided to use those for these allergy-friendly kabobs. One of the reasons I picked these Udi's chocolate muffins is because they're so decadent that my kids think they're dessert! The other reason is because I'm able to find these at all of my local grocery stores, even the ones that don't have much of a gluten-free selection. I'm hoping that will make these easy to find for you too! I don't like sending you running around for obscure ingredients!
Udi's chocolate muffins are gluten-free, dairy-free, soy-free, nut-free and do not contain peanut ingredients. I sliced each muffin horizontally into three equal layers. Then I used a tiny heart shaped cookie cutter to cut 2-3 hearts out of each layer. So each muffin netted me about 8-9 hearts. Honestly, look how cute just having the hearts dipped in whipped cream is? (My kids loved doing this too!)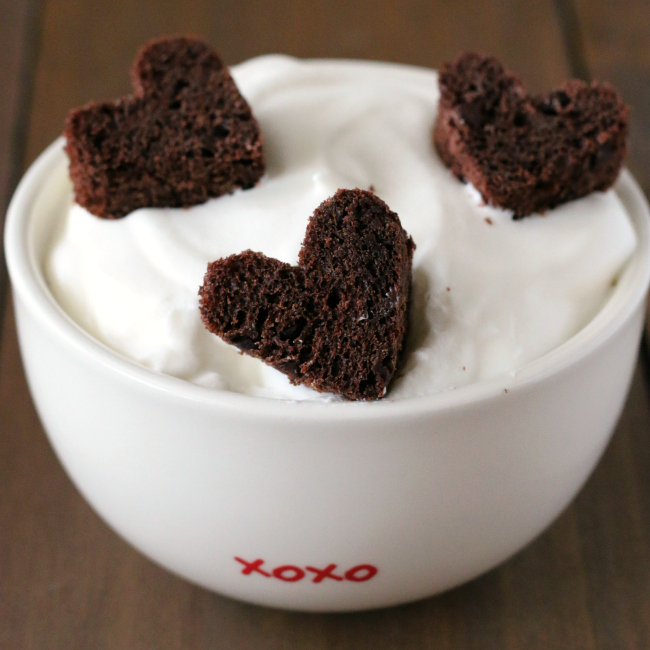 Now don't throw away all those scraps left over from cutting heart shapes. Use them to make these gluten-free Neapolitan parfaits! They're a fun and easy breakfast or snack that you can use the rest of the berries for too! I was planning to do this, but instead my kids ate all of the muffin scraps as soon as they got home from school – no waste here!
Depending on the allergies of the people you are making these for, you can either make real fresh whipped cream (if they can have dairy) or with coconut whipped cream (if they can't have dairy). I've made both and love both! But really, these kabobs are delicious without any cream too!
I found the cutest little plastic heart picks but you can easily use wooden kabob sticks or even toothpicks. The mini marshmallows at the bottom of the kabob help keep the fruit from sliding off or getting squished!
I hope you get to see smiles all around wherever you serve these fun treats on Valentine's Day!
Yield: 32-36 kabobs
Easy Valentine's Chocolate Berry Kabobs (gluten-free, dairy-free, nut-free)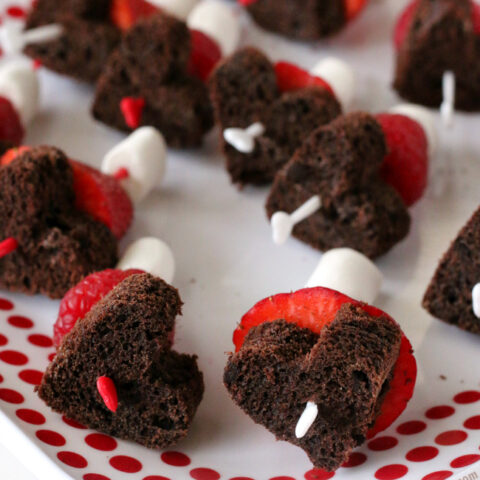 These fun chocolate berry kabobs are gluten-free, dairy-free, nut-free, peanut-free, and soy-free. You can serve with fresh whipped cream or coconut whipped cream as well!

Prep Time 20 minutes

Total Time 20 minutes
Ingredients
1 package Udi's Double Chocolate Muffins
1 lb. fresh strawberries
1 pint fresh raspberries
1/2 cup mini marshmallows (check ingredients for allergens)
Instructions
Slice each chocolate muffin horizontally into three equal layers.
Use a tiny heart shaped cookie cutter to cut 2-3 hearts out of each layer, giving you 8-9 hearts from each muffin.
Slice off the tops of all of the strawberries. If they are exceptionally large, you may wish to cut them in half as well.
On each plastic pick (or wooden kabob or even a toothpick), layer one chocolate heart, one strawberry or raspberry and then put one mini marshmallow at the end.
If you aren't serving right away, cover tray with plastic wrap to prevent from drying out.
Notes
This recipe can easily be doubled to make more!

Pin these to your Gluten-free Valentine's board on Pinterest: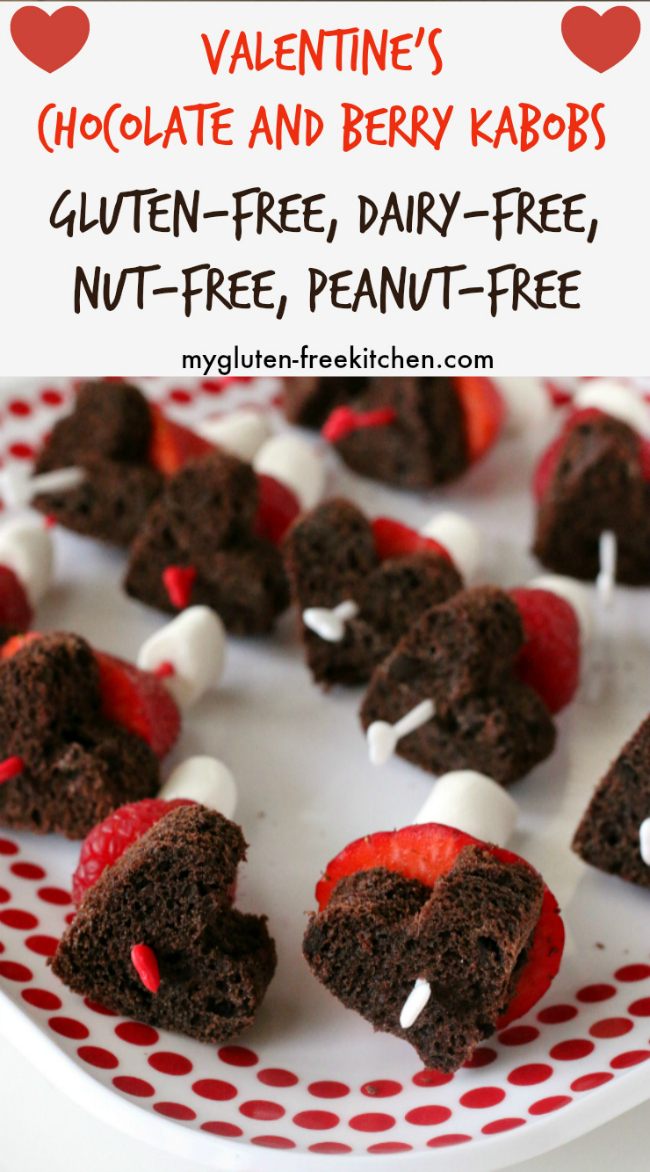 This sponsored post was created through my partnership with Udi's Gluten Free. As always, all opinions are my own. Collaborating with brands I love allows me to keep bringing you new and varied recipes and tell you about new products that are safe for us celiacs! Thanks for your support!