It doesn't get much better than this warm gluten-free chocolate chunk skillet cookie that is dairy-free too! Gooey, chocolatey, and oh so delicious served warm with dairy-free ice cream on top. This recipe is sponsored by Enjoy Life as part of my ongoing partnership with them.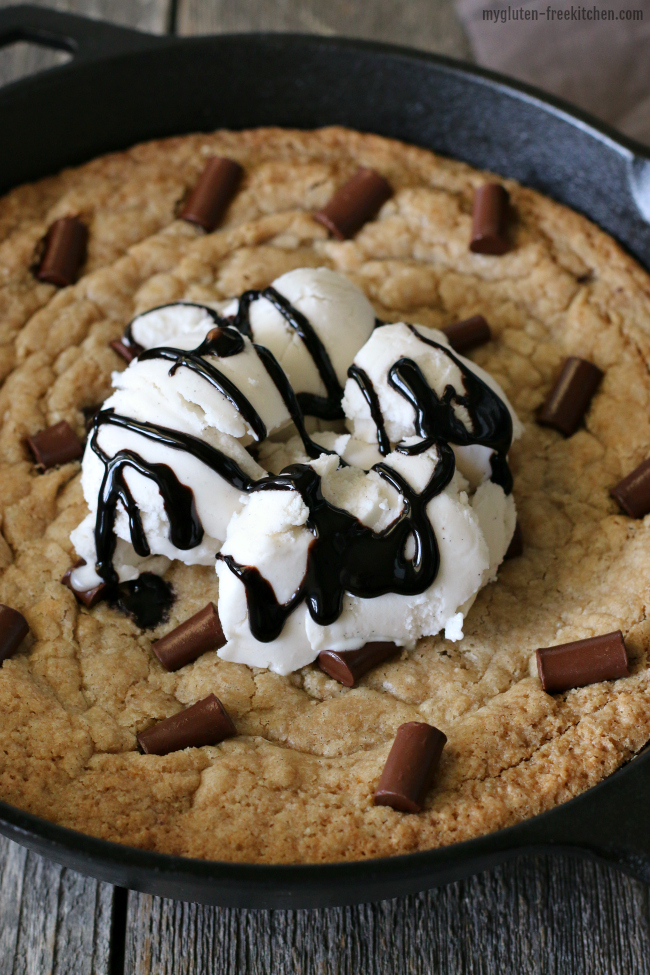 A few weeks ago I worked on this recipe and felt like I had it good, and even took the photos for it. But as I sat down to post it, I just couldn't get over the feeling that it was just that – good – but not great. So even though my goal was to have this up last week, I got back in the kitchen this weekend to make this again with some tweaks that I thought would improve it. Thankfully, all the tweaks worked perfectly and this dessert turned out AMAZING. Now I feel fully confident in sharing it!
Apparently some restaurants serve a warm skillet chocolate chip cookie like this and call it a pizookie (a made up word that is a combination of pizza and cookie), but I've never been to a restaurant that offered this before. And of course even if I found a restaurant serving it now, I wouldn't be able to have it since it would have gluten!
But since seeing the idea, the thought of a warm from the oven, melty chocolate chip cookie topped with ice cream sounded so good, I knew I needed to develop my own recipe for this.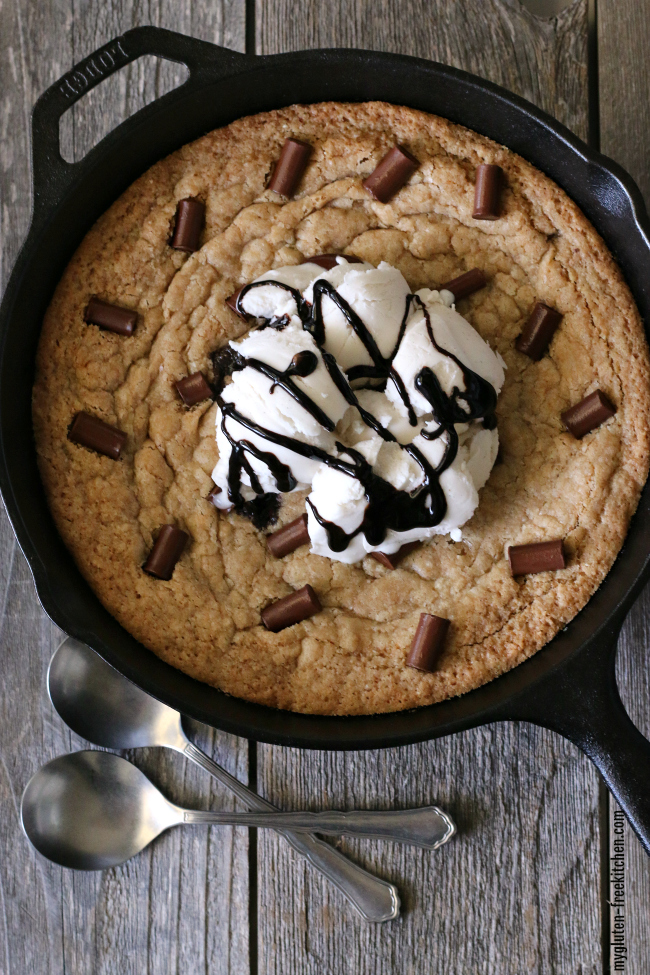 Unfortunately, this past year, my body has stopped tolerating milk and ice cream, so making a skillet cookie with dairy in it and topping it with real ice cream was out of the question. That didn't stop me though, as I felt confident that I could make a dairy-free version that we can all enjoy!
One thing I knew is that I wanted this to be REALLY chocolatey. I didn't want just some chocolate chips thrown in. I wanted the chocolate to be the star.
That meant reaching for chocolate chunks instead of chocolate chips. My go-to chocolate chunks are Enjoy life semi-sweet mega chunks. They're HUGE, melt perfectly, and taste great.
I used 1 cup of chocolate chunks in the skillet cookie dough, and then after it came out of the oven, I added about 1/4 cup more sprinkled on top. It was perfect!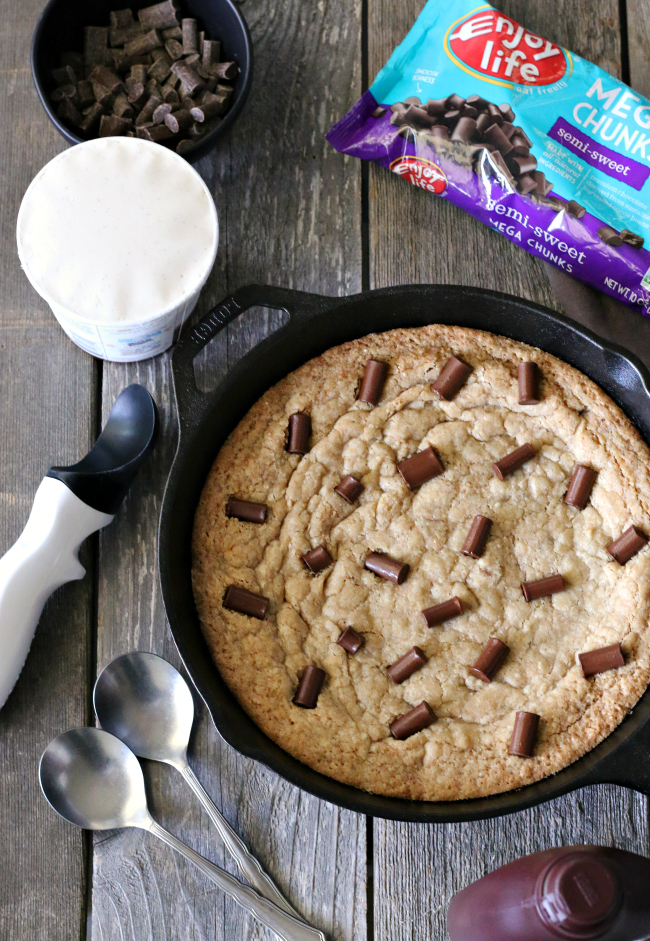 Notes on ingredients for this gluten-free dairy-free chocolate chunk skillet cookie:
Coconut oil: I liked this as the fat in place of butter or other alternatives. But if you can't have coconut, feel free to sub with the butter alternative that you can have. I recommend melting whichever product you choose. I melted my coconut oil, as it is solid at room temp where I live. I didn't make it hot, just liquid.
Sugar: Using more brown sugar than white sugar was one of the keys to these coming out perfectly so I recommend following my recipe for that!
Egg yolk: Yes, just one egg yolk and I recommend it be at room temperature if possible. Save the egg white for another recipe, or cook it up for yourself for breakfast. 🙂 I use this egg separator all the time – I think it's a must-have for every kitchen!
Non-dairy milk: Use your favorite milk sub here. I use a flax milk now, but have used nut milks in the past. Since you're using so little, it doesn't matter whether you use a sweetened or unsweetened one, or a vanilla or plain one.
After mixing the cookie dough batter, you spread it in a cast iron skillet. I used this Lodge Cast Iron Skillet from Amazon and it worked great.
After you pull this skillet cookie out of the oven, it continues baking a bit in the hot pan, so you want to pull it out before completely cooked through. You'll want to let it cool 5-10 minutes, then you can top with non-dairy ice cream (like a coconut or nut based alternative), chocolate syrup and serve! If you're a huge fan of nuts, feel free to top with chopped nuts as well, or even sprinkles if you love those.
Hand out spoons to everyone and dig in!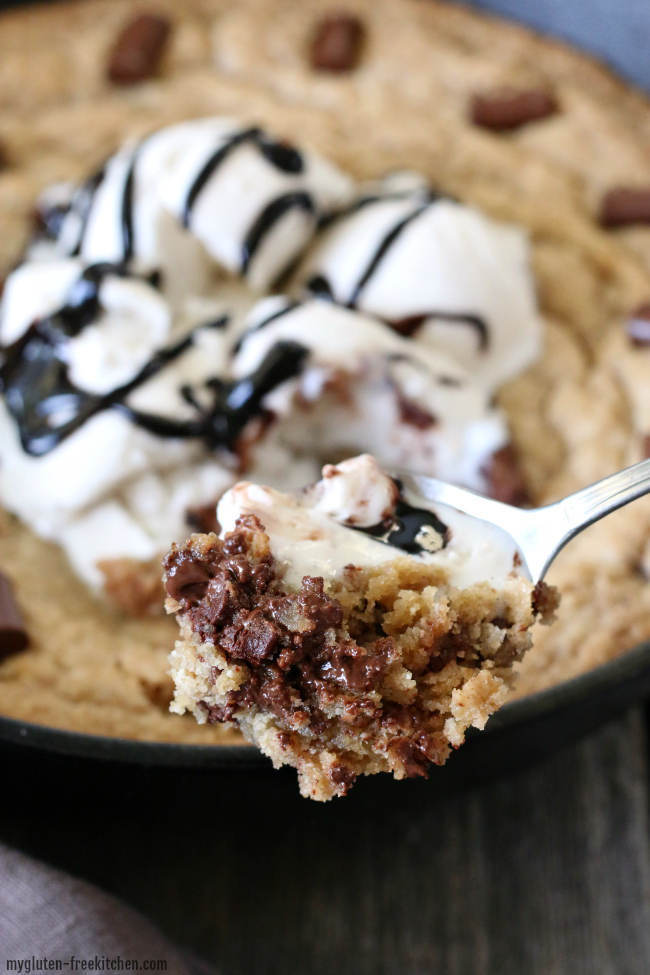 While many like to eat this straight from the skillet, family style, you can also scoop out portions of the skillet cookie into bowls and add the non-dairy ice cream and toppings then.
Of course, if you CAN have dairy, feel free to use all real ice cream of course! My family enjoyed it that way when they had this later!
Wondering what else to use the rest of your chocolate chunks in? How about this gluten-free almond biscotti that's dipped in chocolate? So good and fun to share too! They're dairy-free too. You can also use Enjoy Life chocolate chunks in these paleo chocolate chip cookies!
Are you a big cookie dough fan? Then you've also got to try this gluten-free cookie dough from my friend Brianna! It uses mini chips, but you could use mega chunks in it also!
If you make these and love them, please come back and give this recipe a 5 star rating in the recipe card! Feel free to comment with tips or to share any successful substitutions you made.
Gluten-free Chocolate Chunk Skillet Cookie recipe:
Yield: 8-10 servings
Gluten-free Dairy-free Chocolate Chunk Skillet Cookie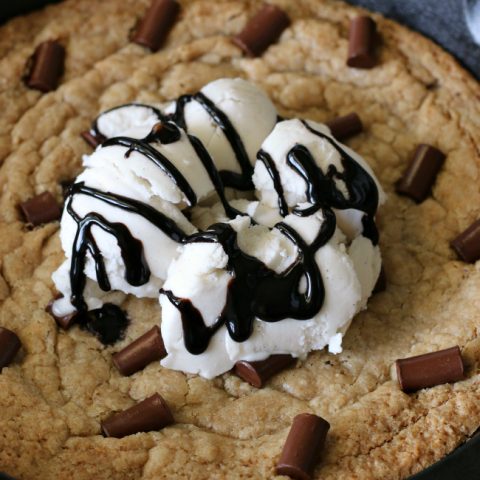 It doesn't get much better than this warm gluten-free chocolate chunk skillet cookie that is dairy-free too! Gooey, chocolatey, and oh so delicious served warm with dairy-free ice cream on top.

Prep Time 15 minutes

Cook Time 20 minutes

Additional Time 10 minutes

Total Time 45 minutes
Ingredients
1 1/2 cup good quality gluten-free all-purpose flour blend
1/2 tsp. xanthan gum*
1/2 tsp. baking soda
1/4 tsp. salt
2 tsp. solid/liquid coconut oil for pan
8 Tbsp. (1/2 cup) liquid coconut oil (see note)
3/4 cup brown sugar
1/4 cup sugar
1 egg yolk
1 Tbsp. non-dairy milk
1 1/2 tsp. pure vanilla extract
1 cup semi-sweet chocolate chunks (Enjoy Life Mega Chunks)
Instructions
In a small bowl, whisk together gluten-free flour, xanthan gum (if needed), baking soda, and salt. Set aside.

Place two teaspoons of coconut oil (doesn't matter whether it is solid or liquid) into a 10" cast iron skillet or other oven safe skillet. Turn oven on to 350° and place skillet with oil in the oven to warm up while the oven preheats.

In the bowl of your mixer, beat together coconut oil, brown sugar and sugar for 4 minutes at medium speed, until well mixed and creamy.

Add egg yolk, non-dairy milk, and pure vanilla extract and beat on medium speed for 30 seconds.

Add about half of the flour/dry ingredients mixture to your wet ingredients and mix on low just until mixed. Repeat with remaining dry ingredients.

Stop mixer and scrape sides well. Stir in 1 cup semi-sweet chocolate chunks. Stir until no remaining flour is visible and chocolate is spread well throughout.

Remove hot cast iron skillet from oven. Either tilt carefully to coat bottom and 1/2" of sides well with the melted coconut oil, or use a pastry brush to brush the melted oil up the sides 1/2" or so.

Scoop the cookie dough into the hot skillet. Spread carefully until even. Return to hot oven. Bake at 350° for 19-20 minutes, or until edges are brown and cookie seems almost done. It will finish baking a bit after removing.

After removing from oven to a cooling rack or trivet, sprinkle an additional 1/4 cup semi-sweet chocolate chunks on the surface. They'll melt a bit from the heat.

After cookie has cooled for 5-10 minutes, top with non-dairy ice cream and non-dairy chocolate sauce. Hand out spoons to everyone and dig in!

While many like to eat this straight from the skillet, family style, you can also scoop out portions of the skillet cookie into bowls and add the non-dairy ice cream and toppings then.
Notes
*Omit the xanthan gum if your gluten-free flour blend has xanthan or guar gum already in it.


Where I live, coconut oil always stays solid. I melted it in the microwave for about 40 seconds, just to liquify but not make really hot. If your coconut oil is already in liquid state, you won't need to do this.
Recommended Products
As an Amazon Associate and member of other affiliate programs, I earn from qualifying purchases.


This sponsored post was created through my partnership with Enjoy Life Foods. As always, all opinions are my own. Collaborating with brands I love allows me to keep bringing you new and varied recipes! Thanks for your support!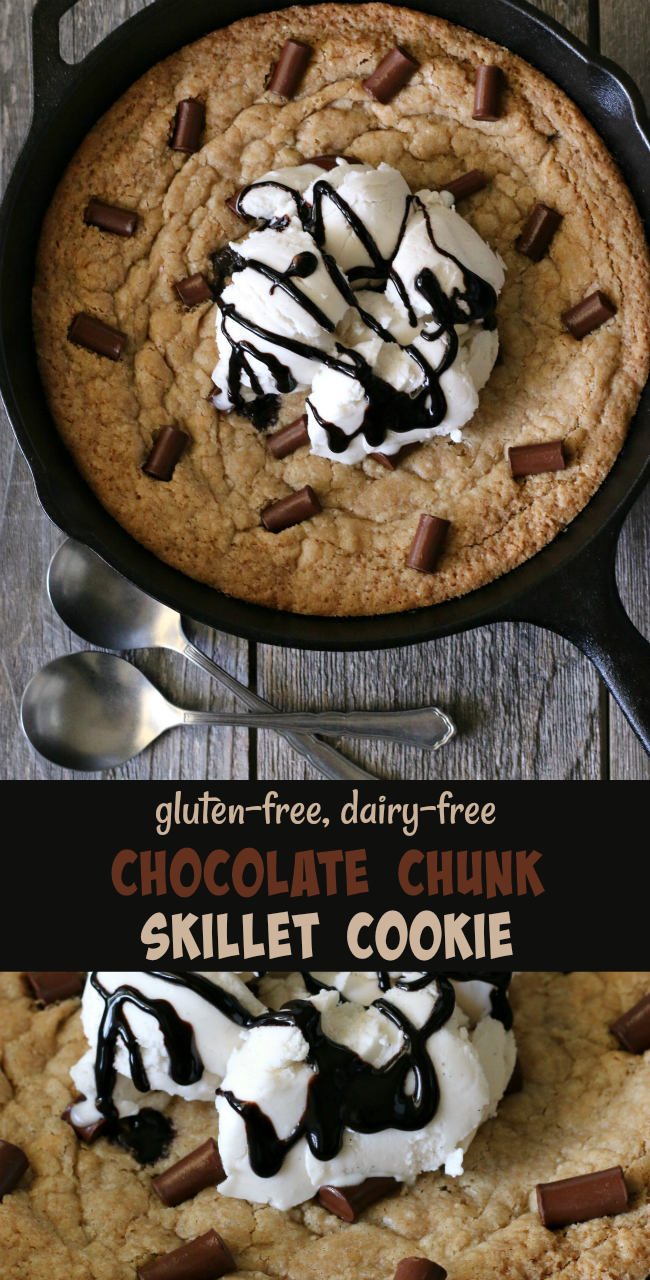 Saturday 13th of February 2021
Hi! This looks amazing! Would it be possible to make this with regular all purpose flour? If I used all purpose flour, could I omit the xantham gum? Thank you!
Monday 9th of November 2020
My oven doesn't go to 3500 degrees! Ha ha! But seriously, my wife and I both enjoyed this cookie cake/skillet cookie.
My cookie never really browned at the edges, so I over-baked it this time. It was still good, just not as ooey gooey. Next time I'll know better :)
I used melted butter instead of the coconut oil in the cookies, so that may be why it didn't brown.
Thanks again for the recipe. I'm sure we will make it again sometime.
Tuesday 10th of November 2020
Hi Dag - thanks for pointing out that typo! I fixed it! :) Sometimes with gluten-free baking, it just doesn't brown the same or at all - it really depends on the flour blend used. So yes, if you make it again, just pull it out sooner so it's gooey! And great idea to use butter if you can because it makes everything taste good!
Thursday 26th of March 2020
Hi, I just wanted to let you know that eggs are considered Dairy. Technically, your recipe isn't dairy free. I don't know if you know that or not.
I am eager to try your recipe, I will substitute the egg with egg replacer or unsweetened apple sauce. Thank you for the recipe. Truly Appreciate It!
Have a blessed day!
Friday 27th of March 2020
Hi Sunita, Actually, eggs are not dairy. Dairy products are products that come from the milk of mammals like cows, goats, and sheep. Eggs are laid from chickens. Someone avoiding dairy does not need to avoid eggs. This recipe is dairy-free. It is not labeled vegan, - if it was egg free and dairy-free then it would be vegan. If you need your recipes to be dairy-free and egg-free then definitely search for vegan recipes instead. Good luck!
Monday 27th of January 2020
What if you only have an 8" cast iron skillet?
Do you have a recipe for good bread?