When you have a couple overripe bananas but don't feel like making the usual gluten-free banana bread, use them in these gluten-free banana butterscotch oatmeal muffins instead! These gluten-free banana oatmeal muffins are easy, filling, and have just enough sweetness to make them a treat.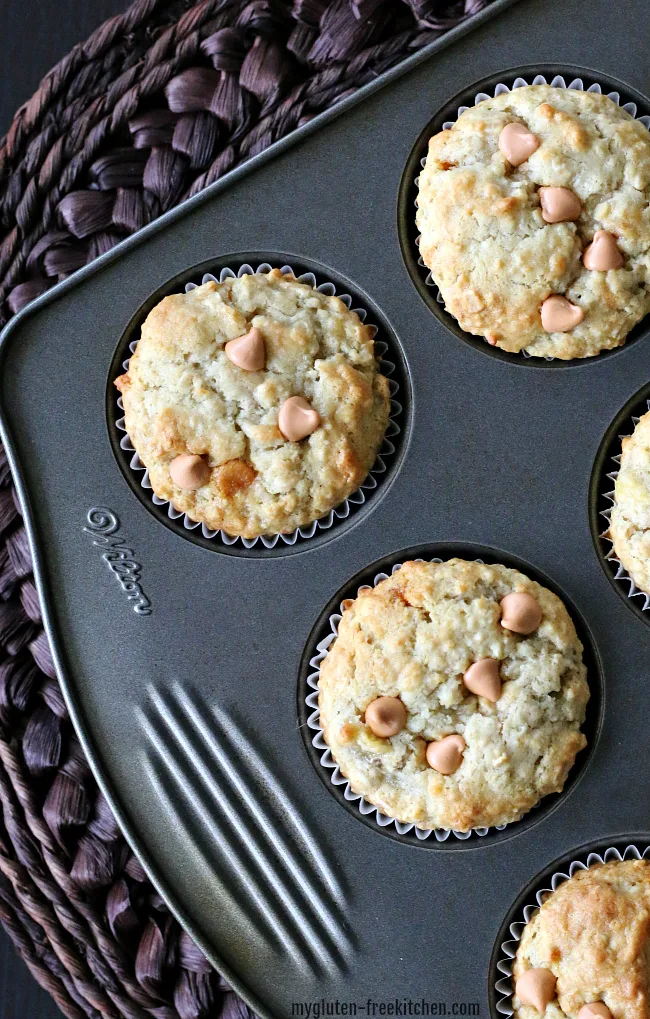 Usually when I have overripe bananas and want to make muffins, I make gluten-free banana muffins, gluten-free dairy-free banana chocolate chip muffins, or gluten-free peanut butter banana chocolate chip muffins. Those are all favorite, go-to recipes in my house! But now I have a new one to add to the mix, and these are especially enjoyed by my oldest, who loves just about all things I make with butterscotch!
Are you a fan of butterscotch? I love it in gluten-free oatmeal butterscotch cookies and other desserts, but this was my first time pairing it with a muffin. The flavor paired really well with banana.
The gluten-free oats in this recipe just lend a bit of wholesome texture without making them too heavy. They make them a bit more filling too for a breakfast or snack.
Don't these gluten-free oatmeal banana muffins look yummy? There's just enough butterscotch chips to make them a little sweeter.
Notes on ingredients for these gluten-free oatmeal muffins:
As always, I recommend using a good quality gluten-free flour blend, which to me means no bean flours, and not just rice flour. I've tested them with gfJules gluten-free flour blend and other times with Gluten-free Mama's Almond Blend, always with perfect results! I included Amazon links to both, but you can also buy gfJules gluten-free flour directly and Gluten-free Mama's flour directly. Now when gfJules flour is used, no additional binders are needed, as it has xanthan gum in it already. When using a flour blend like Gluten-free Mama's, that doesn't include any xanthan or guar gum, then you just add a bit of xanthan or guar gum like I've listed below in the recipe. Just check your go-to flour blend and see and make the change accordingly!
These don't need much xanthan gum, since the banana helps these stick together, however I do still use a bit to help keep these from being a crumbly mess. The xanthan I usually use is this Namaste xanthan gum.
Gluten-free quick oats. Be sure to use certified gluten-free quick oats. Not all labeled gluten-free oats are certified and grown using purity growing methods. I use and recommend GF Harvest Organic Quick Oats.
This recipe calls for 3/4 cup mashed banana, which is about 2-3 overripe bananas, depending on how big your bananas are.
Butterscotch chips – Not all brands of butterscotch chips are gluten-free. Watch for malt listed in the ingredients. I use Guittard Butterscotch Baking Chips as they are not only labeled gluten-free, but are manufactured in a gluten-free environment.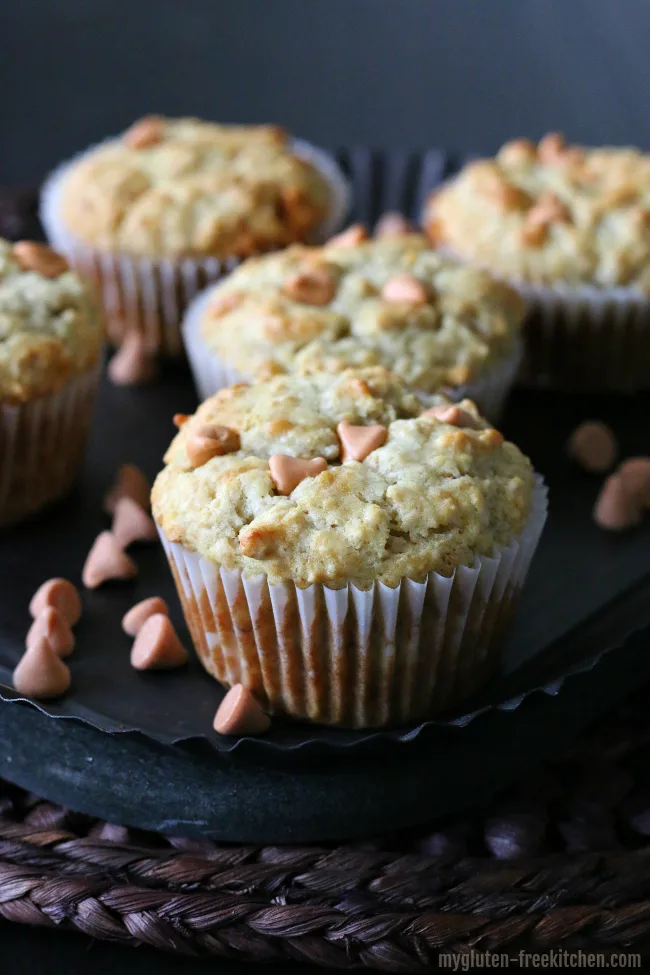 Have more overripe bananas to use up? You can make these gluten-free banana oatmeal chocolate chip cookies that are a new favorite around here. You also might like these gluten-free monkey cookies, which I've been making for many many years. I'm totally going to make this gluten-free chocolate peanut butter banana muffin recipe from my new friend Megan too!
Would you prefer a more fruity recipe? As soon as our stores have fresh strawberries, I want to use some overripe bananas to make these gluten-free strawberry banana muffins too! This summer when our backyard raspberries are ripe, I'm wanting to try this gluten-free raspberry banana bread too!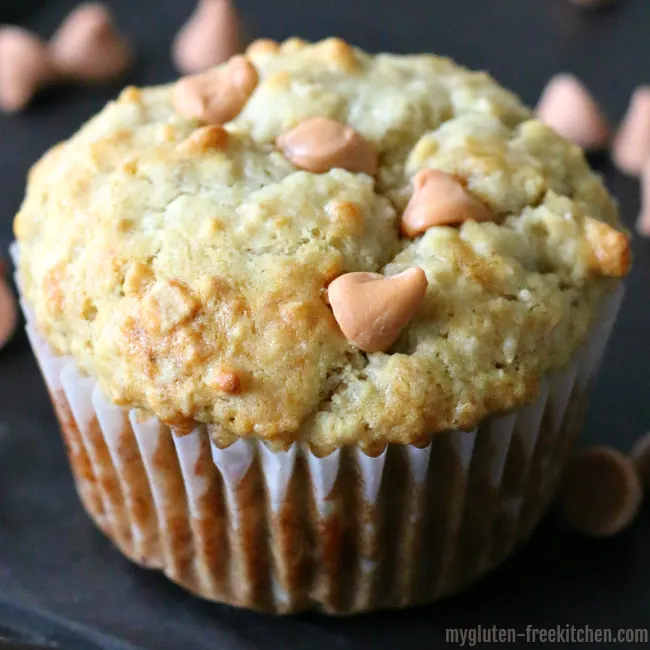 This gluten-free oat muffins recipe is one I adapted from one I found on a website that no longer exists called RecipeZaar. I printed it off and made them back in 2009, before I was gluten-free. I'm so glad I found this recipe again in my files this year so that the gluten-free version can be a part of our regular muffin rotation!
If you make these and love them, please come back and give this recipe a 5 star rating in the recipe card! Feel free to comment with tips or to share any successful substitutions you made.
Gluten-free Banana Butterscotch Oatmeal Muffin recipe:
Yield: 12 muffins
Gluten-free Banana Butterscotch Oat Muffins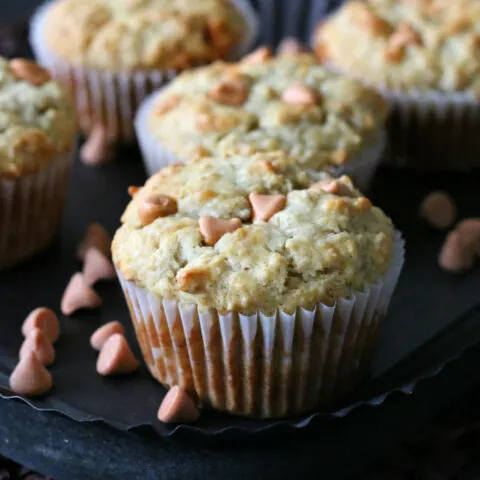 Gluten-free oatmeal muffins get an extra dose of sweetness and amazing flavor from the addition of butterscotch chips. So yummy!

Prep Time 10 minutes

Cook Time 15 minutes

Total Time 25 minutes
Ingredients
1 cup good quality gluten-free all-purpose flour blend
1/4 tsp. xanthan gum*
1 cup certified gluten-free quick oats
1 tsp. baking powder
1/2 tsp. baking soda
1/2 tsp. salt
3/4 cup mashed ripe banana
1 large egg
1/2 cup sugar
1/4 cup milk
1/4 cup (4 Tbsp.) unsalted butter, melted
1 tsp. pure vanilla extract
3/4 cup butterscotch chips
Instructions
In a medium size bowl, whisk together the gluten-free flour blend, xanthan gum (if needed), gluten-free quick oats, baking powder, baking soda, and salt. Set aside after all mixed together.

In the bowl of your mixer, beat together mashed banana, egg, sugar, milk, melted butter, and pure vanilla extract until blended.

Dump in half of the dry ingredient mixture from bowl. Mix on low speed just until mixed in, then add other half of dry ingredients and finish mixing. Don't overmix.

Set aside some of the butterscotch chips, if desired, for sprinkling on the finished muffins. Stir in remaining butterscotch chips into batter (about 1/2 cup). (Or if you don't want to fuss with extra chips on top, just stir them all in!)

Use a large scoop to scoop into paper-lined muffin tins. I used a large cookie scoop. Mounded scoops yielded 10 muffins, an even scoop full of batter yielded 12 muffins.

Bake at 400° for 12-15 minutes or until set (toothpick inserted in center comes out clean or with moist crumbs).

Remove to cooling rack and let cool. Hand place extra butterscotch chips on top of baked muffins if desired.
Notes
*Recipe has been tested with gfJules gluten-free all-purpose flour blend with great results - omit the xanthan when using this blend. Recipe has also been tested with Gluten Free Mama's Almond Blend with great results with xanthan added as called for in recipe.

*Omit the xanthan gum if your gluten-free flour blend has xanthan or guar gum already in it.

**Do not add the extra butterscotch chips to the unbaked muffins. These look best if you add right after baking instead!

*Be sure to double check the ingredients of your butterscotch chips as some have malt added. I use Guittard butterscotch chips - they are gluten-free and manufactured in a gluten-free facility.
Recommended Products
As an Amazon Associate and member of other affiliate programs, I earn from qualifying purchases.

Pin this to your gluten-free muffins board on Pinterest: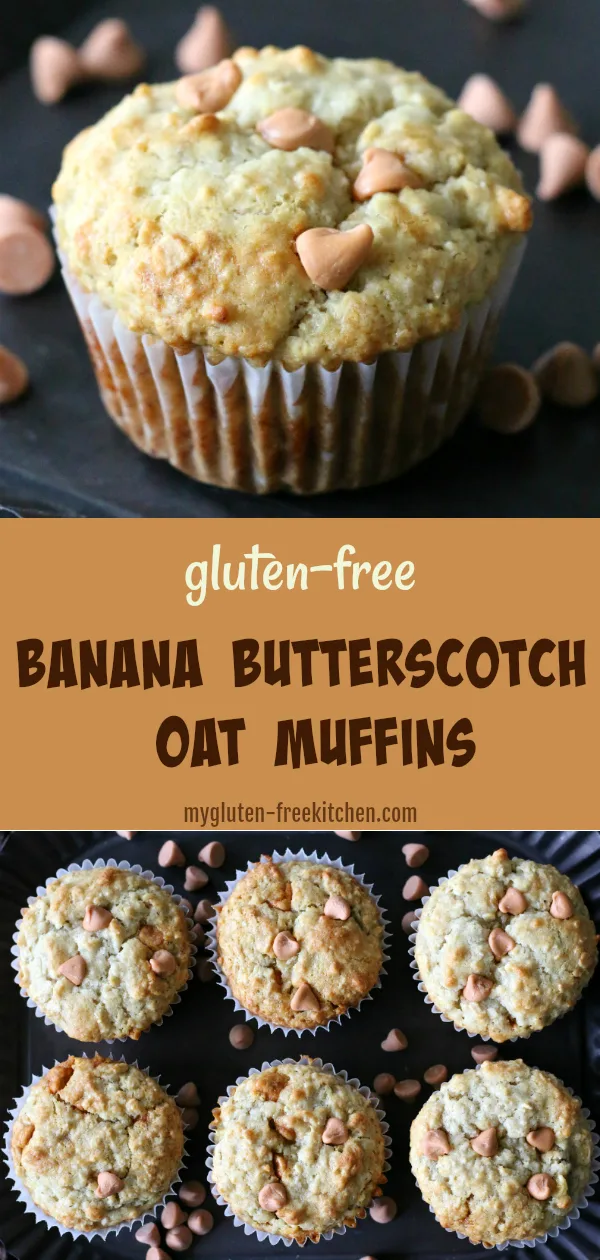 I hope you and your family enjoy these gf oatmeal muffins as much as my family does!