Looking for a unique, creamy pie to add to your holiday dinners or parties? This gluten-free eggnog pie is a creamy and flavorful pie that eggnog lovers will go crazy over!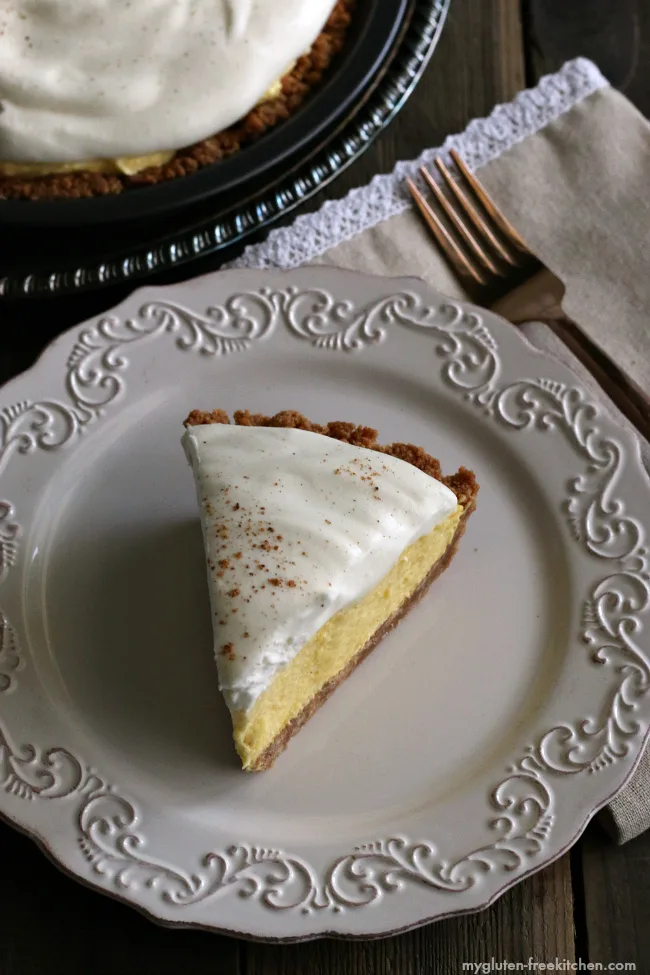 Are you an eggnog fan? People seem to either love it or hate it, with only a few people in the middle tolerating it. I think part of the appeal of eggnog is that it is only available seasonally, kind of like pumpkin spice drinks. I personally like a bit of eggnog plain or in an eggnog dessert like this, but am not a fan of spiked eggnog at all. Hold the alcohol please!
Way back in my college days (I hate to think about how long ago that was now), I had several friends that really really loved eggnog. They would stalk the stores waiting for it to arrive and go through gallons of it each season.
One year, a huge group of us college students celebrated Thanksgiving together. Nowadays, they have a name for that, Friendsgiving, but we didn't have that clever name back then!
We did our Thanksgiving meal potluck style. Knowing that a number of people attending loved eggnog, I decided to bring a creative pie – eggnog pie! I found the original recipe in a cookbook called Treasury of Christmas (out of print now) when I was looking for eggnog desserts. It was a hit and I saved the recipe for all of these years. Earlier this month, I dug through all my old recipes and found it and decided I should adapt it and share for the holidays!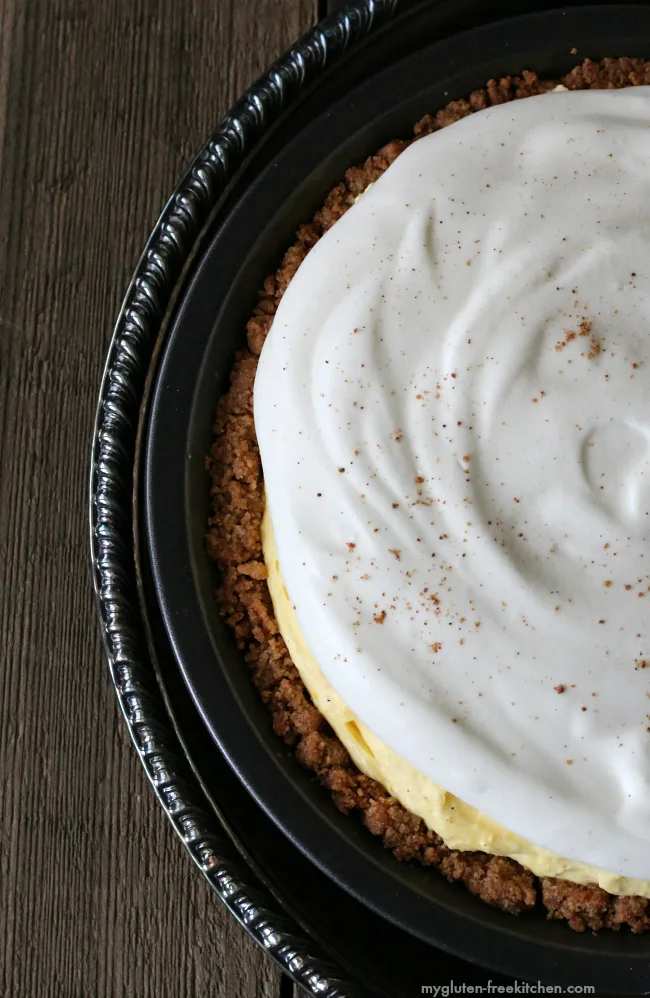 I've been loving making cookie crusts for pies, and had the idea that I should make this gluten-free eggnog pie with a snickerdoodle crust. Yep, that delicious and easy gluten-free snickerdoodle crust that I used in my gluten-free Dutch apple pie and the gluten-free caramel apple crisp in jars.
This gluten-free snickerdoodle crust is easily made with store-bought gluten-free snickerdoodle cookies. For this pie, the cookies get pulsed in my food chopper until blended into course crumbs. I prefer leaving some pea-sized little chunks for texture. Then sugar and melted butter are mixed in to the crumbs. These help the crumbs stick together for making a crust and also add great flavor! Then the mixture is just pressed into the bottom and up the sides of a metal pie pan. Super easy!
I used just 1 package of cookies and it was plenty for the bottom and about halfway up the sides which is what I was wanting. If you're going to use a bigger pie pan or want the crust to go all the way up, then use two packages, and double the sugar and butter.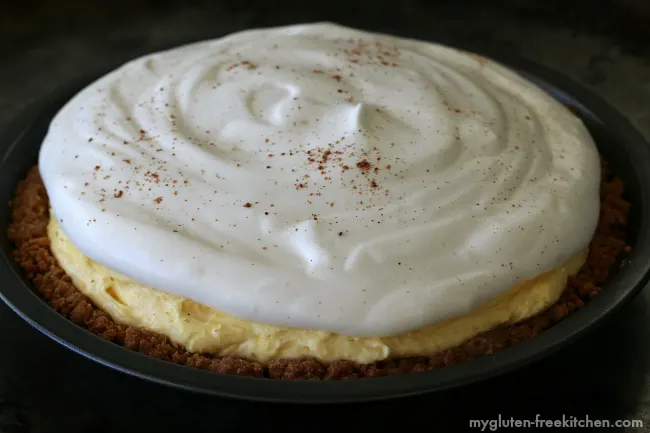 Notes on ingredients and substitutions for this eggnog pie recipe:
Gluten-free Snickerdoodle cookies: You can make homemade cookies by using my gluten-free snickerdoodle cookies recipe. Or you can buy ready made gluten-free Snickerdoodle cookies. Here are some brands that make gluten-free snickerdoodles and sell them on Amazon: Enjoy Life, Nana's, Trader Joe's, Simple Mills, Annie's. You'll want two boxes of most of these. You want to get a total of about 8 ounces worth of cookies so you can get enough cookie crumbs.
Eggnog – Just pick up a quart of good chilled eggnog for this. You'll just need 1 cup for this pie, so you can enjoy the rest! This is a great recipe for helping to use up eggnog you have on hand.
Rum extract – this might be a new one for you, but you should be able to find it by the other liquid extracts in the spice section of your local store or order here from Amazon.
Is eggnog gluten-free?
Eggnog is gluten-free but of course you'll want to double check ingredients as with anything! Especially be suspicious of homemade eggnog, because you just never know what someone includes in their secret recipe. Store-bought eggnog is usually made with milk and cream, sugar, sometimes corn syrup, egg yolks, nutmeg, and some natural flavorings and gums to get it to the right consistency. The eggnog I used is Darigold eggnog and their ingredients are listed on their site here, along with the clear label gluten free. I know someone is wondering this! I have never come across any eggnog with gluten in it.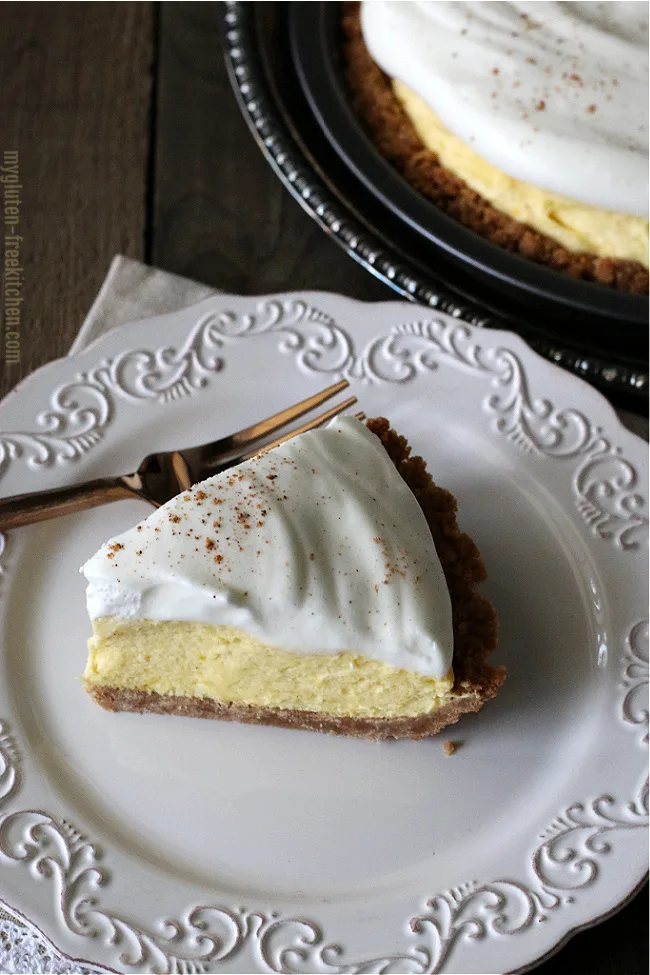 This is almost a no bake eggnog pie. I say almost, because I do recommend you bake the crust. But it's only for 8 minutes. The eggnog custard pie filling does not need baked.
I made homemade whipped cream to use both in the pie filling and as the topping. It's so worth it. You could technically use a ready made whipped topping, but trust me that it won't be nearly as good!
Now, aren't you ready to have a slice of this easy eggnog pie? Here's a slice: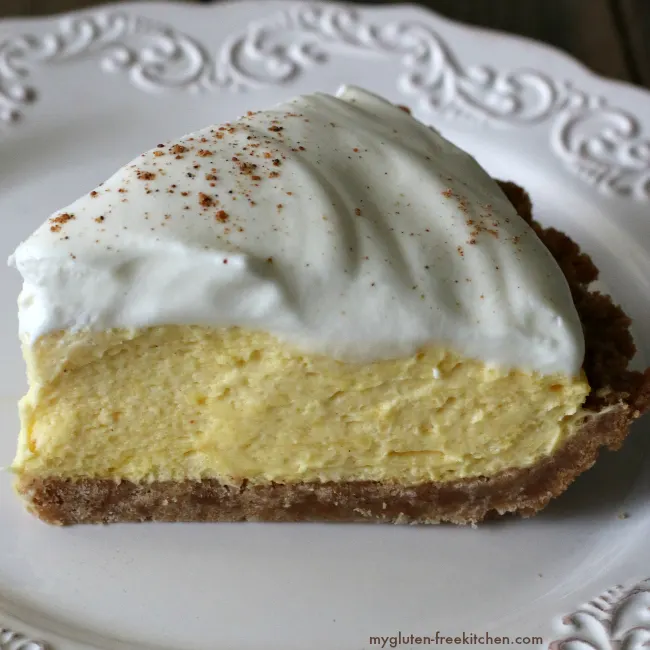 I've been working hard at adding more and more gluten-free pies to my site over the past year or so. While I'm usually more drawn to gluten-free brownies, cakes, and cookies, I know so many people love pie – especially over the holidays. If there is another pie flavor that you'd like me to work on, let me know!
If you make this pie and enjoy it, please come back and give this recipe a 5 star rating in the recipe card! Feel free to comment with tips or to share any successful substitutions you made.
Eggnog Pie Recipe:
Yield: 8-10 slices
Gluten-free Eggnog Pie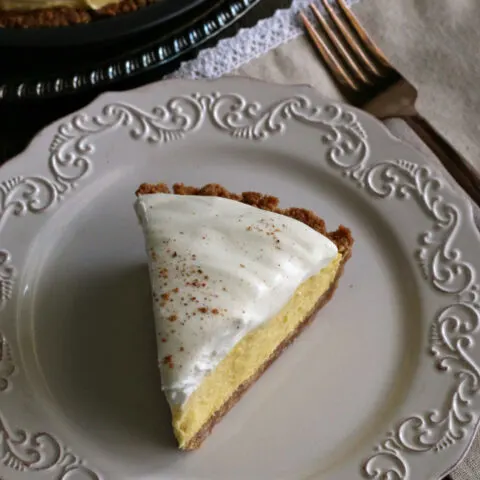 This gluten-free eggnog pie is a creamy, flavorful pie that eggnog lovers will go crazy over!

Prep Time 30 minutes

Cook Time 2 hours 8 minutes

Total Time 2 hours 38 minutes
Ingredients
8 oz. Gluten-free Snickerdoodle Cookies
2 Tbsp. sugar
4 Tbsp. butter
2 cups heavy whipping cream
3 Tbsp. sugar
1 tsp. pure vanilla extract
1 cup cold eggnog
1 lg pkg. (5.1 oz.) instant vanilla pudding mix
1/4 tsp. rum extract
1/4 tsp. ground nutmeg
Instructions
Snickerdoodle Crust:
Lightly spray inside bottom and sides of pie plate with non-stick cooking spray. Set aside.
Using a food processor or food chopper, pulse the gluten-free snickerdoodle cookies until mixture is coarse crumbs with some larger chunks.
Transfer cookie crumbs to a medium sized bowl. Add sugar and whisk until blended together.
Melt the butter, then pour over the cookie crumb mixture. Use a fork to mix together. Press mixture firmly and evenly in bottom and up sides of the lightly greased pie plate. Mine went about 2/3 of the way up the sides.
Bake at 375° for 8 minutes. Remove from oven and set aside to cool.
Homemade Whipped Cream:
I find it easiest to use a straight sided bowl and hand mixer, but feel free to use a stand mixer too!
Beat 2 cups heavy cream for one minute.
Add sugar and vanilla extract. Continue beating until the cream holds soft peaks.
This will yield about 4 cups of whipped cream. Measure out 2 cups of the whipped cream and leave the rest in the bowl, set the bowl in the refrigerator.
Eggnog Pie Filling:
In the bowl of your mixer, add eggnog, vanilla pudding mix, rum extract, and nutmeg. Mix at low speed, until blended, about 1 minute. Let stand for 5 minutes.
Fold in the measured 2 cups of the homemade whipped cream. Keep folding until everything is mixed together well and no streaks remain.
Scoop into the cooled snickerdoodle crust.Place uncovered in refrigerator. Chill until firm, about 2 hours.
Remove from refrigerator and gently spread the remaining chilled homemade whipped cream over the pie. For appearance, I didn't spread mine all the way to edges, but you sure can!
Serve or return to refrigerator to keep cold until ready to serve. Before serving, you can sprinkle with a pinch of additional nutmeg.
Notes
I used just 1 package of gluten-free Snickerdoodles and it was plenty for the bottom and about 2/3 the way up the sides which is what I was wanting. If you're going to use a bigger or taller pie pan or want the crust to go all the way up, then use two packages, and double the sugar and butter in the crust too.

See blog post for links to gluten-free snickerdoodle cookies.

Recommended Products
As an Amazon Associate and member of other affiliate programs, I earn from qualifying purchases.

Pin this eggnog pie to your gluten-free Christmas board on Pinterest: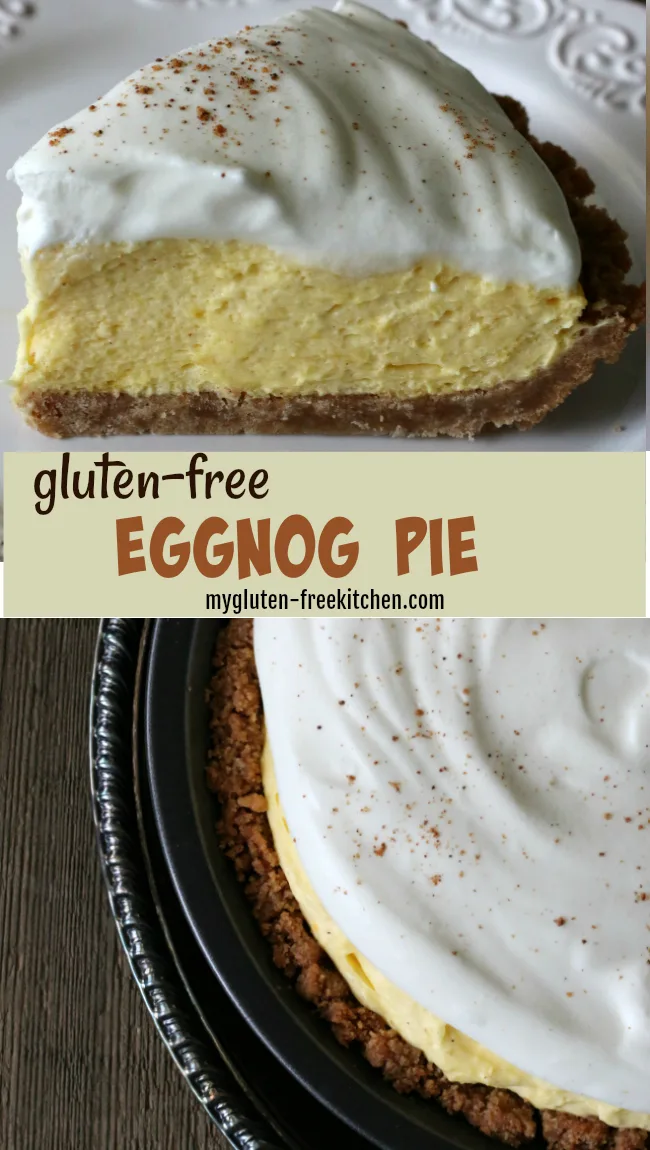 I hope you and your family enjoy this eggnog custard pie as much as my family did!