Perfect for weekend mornings or holiday brunch, these gluten-free pull-apart cinnamon rolls are gooey, cinnamon deliciousness drizzled with a cream cheese frosting. You'll be glad you can just reach in and snitch a bite-sized roll! This recipe is sponsored by Nielsen-Massey Vanillas – my favorite pure vanilla extract!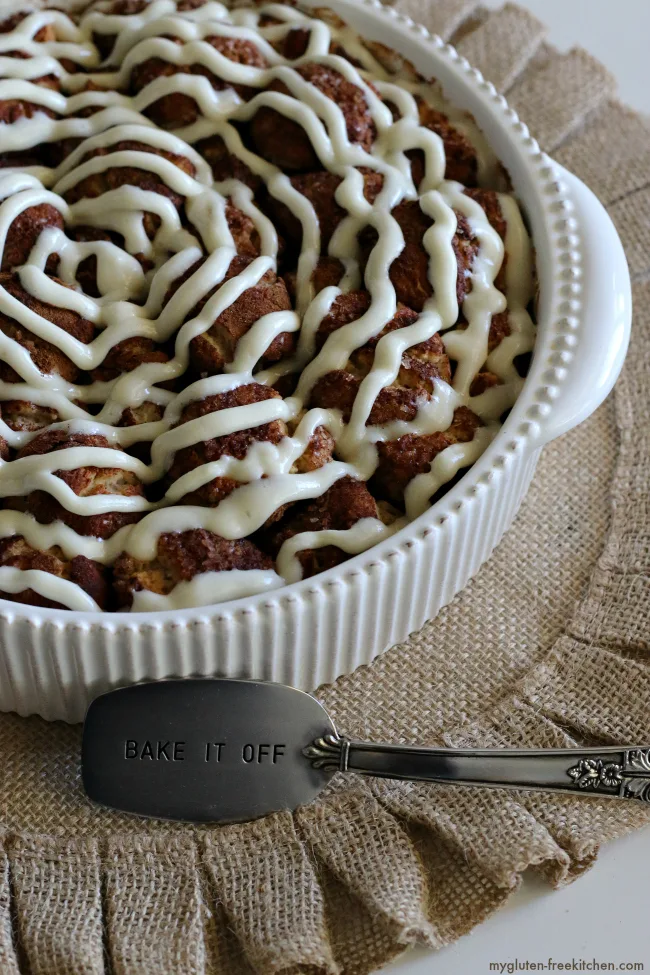 Just about everyone I talk to that has to eat gluten-free misses cinnamon rolls. While I'm still working on my recipe for big fat individual cinnamon rolls like you buy at the mall, I have perfected this lovely recipe for gluten-free pull-apart cinnamon rolls. They're like a delicious combo of cinnamon rolls and monkey bread but made gluten-free! I've been developing this recipe for the past few years, and I'm excited to finally share it with you!
I think these turned out so well, you're going to need to grab or make some little gluten-free labels like I have in my photo if you're going to bring this to a holiday brunch. People aren't going to believe you that these are gluten-free!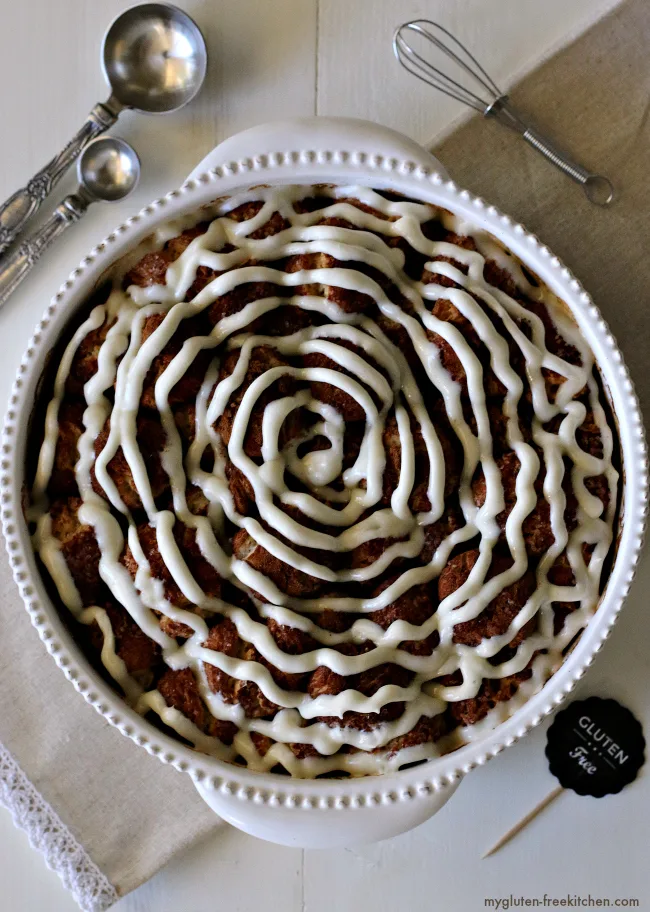 While I know I've mentioned Nielsen-Massey vanilla extracts on here before (since I love them), today I get to tell you more! Why do I love using Nielsen-Massey vanilla products?
First, they're certified gluten-free, certified Kosher, allergen-free and GMO-free. I look at allergen statements on a ton of websites and the Nielsen-Massey allergen info is among the best I've read. It's clear on exactly what they do to keep people like us safe! You can find it in their FAQ section under dietary needs. I actually reached out to them recently just to tell them how much I appreciate their allergen statement online. Wouldn't it be nice if it was so easy to find that information for every brand we try to use?
The second reason that I love Nielsen-Massey products – all of the products I've tried of theirs are so flavorful! They smell amazing and they make anything I bake taste so good! When baking festive holiday recipes, it's especially important to choose pure ingredients with rich flavor profiles. Yes, before you start that holiday baking, toss all those old bottles of vanilla extract, baking soda, baking powder, cinnamon and spices. You want fresh and effective ingredients so your family favorite recipes turn out well!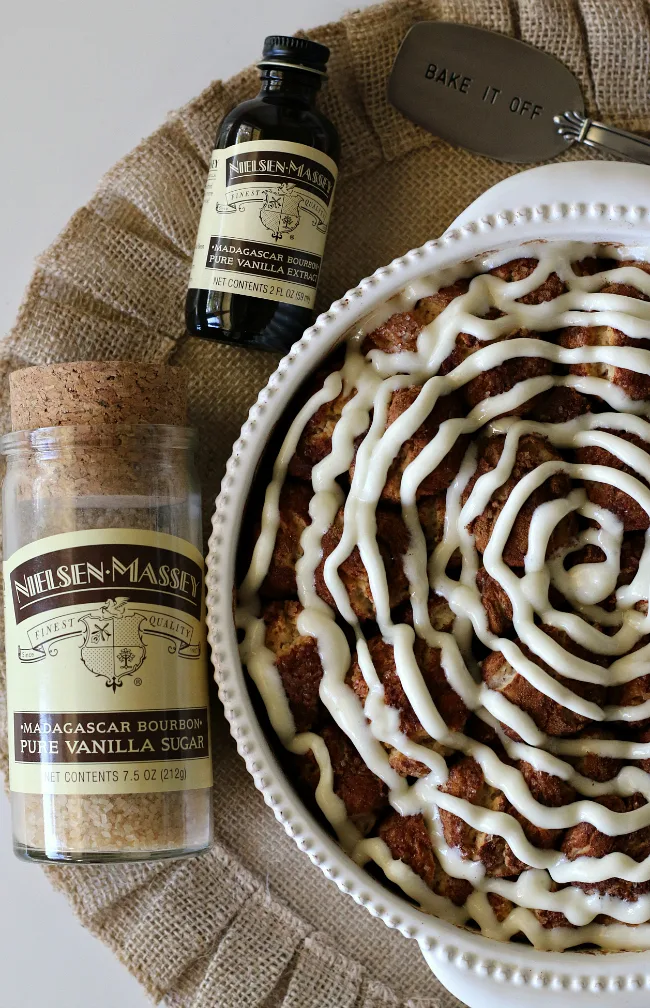 Notes on Ingredients and substitutions for these gluten-free pull-apart cinnamon rolls:
Flour – Use a good quality gluten-free flour blend. Several varieties work well for this. You can refer to my original gluten-free dinner rolls post for comments regarding flour blends. I've made these successfully with Authentic Foods Multi-Blend Flour and with Gluten Free Mama's Almond Blend Flour.
Cinnamon – The cinnamon really stands out here – use a fresh, new, flavorful container of cinnamon! Even with the large quantity of baking I do, I still toss my cinnamon bottle and buy fresh right before each holiday baking season. It makes such a difference!
Vanilla Extract – I prefer to use Nielsen-Massey Madagascar Bourbon Pure Vanilla Extract. This flavorful pure vanilla extract is certified gluten-free! It has a sweet, creamy flavor and makes for an excellent all-purpose vanilla to use in all your sweet and savory recipes. If you can't find it at your local store, you can order it online here.
Sugar: I've made these rolls multiple times with regular sugar and I've also made them recently with this Nielsen-Massery Pure Vanilla Sugar. If you have some or buy some, use that, otherwise, just use regular sugar.
Cream Cheese – In my opinion, a good cinnamon roll must have cream cheese frosting, so I made a cream cheese-based frosting to drizzle on these rolls. You can use the lower fat cream cheese version called Neufchâtel – I do often.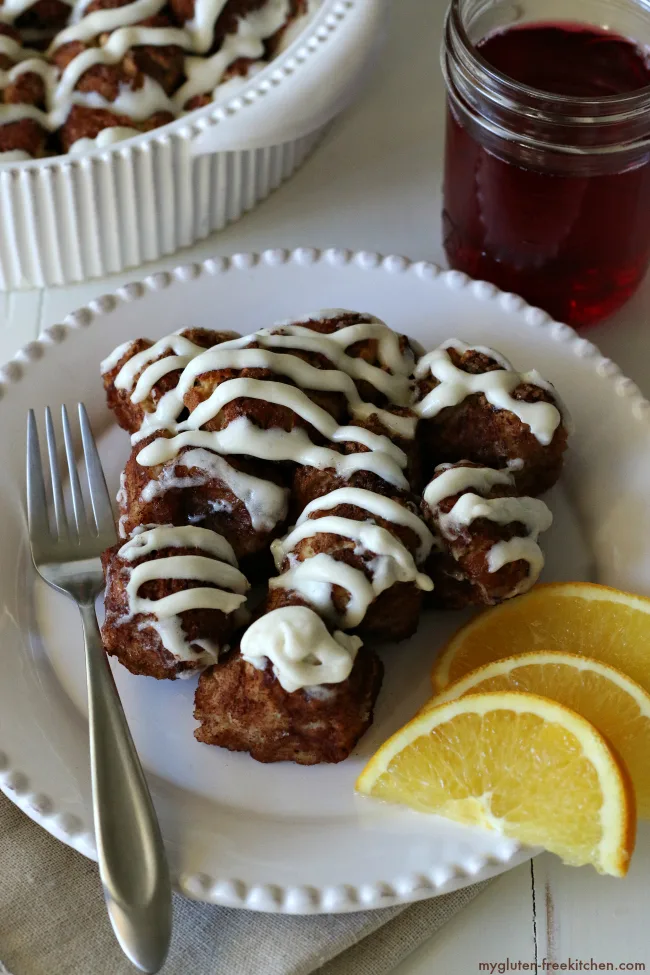 I like to serve these gluten-free pull-apart cinnamon rolls as part of a yummy brunch, alongside a savory egg dish like my overnight gluten-free breakfast casserole. For drinks, we love this homemade Orange Julius recipe and this crock pot hot chocolate recipe – either would be a great choice for your brunch!
Nielsen-Massey has some allergy-friendly recipes on their website already that you should check out. I'm hoping to help them add more!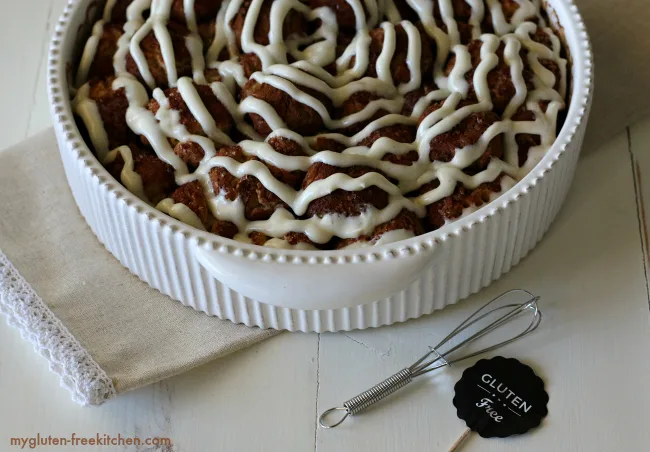 Be sure to let me know if you try this over the holidays or anytime! Also, if you're looking for crescent rolls, I highly recommend you try my friend Chandice's gluten-free crescent rolls! Perfect for your holiday dinner!
Gluten-free Pull-Apart Cinnamon Rolls Recipe:
Yield: 6-8 servings
Gluten-free Pull-Apart Cinnamon Rolls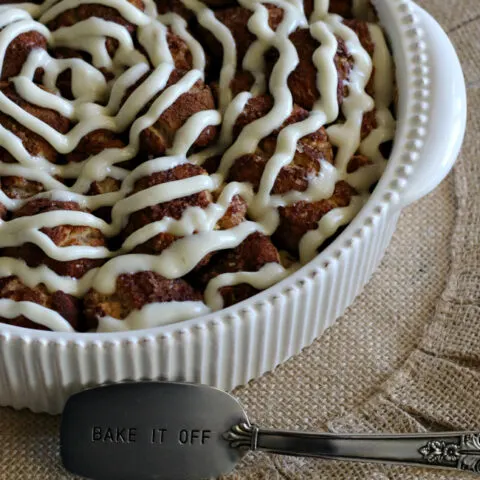 Perfect for weekend mornings or holiday brunch, these gluten-free pull-apart cinnamon rolls are gooey, cinnamon deliciousness drizzled with a cream cheese frosting.
Additional Time
1 hour
15 minutes
Ingredients
Rolls:
2 3/4 cups good quality gluten-free flour blend
1 1/2 tsp. xanthan gum (omit if your flour blend has xanthan or guar gum)
2 tsp. instant yeast
1/4 cup sugar
1 tsp. ground cinnamon
1 tsp. salt
1 cup warm water (105-110)
2 Tbsp. salted butter, melted
1 egg (room temp)
1 tsp. cider vinegar
Mixture to roll in:
1/3 cup sugar
1 Tablespoon + 1 teaspoon ground cinnamon
Pour over:
Cream Cheese Icing:
1 Tbsp. cream cheese, room temp
1 Tbsp. salted butter
1/2 cup powdered sugar
1 tsp. milk
1/2 tsp. Nielsen-Massey Madagascar Bourbon Pure Vanilla Extract
Instructions
Rolls:
In the mixing bowl of your electric mixer, mix together flour, xanthan gum, instant yeast, sugar, ground cinnamon, and salt.
With mixer running on low speed, add in the warm water, melted butter, egg and cider vinegar. Mix on medium speed for 3 minutes.
Spray an 8" or 9" round cake pan with cooking spray.
In a small bowl, whisk together sugar and cinnamon.
Using a small scoop, scoop a ball of sticky dough and drop into the bowl of cinnamon and sugar. Roll around until coated, then place in prepared round pan. Repeat process until all of the dough is used up, layering balls of dough as needed.
Sprinkle leftover cinnamon sugar mixture over top.
Drizzle with the melted 1 Tablespoon of butter.
Cover with a dry towel and place pan in a warm place to let rise for 1 hr.
Preheat oven to 400°.
Bake rolls in preheated oven for 25 minutes. Remove from oven and place on cooling rack while you make icing.
Cream Cheese Icing:
Use a hand mixer or stand mixer to beat together cream cheese, salted butter, powdered sugar, milk, and pure vanilla extract until smooth.
Place icing in a decorating icing bag or a strong Ziploc bag. Snip off the end and squeeze out in desired pattern over the baked cinnamon rolls. (I snipped my pastry bag exactly at the 1/4" wide spot.)
Cut into wedges or allow everyone to pull-apart the rolls as desired!
Notes
*If your flour blend contains xanthan or guar gum already, then omit the xanthan gum called for in this recipe.
I've tested these with Authentic Foods Multi-Blend Flour and Gluten-free Mama's Almond Blend for the flour and recommend either of those.
Recommended Products
As an Amazon Associate and member of other affiliate programs, I earn from qualifying purchases.
This sponsored post was created through my partnership with Nielsen-Massey. As always, all opinions are my own. Collaborating with brands I love allows me to keep bringing you new and varied recipes and tell you about new products that are safe for us celiacs! Thanks for your support!
Pin this to your gluten-free board on Pinterest:

I hope you and your family enjoy these gluten-free cinnamon rolls as much as my family does!
Please come back and rate and review them after you try them!