Today I'm joining with 11 of my gluten-free blogging friends to share a dozen gluten-free Christmas cookie recipes! My gluten-free oatmeal cranberry chocolate chip cookies are a fun addition to any cookie exchanges or neighbor plates you're making.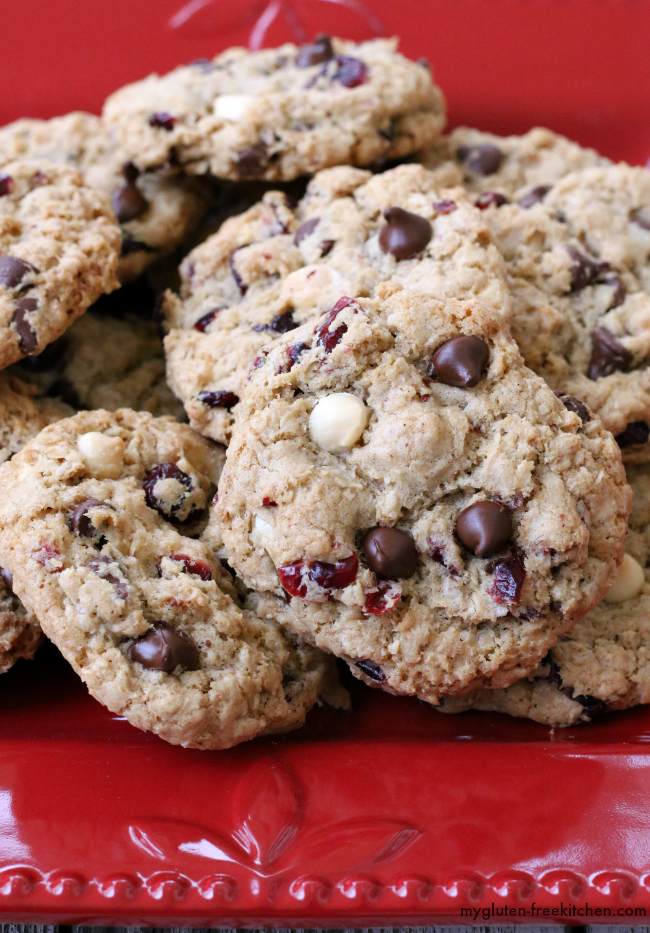 Definitely a favorite cookie of mine, I had to stop partway through typing up this post just to go make another batch of these gluten-free oatmeal cranberry cookies because I was craving them so badly! I've been making these gluten-free oatmeal cranberry chocolate chip cookies for many years.
While they're yummy year-round, I mostly make them during the holiday season. They look pretty on cookie platters or in gift boxes that I give for neighbor gifts. I'm making them for a holiday potluck too!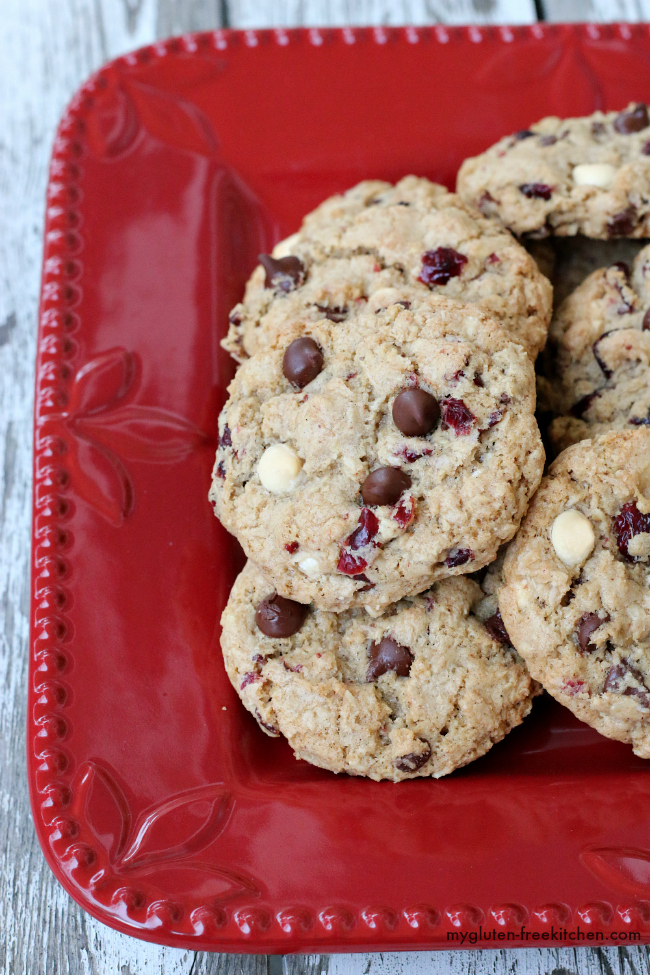 Notes on ingredients for these gluten-free oatmeal cranberry chocolate cookies:
Certified gluten-free oats – Be sure to use oats that are certified gluten-free. I recommend avoiding any that aren't certified, even if they are labeled gluten-free. My go to is GF Harvest old fashioned rolled oats or GF Harvest organic old fashioned rolled oats.
Gluten-free flour blend – like most of my recipes, this recipe has been tested with both of my favorite flour blends: gfJules gluten-free all-purpose flour and Gluten-free Mama almond flour blend. You can buy gfJules directly here or on Amazon here. You can buy Gluten-free Mama on Amazon here. I'm sure other high quality flour blends would work in this as well. My advice is to just avoid ones with bean flours, only rice flour, or with coconut flour.
Dried cranberries: I also really like to buy my dried cranberries from nuts.com. They're stored/packaged in a certified gluten-free facility and these juice-infused ones are so much more moist and flavorful. They're my go-to when I have them on hand. You can also use Ocean Spray Craisins – available at just about every store. They're gluten statement is here, in case you're interested!
White Chocolate: You can use chips or chunks here. I used Guittard vanilla milk baking chips. They're available on Amazon here. I buy them instead at my local Winco stores, at World Market, and sometimes see them at other local stores. The Guittard chips are made in a gluten-free, peanut-free facility. I also sometimes buy Baker's white chocolate bars and just chop into chunks. I find these at every local store in my area.
Semi-Sweet Chocolate: In addition to the white chocolate chips, I used semi-sweet chocolate chips too. You could opt for milk chocolate or dark chocolate chips or chunks too!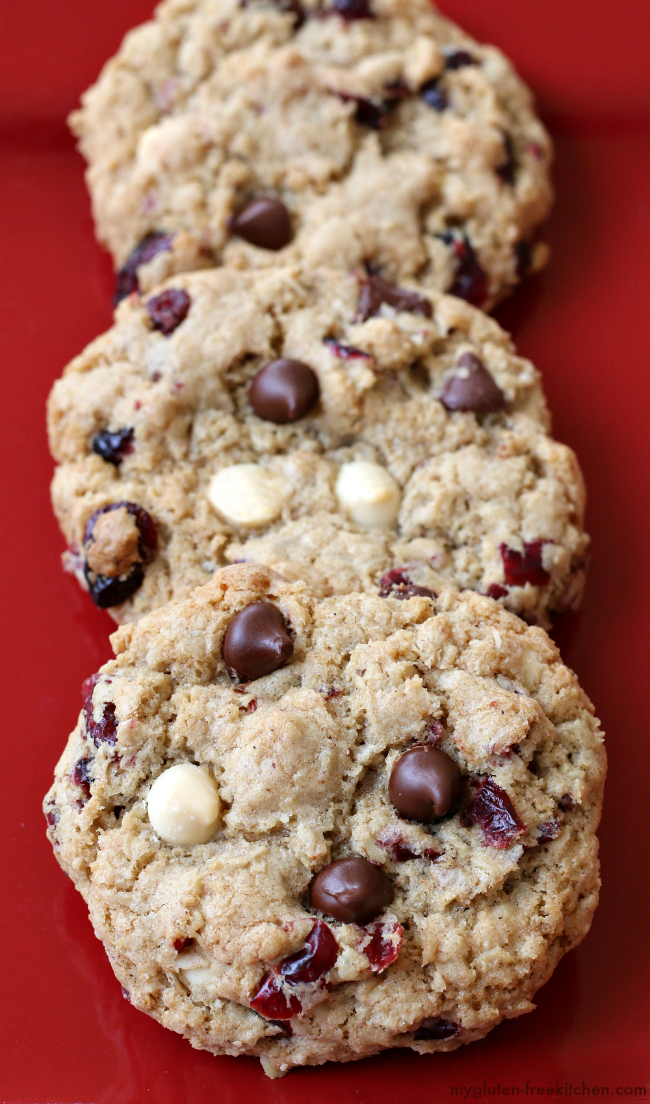 Please note that this makes a large batch of gluten-free oatmeal cookies: about 4 dozen good sized cookies. I do not recommend doubling these as it will be difficult to mix.
Instead of doubling, while these are in the oven, you can make any of the other cookies from my blogging friends that are listed here in our Virtual Gluten-free Cookie Exchange.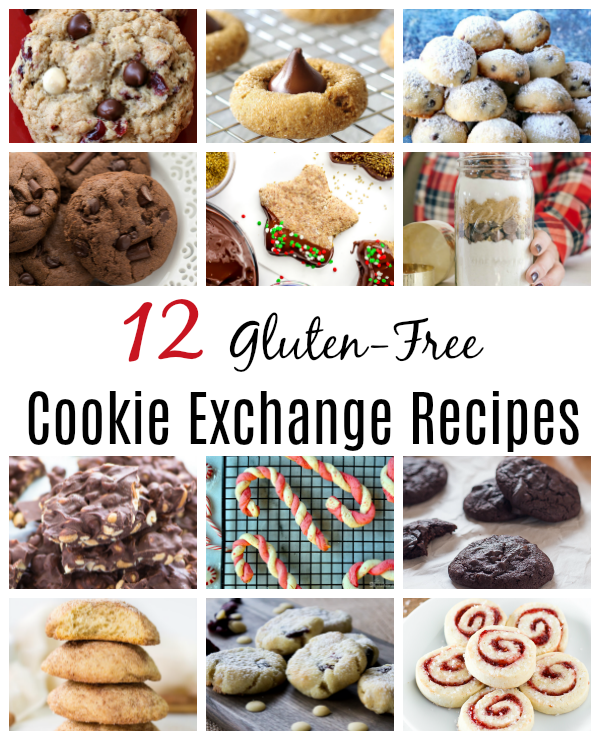 Check out all 12 gluten-free cookie recipes from my awesome blogger friends, listed in the order they appear in the photo, left to right, row by row!
Gluten-free Peanut Butter Blossoms by Gluten Free Palate
Snowball Cookies by Allergylicious
Gluten-Free Double Chocolate Mint Cookies by Meaningful Eats
Cinnamon Stars by Life After Wheat
Gluten-Free Chocolate Chip Cookies in Jar by This Vivacious Life
Crock Pot Bark with Salted Peanuts by What the Fork
Gluten-free Candy Cane Cookies by gfJules
Coffee Flour Cookies by Flippin' Delicious
Snickerdoodle Cookies by Veggie Balance
Lemon Cranberry Cookies by Vegetarian Mamma
Gluten Free Vegan Rasberry Pinwheel Cookies by Sarah Bakes Gluten Free
And here's my recipe for these yummy gluten-free oatmeal cranberry cookies!
Gluten-free Oatmeal Cranberry Chocolate Chip Cookies Recipe:
Yield: 4 dozen
Gluten-free Oatmeal Cranberry Chocolate Chip Cookies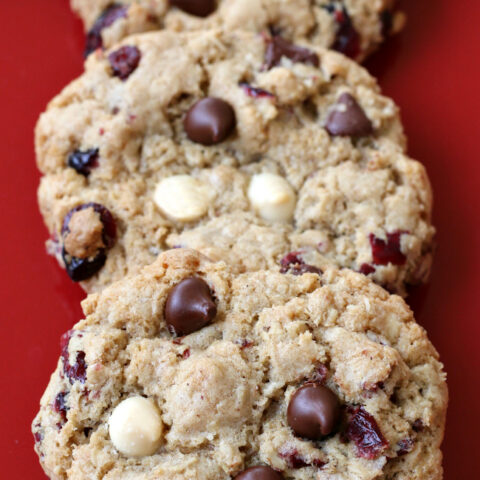 These are yummy year round, but I definitely make them a lot around Christmas. My gluten-free oatmeal cranberry chocolate chip cookies are a fun addition to any cookie exchanges or neighbor plates you're making.

Prep Time 10 minutes

Cook Time 12 minutes

Total Time 22 minutes
Ingredients
1 1/2 cups sugar
1/2 cup brown sugar
1 cup (2 sticks) unsalted butter or coconut oil (room temp)
2 large eggs (room temp)
1 tsp. pure vanilla extract
2 cups good quality gluten-free all-purpose flour blend*
1/2 tsp. xanthan gum*
1 tsp. baking soda
1 tsp. cinnamon
1/2 tsp. salt
2 3/4 cups gluten-free rolled oats
1 1/2 cups dried cranberries
1 cup semi-sweet chocolate chips
1 cup white chocolate or vanilla milk chips
Instructions
In the bowl of your electric mixer, add sugars and butter or coconut oil. Beat on medium speed until creamy, about 1 minute.
Beat in eggs, one at a time, then vanilla extract, until well mixed.
In a separate medium sized bowl, whisk together gluten-free flour blend, xanthan gum (omit if flour blend already contains xanthan or guar gum), baking soda, cinnamon, and salt.
With the mixer on low speed. slowly add dry ingredients from the medium bowl, mixing just until no flour is visible.
With the mixer on low speed, slowly add the gluten-free rolled oats. Your mixer may have difficulty with this, if it does, just remove and stir by hand.
Stir in the dried cranberries.
Stir in chocolate chips and white chocolate (or vanilla) chips.
Use a medium sized cookie scoop to scoop onto parchment paper lined cookie sheets, leaving 2 inches space between cookies.
Bake at 350° for 12-13 minutes. Let cool on pan for 2-3 minutes before removing to cooling rack.
Enjoy!
Notes
This dough can dry out, so it is best to bake the cookies the same day. I also do not recommend doubling as it will likely be too difficult for your mixer or to mix by hand.

Recipe tested with gfJules and Gluten-free Mama flour blends. Recommend either!

*omit xanthan if your gluten-free flour blend already contains xanthan or guar gum
Recommended Products
As an Amazon Associate and member of other affiliate programs, I earn from qualifying purchases.

Pin these to your gluten-free cookies board on Pinterest:

I hope you and your loved ones enjoy these as much as I do!
Wednesday 20th of November 2019
[…] even though no one can find these swirled chips, and I've posted an updated version of these here, I'm leaving this up for nostalgia's […]
Friday 2nd of August 2019
Hi! I assume I add the cranberries when I add the chocolate chips?
Friday 2nd of August 2019
All this time and I never realized that line got skipped or accidentally deleted from the instructions! Thanks for asking! Yes, stir the dried cranberries in with the chocolate chips. I'll take care of fixing that in the recipe tonight! Happy Baking!
Saturday 22nd of December 2018
Your oatmeal cookie recipe lists adding 1/2 tsp. of salt twice (2 separate locations in recipe). It doesn't reference this in the directions (as in: add 1/2 tsp salt at 2 different times in the mixing process). Is it a misprint or should I use 1 whole tsp. of salt?
Saturday 22nd of December 2018
I'm sorry! That's an error that I'll fix as soon as I'm back at my computer! Just use the 1/2 tsp. Not twice!
these cookies did not rise....they turned out as cookie brittle..
Monday 18th of December 2017
My favorite Christmas dessert would probably be some kind of festive cheesecake, or a good pecan pie!