Festive for the holidays, this gluten-free cranberry chocolate bread is perfect for sharing with your family or guests. With two kinds of chocolate, tart fresh cranberries, and roasted almonds, it's sure to please! This gluten-free cranberry loaf recipe is sponsored by Enjoy Life Foods as part of my ongoing partnership with them.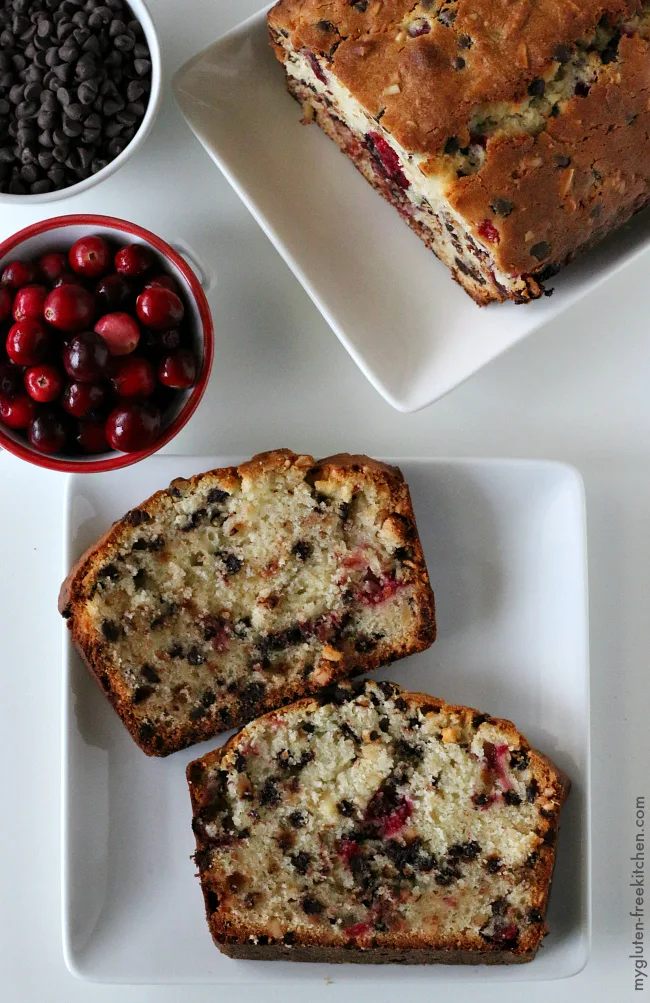 I love gluten-free quick breads and muffins, as do my kids. They make such a fun change from cereal for breakfast, a yummy snack, or even a healthy "dessert" in the evening. Loaves of quick breads never last long around here. I've realized that while I've shared a number of gluten-free muffins and coffee cakes on my site, I haven't shared any gluten-free quick breads yet!
I had to remedy that, so here's my first quick bread offering: gluten-free cranberry chocolate bread. This gluten-free loaf has melted white chocolate in it, lending some great flavor to the batter. Buttermilk makes it so moist and is always my go-to in muffins and quick breads, whenever I can use it.
The recipe I used for inspiration for this one was a white chocolate cranberry bread from the book Tates Bake Shop: Baking for Friends. That gluten-filled recipe gave me some ideas on flavors, but one big change I made was to include semi-sweet chocolate in my loaf. That was a good choice!
Notes on ingredients for this gluten-free cranberry loaf:
Almonds: you can buy already chopped almonds, or do like I do and buy slivered almonds and just give them a quick chop or put them in your food chopper for a spin. I buy these certified gluten-free slivered almonds and keep them in my freezer for my granola recipe, so I had them on hand for this bread too and they worked great.
White chocolate: This bread has melted white chocolate in it that helps make for the amazing, flavorful bread texture. No one noticed a distinct white chocolate taste – it just really helps with texture and richness. I use these Baker's White Chocolate Bars which I have no problem finding locally at grocery stores.
Buttermilk is also important for the texture of this loaf – you can buy it in the milk section of your store! I use it in just about all of my muffin and quick bread recipes because it gives such great texture!
I prefer to use mini chocolate chips in my quick breads and muffins lately. Using mini chips means you never get a bite without chocolate in it! My go-to is Enjoy Life semi-sweet mini chips. They're certified gluten-free, dairy-free, and free of the top 8 allergens. I always have several bags on hand.
I'm able to find the Enjoy Life semi-sweet mini chips locally at my Fred Meyer, Walmart, Whole Foods, and Natural Grocers stores. If you are having a hard time finding these at your local store, you can buy them directly from Enjoy Life's online store.
No matter where you pick them up, make sure you buy extra for snacking on and for making some of the other recipes I've used them in, like these gluten-free pumpkin chocolate chip muffins. or my gluten-free peanut butter cookie cups, both great choices for fall/winter baking!
Oh, and if you want to try another recipe with the fresh cranberries, try this Cranberry Sour Cream Almond Cake. It's on my must-make list! I also used fresh cranberries in my gluten-free apple pear tart recipe and they gave it just the perfect finishing touch of color and flavor!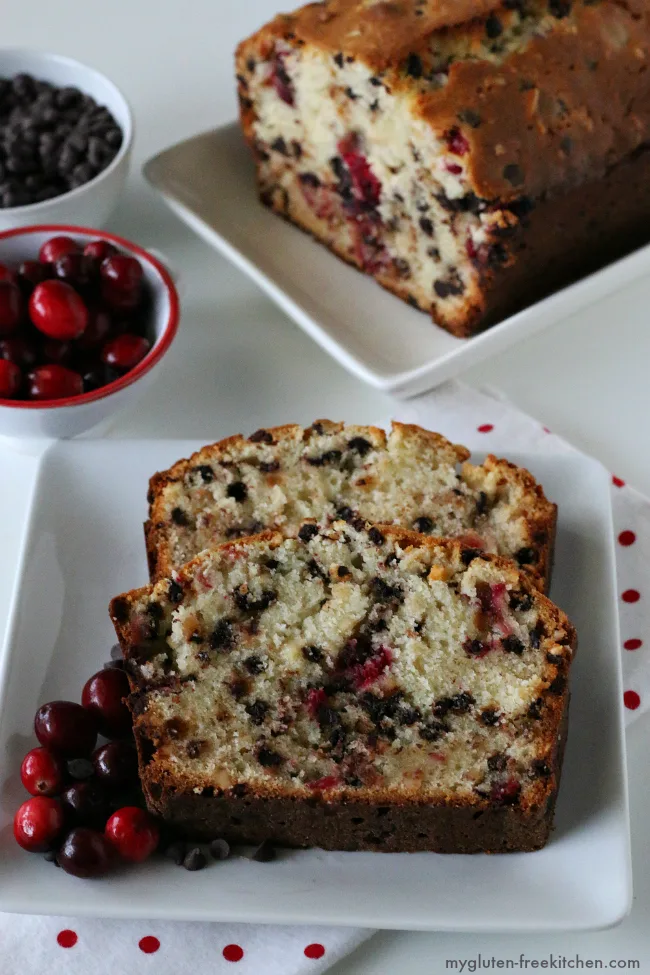 I hope you'll try this gluten-free cranberry bread soon and do please let me know what quick bread recipe you'd like me to make and share next! Gluten-free banana bread will be coming soon!
Gluten-free Cranberry Bread Recipe:
Yield: 1 large loaf
Gluten-free Cranberry Chocolate Quick Bread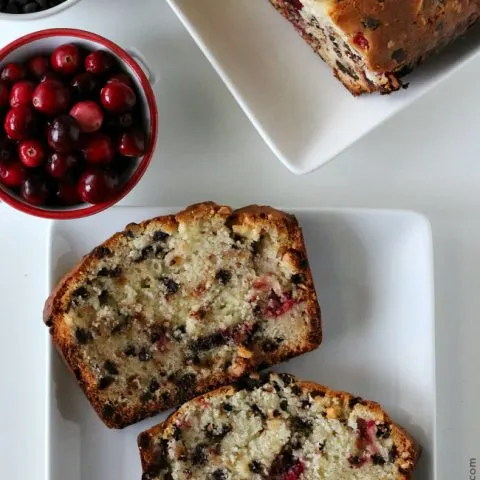 This gluten-free cranberry chocolate bread is perfect for sharing with your family or guests. Chocolate, tart fresh cranberries, and roasted almonds all make this delicious!

Prep Time 10 minutes

Cook Time 1 hour 30 minutes

Total Time 1 hour 40 minutes
Ingredients
1 cup toasted, coarsely chopped almonds (*see notes for instructions)
6 ounces white chocolate
2 1/4 cups gluten-free all-purpose flour blend
1/2 tsp. xanthan gum*
1/2 tsp. salt
1/4 tsp. baking soda
3/4 cup sugar
8 Tbsp. (1 stick) salted butter, room temperature
3 large eggs, room temperature
3/4 cup buttermilk
2 teaspoons pure vanilla extract
1 cup mini semi-sweet chocolate chips (I use Enjoy Life)
1 cup fresh cranberries
Instructions
Prepare a 9x5x3" or 9x4x4 or similar size loaf pan by spraying with cooking spray and sprinkle with a tablespoon of flour, tipping and tapping pan to coat bottom evenly. Set aside.

Toast the almonds:

Spread one cup of slivered almonds on a baking sheet. Bake at 3500 for 10-11 minutes or until starting to brown. They should smell yummy! Remove from oven. Let cool 1-2 minutes, then move to cutting board and coarsely chop.

Meanwhile, place the white chocolate in a microwave safe bowl. Microwave for 30 seconds, stir, then repeat. Continue melting in 15 second increments, stirring in between, until melted. Set aside to cool slightly while you start the batter.

In a medium bowl, whisk together the gluten-free flour blend, xanthan gum (*if needed), salt, and baking soda.

In the bowl of your stand mixer, beat the sugar and butter on high speed until light and fluffy, about 3 minutes. Add the eggs, one at a time, beating well on medium speed after each addition. Use a spatula to scrape down the sides of bowl after adding each egg.

Beat in the buttermilk, then the melted white chocolate and pure vanilla extract. At this point, the mixture will look curdled. It's fine!

With the mixer on low speed, add the flour mixture. Beat just until smooth, scraping the sides of bowl with your spatula as needed.

Stir in the chopped almonds and mini semi-sweet chips. Then stir in the fresh cranberries gently, just enough to disperse through batter.

Scoop the batter into the prepared 9x5x3" or 9x4x4 or similar sized loaf pan.

Bake at 350° for 90 minutes. I recommend checking at 80 minutes. A toothpick or cake tester should come out clean or with moist crumbs. If the top of bread is starting to burn at all, while the inside is still not done, lightly cover with aluminum foil and resume baking. When bread is done baking, set the pan on a cooling rack for abut 10 minutes. Then gently remove from pan and allow loaf to cool completely on cooling rack. (Tip: I found this easiest to have oven mitts on both hands. One holds the pan and tips the loaf out gently into the other hand, which then can set it down correctly onto the cooling rack. I prefer this over inverting the whole loaf onto cooling rack, because doing that will leave cooling rack marks on the top of your loaf.)
Notes
*omit xanthan gum if your flour blend already includes xanthan gum or guar gum.

I've tested with several gluten-free flour blends and recommend using gfJules, King Arthur Measure for Measure, or Gluten Free Mama's Almond blend.
Recommended Products
As an Amazon Associate and member of other affiliate programs, I earn from qualifying purchases.


This sponsored post was created through my partnership with Enjoy Life Foods. As always, all opinions are my own. Collaborating with brands I love allows me to keep bringing you new and varied recipes! Thanks for your support!

Pin this recipe to your Gluten-free board!
If you enjoy this bread, would you come back and leave a rating and review with any tips or adjustments you made that worked? I'd sure appreciate it!