If you have leftover turkey to use up, this slow cooker turkey and rice soup is a yummy way to enjoy it! In just about 3 hours, you'll have a gluten-free turkey soup to warm you up.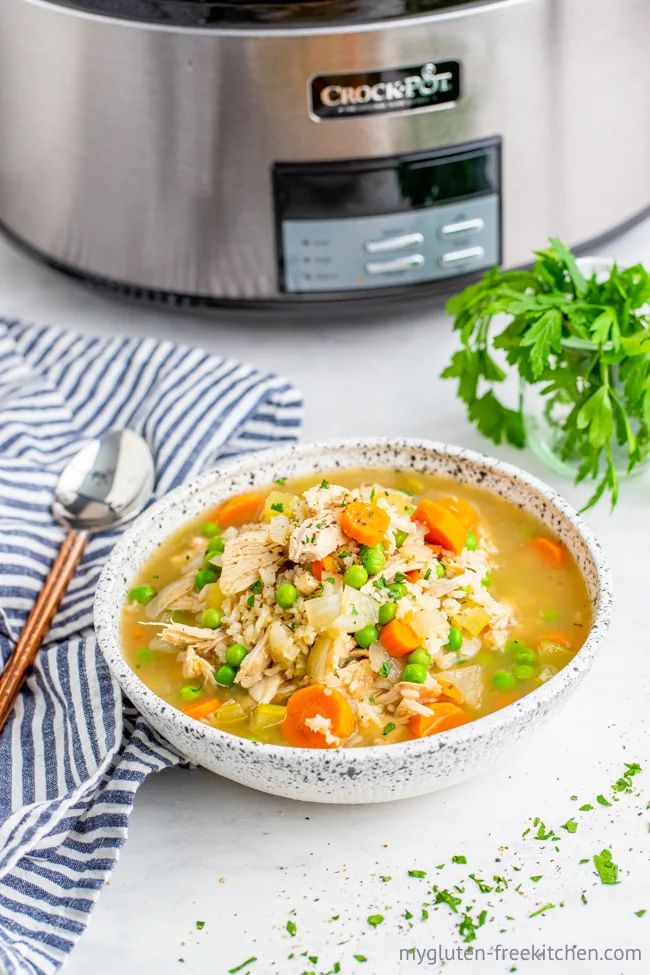 Whether you have leftover turkey from a big family dinner or you just picked up frozen turkey because it was on a great sale, you might be looking for ways to use turkey besides the traditional turkey and mashed potatoes meal. There are so many ways to use leftover turkey in gluten-free recipes. While turkey sandwiches is the most common, gluten-free leftover turkey and rice soup is a great option!
This recipe is so easy to make! You probably have most all the ingredients on hand, and you can easily swap out any seasonings called for that you might be out of with others you prefer. The best part is that you make this leftover turkey soup in a slow cooker, so once you've done the prep, it cooks it all day for you. You'll be able to smell this cooking all day and enjoy for a cozy, warm dinner.
So many people love my gluten-free chicken noodle soup recipe, which you could also make with turkey too. But I know some people enjoy rice more, as my husband does, so here's a soup with rice instead! I use brown rice, as it is more nutrient dense as well.
Let's talk about what you'll need for making this gluten-free turkey rice soup recipe.
Notes on ingredients for gluten-free turkey and rice soup in crockpot: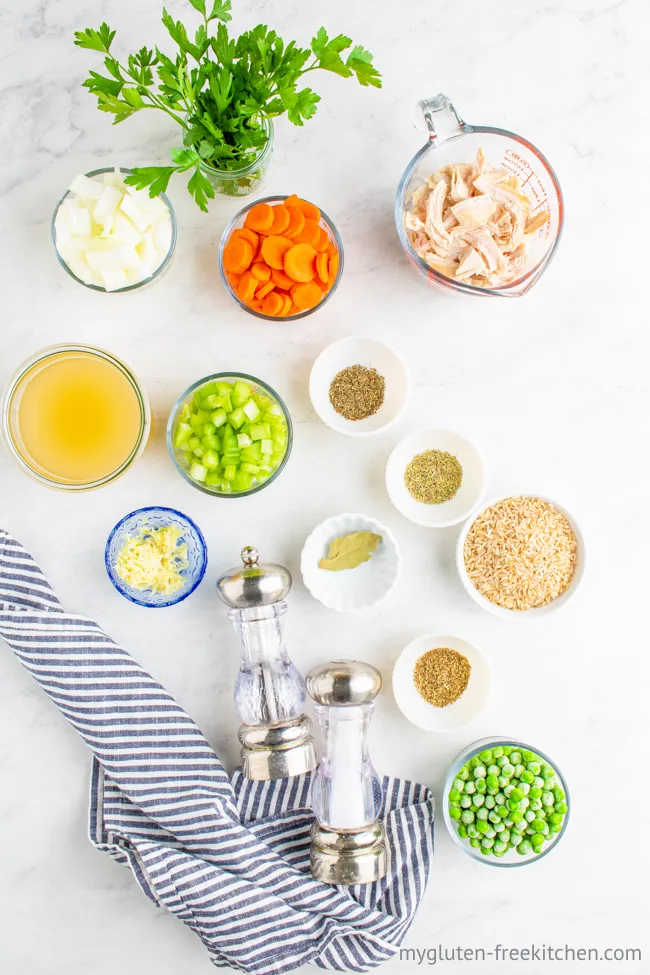 Turkey: If you don't have leftover cooked turkey or don't want to cook a whole turkey, just buy a turkey breast and cook it up for this recipe! I just cook one in the crockpot with some chicken broth and it turns out great for shredding or chopping for soups and salads.
Brown Rice: I use brown rice since it is more nutrient dense, but you can use white if you would prefer. My go to brown rice is this certified gluten-free short grain brown rice.
Carrots: If you really want to save time, feel free to buy already peeled baby carrots and give them a chop!
Garlic: While I love using fresh garlic when I have it on hand, you can absolutely use the jarred chopped garlic that is in water (not oil). I have liked this brand that I get at Costco. I would use about 2-3 teaspoons of it in this soup, but if you want a lot of garlic flavor, you can use more.
Seasonings: This recipe includes dried oregano, dried thyme, dried rosemary, and a fresh bay leaf for flavor. If any of those aren't up your alley, feel free to omit or replace with an herb you prefer.
Chicken Broth or Chicken Stock: Always check the labels of chicken broth to make sure that it does not contain gluten. There are many brands of broth clearly labeled gluten-free are your local grocery store, so don't worry! I use Pacific Foods Organic Chicken Broth and also recommend Kettle & Fire Organic Chicken Broth. In a pinch, you can make your own broth using a gluten-free bouillon like Herb-Ox chicken bouillon.
You can also make your own turkey stock with the carcass of your turkey and some spices. Just measure out 6 cups of your homemade stock for this recipe.
TIP: There is a fair amount of chopping vegetables and herbs for this recipe. I thought I would share my favorite knife for chopping veggies and herbs: this Cutco knife. They call it a cheese knife, but it works amazingly for chopping veggies and herbs, and I don't have to worry about stabbing myself with a sharp point either. It's the knife I reach for the most. If you've never invested in Cutco knives, this would be the knife I would recommend you start your collection with, along with their amazing steak knives, but I digress.
There isn't any dairy in this gluten-free dairy-free turkey and rice soup!
How to Make Crock Pot Turkey and Rice Soup:
Place the carrots, onion, celery, garlic, salt, pepper, oregano, thyme, rosemary, bay leaf and brown rice into the slow cooker.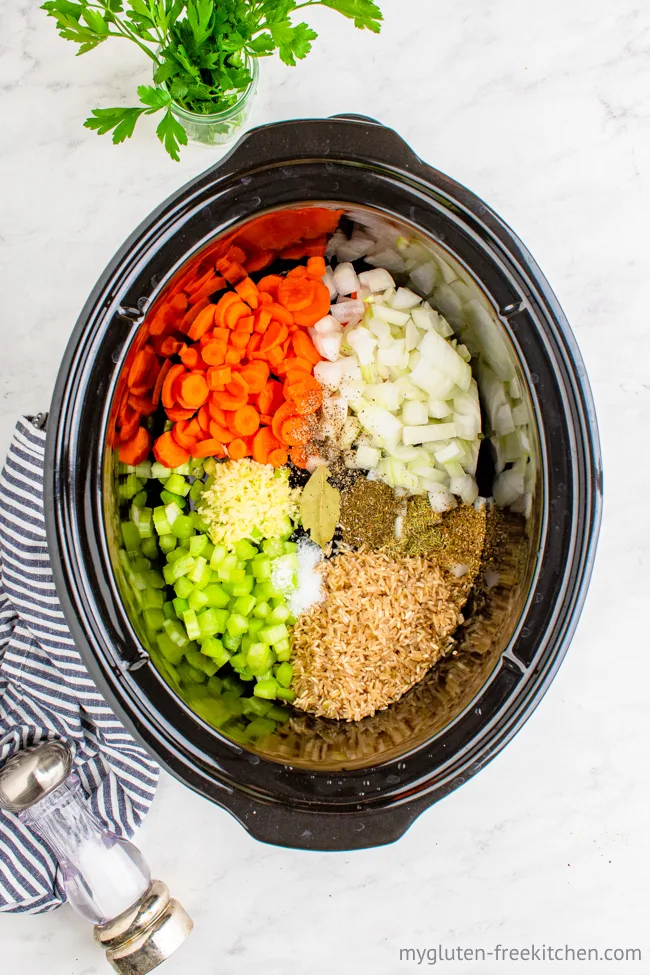 Pour 6 cups chicken broth over all, then stir. Place crock pot lid on.
Cook on high heat for 2 and a half hours.
Add the turkey and peas (feel free to omit peas if you don't like them). Stir in. Place lid back on and cook on high for one additional hour.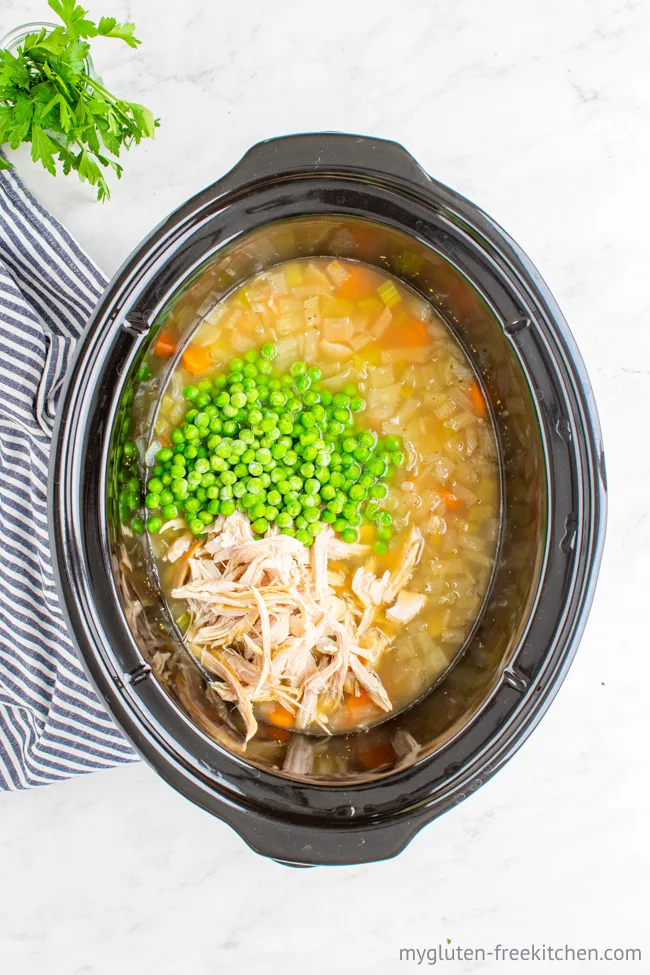 It will smell so good when finished! All together, it should be in the slow cooker 3 and a half hours, but 4 hours is totally fine! If you go longer, your veggies will become softer. If you need to be away, I would set a timer for it to switch to warm setting an hour after you add the turkey and peas.
Here's a look at the finished soup in the slow cooker, ready to serve.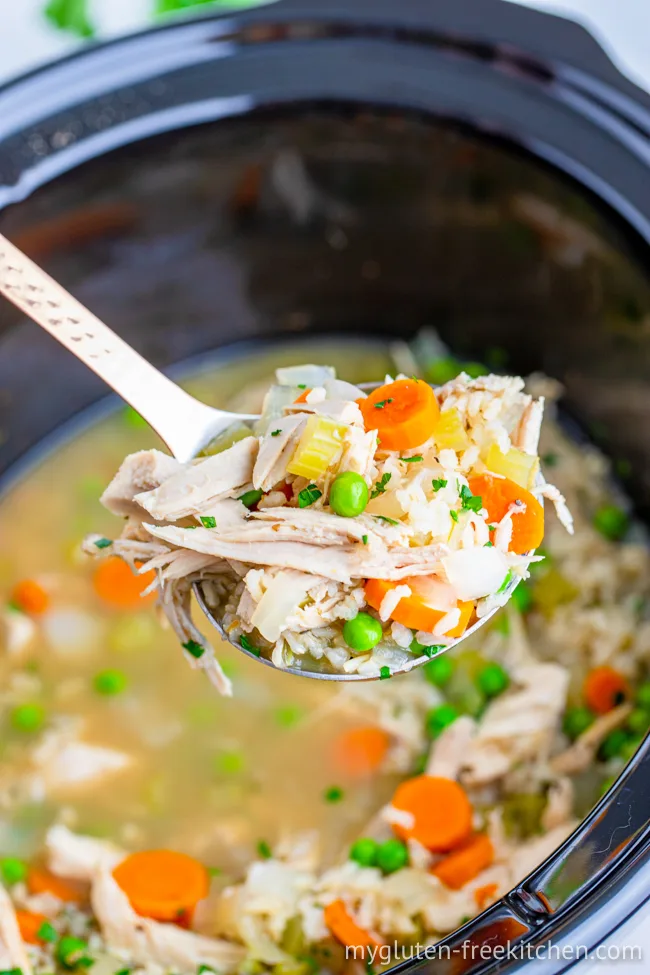 You can garnish with fresh parsley before or after dishing into bowls.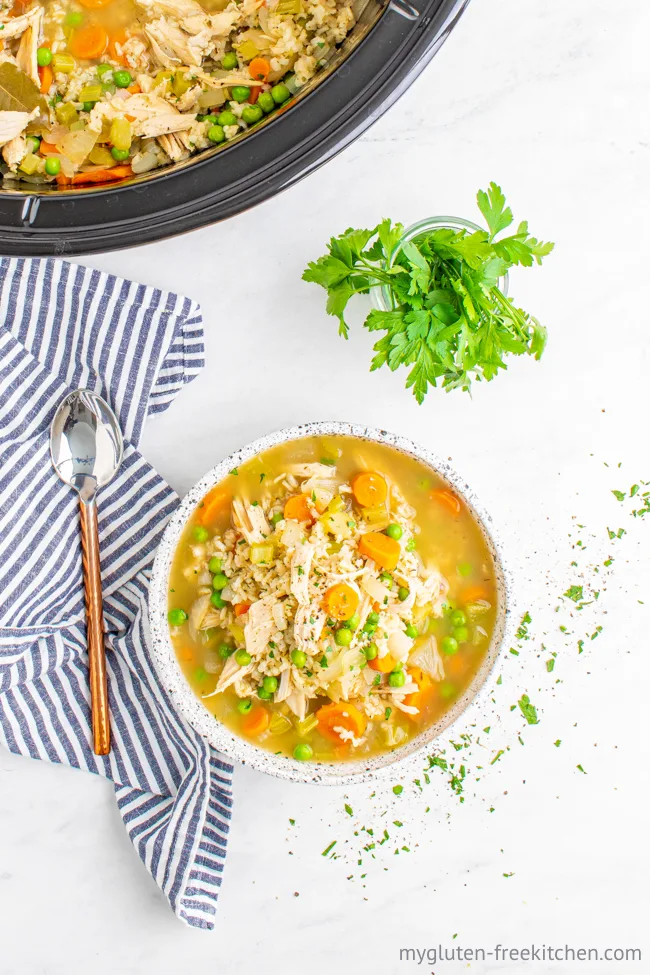 What should you serve with this easy turkey and rice soup? If you have time, you could make some homemade gluten-free buttermilk biscuits. They're so good with butter and honey or even garlic butter.
And if you don't have time for homemade, I highly recommend a box of gluten-free Red Lobster Cheddar Biscuit mix. I have to restrain myself from eating half the batch when I make them! They're so good!
Of course while this soup cooks, you could quickly mix up a pan of the best gluten-free cornbread ever! It's easy, it's sweet, and would be a great compliment to this savory soup!
I hope you can make and enjoy this soup soon!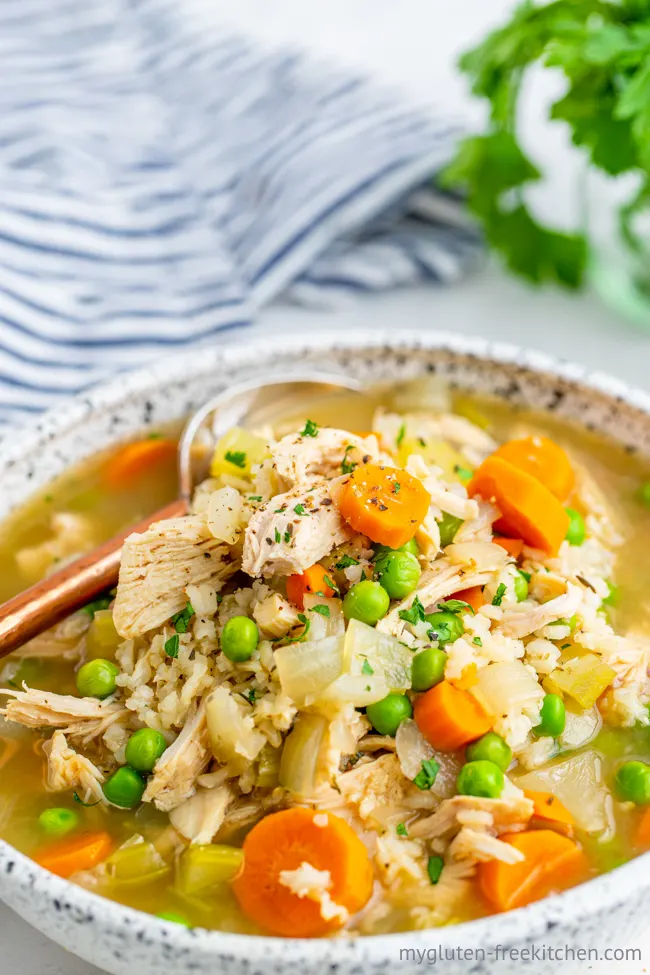 If you make this gluten-free soup and love it, please come back and give this turkey rice soup crock pot recipe a 5 star rating in the recipe card! Feel free to comment with tips or to share any successful substitutions you made.
Gluten-free Turkey and Rice Soup Recipe:
Yield: 6 servings
Gluten-free Slow Cooker Turkey and Rice Soup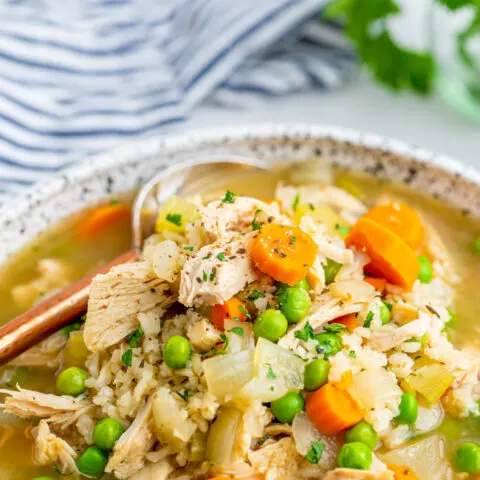 This gluten-free turkey and rice soup is a warm and comforting meal that is easy to make in your slow cooker.

Prep Time 10 minutes

Cook Time 3 hours 30 minutes

Total Time 3 hours 40 minutes
Ingredients
2 Medium Carrots, sliced thin
1 cup diced onion
1 cup diced celery
1 cup uncooked brown rice, rinsed well and drained
4 garlic cloves, minced, or 4 tsp. jarred minced garlic
1 teaspoon salt
1 teaspoon dried oregano
1 teaspoon dried thyme
1/2 teaspoon dried rosemary
1/2 teaspoon pepper
1 bay leaf
6 cups gluten-free chicken broth or stock or homemade turkey broth
2 cups diced or shredded cooked turkey
1 cup frozen peas
fresh parsley, chopped fine for garnish, optional
Instructions
Place the carrots, onion, celery, brown rice, garlic, salt, pepper, oregano, thyme, rosemary, bay leaf, and then the chicken broth/stock into the crock of your slow cooker. Stir to combine.
Cover. Cook on high heat for 2.5 hours.
Add the turkey and peas, stir, then cover. Continue cooking on high for an additional hour or until the veggies are cooked to your preference.
Serve with a garnish of parsley if desired.
Notes
Please see blog post for my tips and notes on preparation and substitutions.

If you use Pinterest to save your recipes, you can pin either of these images to your Pinterest board.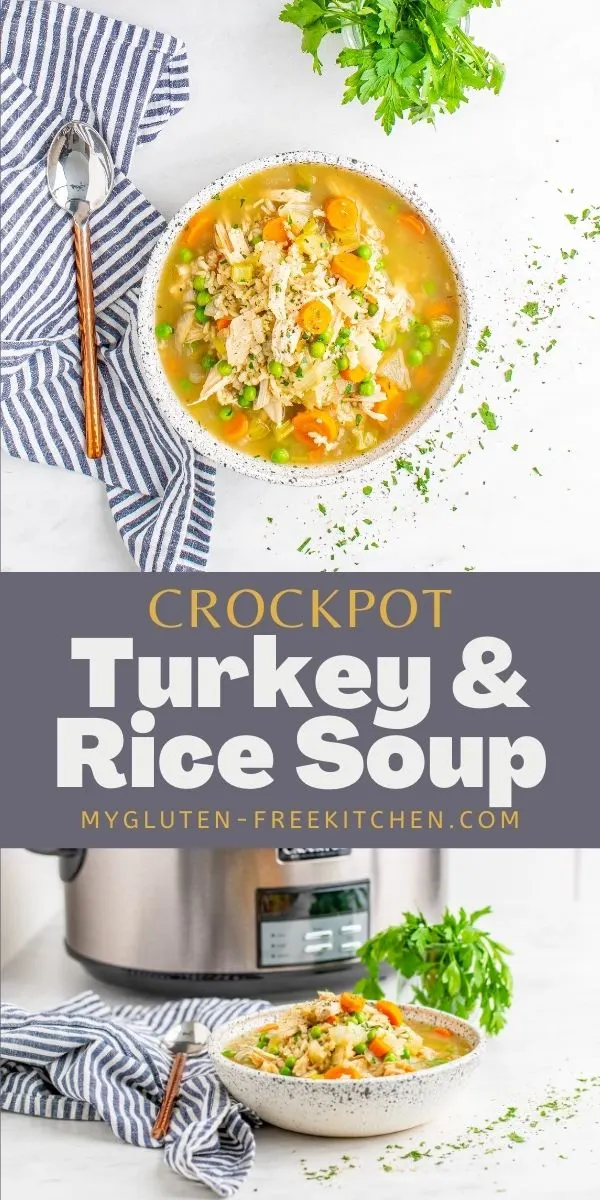 I hope you and your family enjoy this!