Start your day or hydrate and cool off with this coconut milk strawberry banana smoothie. This easy strawberry banana smoothie uses just 5 ingredients and is ready in just a couple minutes! Of course, since it's on this site, you can be assured this is a gluten-free strawberry smoothie!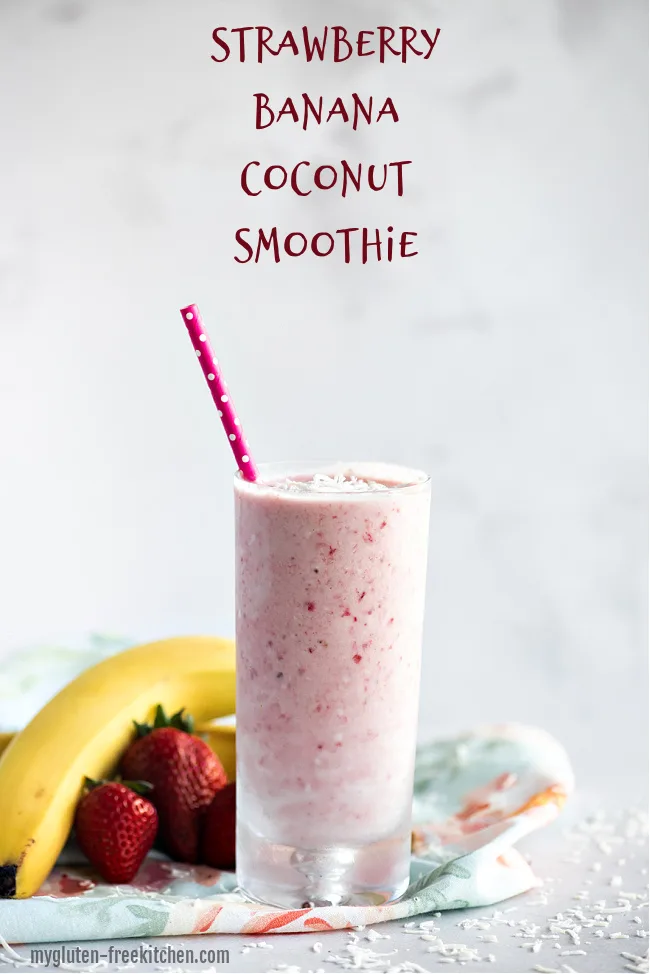 What do you make when you have some frozen strawberries, a frozen banana, and some coconut milk? A strawberry banana coconut milk smoothie of course!
Since this is made with coconut milk and doesn't include any whey powders, it's a gluten and dairy free smoothie! So many smoothie recipes have you add protein powders, most of which have whey, but not this smoothie doesn't contain powders. It's thick due to the frozen strawberries and frozen banana. Sometimes you just want something refreshing, not a meal replacement, so no need for a protein powder then.
I always have frozen fruit on hand so that I can make smoothies. Other dairy-free smoothie recipes on my site include this chocolate raspberry smoothie and this dairy-free orange creamsicle smoothie.
Every time I post a gluten-free smoothie recipe, I get comments on social media that are critical with people saying, "
Duh, of course a smoothie is gluten-free
!"
But actually, are smoothies gluten-free?
Smoothies are not always gluten-free. It is pretty common for smoothies to have oats added, and if certified gluten-free oats aren't used, then the smoothie wouldn't be gluten-free. It is also common for smoothies to have barley added (for whole grain and fiber) and of course barley is a gluten-containing grain that celiacs need to avoid. Some people also add malted milk powder to smoothies, which is another no-no as malt=barley.
If you are offered a smoothie or are ordering a smoothie, ask lots of questions to be sure you are getting a safely gluten-free smoothie!
Notes on ingredients for this coconut milk banana strawberry smoothie:
Frozen strawberries: these can be store-bought frozen strawberries or ones you froze yourself. You can swap in other frozen berries like raspberries or blackberries for all or part of the strawberries if you don't have enough.
Frozen banana: If you don't normally keep frozen bananas in the freezer, grab one and toss it in for a couple hours before you want to make your smoothie!
Coconut Milk: you can use coconut milk from a carton or can here. Whatever type you prefer. Also, if you would prefer to use almond milk instead of coconut milk, you can do that too.
Shredded Coconut: I used unsweetened coconut but you could use sweetened if you prefer or have that on hand.
Vanilla Extract: this is optional but I like to add it for flavor to my smoothies. Be sure to use a pure vanilla extract not imitation. I recommend Costco's Kirkland Pure Vanilla Extract and Nielsen Massey's bourbon vanilla extract.
How to make a strawberry banana smoothie:
It's so easy to make this smoothie. Just place the frozen strawberries, frozen banana, coconut milk, shredded coconut, and vanilla extract all in the blender.
Then blend it on medium speed until smoothie consistency. My Blendtec blender has a smoothie setting so I just use that!
Pour into a glass and enjoy this refreshing smoothie!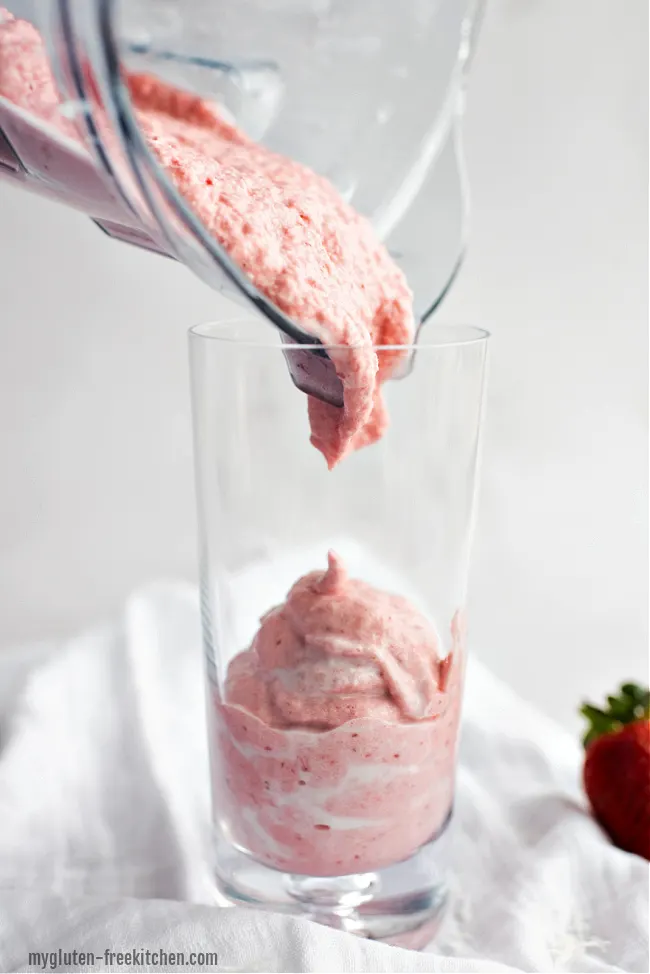 You can sprinkle with additional shredded coconut if you enjoy – it tastes great scooped up with a spoon with some of the smoothie.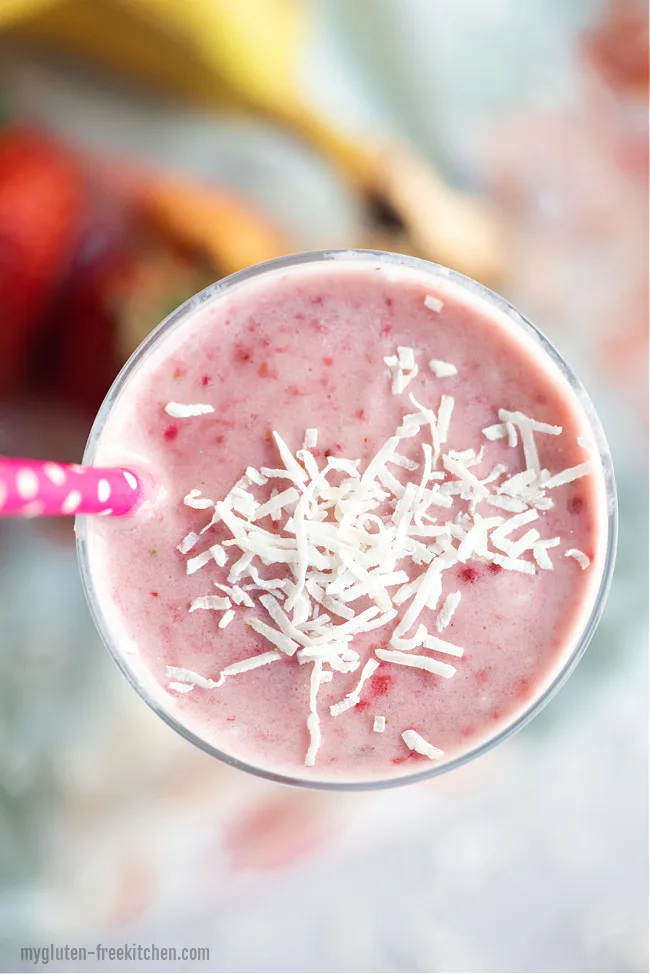 This is a gluten-free dairy-free smoothie if made as I've specified. If you would rather use regular milk and not have it be dairy-free, you can definitely do that instead of the coconut milk. You can also make this strawberry banana smoothie with almond milk if you prefer almond milk over coconut milk, or just happen to have that on hand instead.
If you have other ripe bananas to use up, I highly recommend making my gluten-free banana bread recipe. It's delicious and a slice of it would go great with this smoothie for a mid-morning snack!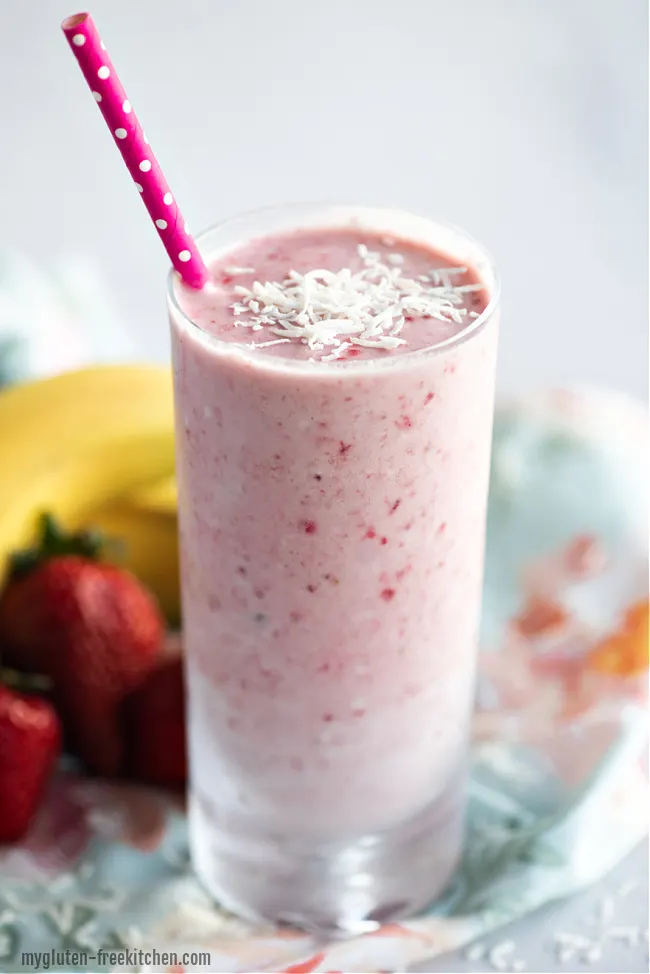 If you make this gluten-free strawberry banana smoothie, please come back and give this recipe a 5 star rating in the recipe card! Feel free to comment with tips or to share any successful substitutions you made.
Strawberry Banana Coconut Smoothie Recipe:
Yield: 1 smoothie
Strawberry Banana Coconut Milk Smoothie (Gluten-free)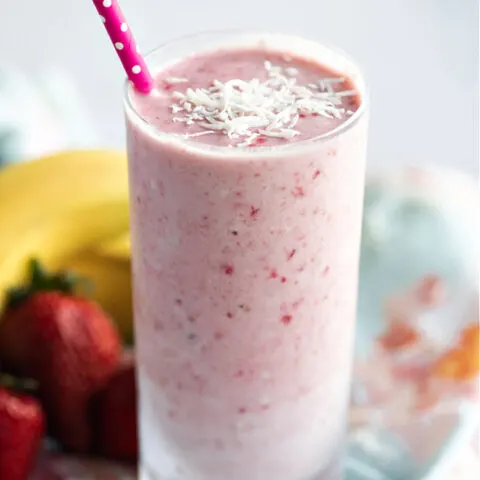 This strawberry banana coconut smoothie is dairy-free and gluten-free and easy to make!

Prep Time 3 minutes

Total Time 3 minutes
Ingredients
1 cup frozen strawberries
1 frozen banana
1 cup coconut milk
1 Tbsp. shredded coconut
1/4 tsp. pure vanilla extract
Instructions
Add all ingredients to a blender.
Blend on medium speed (or use smoothie setting if your blender has one) and blend until reaches typical smoothie consistency.
Pour into a glass. Top with additional coconut if desired.
Notes
If your smoothie is too thick, add more coconut milk, a tablespoon at a time.
Recommended Products
As an Amazon Associate and member of other affiliate programs, I earn from qualifying purchases.

Pin this to your beverages board on Pinterest so you can find it easily again: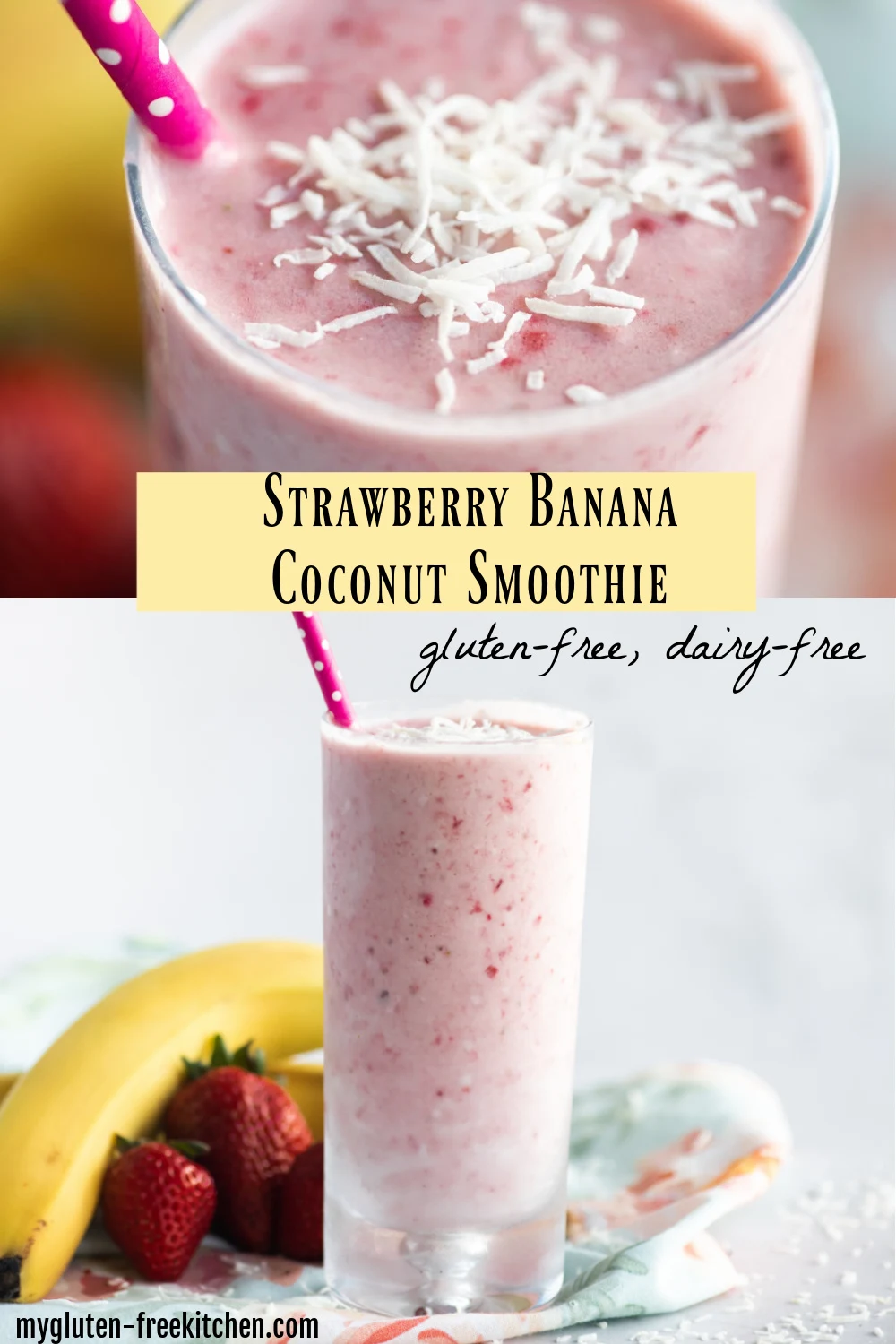 I hope you enjoy this healthy strawberry banana smoothie recipe!