A perfect sweet addition to gluten-free brunch is this gluten-free triple berry coffee cake recipe. I think this is the best gluten-free coffee cake ever!!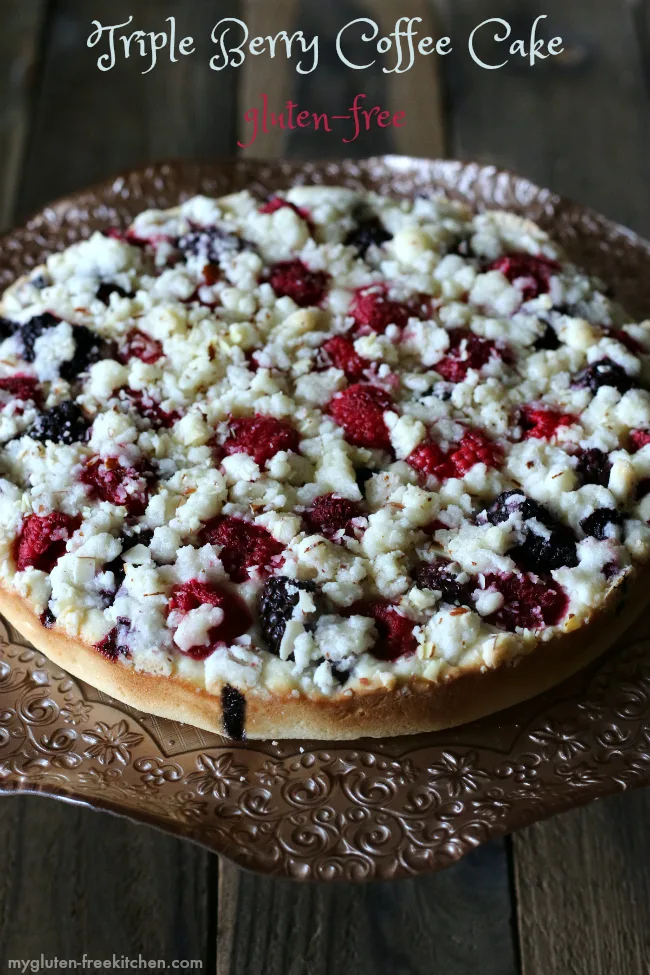 Cake for breakfast? Count me in! One of my favorite breakfast foods is gluten-free coffee cake. I don't remember eating coffee cake at all when I was growing up, but as an adult, I have it as much as possible! I'd make a gluten-free coffee cake every week if only my clothes wouldn't get tighter as a result!!
I make gluten-free coffee cakes around all the holidays and also just before I travel. When I'm heading on a road trip, I love bringing along a container with slices of coffee cake so that I have something safe to eat each morning. If I'm somewhere with a kitchen, I'll cook up some scrambled eggs to have with a slice for a yummy and filling breakfast.
Sometimes I make my tried and true gluten-free blueberry coffee cake, but lately, I've loved the flavors from using a variety of berries to create a different flavor profile. I use any combination of raspberries, blackberries and blueberries or even huckleberries when I have them.
Sometimes I make it with big, ripe, berries from Costco, but later in the summer I make this with all berries from our backyard. There's nothing like homegrown berries! We grow red raspberries, thornless blackberries, and have one little blueberry plant too!
You can also use frozen berries, just keep them frozen, don't thaw them unless they are clumped together and you can't get them apart.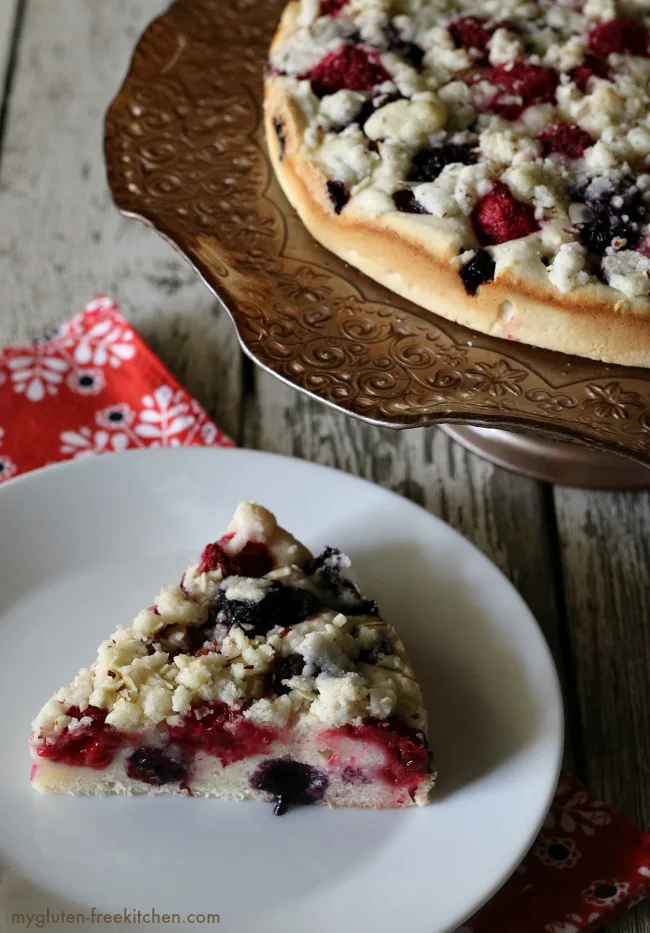 Previously, I would gently stir the berries into the batter, but I changed my method this past year. After chatting with my friend Charissa, owner of the dedicated gluten-free Zest Bakery about how her triple berry muffins were perfect, she told me how she adds the berries. To get just the right amount of berries in each muffin, and avoid streaked batter, she hand places each berry. I started doing that with my coffee cake and loved it! It really doesn't take much time at all, and makes it so that each slice has just the right ratio of batter and berries.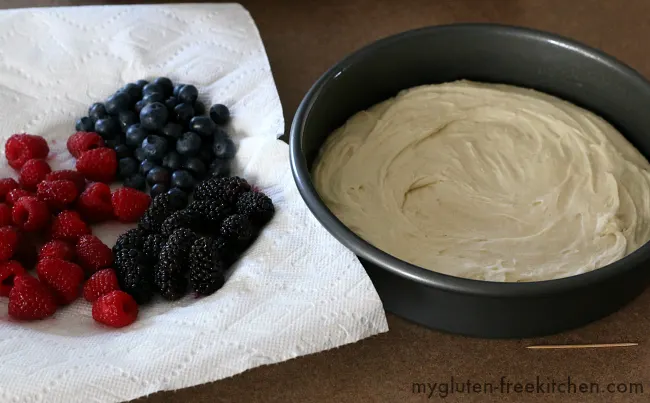 Notes on Ingredients and Substitutions for this Gluten-free Coffee Cake:
As always, I only recommend baking with a good quality all-purpose gluten-free flour blend. Gluten-free flour blends are not created equal! I recommend avoiding flour blends that contain any bean flours or that are primarily rice flour, as you'll get a more gritty result. This recipe, like pretty much all of my recipes, has been tested with successful results with gfJules gluten-free flour (bought directly or on Amazon) and Gluten Free Mama's Almond Flour Blend and with King Arthur Measure for Measure flour, and I recommend any of those. Two other flour blends that I've been testing some (but not this recipe yet) with good results are Cup4Cup and Pamela's.
You can use any berries you'd like as long as your total is 2 cups. I opted for more raspberries than the other berries, just because I adore thoseo and our raspberry harvest was plentiful this year! I've also made this coffee cake with all blueberries or all raspberries. If you can get your hands on some huckleberries, use those in this too!
While I haven't made this completely dairy-free, I have subbed CashewMilk in place of the buttermilk with success. I still used butter because it is so low in lactose, but if you need to avoid that as well, I would try using a non-dairy buttery sticks from Earth Balance or a similar product.
For the finely chopped almonds, I use sliced almonds that I chop up finely. I buy my sliced almonds from a certified gluten-free source: nuts.com.
If you have a nut allergy or prefer not to include them, feel free to omit them from the topping or substitute with some shredded coconut for additional texture and flavor.
I love to serve this alongside gluten-free breakfast casserole at the holidays too! Then we have both sweet and savory!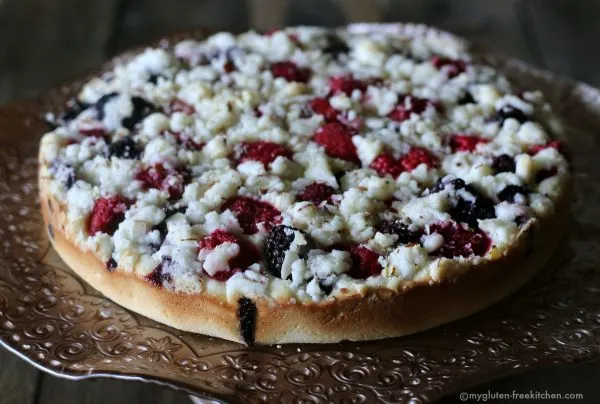 What should you bake with your berries next? Try these gluten-free raspberry white chocolate muffins. Next on my list to try are these gluten-free blueberry biscuits! They look amazing too!
Gluten-free Berry Coffee Cake Recipe:
Yield: 8 servings
Gluten-free Triple Berry Coffee Cake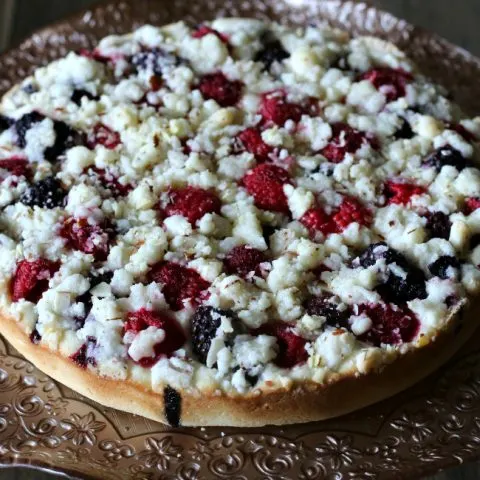 My favorite gluten-free coffee cake is this berry coffee cake! You can use fresh or frozen berries of your favorite type.
Total Time
1 hour
5 minutes
Ingredients
Coffee Cake:
2 cups good quality gluten-free flour blend*
3/4 tsp. xanthan gum
2 tsp. baking powder
1/2 tsp. salt
3/4 cup sugar
1/4 cup salted butter, softened
1 large egg
1 tsp. vanilla
1/2 cup buttermilk or milk
2 cups fresh or frozen berries (I used 1 c. raspberries + 1/2 c. blackberries + 1/2 c blueberries)
Topping:
1/3 cup gluten-free flour
3 Tbsp. salted butter, softened
3 Tbsp. sugar
3 Tbsp. finely chopped almonds
Instructions
Preheat oven to 375°. Spray a 9" cake pan or pie plate with nonstick cooking spray and set aside.
Coffee Cake:
In a medium sized bowl, whisk together the flour, xanthan gum, baking powder, and salt until blended.
In the bowl of your electric mixer, cream together the sugar, butter, egg and vanilla.
Alternately add in the buttermilk and the flour mixture into the creamed sugar mixture. Stir only enough to blend together, don't over-mix. Batter will be very thick.
Spread batter into a greased 9" cake pan or pie plate.
Place the berries one at a time over the surface of the cake batter, gently pushing down into the batter. (See video for how I did this.) I found it easiest to start with the largest berries, then fill in with the smaller berries.
Topping:
In a small bowl, whisk together gluten-free flour, and sugar. Cut in butter with a pastry cutter or two knives until mixture is crumbly and butter pieces are pea-sized or smaller. Stir in finely chopped almonds.
Sprinkle topping over the batter as evenly as possible.
Bake at 375° for 40-45 minutes or until a toothpick comes out clean.
Serve from the pan, or once cooled, remove from the pan onto a cake plate or serving platter. Store leftover slices in an airtight container at room temp or place in fridge. Best eaten within 3 days, which is never a problem for me! I've also frozen slices and pull them out to enjoy later. The topping gets moist, but otherwise it is very good reheated!
Notes
*I've tested this with gfJules flour blend, Gluten Free Mama's Almond flour blend, and King Arthur Measure for Measure blend and recommend any of those, but feel free to try with your favorite blend too.
If using a flour blend that already includes xanthan or guar gum, then omit the xanthan called for in the recipe.
Feel free to use your favorite combination of berries, as long as the total amount equals 2 cups.
Recommended Products
As an Amazon Associate and member of other affiliate programs, I earn from qualifying purchases.
Pin this to your gluten-free breakfast board on Pinterest: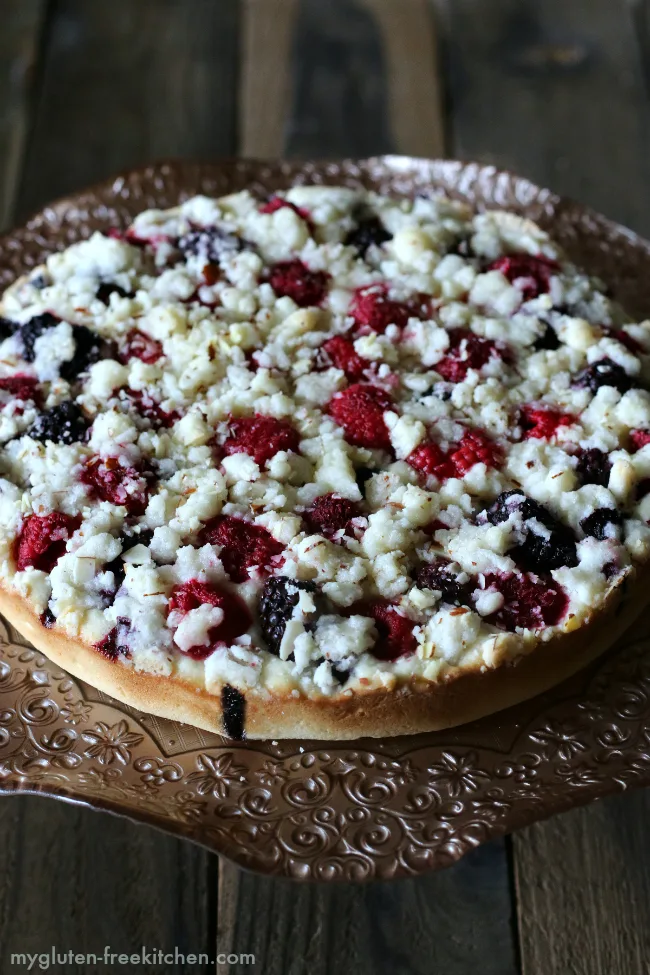 I hope you and your guests enjoy this gluten-free coffee cake as much as I do!